Hello everyone, and welcome to the week! It's time once again for our look back at the noteworthy updates of the last seven days. Easter is coming soon, and that means plenty of apps are getting in on that egg-tastic action with updates celebrating the more pastel aspects of the season. It's not just painted eggs this week, though. We've got a wide variety of updates to check out. Of course, you can keep an eye out for updates yourself using AppShopper or by participating in the TouchArcade forums. This weekly summary is just here to fill you in on the things you might have missed. Let's go for it!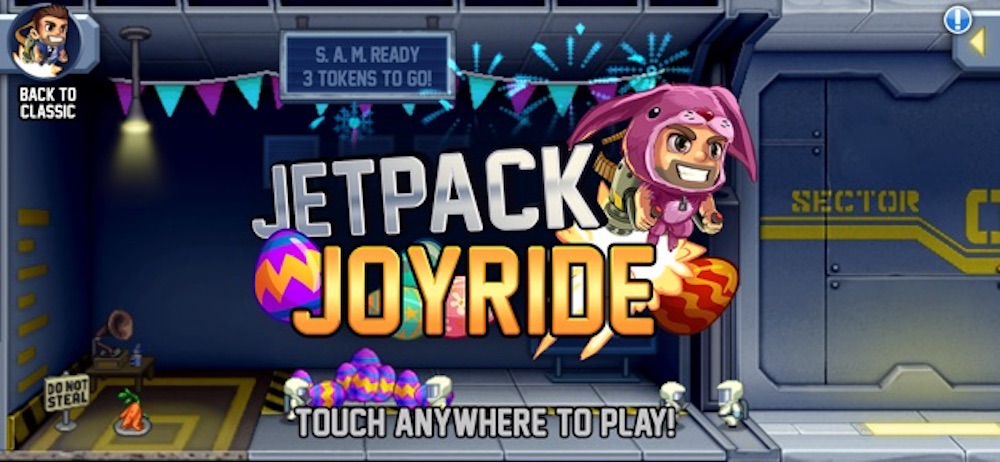 Jetpack Joyride, Free Jetpack Joyride lumbers on in a state of perpetual undeath, updating to mark the seasons but rarely doing anything more than recycling at this stage. But to be fair, this game is ancient by mobile standards, so it's pretty impressive it keeps getting updates of any sort. Anyway, Easter event. Some Easter exclusive vehicles make comebacks, a new Chocolate S.A.M. skin makes its debut, and some new jetpacks and outfits are in here too. Just the thing to carry us through spring, yeah?
ANOTHER EDEN, Free This update, on the other hand, has nothing to do with Easter. Instead, it's another layer of stuff to consume in a never-ending cycle of destruction. Totally different. A new Chance Encounter has been added, and two new encounter characters are in here as well. There's also a new dungeon, along with an assortment of tweaks to the UI and some precious bug fixes. Anyway, new characters, new events, and a new dungeon make for a pretty decent update. But I'm still hungry.
Fire Emblem Heroes, Free The version 3.4.0 update to Nintendo's mobile cash cow brings a new mode into the game called Aether Resort. This mode allows you to invite your friends' heroes to visit your own personal resort and hang out. It's a welcome addition to the rather tepid friend system the game has going. This update also adds a new function called Pair Up that allows certain heroes to go into battle with certain others. Finally, the five-star summoning pool has seen yet another shake-up, so certain heroes that were appearing a lot before may not show up anymore outside of special events from here on out.
Fortnite, Free Fortnite. It is a game. It is a popular game. It gets a lot of updates, and I'm rapidly running out of things to say about those updates. This is a problem because it is a very popular game so it should be in these articles. At any rate, this particular update adds the Reboot Van, which allows you to revive eliminated squadmates, and the new Boom Bow, which is presumably good for sending people to the Reboot Van. New toys are fun to play with, I think. So enjoy the new toys and I'm going to move along to the next game.
Bloons TD 6, $4.99 And we're back to the Easter stuff. This time it's Bloons TD 6 that sees its festive update arrive, and it seems like a nice one for those who enjoy holiday-related tower defense updates. There's a new Easter egg collection event, for starters, and a new intermediate map to go along with it called Spring Spring. There's also a new hero skin, Ocean Obyn, and some new and updated Insta Monkey portaits. It's kind of nostalgic to see a paid game keeping pace with seasonal events, to be honest. You don't see a lot of that anymore.
Reigns: Game of Thrones, $3.99 How about that Game of Thrones episode that just aired, hunh? What a shocking turn of events. I'm just…. in awe, you know? About all the surprising stuff. I have never watched an episode of Game of Thrones. Sorry for lying. I shall endeavor to be more honest from here on out. Starting with this: Reigns: Game of Thrones just got an update that adds 100 new cards into the mix and fixes some bugs and minor text issues. Which, you know, is probably less like that thing that happened in the last episode that you didn't expect, and more like the thing that happened that you did expect.
Escapists 2: Pocket Breakout, $6.99 The best thing you can add to a game like Escapists 2 in any given update is more content, and that's just what the latest version promises to give you. Specifically, you get a new prison to bust out of called Cougar Creek Railroad. This is a very unique prison in that it is mobile. You've got to get off the train somehow before it reaches the end of the line, and as usual, there are a bunch of ways to do that. It's a pretty cool set-up, and a couple of the solutions are fairly clever. I guess I'll give this the coveted UMMSotW award for this week.
Gardenscapes, Free Just checking in on good old Austin again, and it seems like he's up to all kinds of shenanigans once again. First up are some spring events, including the requisite Easter event that has some neat Easter-related reward. There will be another new event at the end of the month, so keep those gardening shears sharp. The story of Alex and Jason's wedding continues in the story, and we get to meet Austin's uncle, Chester. What? Truly the greatest game-amatic universe going today, friends. There's a new level goal where you have to collect coconuts, some new profile pictures, and the ability to rewatch highlights from past stories whenever you like.
Cookie Jam: Match 3 Games, Free Hey, it's this week's free-to-play matching puzzle game update. I chose Cookie Jam this time because it had been a while since we included it here, and yeah, it's uh… it's a usual update, alright. Specifically, there are 20 new levels to play, bringing the total up to a zillion kajillion or so. No real information other than that but once you reach a certain point with games like these it's almost useless to try to add any context to it. People are hooked and are just coming to eat the cookies, not to see your feeble attempts at making a story about it.
MARVEL Battle Lines, Free Let's end things with a look at the Marvel game that never really gets noticed, Nexon's Marvel Battle Lines. This update adds nine new cards to Stark Lab, along with five leader characters. The horde mode waves have been expanded from 50 to 70, and some new events have been added, likely in anticipation of you-know-what movie. Several parts of the game have been adjusted for balance purposes, and the UI has been tweaked as well. Finally, there's some new background music. And that's about it.
That about wraps it up for last week's significant updates. I'm sure I've missed some, though, so please feel free to comment below and let everyone know if you think something should be mentioned. As usual, major updates will likely get their own news stories throughout this week, and I'll be back next Monday to summarize and fill in the blanks. Have a great week!