Hello everyone, and welcome to the week! It's time once again for our look back at the noteworthy updates of the last seven days. As usual, lots of big and/or popular games got new content this week, along with a handful of less-frequently seen titles. I've picked a few that I felt best represented the vast canvass of updates for the week and now present them to you for your reading enjoyment. Of course, you can keep an eye out for updates yourself using AppShopper or by participating in the TouchArcade forums. This weekly summary is just here to fill you in on the things you might have missed. Let's go for it!
Fire Emblem Heroes, Free Fire Emblem Heroes updates aren't quite as exciting as they used to be, which I suppose makes sense given how long the game has been around. There's only so many dramatic changes you can make, after all. So this update mostly just expands on the Inherit Skill feature, allowing you to pass on up to four skills from a single hero. Other than that, there are some new weapon skills for a couple of characters. Yeah, no new rhythm mini-game or, I don't know, Fire Emblem Home Run Derby or anything like that. But that's alright.
Dan The Man, Free You know, I remember the days where no holiday was too minor for a billion and one apps to do some sort of appropriately-themed update. Yet here we are, with St. Patrick's Day right around the corner, and not a whole lot of games are doing anything with it. But you know that isn't good enough for Dan the Man, so you can update your game and enjoy a special costume, stage, and some music. I mean, it's probably just old content being trotted out again like the perpetual stock of chocolate eggs we'd move in and out of the freezer at the convenience store I worked at back in the day, but still counts.
The Greedy Cave, $0.99 Sometimes you're playing the original The Greedy Cave and all you can think is how much you'd rather be fishing. It happens. It is a real thing that happens and not something I just made up now. Because if no one ever did that, why would this latest update include cave fishing? You can also fish for free in town 24 times per day, and you can buy more attempts each day if you want. Watching ads gets you more recoveries per view now, and some new equipment has been added.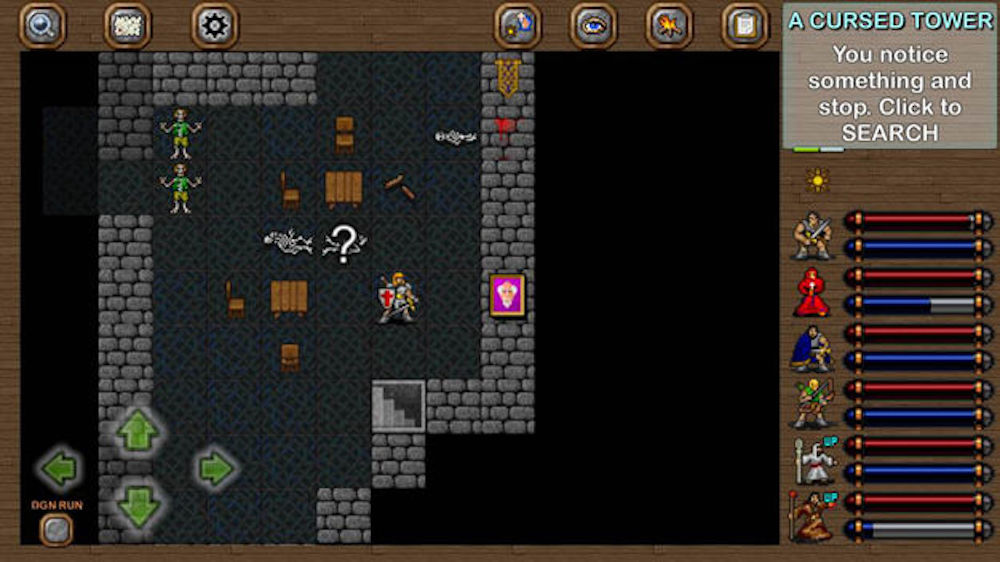 Dungeons of Chaos REVAMPED ED., $5.99 This update adds the Zomok Set to the game, which requires four items. Two of them, the Dragon Rod and the Acolyte Robe, already existed in the game, but the other two, the Dragon Belt and the Dragon Crown, are new. Collect and wear all four and you'll be pretty good with fire and have a much better chance of summoning a friendly dragon. It also removes the possibility of an unfriendly dragon appearing from a summon, so that's nice. If you're wearing this set, you can just keep on raining down the summon dragon skills without worrying about any blow-back for your sins. Cool.
Heroes of Steel RPG Elite, $0.99 The Trese Brothers are firm believers in the NSU philosophy: Never Stop Updating. And here we are with another nice one for Heroes of Steel, a game that started off okay but became pretty darned awesome after enough updates. This one isn't so big, mind you. It improves iPad Pro support, adjusts some skill and attribute caps, and fixes the stats on the Thunderseam Mantle. But an update is an update, and this, my friends, is certainly an update.
Marvel Contest of Champions, Free Well, the Captain Marvel movie has been out for less than a week and has made something like half a billion dollars, so it's safe to say that Carol Danvers is finally going mainstream. Naturally, she's at the center of the latest update for Contest of Champions, with a new version of Captain Marvel joining the line-up. Three existing characters have also gotten some big improvements to help them hang with the pack. She-Hulk, Spider-Gwen, and Gamora have all gotten some nice buffs. There are a few other things in here, but that's the gist of it. Since I'm feeling very kind towards Marvel at the moment, I'll give this game the coveted UMMSotW award for this week.
Candy Crush Soda Saga, Free Yes, even with their boring copy-pasted update descriptions, there's only so long I can leave King out of these things. So hey, Candy Crush Soda Saga. I rather liked this one at one point, to be honest. But then I somehow lost my progress and had to start over, and nobody's got time for that nonsense. Well, that was ages ago. If I had kept playing, I might well be excited to hear that there are 15 new levels to play. But I didn't, so I'm not. Tough noogies.
Subway Surfers, Free Those Subway Surfers are at it again, ha ha. What a precocious bunch of hooligans. This time, they're on their way through San Francisco. That means you get to surf across the Golden Gate Bridge and hang out with Jenny, a surfer who is all about peace and civil disturbances. The new Pixel Heart board is up for grabs, and if you collect 8-bit Alien tokens you can get some nice rewards. I think this is a GDC tie-in? Well, whatever. I hope those kids move fast, because I doubt they can afford the rent if they idle too long.
Asphalt 9: Legends, Free Both of the major racing game brands on iOS saw updates this week, and there are a few similarities between them. It happens. So yeah, this update brings the Lamborghini Huracan EVO Spyder to the game, which is a very, very new car. I'm guessing that earning it is going to take some doing, and also probably some money because that is how all of this generally works. But you know, collect those blueprints, hope for the best, and if you fall short, determine how much you can reduce your food and/or candle budget to help you close the gap.
Real Racing 3, Free I know there's at least one person out there who doesn't like it when I include this game in these round-ups because it is a naughty game. But that isn't really how this all works. Naughty games and nice games both get a chance here, because where there are Spider-Mans, there must also be Forbush Mans. And I'll certainly agree, this is one heck of an Irving Forbush. Um, anyway. There are some new premier series you can take on with this update, and upgrading some of the cars will open up a couple more. More content. More events. Eat your beans.
That about wraps it up for last week's significant updates. I'm sure I've missed some, though, so please feel free to comment below and let everyone know if you think something should be mentioned. As usual, major updates will likely get their own news stories throughout this week, and I'll be back next Monday to summarize and fill in the blanks. Have a great week!