This past summer developer Fntastic released Radiant One (Free) on the App Store, an extremely trippy isometric puzzle adventure about a man getting trapped inside his own lucid dreams. We enjoyed it a lot in our review but noted that it was a rather short experience and we definitely found ourselves craving more when the game came to an end. Well, it turns out Fntastic does have more in store for Radiant One and they've just dramatically changed both the pay model and structure of the game with a new update. The game is now episodic with new chapters set to release monthly, and the next chapter titled The Secret is set to debut in full next month but is available right now in playable teaser form inside the newly updated game. Here's a teaser trailer for The Secret.
As you can see, The Secret will follow a similar isometric point-and-click style of the original episode, which has been named The Awakening. You'll play as a woman named Rachel who wakes up in a mysterious mansion and is accompanied by a creepy dark cloud of a creature, which grows as her anxiety rises. You'll need to help Rachel escape the mansion by exploring and solving puzzles, and along the way you'll "learn a great secret that will change her life forever." Due to the new episodic nature of the game, Radiant One is now free to download with a playable teaser of The Awakening available to try. You then subscribe for $2.99 per month to get access to the full versions of each monthly episode as it becomes available. If you previously bought Radiant One when it was a paid title for $2.99, you'll be treated to this message pop-up: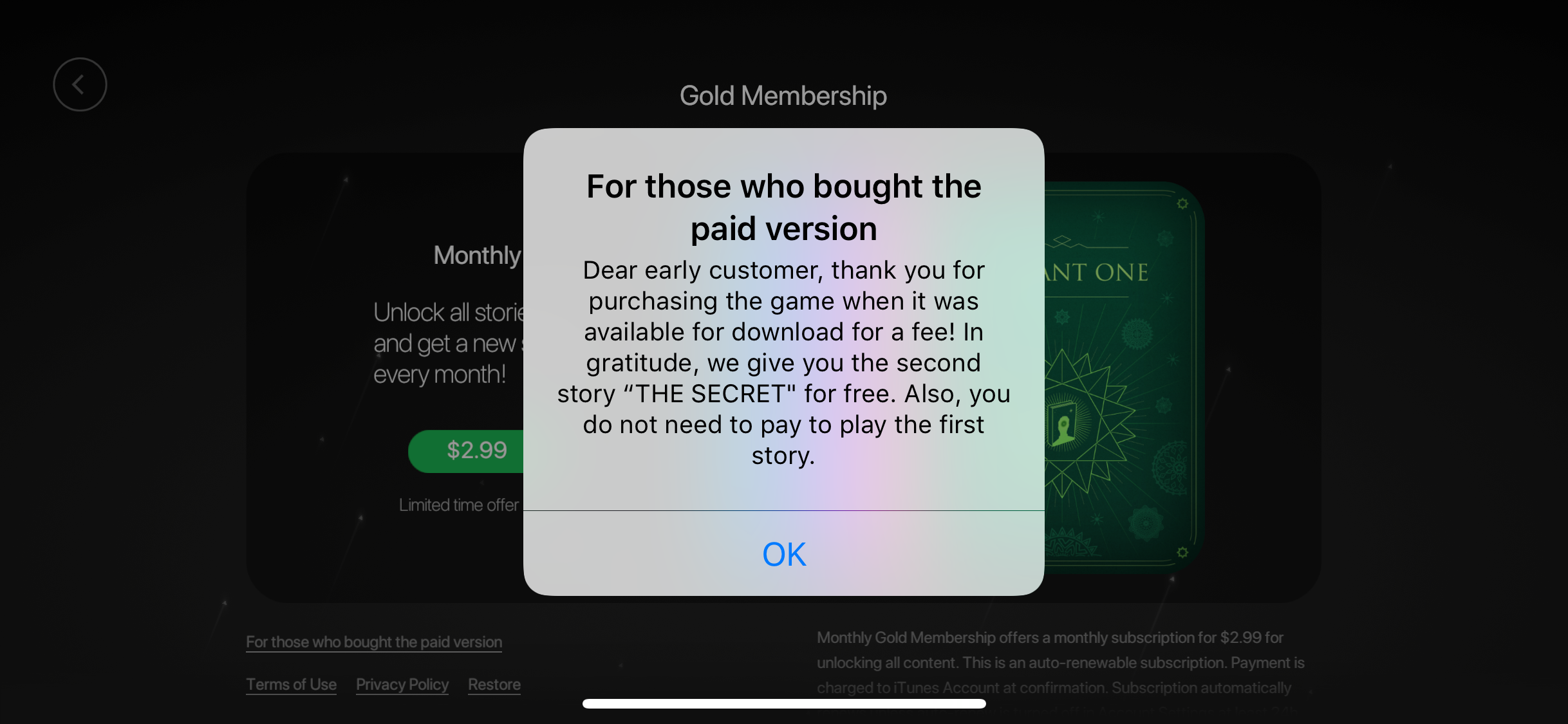 It seems like Fntastic is trying to do right by their paying customers, as you'll have access to The Awakening episode just as you always have and they're even throwing in the new episode The Secret for free, which is pretty cool. Unfortunately, whether by design or not, being a previous owner doesn't seem to give you access to the playable teaser version of The Secret, so I'll be curious to see if it truly does unlock for existing owners when it launches in full next month. (UPDATE: This has been fixed, see below.) Also I'm a bit conflicted about the whole membership thing in general. I'm not really a fan of memberships in mobile games as they're almost exclusively exploitative, but in this case it seems more along the lines of what you should expect from a subscription as you're receiving a new episode each month for the monthly fee. Kind of like subscribing to a magazine. At the same time though, this also could have been accomplished by simply offering the different episodes as separate IAP as most other episodic games do, as even having a monthly subscription, as honest as it may be, will be a huge turnoff to a number of gamers.
I'm curious how it will work out for Fntastic and I enjoyed Radiant One when it was released so I'm very happy to see more stories in the series. Right now the menu in the game has episodes set through May, so there are at least 3 more episodes to follow The Secret and I'm guessing their goal is to have new episodes throughout the entire year. The other benefit to this big change for Radiant One is that if you didn't jump into it when it was a paid game, now you have the opportunity to at least check a small portion of it for free which I'd definitely suggest everyone to do if they like the look of the above trailer.
UPDATE: The developers have just released an update that makes the playable teaser of The Secret unlocked for existing owners of the paid version, and they've also let us know that they'll be offering these future episodes as IAP purchases in addition to the subscription service, so if you're not a fan of subscriptions you'll simply be able to buy the episodes outright. Hooray!