Hello, gentle readers, and welcome to the SwitchArcade Round-Up for December 28th, 2018! Today, I've got some impressions of the recently-released-in-Japan SEGA AGES title Gain Ground, some news about old games getting new releases, and a collection of sales big and small. Let's get down to business.
'SEGA AGES Gain Ground' Import Impressions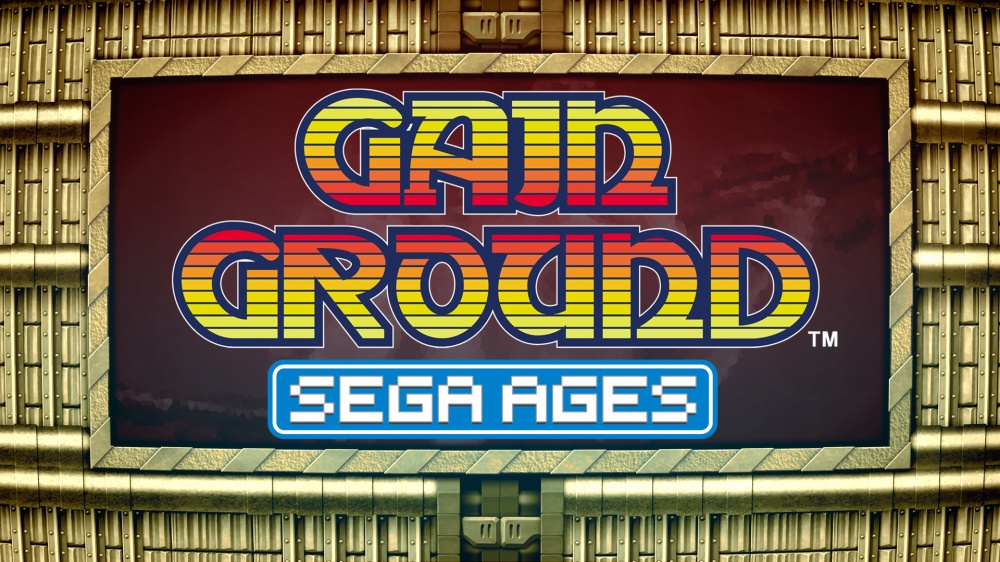 The Japanese SEGA AGES releases are about a month and a half ahead of the schedule outside the country, and while it's not fun to wait, the benefit is that you can get more information on the games before you have the chance to slap down your money. The newest SEGA AGES release in Japan is Gain Ground, and it presents a dilemma that will probably come up a few more times as this series goes on. This is the arcade version of Gain Ground, which to the best of my knowledge has never gotten an authentic port or re-release on any console before.
That has value in and of itself, but there's just one little problem for the player who's looking to get the best game for their money: the Genesis version of Gain Ground is on the relatively low-priced SEGA Genesis Classics collection, and you can make a good case for that version being better in some ways than its arcade source. The arcade version supports three players, has a bigger play area, and looks quite a bit better thanks to its hardware's high resolution. The Genesis version has ten extra stages in a whole new era, and some players prefer its more compact stage designs. If you already own the $30 collection that comes with 50 other games, it's tough to recommend spending another $8 for a straight conversion of the arcade.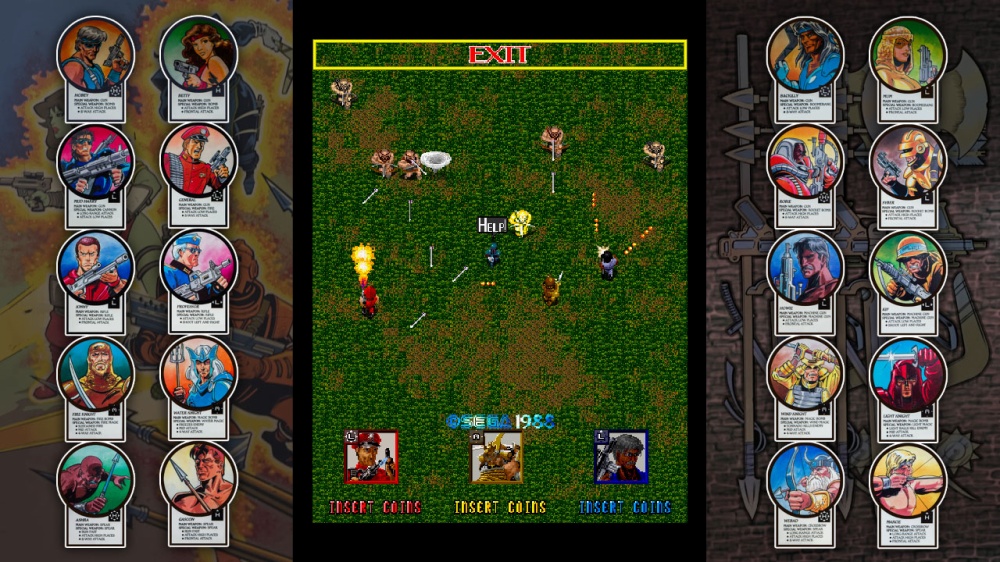 But this is M2, so it's not as simple as a straight conversion. Oh, you can get that if you want it. You can even mess around with settings to get a more authentic image. Don't like the bug in 4-8 that prevents you from beating the stage by defeating all the enemies? There's a setting for that, too. Grab a spare Joycon and you can play with two friends, an experience that was rare to enjoy in the arcades thanks to the limited distribution of the three-player cabinet. If you have a Flip Grip or another way of standing your Switch unit up vertically, you can even rotate the display and enjoy a proper tate Gain Ground experience.
If you want something more than that, there's the Full Member mode. Normally in Gain Ground, you start the game with three characters and need to rescue the others from various stages to use them. I think that's the best way to enjoy Gain Ground, as the slow build-up of your force is part of the enjoyment, but you know what? Gain Ground is really hard. It's easy to bounce off of it because it's kind of complex and doesn't fit neatly into any genre. Full Member mode starts you off with all 20 characters at your disposal, allowing you to experiment with them and get a good feel for the game's mechanics. It's a good way to get used to the game, and after that you may want to go for the more challenging standard mode.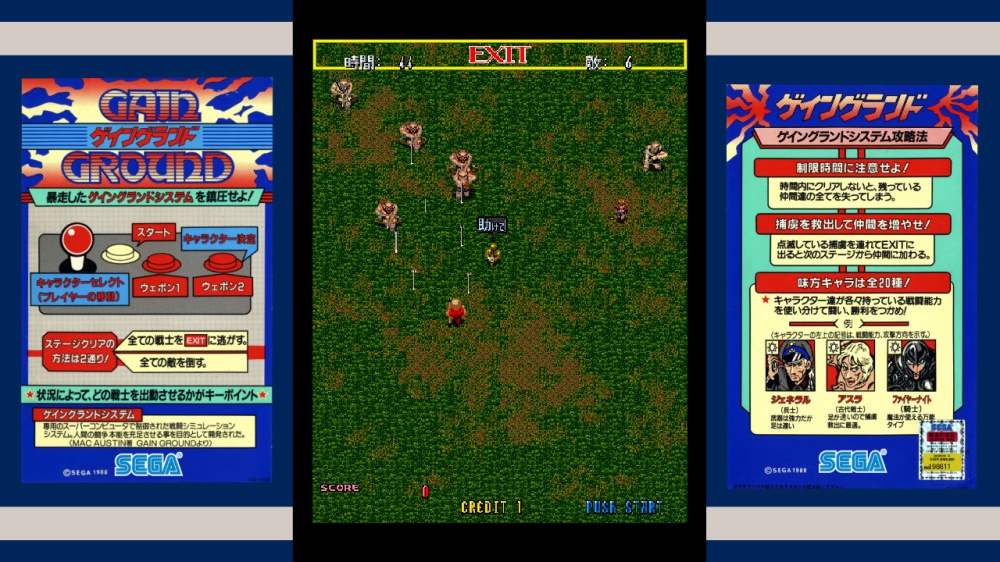 Beyond that, there's also a level select that you can open up, an endless supply of coins so you can play like a rich kid, and a funky border that emulates the old arcade machines. Oh, and there are online leaderboards if you're into that sort of thing, which you may be if you're going for the arcade version of the game. If you love Gain Ground, you're going to be very happy with what M2 has done here. And hey, given that Gain Ground was the highest-ranking non-racing game in the poll M2 ran in 2016 about future SEGA re-releases, there are a lot of folks out there that love this game.
So what is Gain Ground? Well, it was created because SEGA wanted something like Gauntlet, and it's… nothing like Gauntlet at all. Hm. Yes, it's a multiplayer top-down action game where you need to battle aggressive enemies and make your way to an exit to move on to the next stage, and there are different characters with different parameters. But that's about it for similarities. Stages in Gain Ground are a single screen, so you can see what you're going to have to deal with before you start. Each character has two different weapons and even has a favored hand, and certain ones are required for certain situations. You can beat a stage in one of two ways. You can either move all of your units to the exit, or you can kill all of the enemies. A time limit ensures that the former is a difficult task to pull off, but if you don't have the right units to hit certain enemies, it's an option you may have to settle for.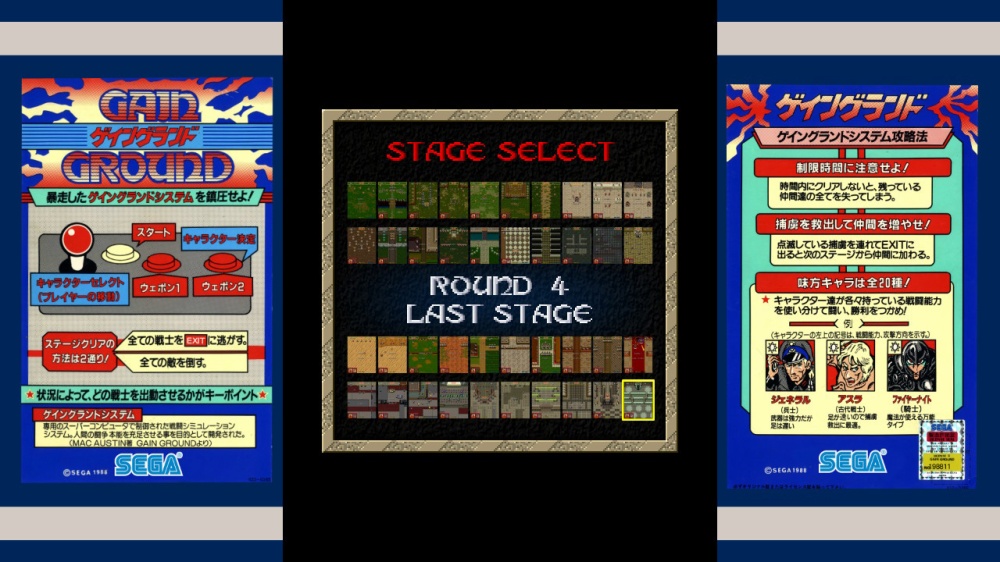 Any characters who don't make it to the exit before the timer runs out are gone for good. If a character takes a hit, they'll be taken captive. You can rescue them by touching them with another character and taking them to the exit, but if the rescuer is felled, they'll be the new captive and the old one will be lost. The action is quite relentless, but there's a lot of strategy at play here, too. You need to learn how enemies will behave and what each of your characters can do, and that's going to take a lot of trial and error. If you give it enough time, it's a fantastic, unique game.
Gain Ground should release outside of Japan in early February for $7.99, if previous releases are anything to go by. It might be the hardest sell yet for the young SEGA AGES line, but don't let its curious nature keep you from giving it a shot.
News
'Iconoclasts' is Getting a Physical Release, Orders Open on January 18th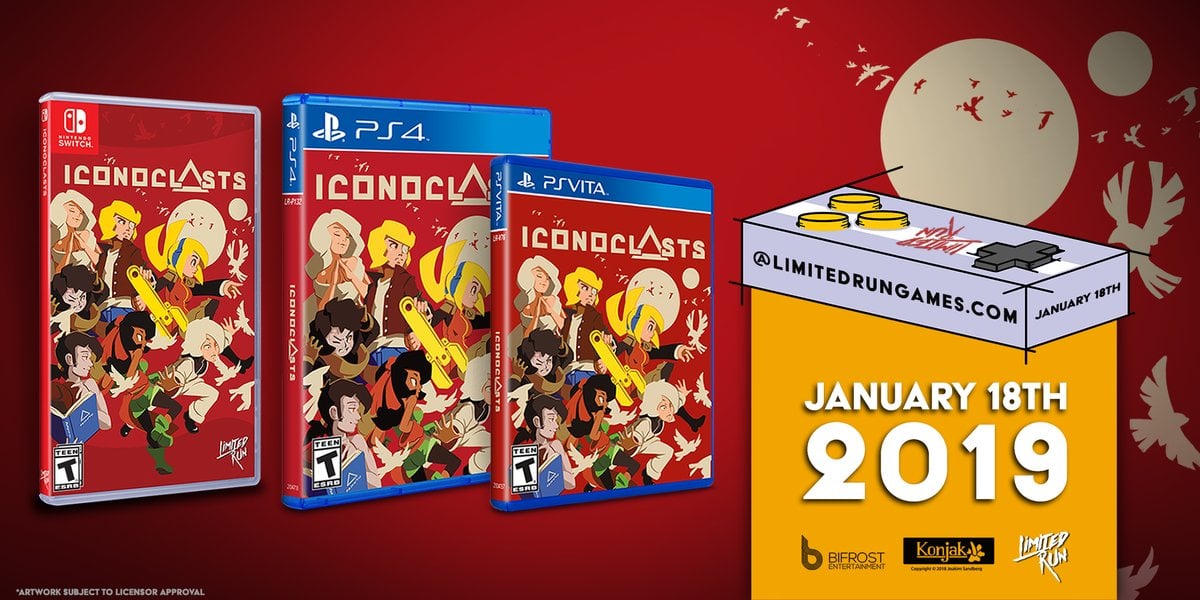 Developer Konjak knows how to make really spiffy-looking action games, and Iconoclasts may well be his best. The game came out digitally in the summer of this year for the Switch, and it fit the system like a glove. As they tend to, the good folks at Limited Run Games have picked up this little gem for a physical release. Orders open on January 18th, so if you want to have this lovely game on your shelf in a form that is likely more permanent than our weak meat-flesh, you may want to circle the day on your calendar.
Next Week's ACA NEOGEO Release is 'Ragnagard'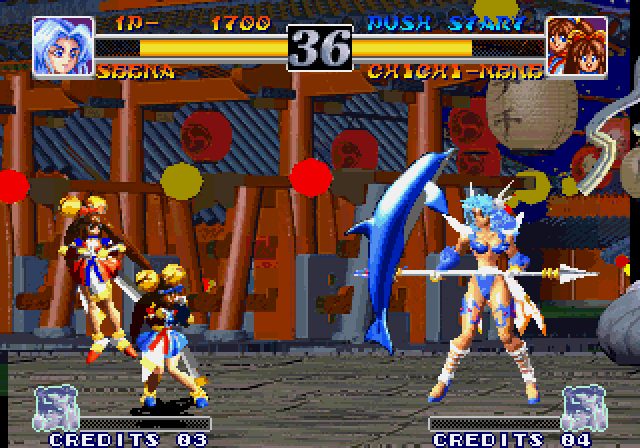 Holidays or no, Hamster is sure to have something new for the Arcade Archives every week. Sometimes it's great, sometimes it's mediocre, and sometimes it's outright baffling. Next week's ACA NEOGEO release is… well, it's a deep cut, that's for sure. If the goal is to make sure that even the lesser-known releases get their time to shine, Ragnagard is a solid pick. You could ask people to name 20 NEOGEO fighting games, and they'd probably run out of ideas before this game would ever come up. I'd like to tell you it's because this is a hidden treasure, but it's likely more because Ragnagard just isn't very good. It'll likely come in at $7.99 if you want it, though.
New Releases
ACA NEOGEO King of Fighters 2002 ($7.99)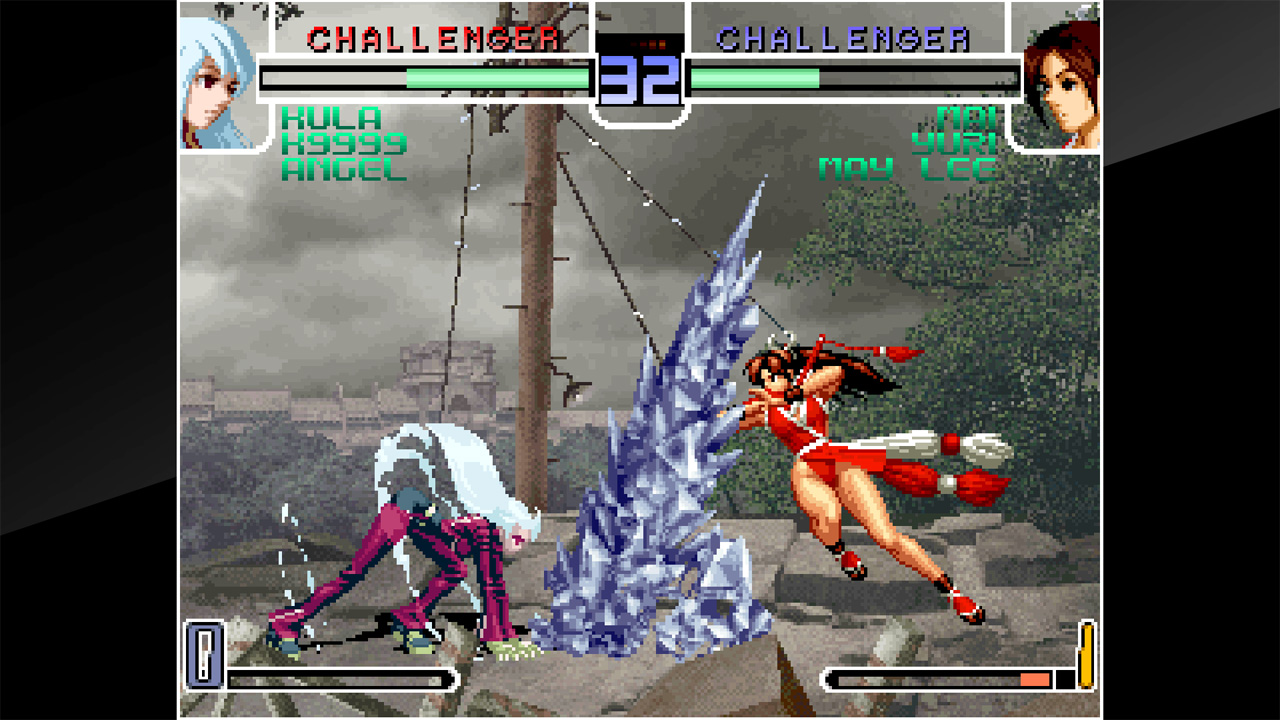 SwitchArcade Recommended!
You can ask a dozen people what their favorite King of Fighters game is, and you may well get a dozen different answers. But ask enough people and you'll start to see some answers repeat more than others. One of those is King of Fighters 98, but the other big one from the older games that you'll see people flock around is King of Fighters 2002. There are a lot of reasons for that, and going into detail is probably beyond the scope of this write-up, but if you're looking at a big list of King of Fighters games and trying to figure out which one to buy, this is a really good choice.
Sales
Hey, some new blood! And at least one of them is quite good, too. Armello is on sale for what I think is the first time since it hit the Switch, and it's definitely a cool game. Apart from that, we've got a few good games that are on sale pretty often, and a few not-so-good games that are rarely on sale. Take your pick!
New Games on Sale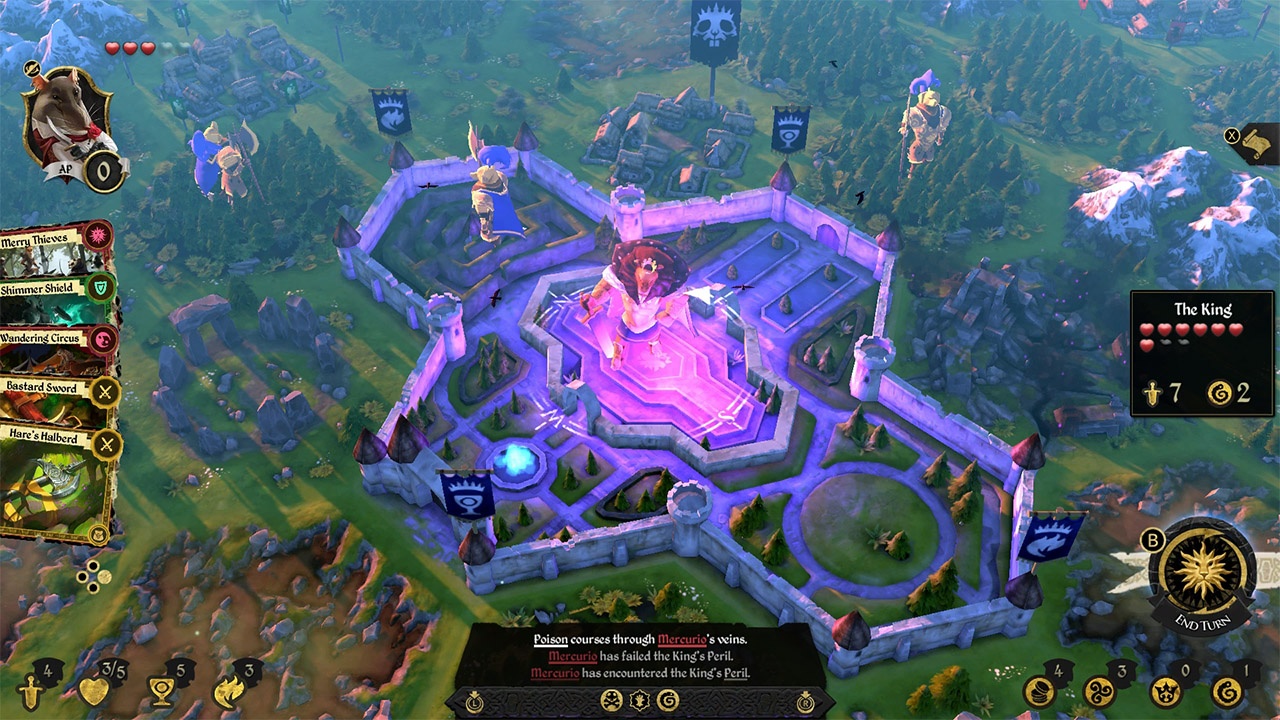 Armello ($9.99 from $19.99 until 1/3)
Hollow ($1.99 from $19.99 until 1/10)
The Mystery of the Hudson Case ($4.15 from $4.89 until 1/14)
Phantaruk ($2.49 fromm $4.99 until 1/10)
Pixel Action Heroes ($2.49 from $4.99 untl 1/15)
Putty Pals ($4.99 from $9.99 until 1/10)
Regalia: Of Men and Monarchs ($19.99 from $24.99 until 1/3)
Shift Quantum ($7.99 from $19.99 until 1/16)
Steamburg ($3.74 from $4.99 until 1/10)
Teddy the Wanderer: Kayaking ($7.49 from $9.99 until 1/10)
Tiny Trooper Joint Ops XL ($6.49 from $12.99 until 1/10)
Violett ($0.99 from $9.99 until 1/10)
Vostok Inc ($7.49 from $14.99 until 1/10)
Word Sudoku by POWGI ($6.39 from $7.99 until 1/3)
Zombillie ($0.49 from $4.99 until 1/10)
Sales Ending Tomorrow, Saturday, December 29th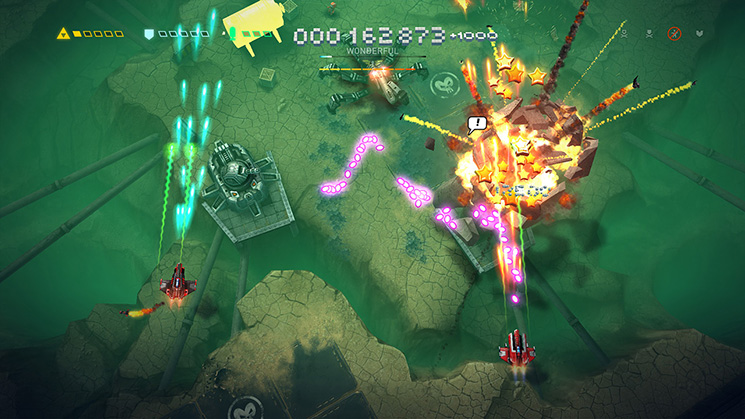 Animal Rivals ($1.99 from $3.99 until 12/29)
Glaive: Brick Breaker ($4.99 from $9.99 until 12/29)
Light Fingers ($14.99 from $19.99 until 12/29)
Sky Force Reloaded ($6.49 from $9.99 until 12/29)
Tiny Hands Adventure ($3.99 from $7.99 until 12/29)
That about does it for today's round-up. I'm not completely certain of the schedule around the New Year, but I'll have something for you on either Monday or Tuesday, if not both days. Have a great weekend, and good luck with your preparations for the end of the year. Thanks for reading!