Hello, gentle readers, and welcome to the SwitchArcade Round-Up for December 19th, 2018. Tomorrow will see a whole bunch of new releases, but today we've just got a little bit of news and a handful of new sales for you. To help top off the mug of cocoa, I've also put together a mini-review of Horizon Chase Turbo. Let's race to the finish!
Mini-Review: 'Horizon Chase Turbo' ($19.99)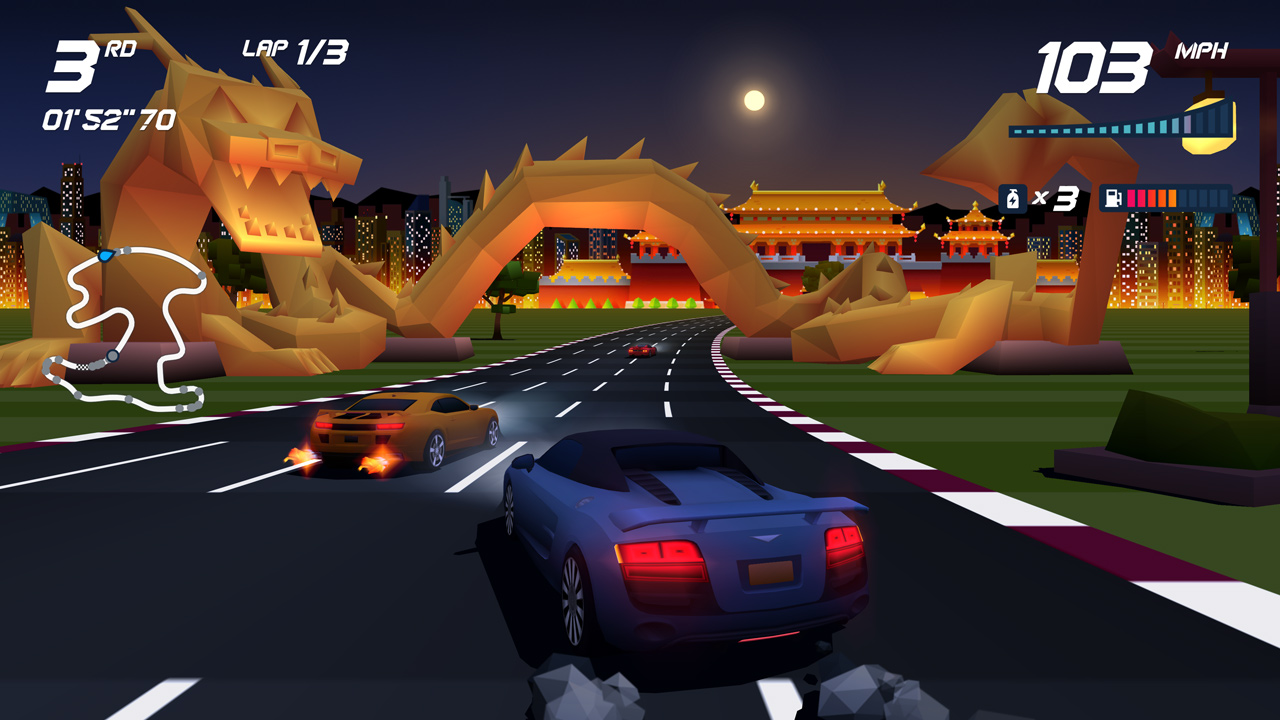 SwitchArcade Recommended!
Horizon Chase is a name that ought to be familiar with most regular readers. It's a fantastic homage to racers of the 1980s and 1990s that worked amazingly well with touch controls. Horizon Chase Turbo is an expanded version of that game, adding in new features, extra content, better visuals, and the more traditional controls that come with being on hardware with standard sticks and buttons. While much of the game is similar to the mobile version, there are enough new things here that even veterans of that initial release might want to bite on it.
If you haven't played Horizon Chase before, the basic idea here is to roll back to the days of when racing games were all about bright colors, made-up cars, nitro-fueled victories, and pumping original tunes. At first glance, it's easy to compare it to SEGA's Out Run, but it's really more like Gremlin's Top Gear series of 16-bit racers in practice. You'll travel from location to location, trying to finish each race with the highest possible rank position. You'll earn points based on your performance that will unlock new areas, cars, and events. As you race around each course, you'll pick up tokens that contribute to your points, fuel that is necessary to keep moving, and even extra shots of nitro you can stock on top of your default amount. Certain special races offer the chance to upgrade a part for all your cars.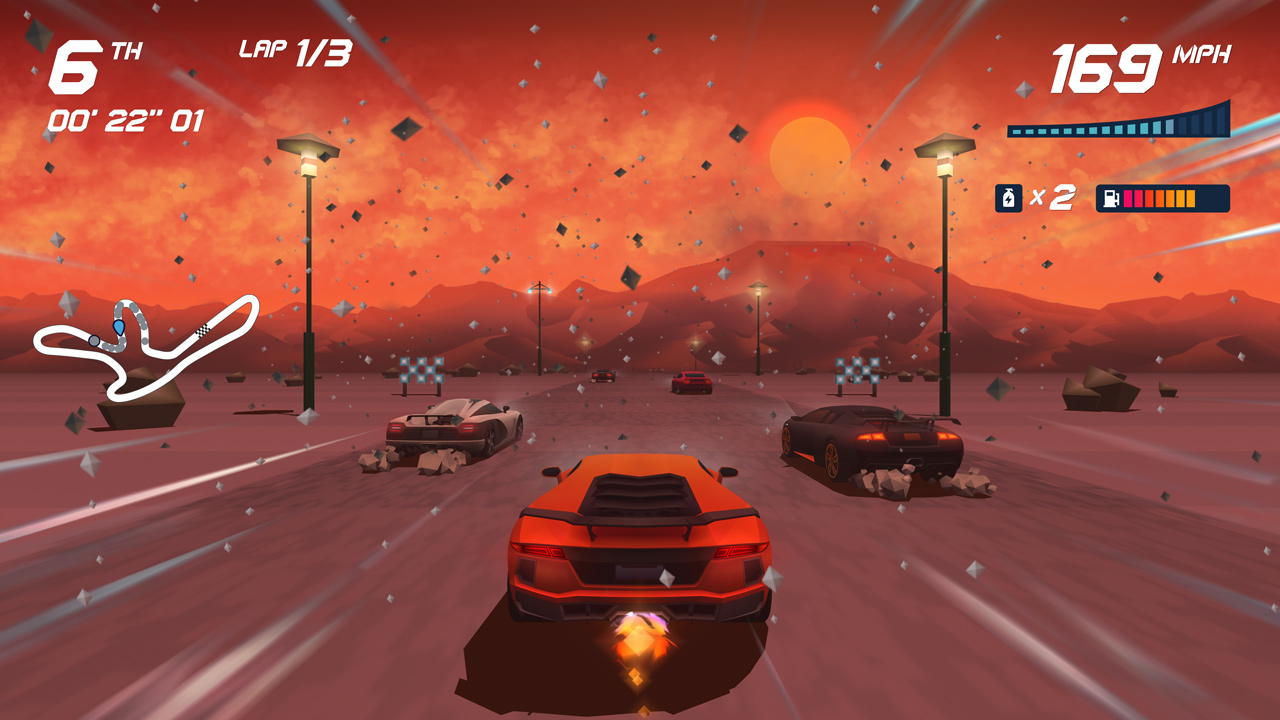 The racing action here is very much in line with the era it imitates. You can whip around corners at ridiculous speeds, smash head-long into signs or other vehicles and be back up on your wheels in a few seconds, and winning is as much about how well you can weave from lane to lane than your knowledge of good cornering techniques. Getting first place can be quite challenging, particularly if you're trying to earn the best trophy by collecting all the tokens on the track. The computer racers can be devilishly quick, and the sheer number of them on the track means that even the stupid ones can be hazardous to your run. There's nothing remotely realistic about any of this, but that's not what it's trying to be.
One of the big new additions to the game is the split-screen multiplayer. I'd expect that anyone with fond memories of the Top Gear games has had plenty of experience with that game's enjoyable two-player mode. Well, we live in the future now, which means we can have up to four people huddled around that carved-up display. Just like in those games, you can compete in straight races or simply play together through the regular campaign. It's a great time, and having humans to race against instead of the very computer-like computer makes the game feel fresh again. Horizon Chase Turbo looks and sounds great, too. The game has made the transition to Switch perfectly and runs smoothly even in split-screen. It's pure visual candy, and the music is just as incredible as it ever was.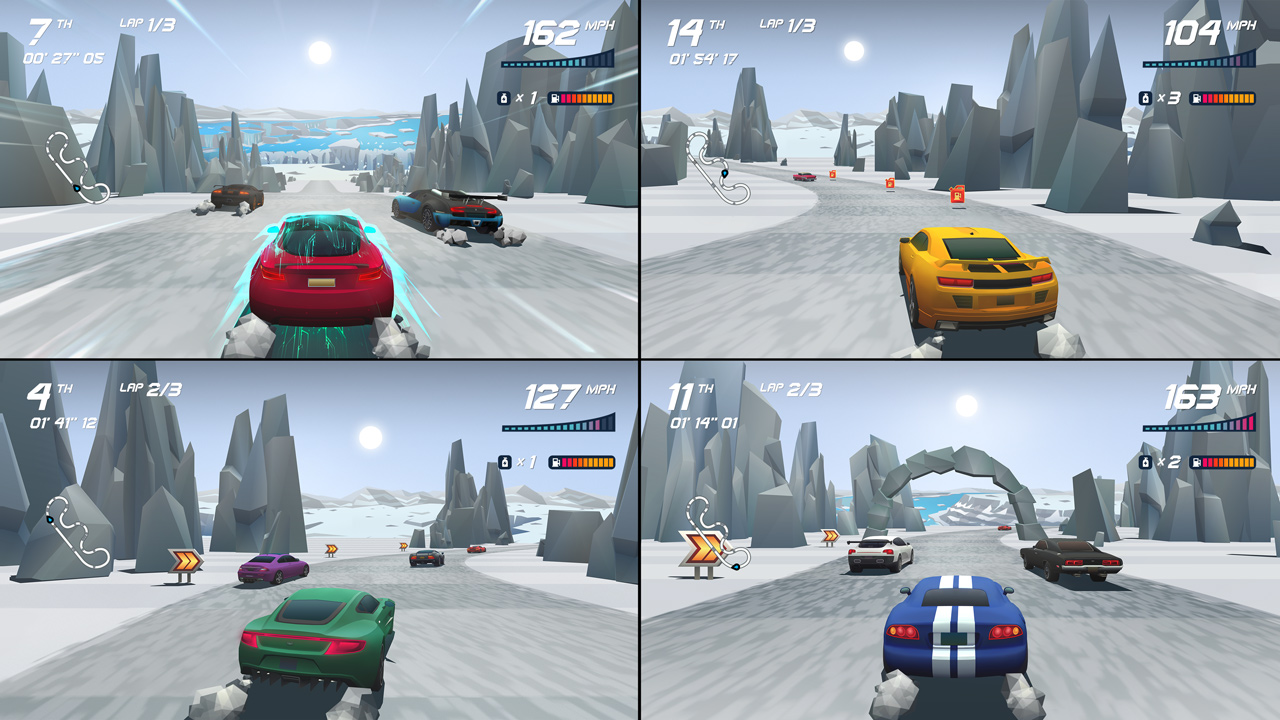 All in all, this is an easy game to recommend if you're looking for an arcade-style racer on the Switch. It certainly speaks to a particular era, and as such, it may not go over as well with those who prefer more realistic or sim-oriented racers, but if you're on the lookout for an enjoyable game with plenty of content to dig through, Horizon Chase Turbo will serve you quite well.
News
The New Update for 'Fortnite' Brings With It a Fortnight of 'Fortnite'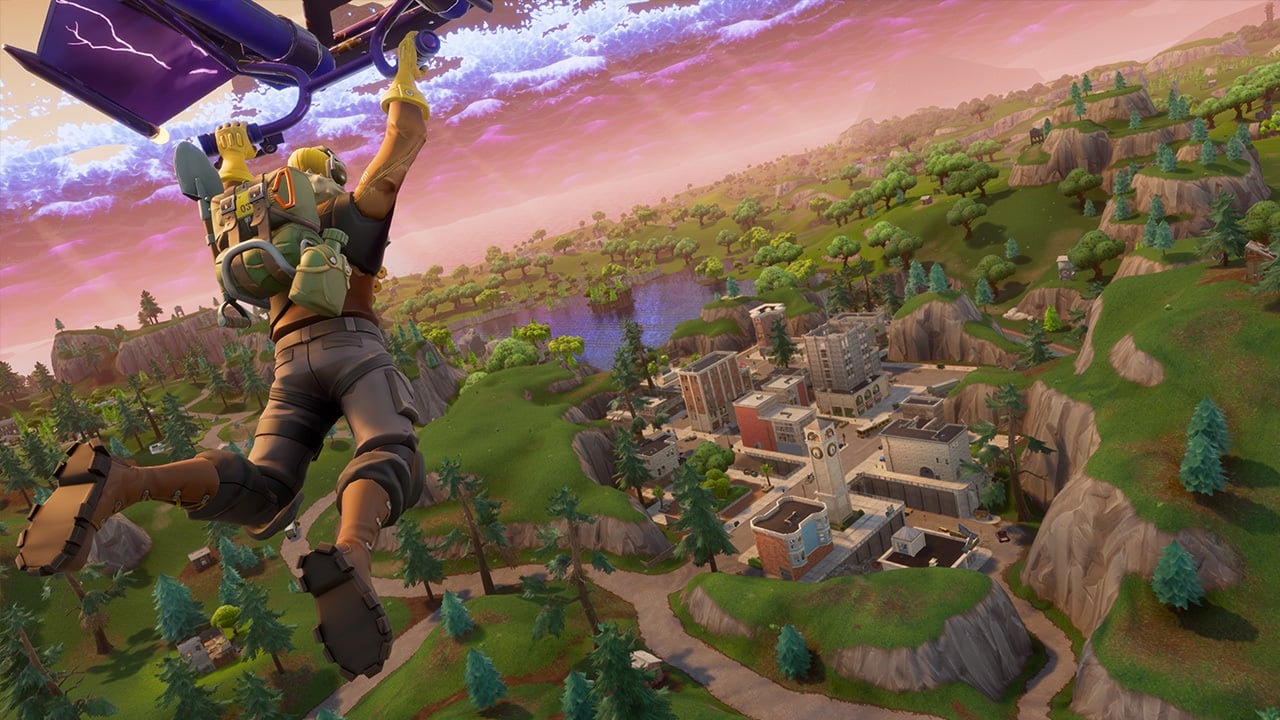 Version 7.10 of Fortnite is available for the Switch now, bringing the 14 Days of Fortnite event along with some adjustments to Heavy Assault Rifles, Balloon controls, and Glider re-deploy. There are tons of other little changes, additions, and fixes, so check out the complete patch notes if you're interested in the fine details. I can't help but wonder if one of these updates will take out some of the dances that are causing so many problems for Epic's legal department lately? Though I suppose that might be tough and unnecessary. Sorry, Carlton!
Nintendo in Legal Hot Water Over Lack of Ability to Cancel Pre-Orders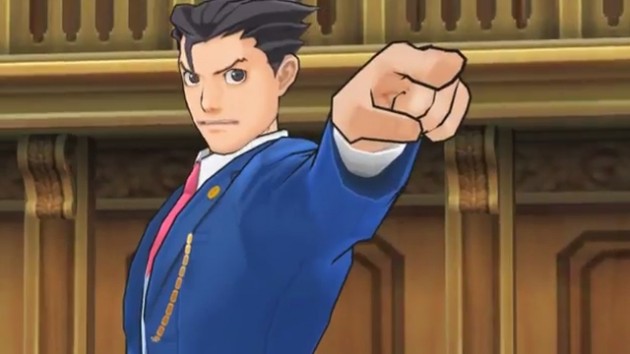 Here's the deal when it comes to the Nintendo eShop: once you pre-order something, your money is just as gone as if you'd bought it. No refunds, no cancellations, no exchanges. But is that legal? It depends on the country you live in, I suppose, and it's that distinction that is landing Nintendo in hot water in certain parts of the world. The latest country where the Big N is being taken to task is Germany, and the result is that Nintendo will be taken to court over this matter. When it has been brought up before, Nintendo's defense has been to point to pre-loading, which apparently makes these pre-orders different from your garden variety. Will it work? We may not know for years.
Holy Potatoes! An Update?!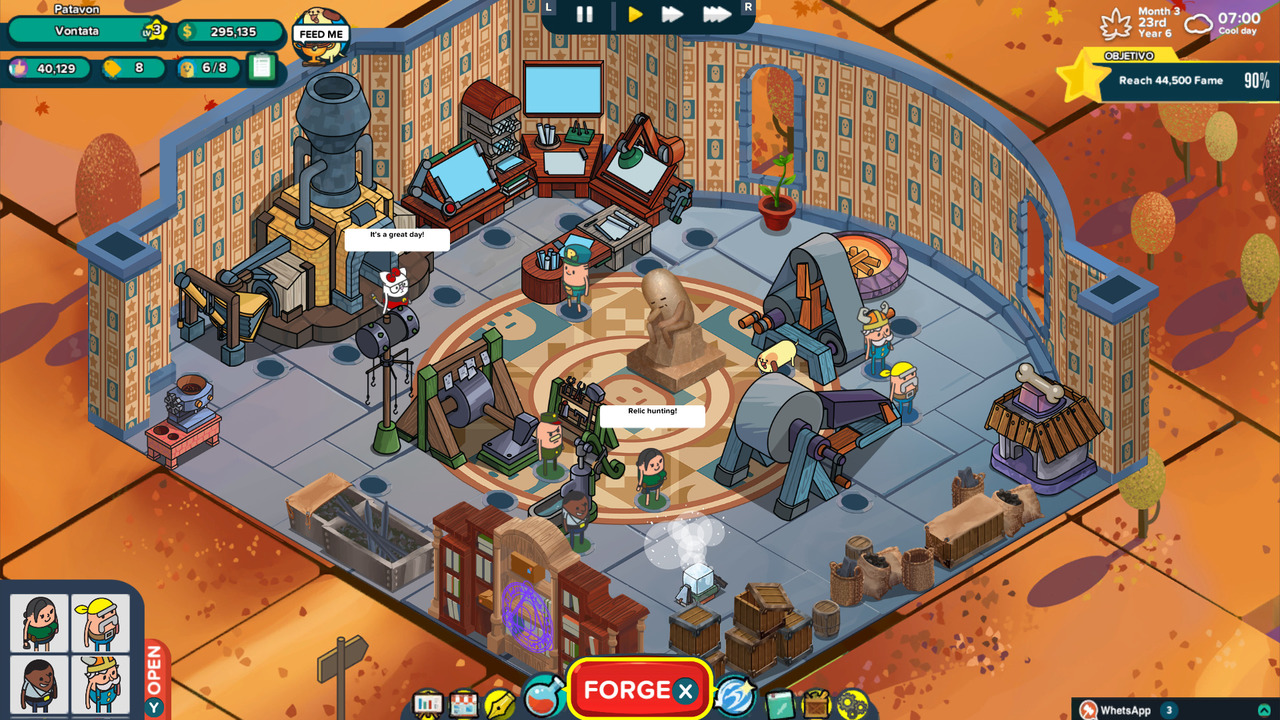 Holy Potatoes! A Weapon Shop?! always felt like a game better suited to mobile than Switch to me, but what the heck do I know? Nothing, that's what. Anyway, the game has received a big update that adds in a bunch of things, fixes some other things, and improves still others. Feel free to fill in your own words there. Highlights include new promo weapons, better controls, and some serious enhancements to docked-mode play.
Sales
Not a whole lot cooking today, to be honest. If you haven't picked up Volgarr the Viking yet, that's a pretty great game. Very hard, but great. There's also a nice discount on Sheltered during its launch period. Honestly, you may want to wait and see what tomorrow brings.
New Games On Sale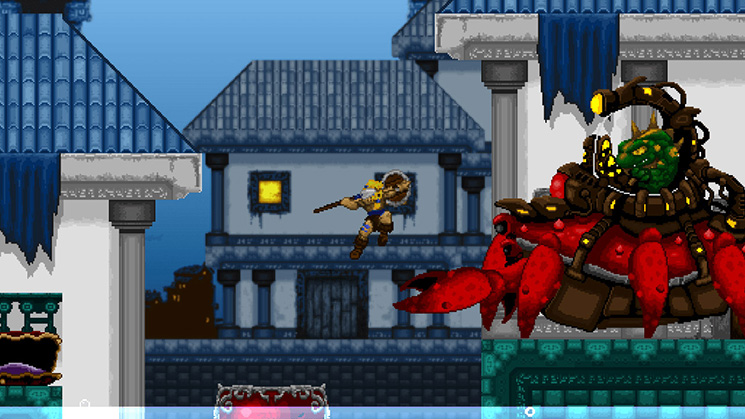 Alchemic Jousts ($7.49 from $9.99 until 01/07)
Sheltered ($11.99 from $14.99 until 01/01)
Stikbold! A Dodgeball Adventure ($7.49 from $14.99 until 01/06)
Suicide Guy ($4.79 from $7.99 until 12/27)
Volgarr the Viking ($4.99 from $9.99 until 12/25)
Sales Ending Tomorrow, Thursday, December 20th
6180 the moon ($2.99 from $3.99 until 12/20)
Beholder: Complete Edition ($11.99 from $14.99 until 12/20)
Chronus Arc ($11.69 from $12.99 until 12/20)
Dokuro ($7.19 from $8.99 until 12/20)
Graceful Explosion Machine ($8.99 from $12.99 until 12/20)
Immortal Redneck ($9.99 from $19.99 until 12/20)
Ivanych vs. Eared Beast ($2.39 from $2.99 until 12/20)
Knights of Pen and Paper +1 ($10.49 from $14.99 until 12/20)
Piczle Lines DX 500 More Puzzles! ($6.99 from $9.99 until 12/20)
The Jackbox Party Pack 4 ($14.99 from $24.99 until 12/20)
The Keep ($13.99 from $17.99 until 12/20)
Timber Tennis: Versus ($1.59 from $1.99 until 12/20)
And that's about it for today, everyone. But stay buckled up, put away your trays, and keep your seat in the upright position, because we've got a huge bunch of new releases coming tomorrow. I wouldn't be surprised if we saw a ton of new sales as well, given that Christmas is mere days away. As always, thanks for reading!