Animal Crossing: Pocket Camp (Free) is still in full holiday mode this week. A garden event may have ended, but the Toy Day Decor event is still going strong, and a new gyroidite scavenger hunt has begun! Continue collecting Bell Ornaments to work towards the ultimate prize, a Snowy Toy Day Tree.
The gyroidites have received festive outfits, and the little green statues can be found scattered across the various parts of the game, including Lost Lure Creek, Market Place, Sunburst Island, Saltwater Shores, Breezy Hollow, and OK Motors. You can also collect them via the Quarry, or as rewards from animals you've helped out.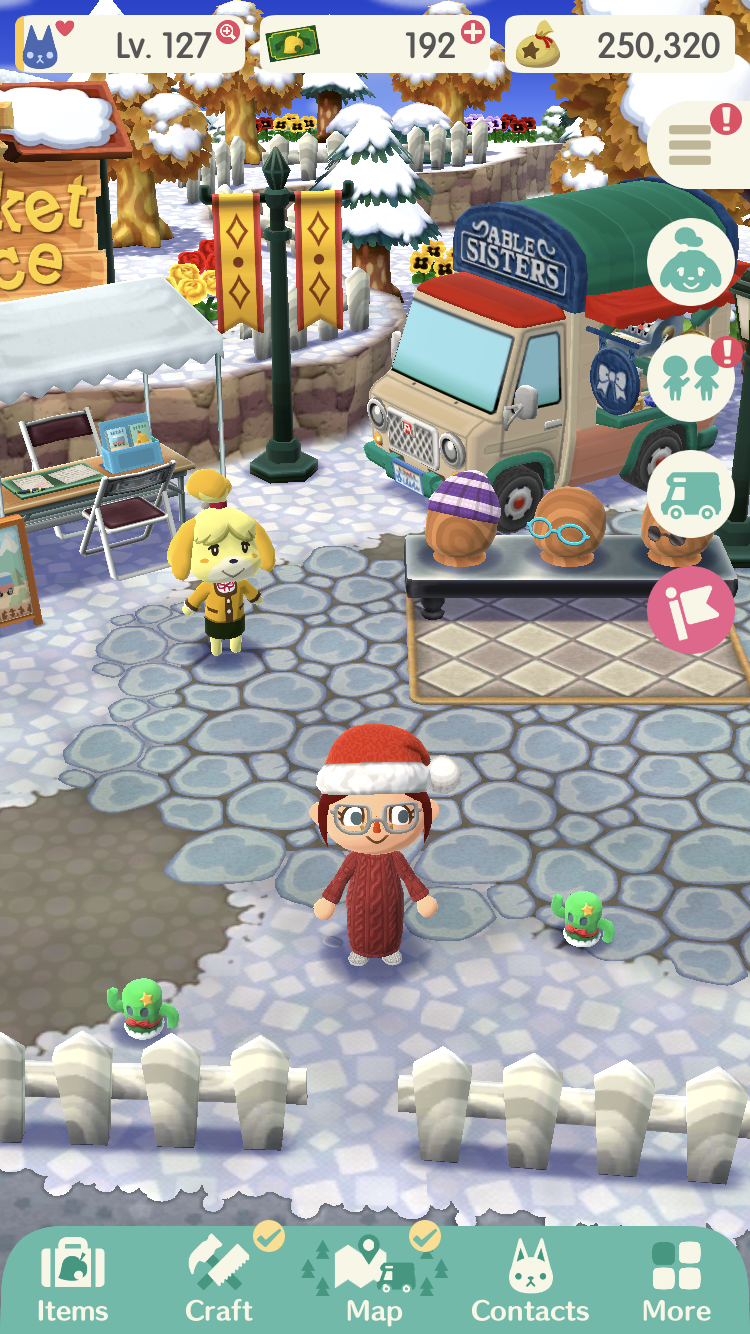 Gyroidite Scavenger Hunt #6, as with past hunts, rewards players with event-exclusive clothing. The clothing is earned by collecting the Toy Day Gyroidites; the player can craft the items using Bells and Gyroidites, or the special items using Leaf Tickets.
The premium event reward items (those requiring Leaf Tickets) include:
Red Nose, 5 Leaf Tickets
Ribbon Shearling Boots, 20 Leaf Tickets
Reindeer Hat, 80 Leaf Tickets

Event clothing that don't require Leaf Tickets includes:
Gray Knit Slip-Ons, costing 10 Toy Day Gyroidites and 240 Bells.
Red Sweater Dress, costing 30 Toy Day Gyroidites and 720 Bells
Ugly Toy Day Sweater, costing 50 Toy Day Gyroidites and 1,200 Bells
Festive-Tree Dress, costing 80 Toy Day Gyroidites and 1,920 Bells
Star Hood, costing 120 Toy Day Gyroidites and 2,880 Bells

Gyroidite Scavenger Hunt #6, or the Toy Day Scavenger Hunt as I've dubbed it, began in the wee hours of this morning. It will run until Friday, December 21 at 1:00 a.m. EST (December 20 at 10:00 p.m. PST). Following the usual event pattern, expect a fishing tourney to begin on that day; the fishing tourney features the return of fish tanks as rewards, pleasing a lot of players.
This pattern of one large event encompassing three smaller ones began last month with Animal Crossing: Pocket Camp's Anniversary Celebration, and is reflected in the Toy Day Decor event this month. This is expected to be a new normal in the game, with new themes monthly. While we don't know what next month's theme will be, we do know that we can expect new animals, craftable furniture, and possibly amenities soon!