As we reflect on the first week of December, we come to realize that not a whole lot happened across Arena of Valor in this early run-up to Christmas.
Some kind of advent calendar promotion would have been appropriate given the time of year, but alas we were presented with a countdown not centered around the joyous holiday season, but the first anniversary of the game's launch in the States. Arguably a more player-relevant event for sure, but given we don't even know what these Anniversary tokens will be redeemed for, it's hard to get excited.
But I digress! You're here for the weekly Arena of Valor news roundup, and I'm here to deliver just that. Just know that there isn't a whole lot to talk about this week, so keep your expectations grounded for now. Or at least that would have been the case hadn't the December Patch Notes just dropped during the drafting of that paragraph!
Winter Wonderland – Arena of Valor December 2018 Patch Notes
It only took six days after the start of the patch/anniversary countdown promotion to learn what the December 2018 AoV patch has in store for us. It's not the largest patch we've ever seen, that's for sure, but it's still going to make a difference to how you play the game going forward. The patch itself gets its name from the limited-time game mode being introduced this time around.
Winter Wonderland, a twist to the recently added Clone Clash mode, challenges players to "accumulate energy while battling to unlock a transformation ability. " Collect enough energy and you'll transform into either a Wild Monkey or the old version of the Dark Slayer and gain unique abilities you can use to beat down your opponents for a set time. The holidays are all about relaxing, and taking a break from the usual 5v5 competition to play something with a little more of a gimmick can really help with that. Expect some Event rewards for taking part in the early days, too.
Outside of that and the new ability to purchase and use Dance emotes in the match, the only other major change coming with the new patch relates to the mid-match economy and the usual hero balance pass.
On the economy side of things, gold accumulation from minion waves has decreased in the early game, but the growth rate has been increased. By increasing gold gained from destroying towers and jungle monsters, it appears Tencent wants to decrease the time Junglers need to spend away from their team while actively encouraging laners to push objectives.
Obviously we can't list the entire changelog in this one post, so you'll want to head on over to Reddit or AoVStats to read the notes in their entirety. Over 30 heroes have been buffed, nerfed, or otherwise changed, alongside some fairly large tweaks to certain Talents that could easily disrupt the team-fight meta.
Expect all this on December 13 (assuming it isn't delayed).
AIC 2018 Quarter-Final Starts Tonight!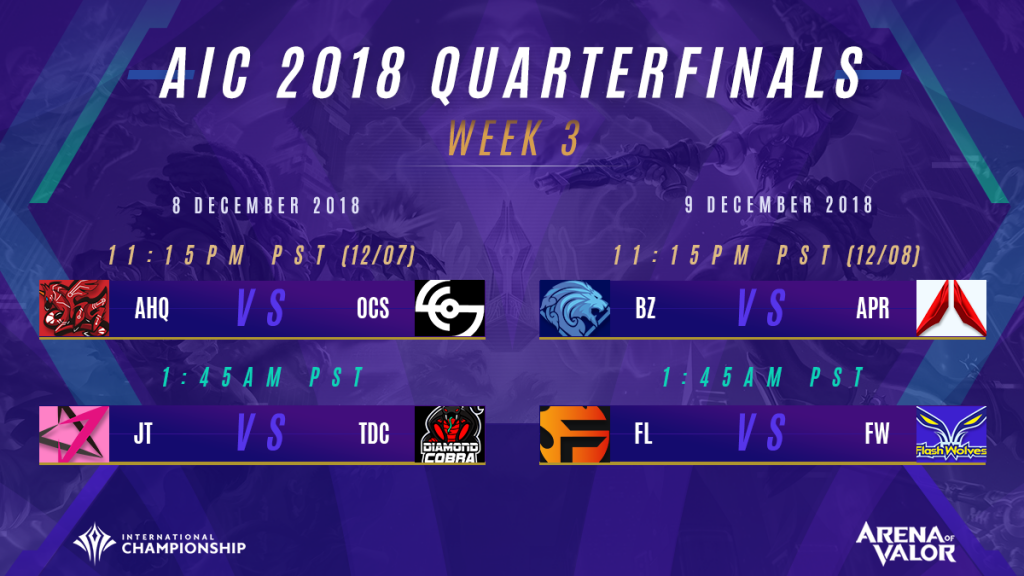 If you've been tuning into each weekend of the Arena of Valor International Championship lately, you'll know exactly where we're headed with this weekend's matches. It's the start of the quarterfinal tonight, and there isn't a single Western team to be seen.
Why? Because the last bastion of hope for Europe and North America, Team Nova Europe and Allegiance respectively, had their lights extinguished in spectacular fashion during last weekend's Group Stage. With each team being unable to win a single round each of their two matches, both teams were knocked out of the competition landing in 12th and 9th place overall.
What that means is that eight of Asia's best teams go head-to-head over the weekend, with the 11:15 PM PST start time for each proving slightly more manageable for the US audience than the last few weekends have. Which is a little ironic given the lack of US representation in the tournament now. Things kick off with AHQ vs OCS and tapper into JT vs TDC a few hours later. Day 2 pits BZ against APR at the same time, leaving FL and FW to duke it out in the final match of the Quarter-final leg.
As usual, you can tune into the action on Facebook, Twitch, and YouTube where TJ and InVerum should be around to cast each match.
Past Christmas Skins Return! (and maybe more?)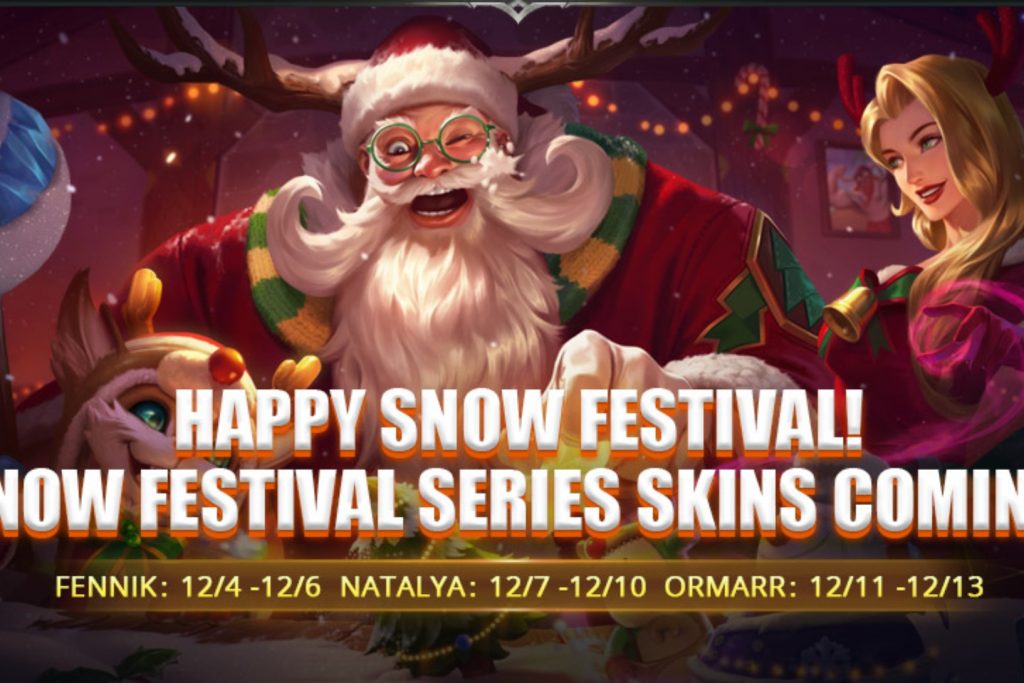 It wouldn't be Christmas in Arena of Valor at all if it wasn't for the return of some classic Christmas skins. The game launched in North America less than a week before the big day, marking something of an early gift to those who were already playing on servers located across the pond.
Conveniently marking the occasion, the launch fell on the release of 3 festive skins for characters the US version of the game that just happened to be available on Day 1; Fennik, Ormarr, and Natalya. Ormarr was given away for free to those to correctly deduced who was behind the iconic long white beard, but the rest were locked behind the game's cash shop currency until being set straight back into the vault in the new year.
Now, they're back for a second go. Arena of Valor hasn't had the explosive growth in the West as it did across Asian territories like China and Vietnam, so the number of players who easily missed out on their chance to nab these skins in the past now have a fresh shot at it. If they're quick, that is.
Each skin is only available for a few days, with the removal of one leading to the availability of another. Fennik is first up and will actually vanish at the end of the day, making room for Natalya over the weekend, and Ormarr further down the line. And no, Ormarr isn't free again.
But what about new Christmas skins? While they haven't been officially revealed or dated just yet, today's patch notes did begin with an image of Tulen and Butterfly enjoying the snow in some winter-inspired outfits, so expect to see these when the patch goes live.