Welcome to your SwitchArcade Roundup for November 20th, 2018. Your fellow Z-fighter Phil is here to save planet Earth by providing all the news, new releases, and eShop discounts of the day! Hey, we're all heroes in our own way! Alongside all of that–and as you might have guessed by my introduction today–we have Dragon Ball FighterZ as the Game of the Day tonight, so let's rumble!
Game of the Day
Dragon Ball FighterZ ($59.99)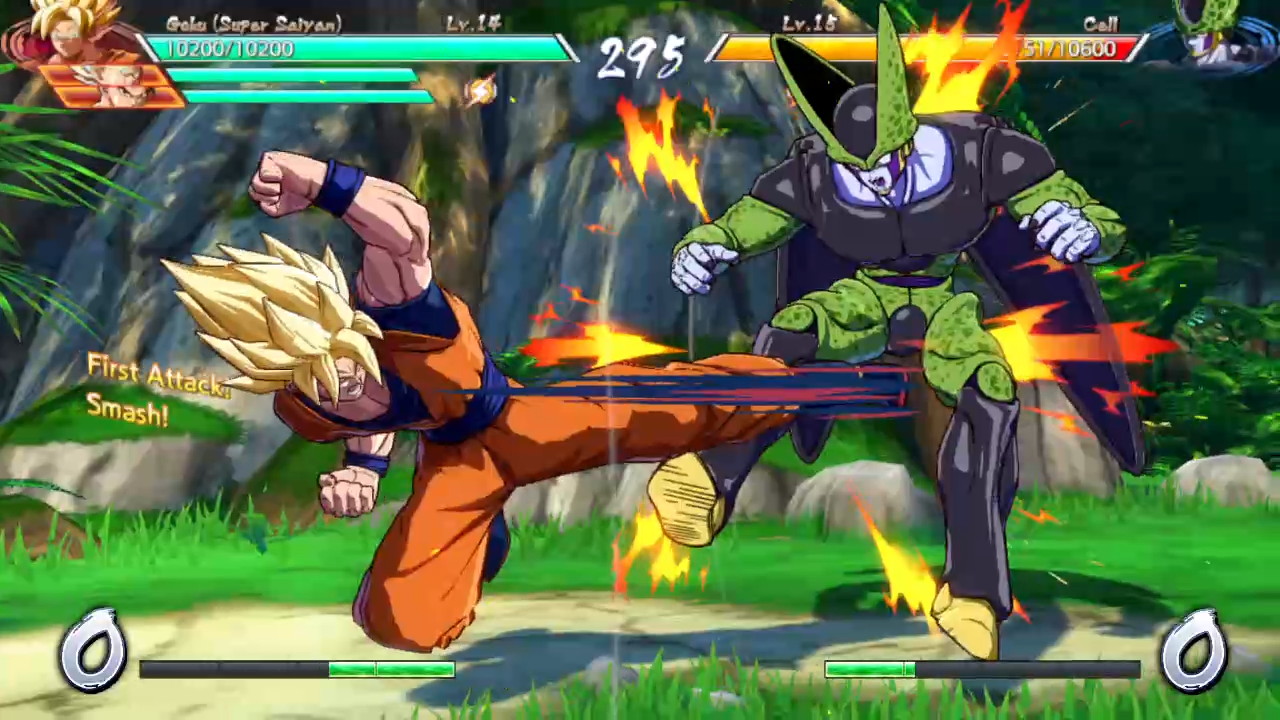 Originally released on the PlayStation 4, Xbox One and Steam, it's been amazing–absolutely so–how Bandai Namco was able to make Dragon Ball FighterZ, a graphically impressive game, run on the Nintendo Switch, and do so, so very well! Switch owners get everything the other platforms got, and this time around it's in a portable package.
Dragon Ball FighterZ looks and runs fantastically on the Switch, and it controls well, too. I've just played with the Joy-Con controllers paired together, and my experience has been incredibly pleasant. The controls are easy to learn, offering easy beginner combos to unleash while also giving more skilled and experienced players the option to use more challenging combos to unleash with the adequate timing and precision needed to do so.
Seeing as every fighter uses the same inputs for special moves, there's no real need to memorize extravagant button combinations. You can thankfully look elsewhere for your 360 degree spin of the left analog stick and five punches and kicks combos (an exaggerated example, but you get my point). For the aforementioned advanced combos, it's as simple as practicing as each character–all the while being rewarded FighterZ's in-game currency for doing so.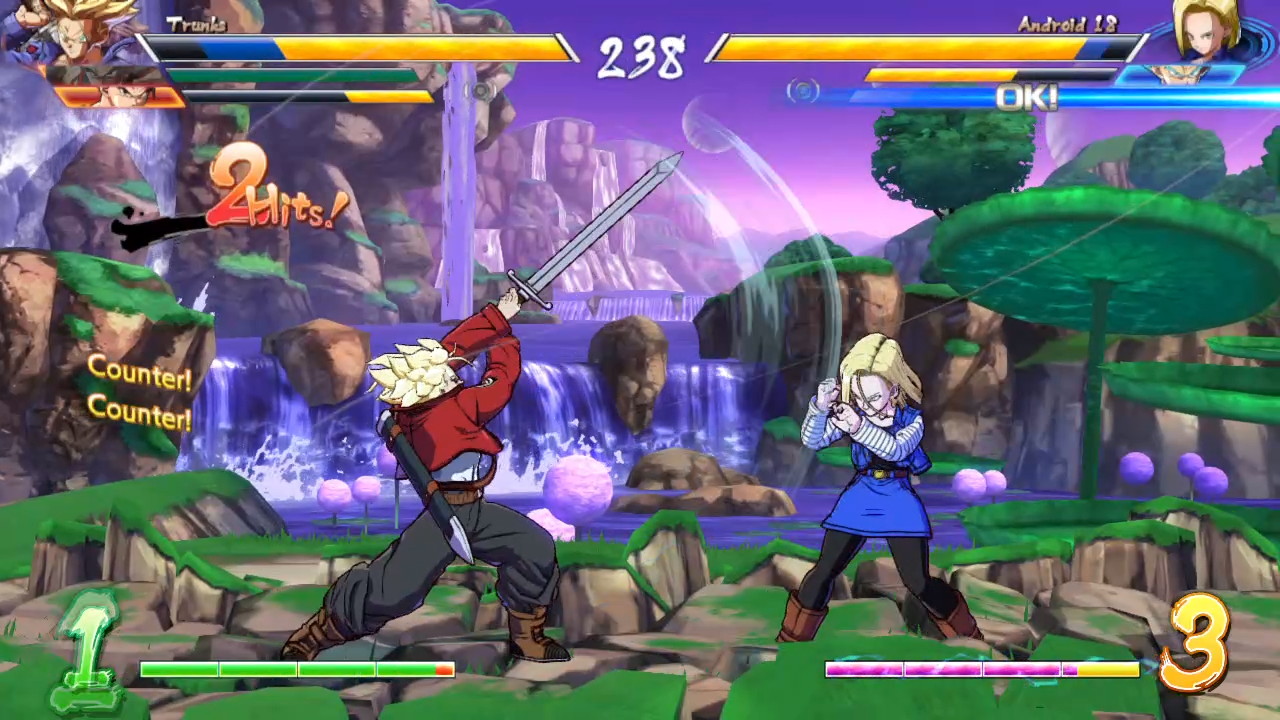 The main selling point is the online play and lobbies, and these are presented as well as they were in the original releases. No shortcuts have been made with this Switch port, which is wonderful to see. Matches run online as well as your connection with your opponent. Thankfully, you can opt to search for matches that are only with players of a stable connection (within yellow or optimally green).
For solo players, there's a brand-new tale told in the Story Mode, introducing a never-before-seen character in the form of Android 21. The Story Mode has you gathering characters while moving across various maps, battling mostly evil clones of the Dragon Ball FighterZ roster. This mode gets a little long in the tooth and a bit repetitive, so it's better to play it in bite-sized bursts. That's something perfect for the Switch, though.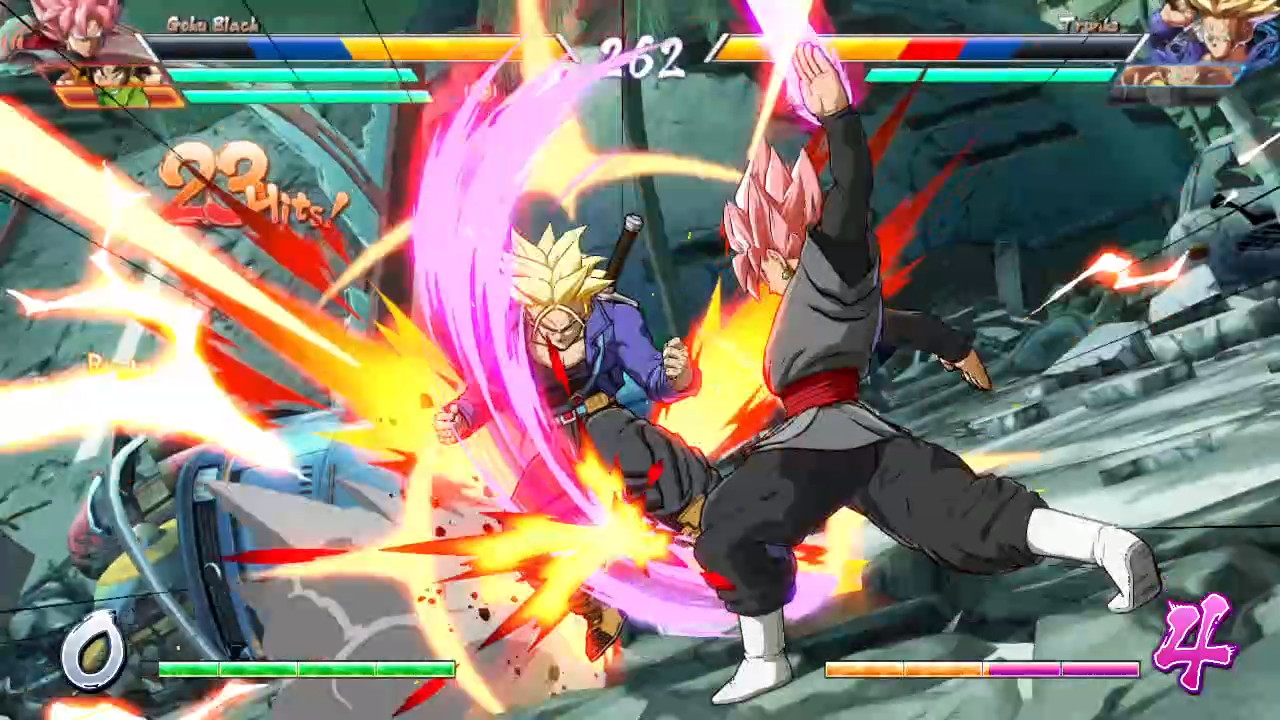 And, really, Dragon Ball FighterZ is a perfect game for the Switch in general. It has both online and offline play, so whether you're at home or on the go, you have a full fighting game experience on you. Dragon Ball FighterZ is a remarkable game with enough accessibility for anyone and everyone, and enough depth to not bore veteran fighting game fans. It's as competitive a fighting game as you, the player, desires.
News
Get caught up on Super Smash Bros. Ultimate with this overview trailer
Perhaps you haven't been following the SwitchArcade Roundup these past few months (which is okay–we can still be friends) or haven't been keeping a close eye on Nintendo's seemingly endless promotion for December 7th's Super Smash Bros. Ultimate. If that's the case, or if you just want an exhaustive recap and refresher of every mode and feature within the game in an easily digestible video format, then Nintendo has you got covered with this special trailer. See the overwhelming (but in a good way) amount of content and features Masahiro Sakurai and his development team have put into this ultimate celebration of video games. Oh, and there's a highly competent fighting game in there, too, I'm told.
Super Robot Wars T has been announced for the Switch with an Asian English release
The Super Robot Wars series returns, and while it's quite unfamiliar to our side of the Pacific, that hasn't stopped it from gaining a cult following in the Western world. Now, the next home console installment of the series, Super Robot Wars T, is heading to the Switch. This crossover mech game features a laundry list of anime series represented, such as numerous "Gundam" series (such as the original "Mobile Suit Gundam" and "G Gundam", to name a couple), "Gunbuster", "Aura Battler Dunbine", as well as new titles like "Expelled from Paradise", "Cowboy Bebop", "Magic Knight Rayearth", and many more.
Bandai Namco Entertainment Southeast Asia has revealed that the game will have both a Japanese and English text option–though I would bet that we won't see an official release in the West due to the legal licensing nightmare that all of these anime series are! Still, check out this trailer for the game.
SEGA AGES Phantasy Star finally has a confirmed release date
After much waiting, much anticipating, and much patience from Switch owners, the next title in the SEGA AGES line is heading to the Nintendo eShop on December 13th–the classic JRPG Phantasy Star. With a host of new features such as auto-mapping for dungeons, difficulty settings, a 19 track FM Sound Unit music player, an item list, and bestiary, Phantasy Star will be much more manageable an undertaking with these helpful additions.
Phantasy Star for Nintendo Switch is almost here!

On Dec 13, 2018 you'll be able to purchase it on the Nintendo eShop! #SEGAAGES pic.twitter.com/rvnrbYQXBr

— SEGA (@SEGA) November 20, 2018
Dragon Marked for Death receives new trailer, confirming a delay
While one game moves to a December 13th release date, another gets delayed from its intended December 13th release date. It's part of the balance of life. Inti Creates' Dragon Marked for Death has seen a slight delay into the new year, now launching closer to the game's physical release. The digital version will release on January 31st, 2019 with the physical version launching sometime around then. With the slightly disappointing news comes a brand-new trailer of the animated variety in order to make the delay sting slightly less.
Warframe commemorates its launch with a free gift for Switch players
If you're just starting up Warframe on the Nintendo Switch–and considering it just launched today, that would make you like everyone else playing the game on Nintendo's platform–you can receive a helpful boost to begin your online career. This boost comes in the form of a starter pack, containing a bounty of in-game items for no cost at all. It contains 50,000 credits, a 3-day Affinity Booster, two reactors that serve to double the mod capacity of any Warframe and weapon respectively, and one Forma. The starter pack can be received in your Inbox from now until December 4th at 11:59 p.m. EST/8:59 p.m. PST, and you can find additional details on each bonus and how far you need to advance in the campaign to acquire the starter pack in this official Warframe forum thread.
New Releases
Warframe (Free-to-download)
I'm having deja vu here with talking about this game again. Equip one of over 30 Warframes to your character as you jet through areas, destroying and eliminating foes with a bevy of special weaponry, such as firearms, swords, crossbows, flamethrowers, and over 300 other weapon types. Play alone, with up to three friends, or join the multitude of millions playing the game already via cross-platform play. Warframe is free-to-play, only costing money for currency to purchase add-ons, perks, and skins.
Moto Racer 4 ($34.99)
The racers in Moto Racer 4 are real daredevils. What else can you call them when they're speeding down asphalt and dirt courses at over 100 mph, all the while performing drifts and wheelies? Well, one could call them "crazy" as well, but who am I to judge? Microids' Moto Racer 4 launched on other platforms more than two years ago, but now–as many third parties tend to do–the game is available in late port form on the Switch. Now, you, too, can freestyle and participate in daredevil races anywhere at anytime with Moto Racer 4 on the Switch.
Bendy and the Ink Machine ($29.99)
Bendy and the Ink Machine is a first-person horror game with moments of action and horror, which harks back to the glory days of animation. Take it as a Five Nights at Freddy's approach to animation, from what I understand. Your childhood will never be the same again after playing Bendy and the Ink Machine, but to be fair, mine was never the same after watching "The Lion King" while drunk. Nah. Don't ask.
Storm Boy: The Game ($5.99)
Showing how completely NOT well read I am, Storm Boy: The Game is based on a 1964 children's book by Colin Thiele (info comes from the Nintendo eShop listing). Then again, seeing as the story takes place in Australia, maybe that just means I'm not worldly enough instead. The point here nevertheless is I'm not well learned in general. Regardless, Storm Boy: The Game puts the player in interactive versions of plot points within the book via an assortment of mini-games. No doubt that kids and kids at heart will find something to smile about with Storm Boy, and maybe spark one's imagination!
Kuso ($4.99)
The eShop listing of Kuso reads "41 Challenging Platforming Levels to Master". Judging by the trailer for this game, I think "41 Challenging Platforming Levels to Make You and Potentially A Friend Find New Curse Words to Invent As You Wonder Why You Both Suck at Platforming Games" would be a better heading–if not a bit heavy-handed and overly long. In all honesty, the ability to place your own checkpoints makes this old-school difficult platforming romp a bit more reasonable. As a fan of the genre, having 41 levels to play with hidden collectibles in each and the ability to race against a friend locally through them make Kuso an appealing platforming package.
Sales
Time for some new eShop sales for North America! Just because the SwitchArcade Roundup doesn't cover discounts in other regions, please don't feel like you can't share good deals in the comments or by tweeting at us. In fact, I encourage it!
Of the new games on discount today, I recommend Wild Guns Reloaded and Human Fall Flat. Taking the cue of my predecessor Carter, I've included trailers so you can get (re)acquainted with these titles! Meanwhile, today's your last full day to get the Smash Bros-inspired Brawlout for half its usual asking price (at least for the time being!).
New Games on Sale
Aegis Defenders ($12.99 from $19.99 until November 26)
Wild Guns Reloaded ($9.99 from $19.99 until November 26)
Chicken Assassin: Reloaded ($6.39 from $7.99 until November 29)
Mecha Storm ($11.99 from $19.99 until November 30)
Human Fall Flat ($7.49 from $14.99 until December 3)
Pinstripe ($11.24 from $14.99 until December 3)
Final Light, The Prison ($2.79 from $6.99 until December 5)
Sales Ending Tomorrow, Wednesday, November 21st
Brawlout ($9.99 from $19.99 until November 21)
Voxel Shot for Nintendo Switch ($7.2 from $8 until November 21)
We're approaching Thanksgiving Day here in the United States, so consider tomorrow's SwitchArcade Roundup an appetizer for the big day! Until then, keep your Joy-Cons charged and your Switches loaded with great games!