Welcome to your SwitchArcade Roundup for November 19th, 2018. Your Pokemon champion Phil is here to provide new news, impressions, and brand-spankin'-new eShop discounts for you on your Monday. What better way to kick off your Thanksgiving week is there? Don't actually answer that, as that was purely rhetorical and I don't want my feelings hurt.
On the SwitchArcade Roundup today I have my first thoughts on Pokemon: Let's Go, Pikachu (and essentially Let's Go, Eevee as well), news on the latest Paladins patch, and a final release date for RollerCoaster Tycoon Adventures. First, let's take a look at the Game of the Day.
Game of the Day
Crashlands ($14.99)
Do you like crafting? Do you like battling? Do you like having a combination of gameplay that is one part crafting and one battling? What about questing? Oh, you didn't see that third option coming, did ya? Well, if you like any of the above with a little–make that gigantic–dash of oddball humor thrown in, then the crew at Butterscotch Shenanigans has a game for you.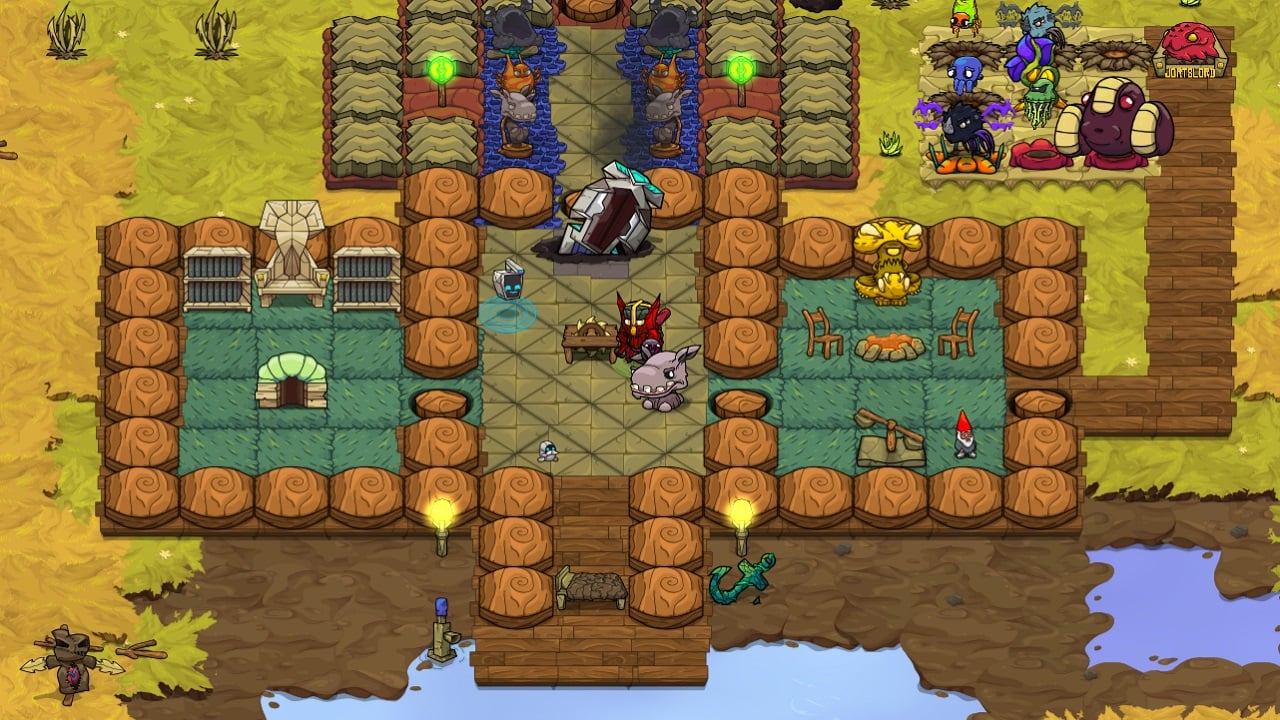 Crashlands is no stranger to mobile and PC users. Heck, we've even covered it on TouchArcade multiple times in the past. There's good reason for that, and now Nintendo Switch owners can see what all the hubbub was hubbub-bin' about with this crafting, battling and questing adventure.
Crashlands is essentially a game which has a gameplay loop of finding materials, crafting, finding more materials, and crafting some more all the while completing craft-related quests. That's the bare basics of a content-rich game.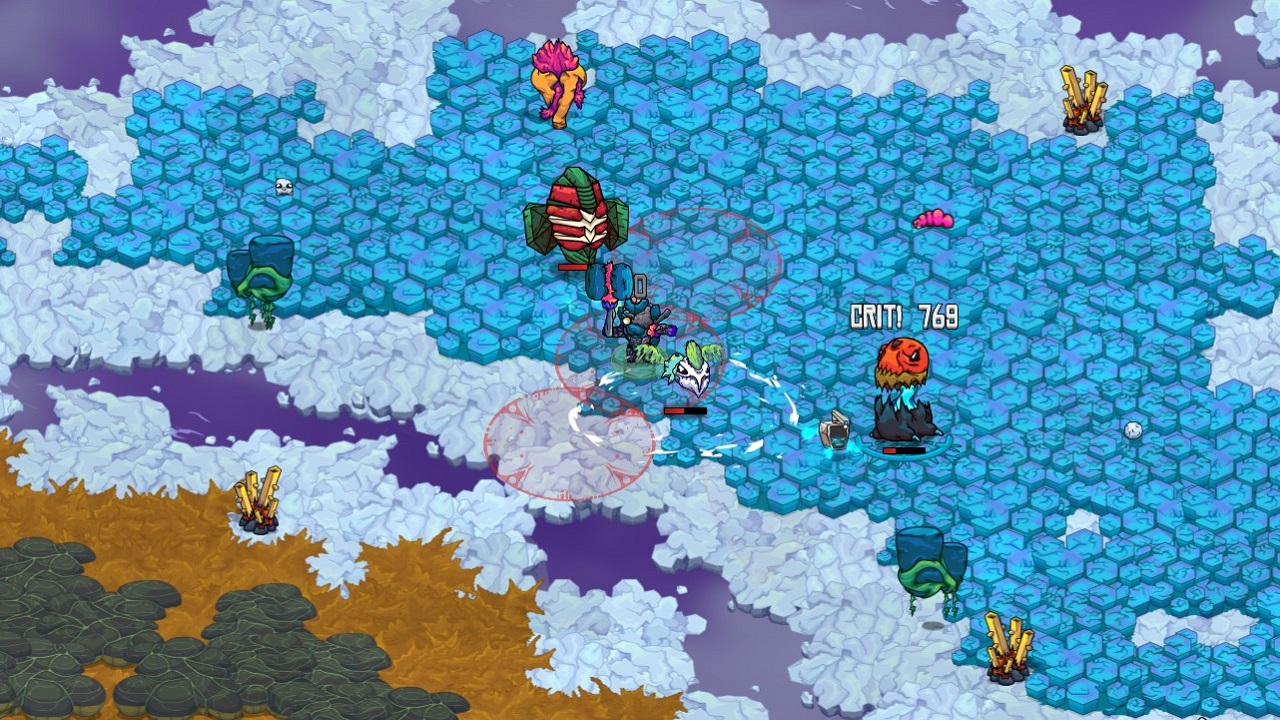 Resources are the name of the game in Crashlands–actually Crashlands is the name of the game, but work with me here. Resources and materials enable you to build floors and walls for your eventual stronghold, give you the ability to craft weapons and armor to do battle with the docile and hostile creatures strewn about the procedurally generated world, and allow you to complete quests by building objects and desired quest items with the resources and materials you gather.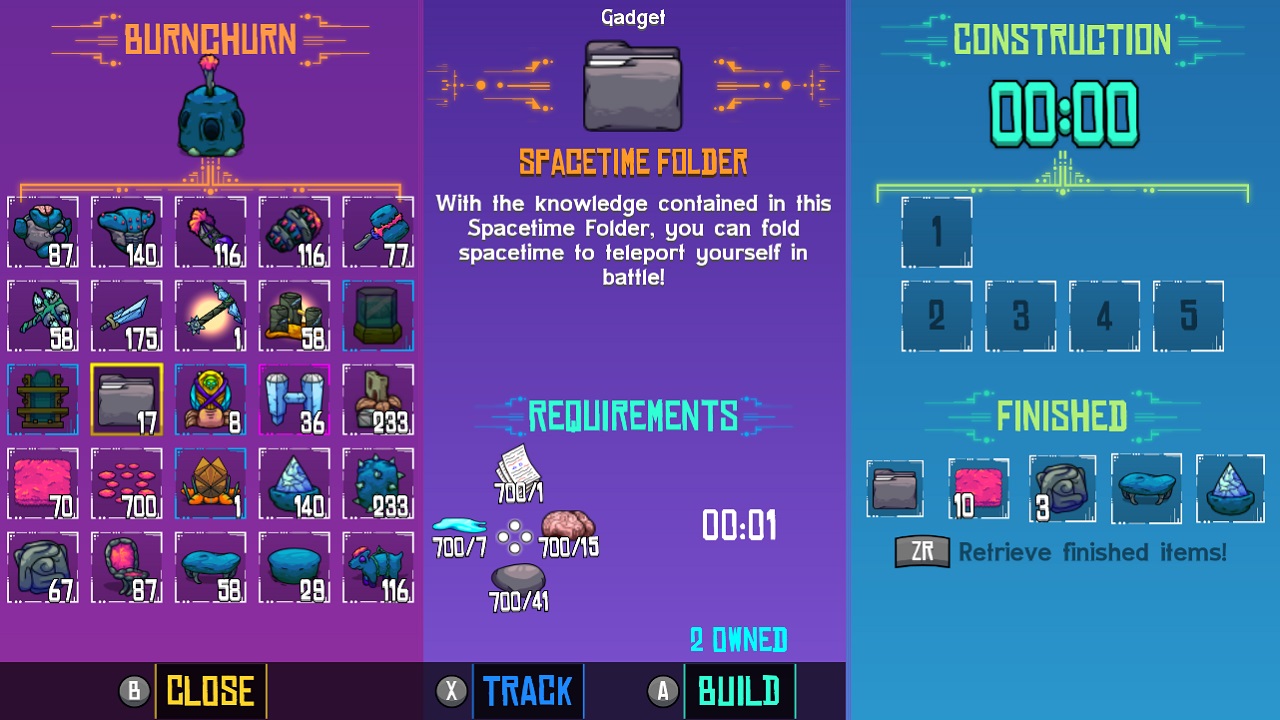 Unlike a game like Don't Starve, Crashlands doesn't pit you against a hunger meter or have any stressful time constraints. The game is a relaxed affair, and a rather mellow one at that with its kooky sense of humor–shown splendidly through its clever and natural dialog. Sure, there's bound to be some repetition to be found in doing the same simple gameplay loop repeatedly, but the pick-up-and-play nature of the Switch lends itself well to bite-size sessions whether at home on the TV, undocked on the go playing with the touch screen controls, or wherever life takes you.
IMPRESSIONS: Pokemon: Let's Go, Pikachu! ($59.99)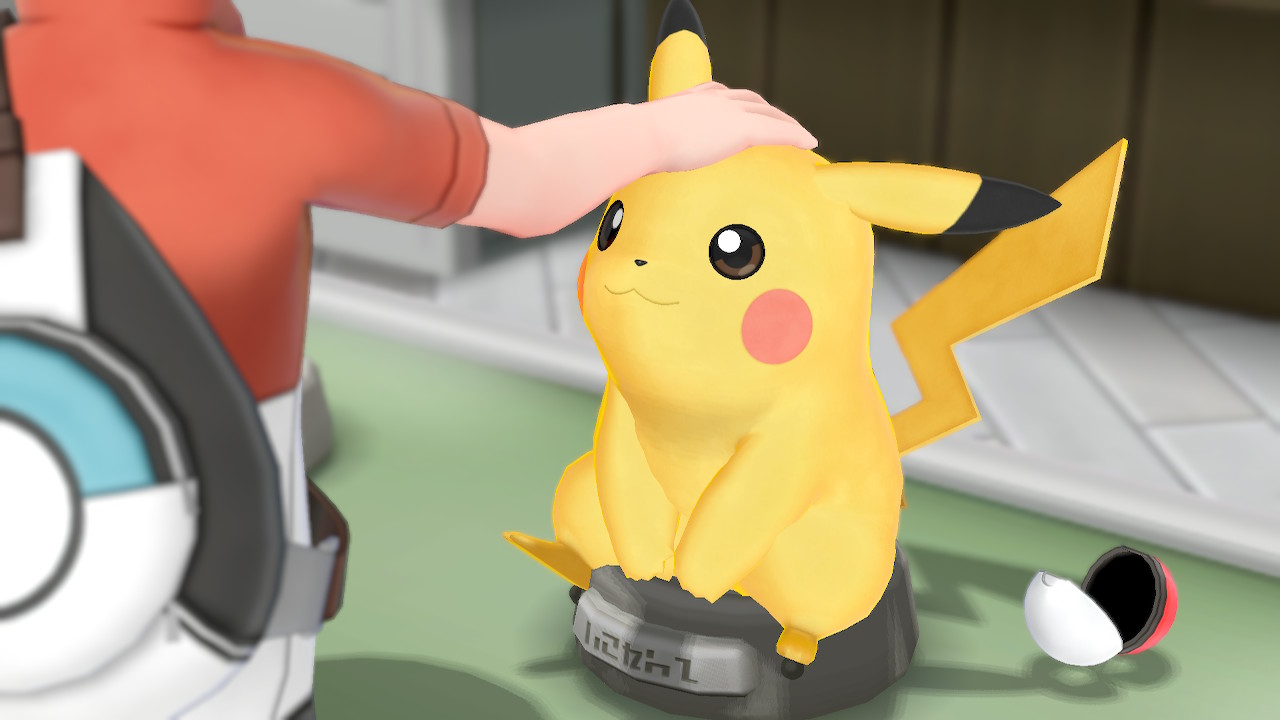 I used to be a major Poke-maniac back in middle school when the Pokemon craze hit North America. I lived, breathed and consumed the games, I religiously watched the anime (crying hard at the "Pikachu's Goodbye" episode in particular), collected the playing cards and action figures, and even drew my own comic book series starring everyone's favorite up-and-coming trainer, Phil Got'em. I think I mentioned all that in the past, but I guess that bears repeating.
However, I eventually grew out of the mainline games and all of the myriad new Pokemon to make note of, Pokemon types, moves, IVs, EVs, UVs, Ancho-Vs, and so on and so forth. While I've made honest attempts to get back into the series these past few years, nothing has really reinvigorated the child and Poke-maniac in me as much as my current time with Pokemon: Let's Go, Pikachu has.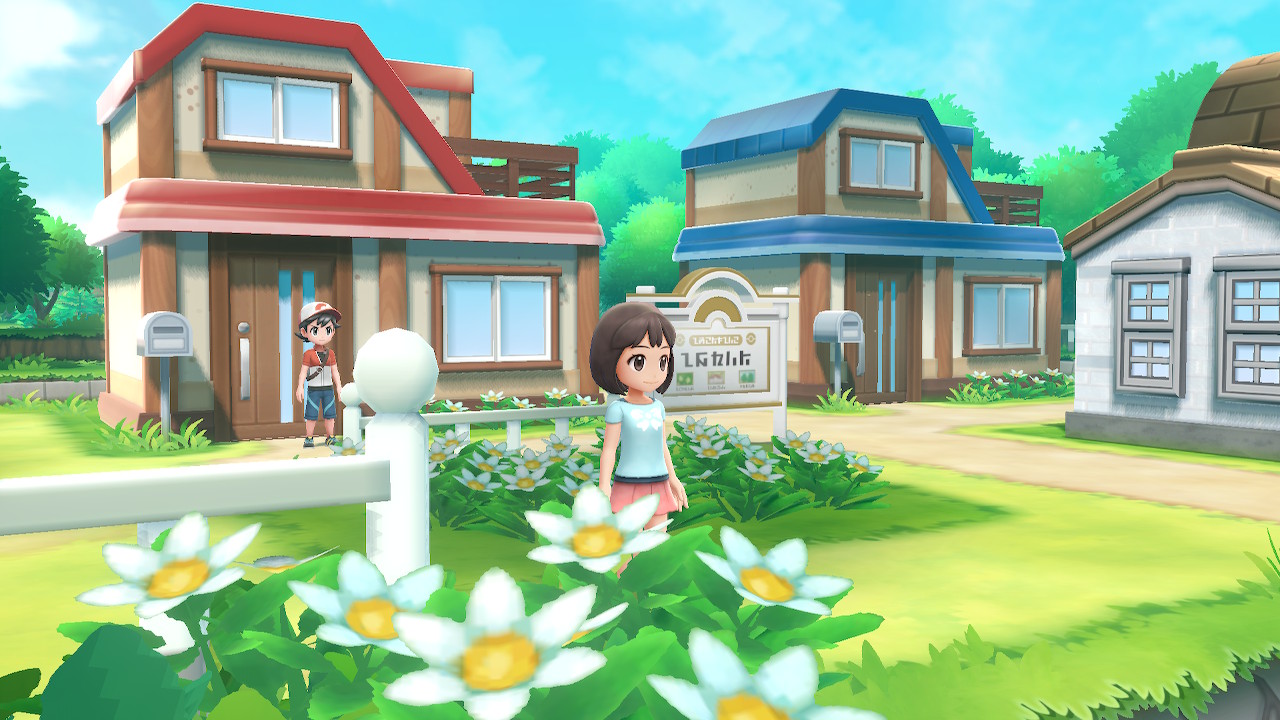 As an adult (or immature person masquerading in the body of an adult), my time to invest into mainline Pokemon games is much less. I can't slowly run around patches of grass, desperately searching for that one Pokemon I want to catch as I enter random encounter after random encounter. I also don't want to explore caves and tunnels, and being constantly harassed and interrupted by yet another Zubat encounter.
Pokemon: Let's Go, Pikachu and Pokemon: Let's Go, Eevee forgo random encounters, and instead have Pokemon sporadically show up within patches of grass and within indoor areas like caves. Most Pokemon are easily avoided, so you only have to engage with them when you want.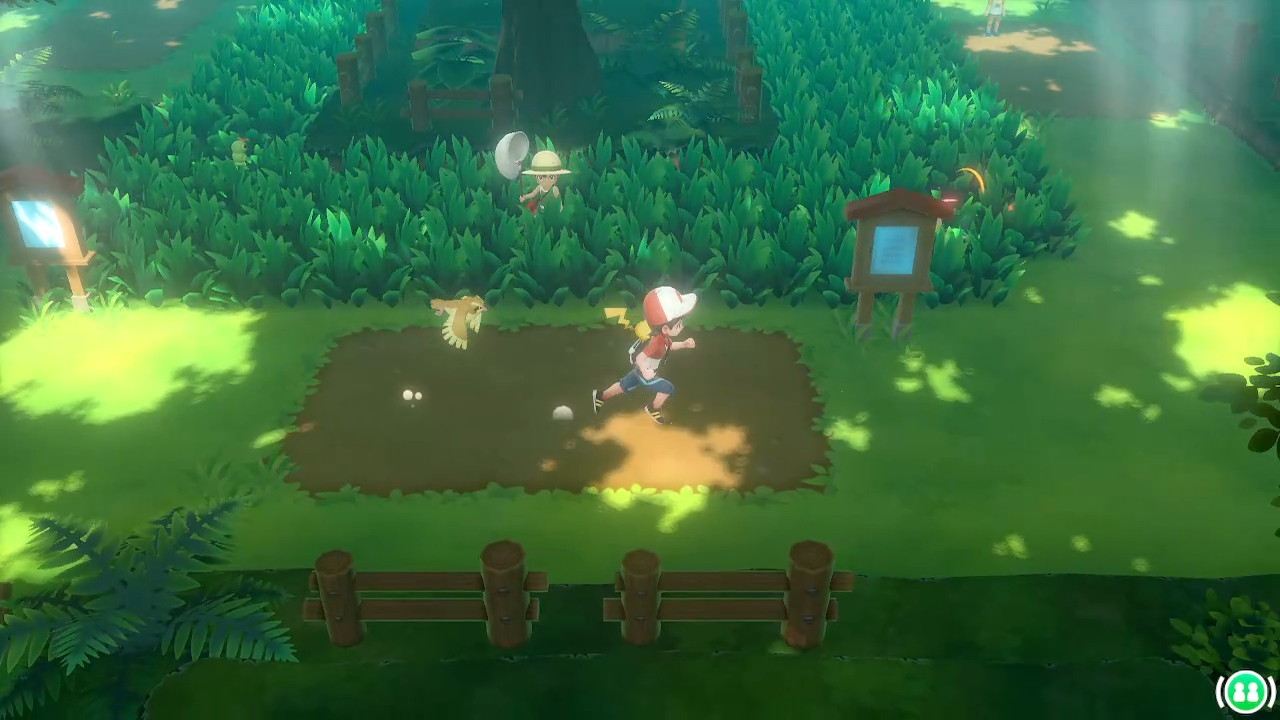 However, I usually found myself wanting to enter encounters with Pokemon because the process of catching them has been simplified and made to be tons of fun. Instead of whittling down a Pokemon's HP until it's at its weakest and/or inflicting it with a status effect like sleep to more easily catch it, catching Pokemon in Let's Go is based on the Pokemon GO model. You flick the Joy-Con to toss a Poke Ball at the desired Pokemon. Each Pokemon has a circle that gets smaller and smaller until it reaches its tiniest point, where it then expands back to normal before closing in on itself again. Throwing a Poke Ball at the exact center of the circle when it is at its smallest increases the chance of catching a given Pokemon. Of course, it also helps to use less common Poke Ball types like Super Balls and Ultra Balls!
Of course, your desired catch won't just sit there patiently waiting for you to chuck Poke Balls at them. No, they'll do a variety of actions–occasionally swatting Poke Balls away, jumping in place, and even moving left to right along the screen. When they're on a side of the screen, you're required to throw the Poke Ball with a curve, though I couldn't get this working perfectly most of the time. Perhaps that was just user error on my part.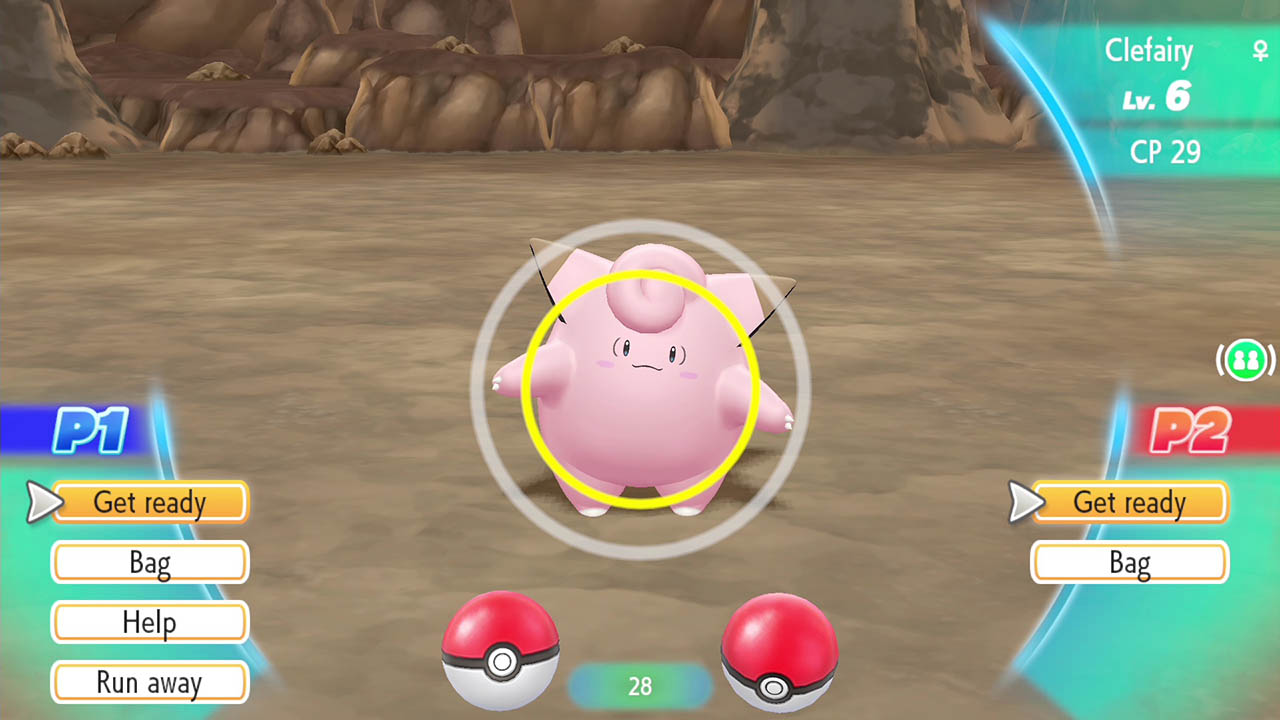 Regardless, not only does a successful catch mean that Pokemon joins your cause, but it also gives all Pokemon in your current party experience points. Excellent catches with great technique, as well as catching a Pokemon on your first throw earns your party more experience points. You can even catch multiple Pokemon of the same species in a row to create a chain–piling up a chain bonus per each encounter, as well as upping the odds of coming across a shiny version of a Pokemon in the process. I actually managed to catch a shiny Pokemon in my copy of Let's Go, Pikachu, a feat I've never been able to do in any Pokemon game before. For those curious, it was a Diglett. Just remember that curiosity killed the Meowth (or at least made it blast off again).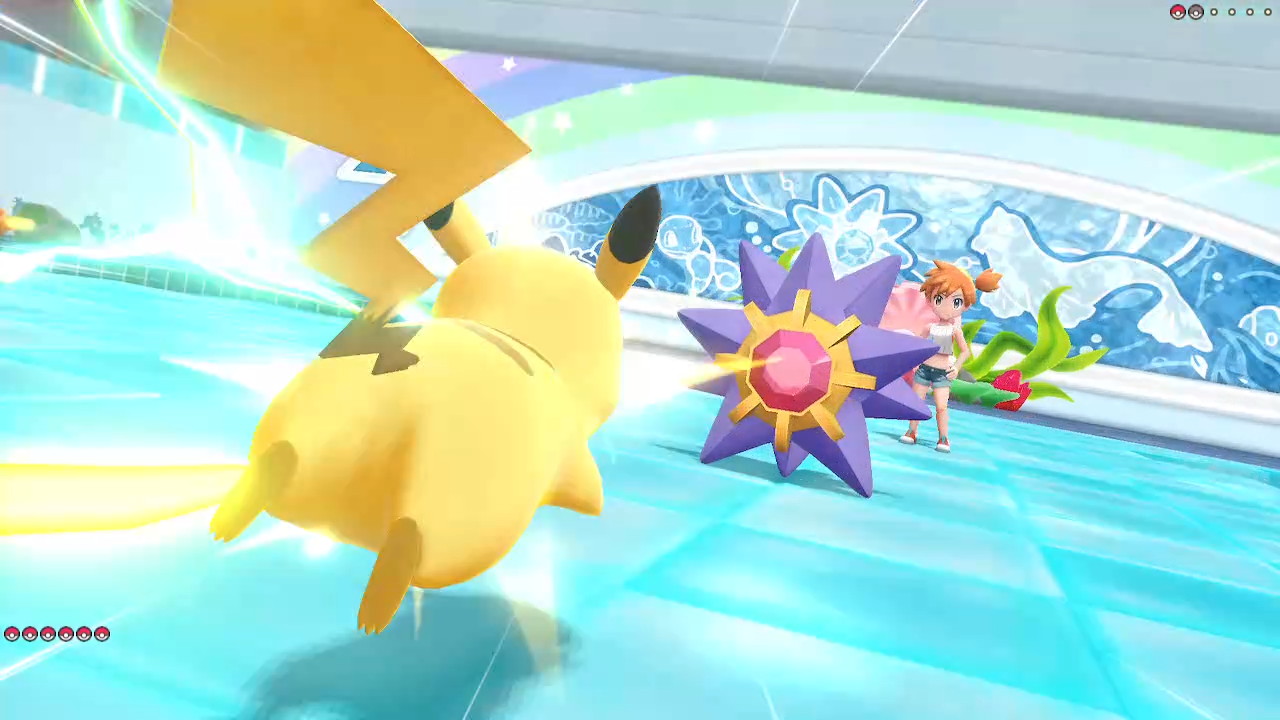 Apart from the changes to the method Pokemon are caught and level up (though traditional trainer and gym battles are still included and as enjoyable as ever–though your starter Pokemon is quite the powerhouse), Pokemon: Let's Go, Pikachu and Let's Go, Eevee have what is the most obvious change–a beautiful yet basic visual approach to it. While not what I'd expect to see from next year's generation 8 Pokemon games (not by a long shot, mind you), what's here is cute, pleasant and serviceable. The land of Kanto is more glorious to see and explore in than ever before, and the 3D upgrade in visuals is an obvious factor into that.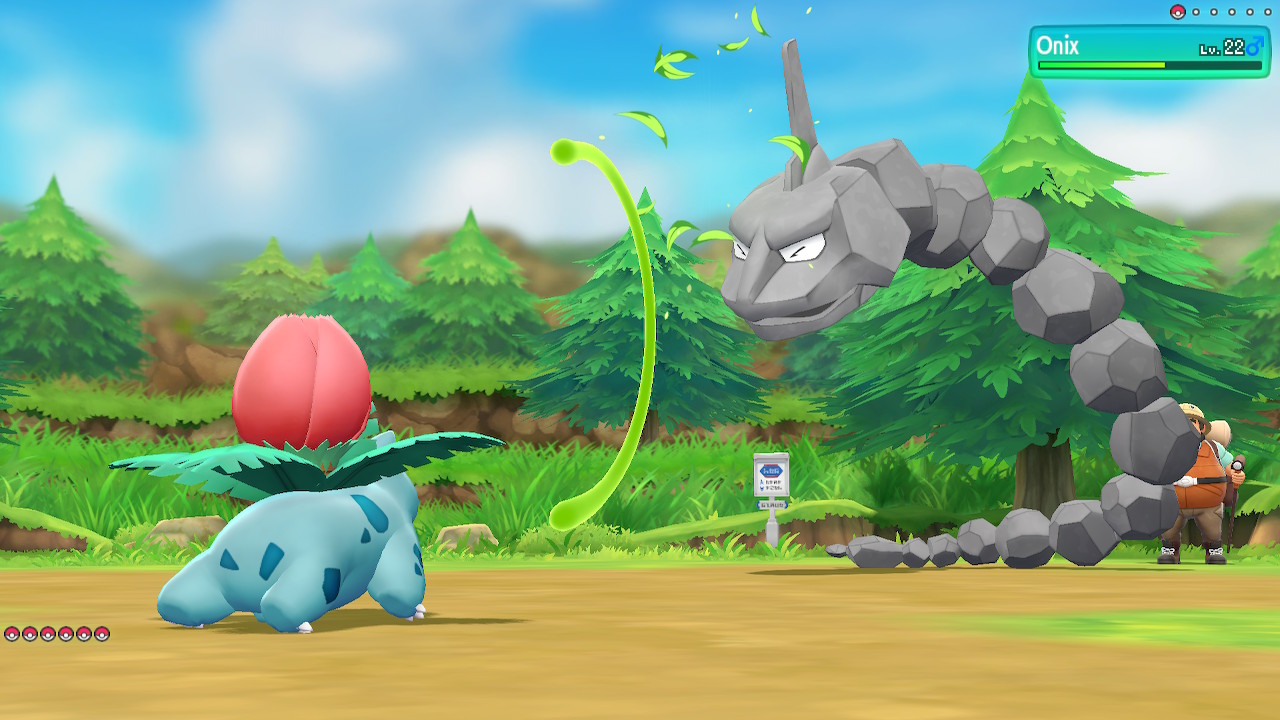 I've merely played but ten hours of my copy of Pokemon: Let's Go, Pikachu, making my way to Team Rocket's hideout in Celadon City, but it only feels like I've played half that time. I'm enjoying the game that much. While I wouldn't want core Pokemon games to have the same catching implementation in them (maybe for the Safari Zone, though), it's a great twist on a familiar formula that had in the past really wore me down to the point that I gave up on the main series. I feel Pokemon: Let's Go, Pikachu and its counterpart, Let's Go, Eevee, are games that aren't just gateways for new players to the series, but also lapsed players of the franchise like myself who have yearned for a friendlier point of re-entry into Pokemon without all the fluff and filler.
News
The newest Paladins update adds a much requested control feature
If you're anything like me, then you've longed to see gyro control aiming arrive in the free-to-play Paladins. I've actually held off from playing the game while anxiously awaiting its inclusion. Now, courtesy of Hi-Rez Studios, yours and my wish has been granted. As of the latest patch, Version 1.8, Paladins now has gyro aiming, allowing you to use the Switch's controller to manually move the camera around with your own physical movements. This new patch allows for players to tinker with the gyro control sensitivity to their own liking, as well as adjust the X and Y axes. For the complete patch notes to Paladins's latest version, look no further than right here.
RollerCoaster Tycoon Adventures receives a final release date alongside a new trailer
After its announcement seemingly long ago, RollerCoaster Tycoon Adventures arrives on the Nintendo Switch has finally gotten word on when the game will open its gates. The game will launch on December 13th here in North America. Meanwhile, our European pals will get a two-week jump on the theme park and roller coaster creation fun when Adventures launches on that side of the Atlantic on November 29th. RollerCoaster Tycoon Adventures promises seven roller coaster types to manually build, over 120 attractions to place in your park–such as rides, restaurants, and shops–four locations to develop a park in, and Joy-Con or touchscreen controls. Will you be buying a ticket for admission into RollerCoaster Tycoon Adventures when it launches within a month's time?
Sales
A bevy of varied video game titles are on sale as of this past week and weekend, and the SwitchArcade Roundup has them all rounded up for you! …Ah, so THAT'S why we call it the SwitchArcade "Roundup"! Mind blown.
As this week marks Black Friday and next week has Cyber Monday in store, you can bet we'll see some even better deals coming down the digital pipeline on the Nintendo eShop. Adjust those wallets accordingly.
New Games on Sale
Battle Chef Brigade Deluxe ($11.99 from $19.99 until November 22)
Bit Dungeon Plus ($5.39 from $8.99 until November 22)
Hacky Zack ($3.39 from $9.99 until November 22)
Nefarious ($7.49 from $14.99 until November 22)
Rise & Shine ($8.99 from $14.99 until November 22)
Six Sides of the World ($6 from $10 until November 22)
SpiritSphere DX ($6 from $10 until November 22)
The Warlock of Firetop Mountain: Goblin Scourge Edition! ($23.99 from $29.99 until November 22)
Toast Time: Smash Up! ($8.99 from $9.99 until November 23)
Circle of Sumo ($6.99 from $9.99 until November 24)
Spartan ($1.99 from $3.99 until November 25)
Battle Group 2 ($5.99 from $9.99 until November 26)
No Heroes Here ($4.99 from $14.99 until November 26)
Heroes of the Monkey Tavern ($4.99 from $9.99 until November 27)
Mulaka ($13.98 from $19.98 until November 27)
Caveman Warriors ($3.24 from $12.99 until November 29)
Grave Danger ($15.99 from $19.99 until November 29)
Lifeless Planet: Premiere Edition ($15.99 from $19.99 until November 29)
L.F.O. -Lost Future Omega- ($3.19 from $7.99 until November 29)
Neverout ($4.49 from $7.49 until November 29)
Phantaruk ($3.34 from $4.99 until November 29)
Rocket League ($11.99 from $19.99 until November 29)
Sparkle 2 EVO ($11.99 from $19.99 until November 29)
Super Hyperactive Ninja ($6.29 from $8.99 until November 29)
Teddy the Wanderer: Kayaking ($8.99 from $9.99 until November 29)
The Infectious Madness of Doctor Dekker ($7.79 from $12.99 until November 29)
The Jackbox Party Pack 2 ($12.49 from $24.99 until November 29)
Unholy Heights ($1.99 from $4.99 until November 29)
Vertical Drop Heroes HD ($3.99 from $9.99 until November 29)
Violett ($0.99 from $9.99 until November 29)
Zombillie ($0.49 from $4.99 until November 29)
Mutant Mudds Collection ($7.49 from $14.99 until November 30)
Soccer Slammers ($4.99 from $9.99 until November 30)
Totes the Goat ($2.49 from $4.99 until November 30)
Xeodrifter ($4.99 from $9.99 until November 30)
Son of a Witch ($9.99 from $14.99 until December 2)
Superola and the Lost Burgers ($2.99 from $5.99 until December 2)
Detective Gallo ($9.74 from $14.99 until December 3)
Big Buck Hunter Arcade ($23.99 from $29.99 until December 5)
Cartoon Network: Battle Chasers ($14.99 from $29.99 until December 5)
Dead Fun Pack: Penguins and Aliens Strike Again ($3.49 from $6.99 until December 5)
Goosebumps: The Game ($23.99 from $29.99 until December 5)
Monster Jam Crush It! ($14.99 from $29.99 until December 5)
Rapala Fishing Pro Series ($23.99 from $29.99 until December 5)
Tower of Babel ($3.99 from $9.99 until December 5)
Sales Ending Tomorrow, Tuesday, November 19th
Azkend 2: The World Beneath ($3.99 from $7.99 until November 20)
CastleStorm ($10.49 from $14.99 until November 20)
Disco Dodgeball – REMIX ($7.49 from $14.99 until November 20)
Infinite Minigolf ($5.99 from $14.99 until November 20)
Spellspire ($4.99 from $9.99 until November 20)
Streets of Red – Devil's Dare Deluxe ($6.29 from $8.99 until November 20)
Tesla vs Lovecraft ($10.04 from $14.99 until November 20)
The Adventures of Elena Temple ($1.99 from $4.99 until November 20)
This SwitchArcade Roundup has reached its conclusion. As always, we're interested in reading your thoughts on the direction TouchArcade's Switch coverage is going (especially me), so feel free to sound off in the comments or tweet at us. Until next time, keep your Joy-Cons charged and your Switches loaded with great games!