Welcome to your SwitchArcade Roundup for November 14th, 2018. Your bug butcherin' friend Phil is here to report more news, more new releases, and more sales for you here on the SwitchArcade Roundup here at the lovely TouchArcade! As we approach the holiday season, Black Friday will soon be here, and Luigi is already prepared (as you'll see up ahead) with a new Nintendo Switch bundle. I also have some news about a new RPG announced for the Switch, as well as some Nindie goods to share. Before all that, let's start with the Game of the Day!
Game of the Day
The Bug Butcher ($7.99)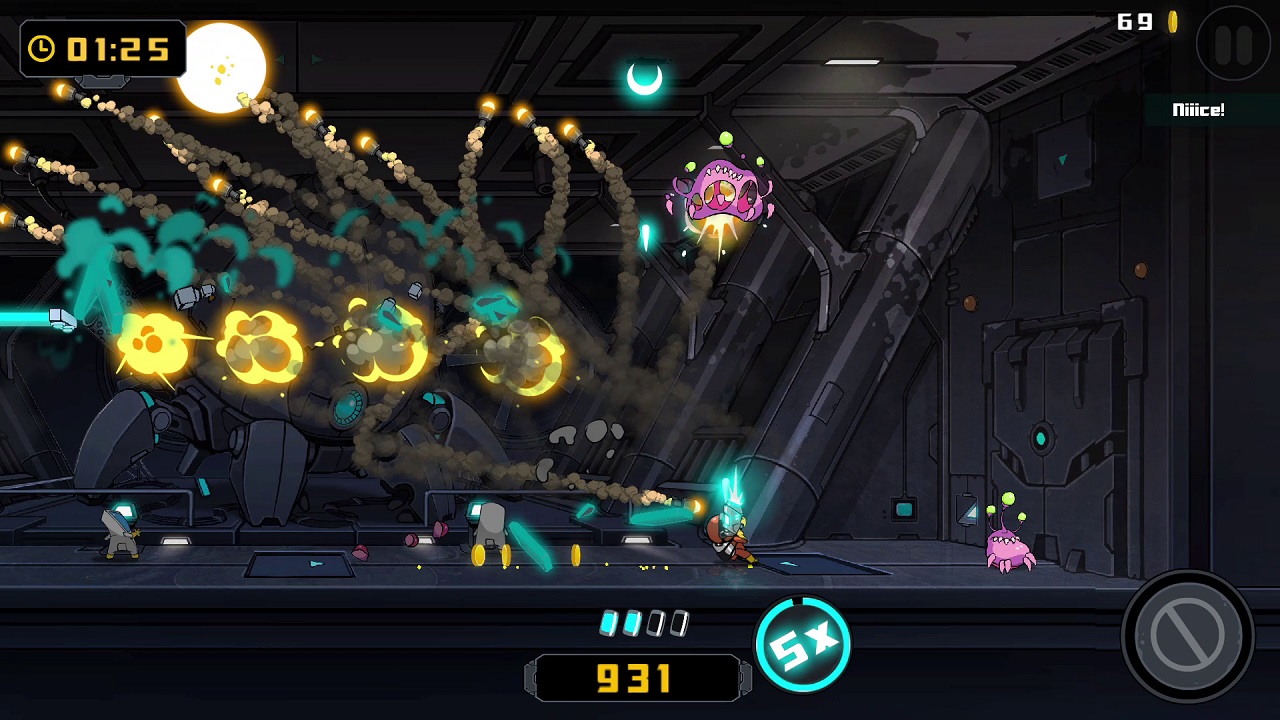 I've been know to bust some bugs occasionally. A scary spider with my shoe here, a fly between my hands there–but Harry, the main character of The Bug Butcher does more than just bust bugs. As the title implies, he butchers them! Of course, we're not exactly talking about tiny spiders and flies here like I'm wont to smash–Harry deals with enemies of the big bugging variety (in both the insect sense and the annoyance sense) that are far greater in size than he is.
The Bug Butcher takes its inspiration from Super Pang. You battle and blast enemies of various varieties within side-scrolling chambers with the only direction you are able to shoot is directly upwards. The main thing at stake here is your survival, as well as accumulating as many points as possible. This is indeed a high score arcade game at its heart, and it's quite a fun one at that.
Getting a high score in each of the game's 30+ levels is all about maintaining your combo. If you take too long to defeat the next enemy or take damage, your combo ends. When your combo gets up to ridiculously high amounts, the easier it'll be for you to shoot up the online leaderboards.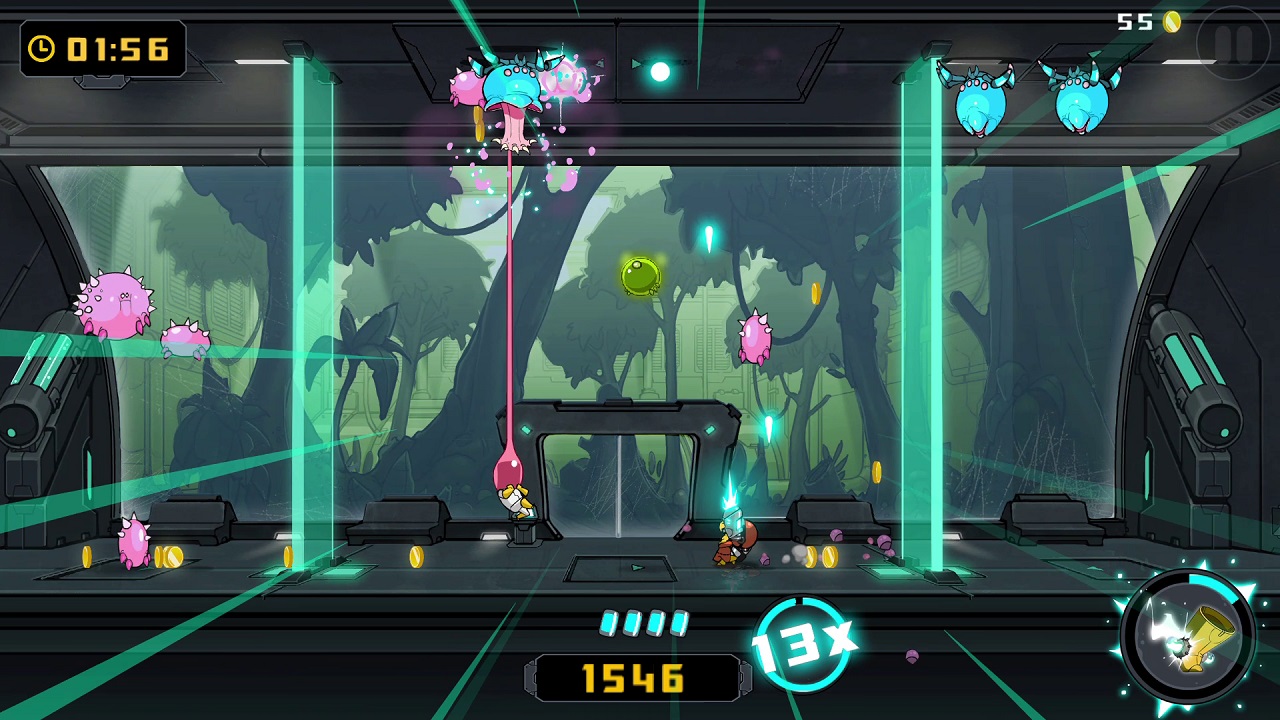 The Bug Butcher has three modes of play: a story mode that slowly introduces new enemy types and obstacles in levels (and also includes some insanely tense boss battles to shake things up!), a Panic mode, where you try to survive wave-after-wave of enemies in order to get as many points as possible, and a co-operative mode for two players locally. If the one bug butcher is named Harry, does that mean the other player is named Carey?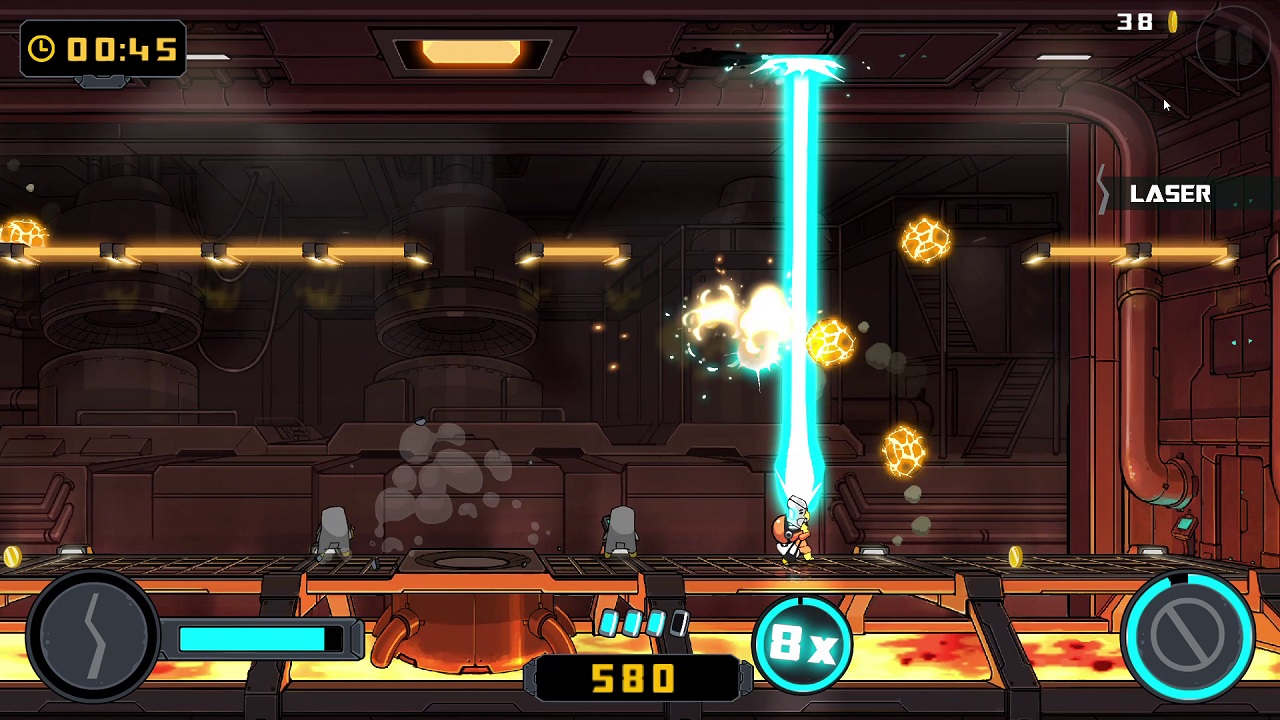 Shooting up bugs of all types and sizes is a whole lot of fun, and this is due to the exceptionally tight and responsive controls. Thankfully, you need not mash on a button to continually shoot–it's as simple as holding the button to let loose a flurry of bullets and shots continuously. You have a slide that can be used to dodge and evade enemy attacks as well as get across chambers faster (this helps in keeping your combo going if an enemy is further away from you than you'd prefer). The only other face button used in The Bug Butcher is to unleash special weapons, like massive beams that cut through bugs like butter, rockets that pepper enemies with concussive blasts, and a freeze ray that encases all enemies in a sheet of ice, making them susceptible to easy exterminations as they just hang helplessly in the air.
The Bug Butcher offers a good deal of content for its price, and more importantly, it's just a great deal of mindless fun as you maneuver yourself to exterminate as many enemies as possible, keeping your combo going, trying to survive, and making the screen flash with massive amounts of explosions. For these reasons, The Bug Butcher gets the honor of today's Game of the Day.
News
Nintendo of America announces special Black Friday Switch console bundle
Who better to star in a trailer to plug Nintendo's upcoming Black Friday deals than Luigi? In case you thought everyone's favorite second banana had died (see this Super Smash Bros. Ultimate trailer), Luigi is in great spirits–the holiday spirit, to be exact! This cute and humorous video shows off various Black Friday deals, but the one that is of note for the SwitchArcade Roundup is the Nintendo Switch which will be on sale with a digital download of Mario Kart 8 Deluxe. The price of the bundle will be $299.99, so you're essentially getting a $60 game, one of the Switch's best multiplayer titles yet–for no additional cost. Now, we just need someone to set up a GoFundMe to help Luigi pay for that 10,000 coin invoice!
Nippon Ichi Software and Famitsu magazine reveal Destiny Connect for the Switch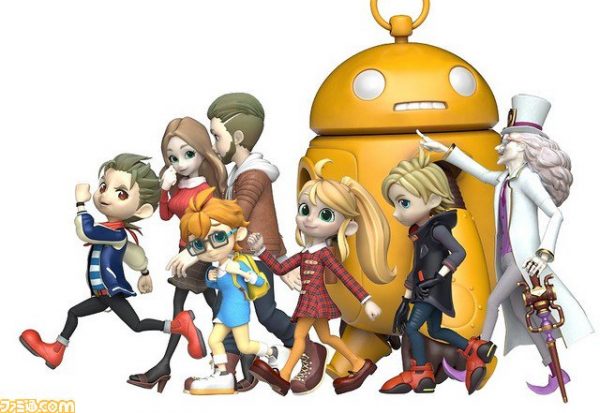 As posted by Gematsu, a new RPG is coming to Japan on February 28th, 2019, courtesy of Nippon Ichi Software, known as Destiny Connect. This time-traveling adventure has command-based battles, which definitely adheres towards the Super Famicom RPGs that the game is modeled after both gameplay-wise and graphically, and the development of the game is currently 70% of the way complete. Here's hoping that Destiny Connect will find itself not only time traveling, but also traveling to our side of the world as well with a proper localization.
Abzu prepares to dive onto the Nintendo eShop
After having released on other platforms previously, the underwater exploration-based adventure game Abzu is officially taking the plunge on the Nintendo Switch. Players take the role of the Diver, venturing deep in the ocean's underwater expanses to discover the secrets down below–from new, aquatic sea life to revealing the answers to the underwater world's mysteries. If the artistic beauty of Abzu is reminiscent of anything for you, it might help to know that the game was developed by Giant Squid Studios, a developer whose lead helped build the worlds of the highly acclaimed Journey and Flower. Abzu releases on the Switch eShop on November 29th.
SwitchArcade Nindie Roundup
There are a bunch of new indie games announced for the Switch as of these past two days. 2011's Ms. Splosion Man–featuring 50 single player levels and 50 multiplayer-only levels for local and online play-releases November 22nd, while the shoot-em-up + tower defense hybrid Gensokyo Defenders gets a worldwide launch on November 29th courtesy of Sony Music's Unties publishing initiative.
Meanwhile, next month we'll see Tikipod's Rock Boshers DX: Director's Cut, launching on the Switch on December 1st. Finally, not to play favorites, but how can I NOT when it's a game inspired by Contra—Blazing Chrome particularly excites me and will receive a release on the Switch in early 2019. Take a look at trailers for each game below:
Ms. Splosion Man:
Gensokyo Defenders:
Rock Boshers DX: Director's Cut:
Blazing Chrome:
New Releases
SNK 40th Anniversary Collection ($39.99)
While SNK might not have the caliber of games in its library as your Nintendos or your Segas, it does possess some really creative and engaging games all the same. Now, Nintendo Switch owners can experience a well done collection of SNK's wares with the SNK 40th Anniversary Collection. Containing superb emulation for the games (which is a must obviously as you can have a terrific catalog of games, but if they run like a tortoise in molasses, it doesn't mean anything), an interactive gallery and museum, and the ability to watch perfect play-throughs of games, the SNK 40th Anniversary Collection is perfect for any retro gaming enthusiast.
Project Highrise: Architect's Edition ($39.99)
Switch owners have already had the pleasure of building a city with the simulation game Cities: Skylines – Nintendo Switch Edition. Now, Switch owners can develop, design, and construct their own skyscrapers with Project Highrise: Architect's Edition. You can create a whole slew of building types, such as commercial buildings and residential apartments, as well as craft malls, hotels, and much more. If you like a guided experience, check out the campaign mode full of 29 challenges to complete, or if you're the opposite and just want to build to your inner architect's content, develop your own skyscraper at your leisure in the open sandbox mode. Either way, your titan of construction is under your control.
My Riding Stables – Life with Horses ($29.99)
Who is that hot little number on the box art of the game? Oh, and the woman next to the horse isn't so bad either! While it may be easy to make fun of a game called My Riding Stables – Life with Horses, the game comes across as a cute, enjoyable game for those with a passion for taking care of and riding a stable of your own horses without the need to actually smell them. Pamper and breed horses on your exquisite estate, compete in horse races, and even delve into the business side of running a stable. Graphically unimpressive (and that's an understatement), but full of content for those that just want to horse around, My Riding Stables – Life with Horses is definitely for a limited audience on the Switch.
Other New Releases
Sales
Several interesting games have new discounts as of yesterday and today, including Infinte Minigolf, which was a past Game of the Day. More notably (and not to discredit Infinite Minigolf), but both Runner3 and Space Dave have substantial sales going on. The former received patches to make for a more enjoyable and less frustrating experience. Meanwhile, our old friends Green Game: TimeSwapper and Red Game Without a Great Name are back on sale–y'know–again.
New Games on Sale
Green Game: TimeSwapper ($1.49 from $2.99 until November 19)
Paper Wars: Cannon Fodder Devastated ($4.99 from $9.99 until November 19)
Red Game Without a Great Name ($1.49 from $2.99 until November 19)
CastleStorm ($10.49 from $14.99 until November 20)
Disco Dodgeball – REMIX ($7.49 from $14.99 until November 20)
Infinite Minigolf ($5.99 from $14.99 until November 20)
Candle: The Power of Flame ($9.99 from $19.99 until November 26)
Grab the Bottle ($3.49 from $4.99 until November 26)
One Eyed Kutkh ($2.99 from $4.99 until November 26)
Spiral Splatter ($3.49 from $4.99 until November 26)
Monkey King: Master of the Clouds ($2.49 from $4.99 until November 26)
Runner3 ($9.99 from $29.99 until November 27)
Space Dave ($0.99 from $9.99 until November 27)
Sales Ending Tomorrow, Thursday, November 15th
Bud Spencer & Terence Hill – Slaps And Beans ($15.99 from $19.99 until November 15)
Halloween Pinball ($1.79 from $1.99 until November 15)
Hyper Sentinel ($4.93 from $12.99 until November 15)
Late Shift ($9.09 from $12.99 until November 15)
Ludomania ($3 from $4 until November 15)
Pool Panic ($9.98 from $14.99 until November 15)
Roarr! Jurassic Edition ($7.19 from $7.99 until November 15)
Tales of the Tiny Planet ($11.99 from $14.99 until November 15)
The Walking Vegetables: Radical Edition ($10.39 from $12.99 until November 15)
That concludes this edition of the SwitchArcade Roundup. Pending on how severe this upcoming snowstorm we're about to receive here in St. Louis is, I'll catch you back here tomorrow with a new edition with even more Switch coverage! Until next time, keep your Joy-Cons charged and your Switches loaded with great games!