It hasn't even been released for two weeks yet, but already the massive monster-collecting RPG Siralim 3 ($4.99) is getting a very cool limited time event in celebration of Halloween tomorrow. The event has just gone live today and will run until November 13th. Between that time you can search the realms for Frankenfluff in order to obtain 5 exclusive Halloween themed characters, and if you obtain them all you can continue seeking out Frankenfluff to receive additional cool items. You can also visit your gods' altars to "trick or treat" to get some additional treasures, and you can visit Blanch and use the code "HALLOWEEN" to get yourself a Singular Pumpkin egg. Perhaps most important of all due to its timeliness is if you play Siralim 3 tomorrow on actual Halloween you'll unlock a cool Halloween costume and title.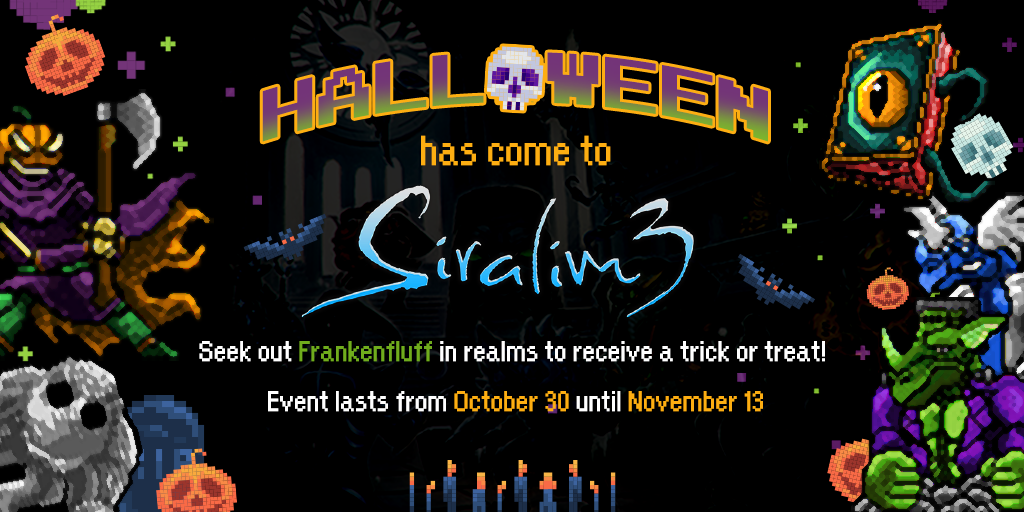 If you aren't familiar with Siralim 3, it's (obviously) the third entry in Thylacine Studio's epic monster-collecting RPG series. The original debuted several years ago and although massive from the start it only grew in size and features with tons of post-release updates. Siralim 2 launched a couple years later and followed a similar path of growing through many updates, and now a couple of years after THAT and Siralim 3 is here bringing forth the biggest and most content-filled version yet.
These are very complex games with quite a learning curve and you'll have to really be in the mood to absorb a lot of information in the early goings, but once you get the hang of things the game opens up into this extraordinary experience that's really unlike anything else on the App Store. This could easily be a "desert island" game with the amount of hours you can put into it. So if you're already a Siralim 3 fan then be sure to check out the limited time Halloween content, and if you haven't dove into this series before then this third entry is a great place to start.