Welcome to your SwitchArcade Roundup for September 26th, 2018. Your brother in ARMS (the Switch game, that is), Phil is here to present you with today's roundup of news, releases, and discounts in a bite-sized, easily digestible package. I have news on Nintendo Switch Online's cloud saves courtesy of IGN, a story trailer from Starlink: Battle for Atlas, and a new localization announcement from Japan. That and more on today's SwitchArcade Roundup!
Game of the Day
Elliot Quest ($9.99)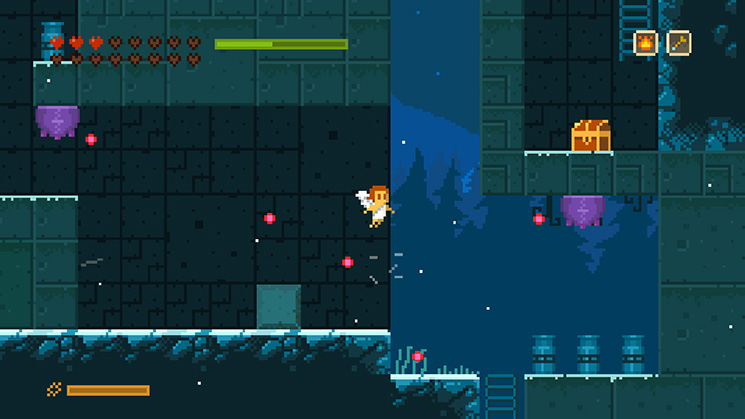 Most games on the Switch that I've talked about that are inspired by The Legend of Zelda series take after games like the original Zelda and the Super Nintendo's A Link to the Past. However, Elliot Quest takes a different approach, taking notes from what I consider the "black sheep" of the Zelda franchise, Zelda II: The Adventure of Link.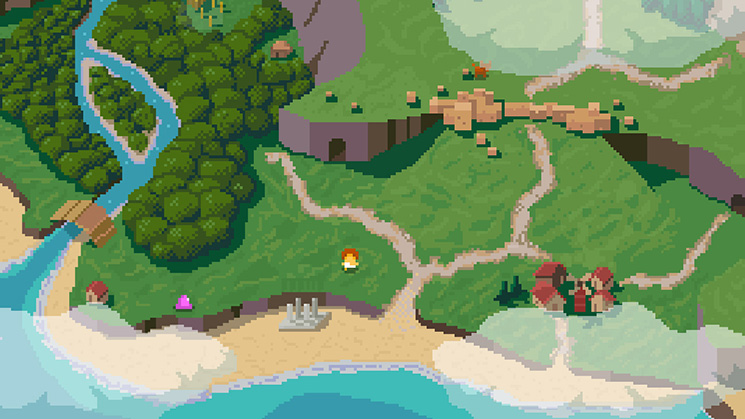 Elliot Quest is mostly played in a 2D side-scrolling perspective (apart from the overhead world map). Instead of a sword, Elliot uses arrows from a bow to attack enemies. The game is designed as one that is greatly open-ended, and this will most definitely make for some moments where you have absolutely no idea where you need to go next. Many times I found my progress halted by dead ends seemingly at every corner, requiring me to find the right item or ability to proceed. Truly, Elliot Quest not only has old school-style graphics but also old school-style sensibilities when it comes to its design. The game can be quite difficult, and you'll often find yourself perishing in battle or failing particularly tricky platforming challenges. However, you'll also want to get right back to the action since the game is so rewarding to explore its plentiful dungeons and areas.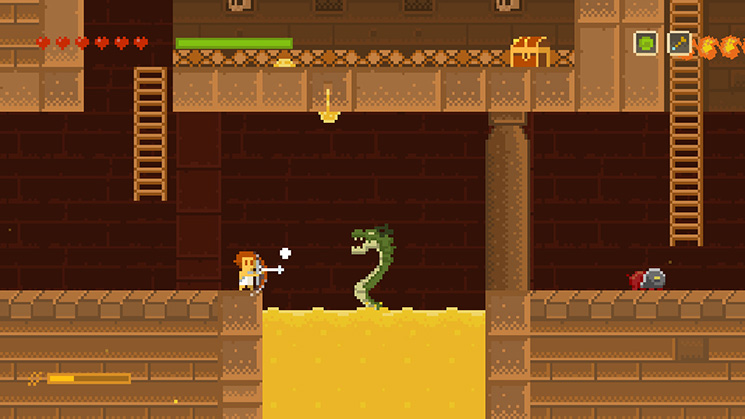 Those who stick with Elliot Quest will discover a game that is a lengthy  action-adventure game full of discovery, mystery, and wonder. While the difficulty might frustrate a lot of players, seldom does Elliot Quest feel unfair in its challenge, unlike Zelda II does sometimes. That said, I am a little biased here, as I never did beat Zelda II, but I did finish Elliot Quest… So, take that challenge comparison between the two games with a grain of salt!
News
Nintendo reveals how long Nintendo Switch Online cloud saves last after subscriptions expire
The final (maybe? Hard to tell with Nintendo's messaging) word on how long Nintendo Switch Online cloud saves can be recovered after subscriptions have expired is apparently in, and this information comes courtesy of IGN who asked Nintendo of America directly to address this controversy. Straight from the Big N's mouth, as expected, Nintendo Switch Online cloud saves will be unavailable to a given user once their membership ends. However, those who resubscribe within a six-month time period will have the ability to regain their cloud saves with no loss of data. This should be a load off the minds of many Switch owners whose Nintendo Switch Online subscriptions may lapse. That said, why this wasn't simply stated up front instead of letting a fair portion of the gaming community melt down is anyone's guess. Oh, how you love to rile people up, Nintendo!
Starlink: Battle for Atlas gets a foxy new story trailer
The most exciting version of Ubisoft's toys-to-life space and planetary combat/exploration game, Starlink: Battle for Atlas, is without question the Switch version–at least to many Nintendo fans like myself. I would be lying if I said that having the Star Fox team as guest characters in the Switch version of Starlink didn't influence my decision here. With exclusive missions featuring the Star Fox crew and the hunt for Star Wolf's Wolf O'Donnell as part of the story (plus a truly awesome pair of figures–Fox McCloud and his Arwing–included with the physical version of the game), Starlink: Battle for Atlas gets ready to take off on the Nintendo Switch on October 16th. For the time being, check out the latest trailer for the game, focusing on its story.
STEINS;GATE ELITE is being localized for the Switch early next year
Spike Chunsoft, Inc. has revealed that STEINS;GATE ELITE (man, you don't have to yell!) will launch on the Nintendo Switch on this side of the Pacific on February 19th, 2019. Not only will there be the base game available, but the publisher will also have a limited edition version of STEINS;GATE ELITE as well. This limited edition features more than 100 pages of hardcover storyboards, a cloth poster, and a box to store it all the goodies in. Exclusive to the Nintendo Switch version is the 8-BIT ADV STEINS;GATE game, hearkening back to the NES era of gaming goodness.
STEINS;GATE ELITE launches for North America on 2/19/2019 for PlayStation®4, and Nintendo Switch™ with a STEINS;GATE ELITE LIMITED EDITION!

・100+ Page Hardcover Storyboard Collection
・Exclusive Cloth Poster
・Custom Outer Box

Pre-order links coming soon! pic.twitter.com/1Bl58M0R1W

— Spike Chunsoft, Inc. (@SpikeChunsoft_e) September 25, 2018
What's next for developer Shin'en on the Switch?
Well, the answer is coming soon! The developer of the Switch launch title FAST RMX as well as several other technologically impressive games on Nintendo systems like Jett Rocket on Wii, Nanostray and its sequel on the Nintendo DS, and Iridion 3D on the Game Boy Advance is ready to pull back the curtain on its next project. It's been radio silence from Shin'en for a year or two now, but we'll finally have our answer tomorrow on what's the next game coming from the developer, as stated by this tweet:
Hi everyone, if you asked yourself what Shin'en is doing since #FastRMX: News are coming tomorrow for #NintendoSwitch!

— Shin'en Multimedia (@ShinenGames) September 26, 2018
New Releases
Rooms: The Adventure of Anne & George ($14.99)
This perplexing puzzle game Rooms: The Adventure of Anne & George's main mechanic is shifting small rooms around to guide the main character to the goal. Of course, things get much more involved with new hazards and level gimmicks thrown into the mix to keep everything fresh. Personally, if I was a character in this game, I would simply request the player to slide me around to a room with a view. Oh, yes. How THAT would be the life!
Snake vs Snake ($3.99)
Snakes… Why did it have to be snakes? Well, because Snake is a fun, simple game that anyone can learn and play. Add in four other players, and you have a party goin' on! Try to trap your opponents to get them to either run into you or run into themselves as your snakes grow longer and longer as each round continues. That's the basic premise of Snake vs Snake, and it's perfect for all ages and skill levels. Seeing its price, it seems to be perfect for all incomes as well!
Sales
New Games on Sale
Disc Jam ($12.74 from $14.99 until October 2)
Transcripted ($4.79 from $7.99 until October 2)
Oh My Godheads: Party Edition ($13.49 from $14.99 until October 9)
Sales Ending Tomorrow, Thursday, September 27th
Bleed ($4.07 from $11.99 until September 27)
Cast of the Seven Godsends ($4.41 from $12.99 until September 27)
Darts Up ($2.69 from $2.99 until September 27)
Destiny's Princess: A War Story, A Love Story ($11.99 from $14.99 until

September 27)

Enchanting Mahjong Match ($3.49 from $4.99 until September 27)
ESCAPE TRICK: 35 Fateful Enigmas ($15.99 from $19.99 until September 27)
Frost ($6.49 from $12.99 until September 27)
Funbox Party ($0.99 from $1.99 until September 27)
Immortal Redneck ($13.99 from $19.99 until September 27)
Inversus Deluxe ($8.99 from $14.99 until September 27)
Pool BILLIARD ($3.99 from $7.99 until September 27)
Pub Encounter ($13.59 from $16.99 until September 27)
Semispheres ($4.99 from $9.99 until September 27)
Slayaway Camp: Butcher's Cut ($5.09 from $14.99 until September 27)
Tennis ($5.59 from $7.99 until September 27)
The Charming Empire ($22.49 from $24.99 until September 27)
The Men of Yoshiwara: Kikuya ($13.99 from $19.99 until September 27)
The Men of Yoshiwara: Ohgiya ($9.44 from $14.99 until September 27)
THE Number Puzzle ($4.49 from $4.99 until September 27)
Velocity 2X ($15.99 from $19.99 until September 27)
Zen Bound 2 ($9.74 from $14.99 until September 27)
It's about time I ride off into the sunset, as my work here today is done. However, I'll be back for tomorrow, as that's the major Nintendo eShop update day! I'm sitting tight in my saddle and preparing for all the news, releases, and discounts that will be unleashed tomorrow.
We love hearing from our readers! If you have any comments or questions about today's SwitchArcade Roundup or just any topic in general, let us know below or tweet at our friendly faces! Until next time, keep your Joy-Cons charged and your Switches loaded with great games!