Welcome to your SwitchArcade Roundup for September 25th, 2018. It's your main man for Nintendo Switch news, Phil here with even more news, impressions, new releases, and discounts to share with all of you. A new Pokemon has been revealed in an official capacity, while I also have another batch of game impressions to share, this time for Chiki-Chiki Boxy Racers, a recent Switch eShop release. Before all that, let's get to the Game of the Day!
Game of the Day
Mega Man Legacy Collection 1 + 2 ($39.99 – Retail; Mega Man Legacy Collection 1 and 2 separately: $19.99 each – Digitally)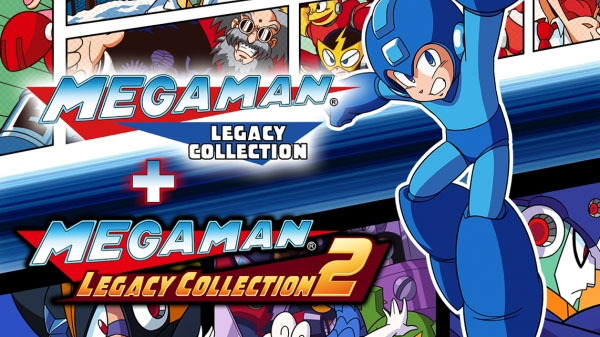 With Mega Man 11 releasing in exactly one week, it seems like as good a time as any to talk about a compendium of games that is perfect for preparing yourself for the Blue Bomber's latest! That compendium is none other than Mega Man Legacy Collection 1 + 2. Containing all ten previously released Mega Man games in one solid package, Mega Man Legacy Collection 1 + 2 is a terrific way to hype yourself up and get yourself in the mood for some Mega Man 11.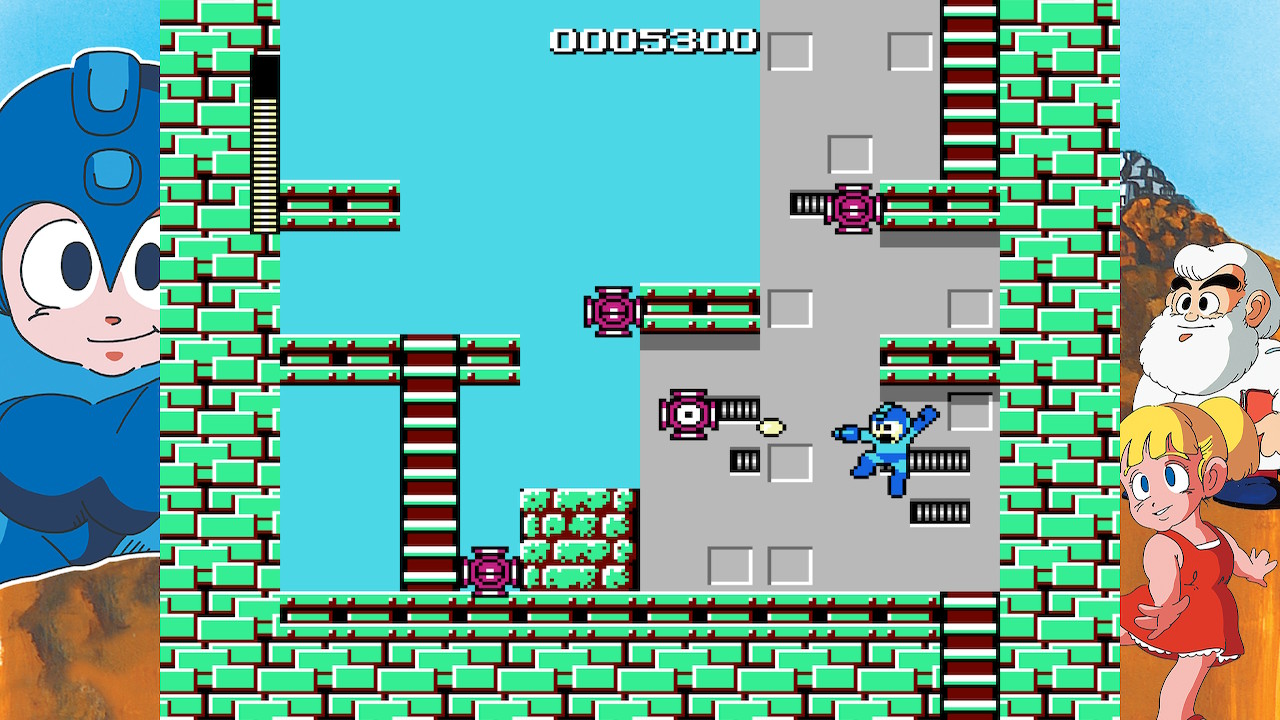 The first collection is comprised of the NES Mega Man games, 1-6. A currently exclusive feature to the Switch version is the ability at any time during gameplay to rewind progress. Fall into a pit or take too much damage in a fight? Hit the left shoulder button on the controller to rewind time to seconds before that unfortunate moment to pretend it never happened! Be all Marty McFly on that mother! Of course, you can only rewind time up to a minute, but if you're needing to redo so much progress, there is always the included ability to have save states to fall back on.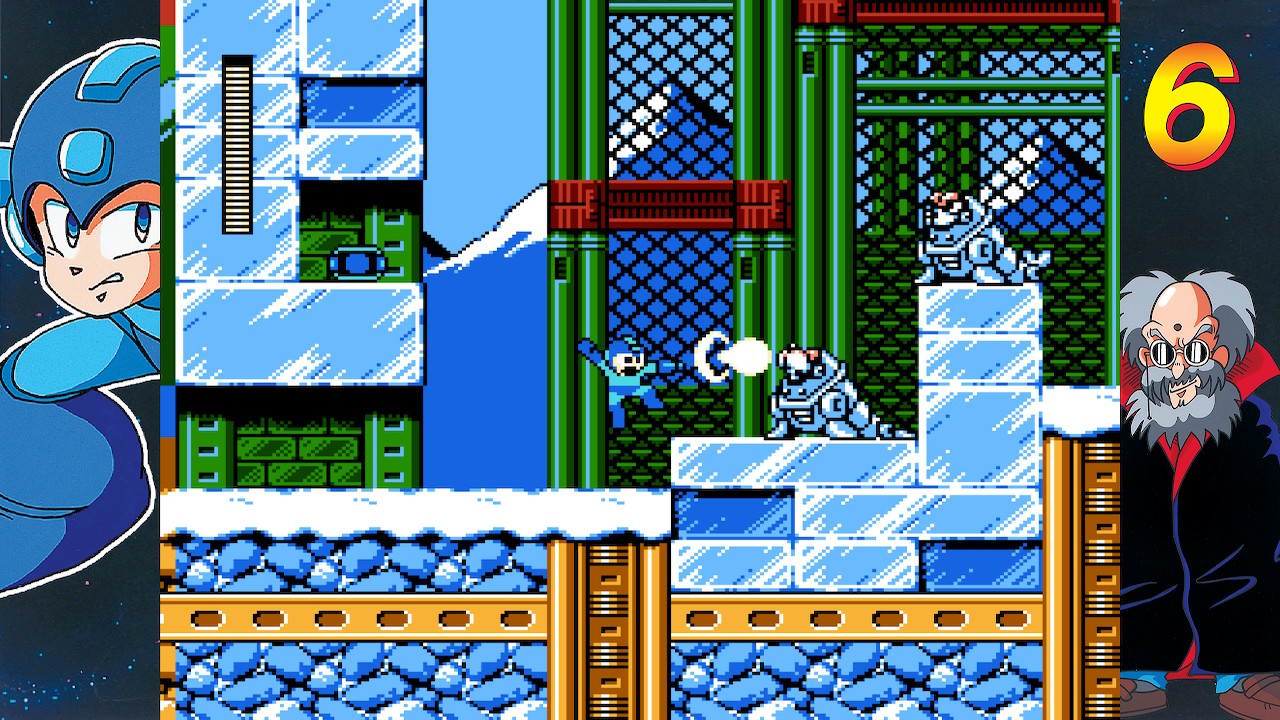 Meanwhile, Mega Man Legacy Collection 2 features Mega Man 7-10, games from a mishmash of platforms. While Mega Man 7 was the lone classic Mega Man entry on the Super Nintendo, Mega Man 8 released a generation later on the PlayStation and Saturn (sadly, the more featured-rich Saturn version is not used in this collection). Finally, Mega Man 9 and Mega Man 10 were retro revivals of the franchise, taking the series back to its NES-styled roots on multiple last generation systems.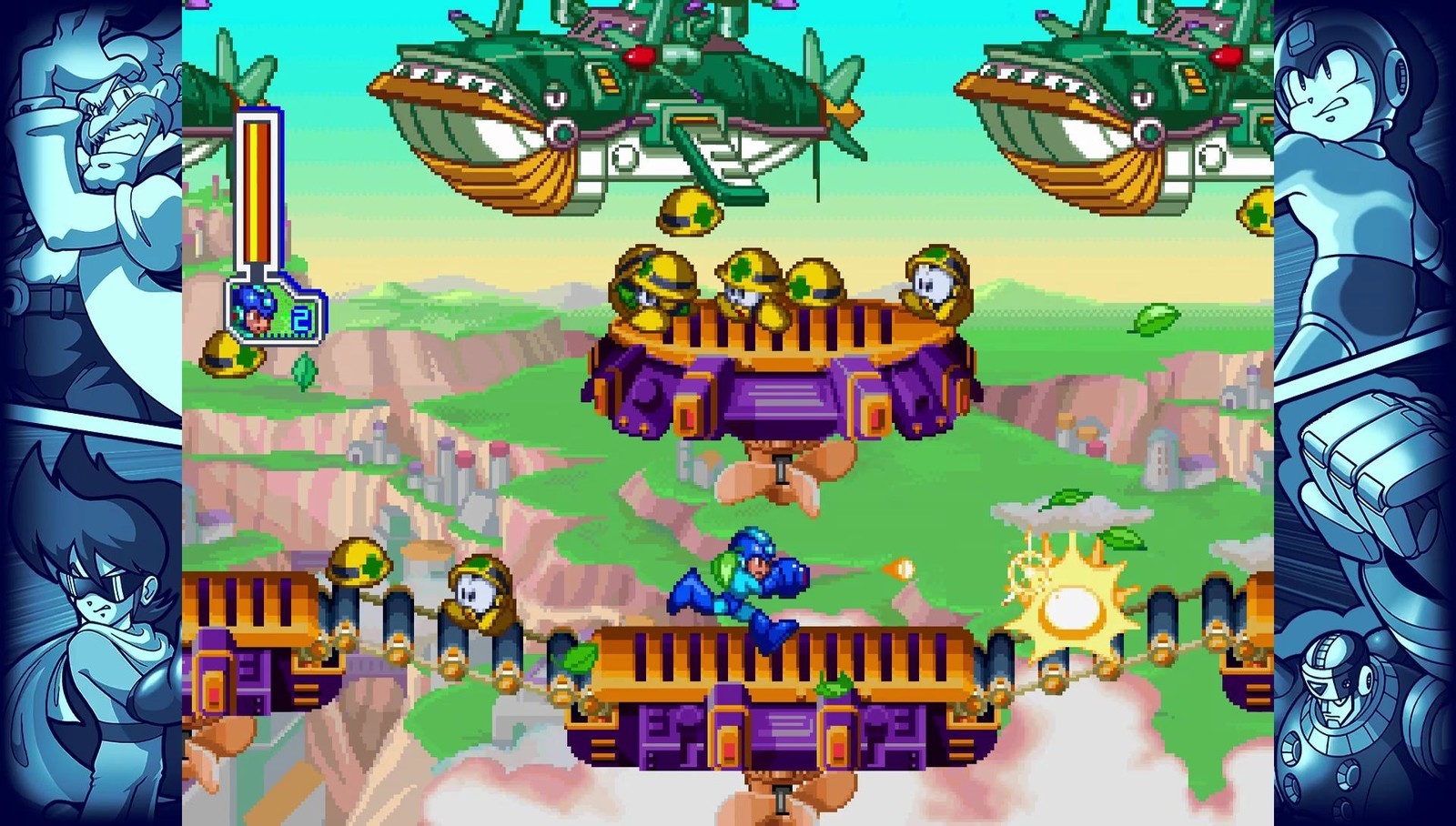 Unlike Mega Man Legacy Collection 1, this second collection does not contain the rewind feature. However, both collections do possess various bonus challenges that task players with running through remixed stages, boss rushes, and more. You'll get bang for your buck regardless of which collection you choose, but as a major Mega Man fan, I can't help but recommend both.
Chiki-Chiki Boxy Racers Impressions
Chiki-Chiki Boxy Racers is a top-down racer where you point the Joy-Con's analog stick in the direction your wish to drive in. Skillful turning, cornering, and use of turbo boosts make the difference between crossing the finish line in first and straggling among the competition.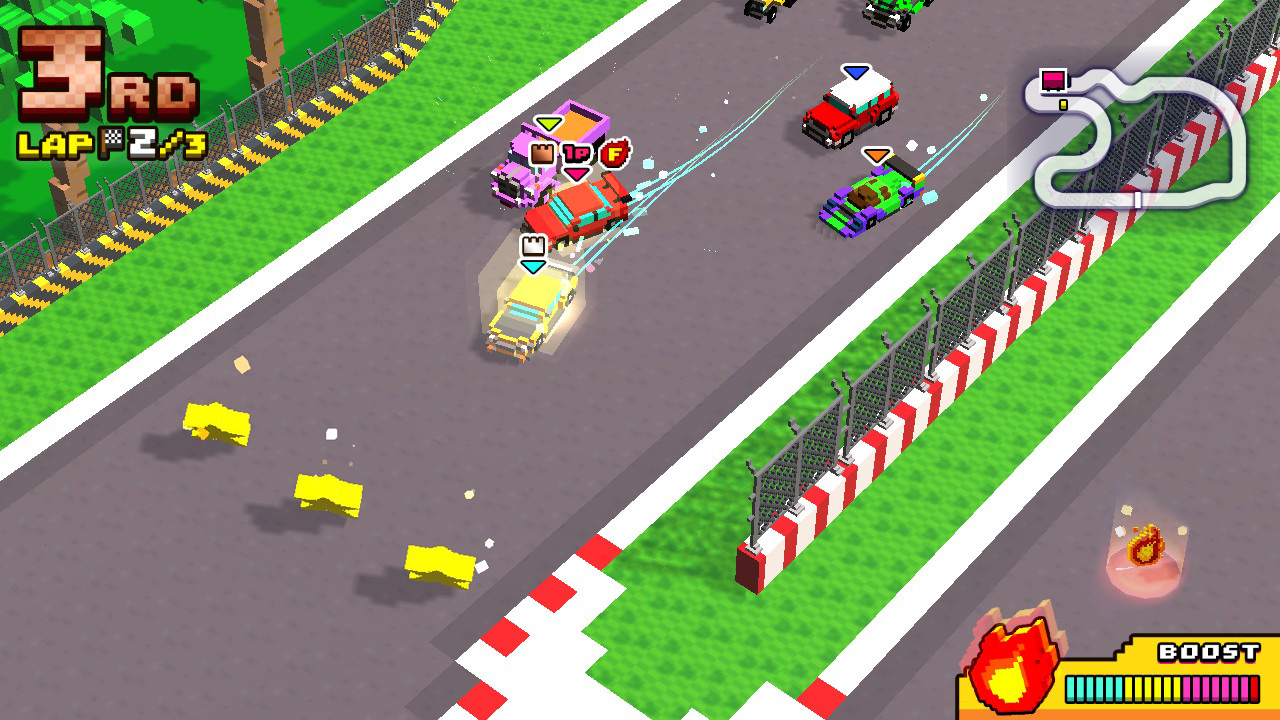 There are over 20 vehicles to play as, many needing to be unlocked by winning races and grand prix events in first place. 12 tracks are in Chiki-Chiki Boxy Racers, spread out across three locales: City, Jungle, and Beach. You play the tracks in order in a given locale, eventually unlocking a grand prix event at the end, having you play through all four races in a given locale one after the other.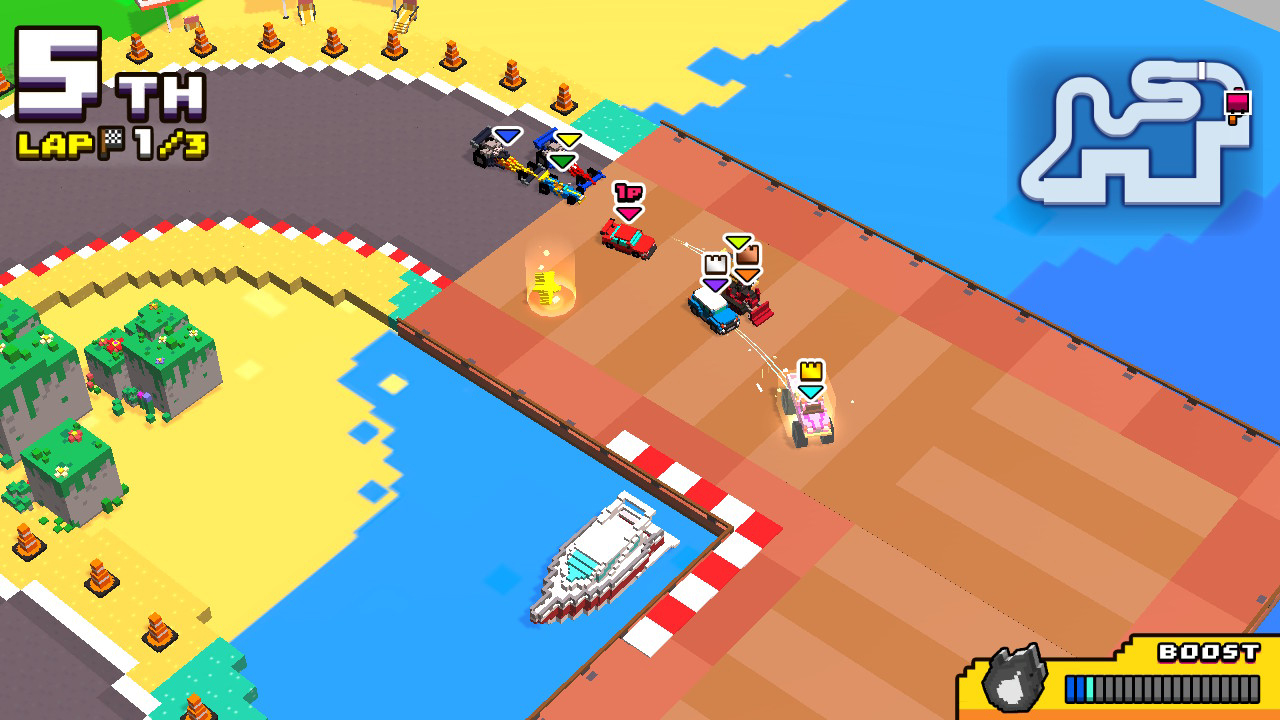 Really, I had a lot of fun with the single player in this racer, but the lack of longevity with unlockables and content meant I didn't have much need to replay the game. Yes, the included mini-games are enjoyable that aren't based on racing, but these wear thin quickly, too.
That would be remedied if the multiplayer component of Chiki-Chiki Boxy Racers was capable enough. The problem with Chiki-Chiki (I can't stop writing that fun-to-say name) is that it somehow fares better as a single player game than a multiplayer one. Let me explain. Local multiplayer for a game in a genre that has roots to the classic arcade days should be a given winner. It's unfortunately not with Chiki-Chiki Boxy Racers. This is for several reasons.
For one, I did not see an option to play with AI drivers, so I could only race against local players (to be fair, up to eight players can join in with single Joy-Cons). Secondly, and most disappointingly, everyone shares the same screen. This means that once a player gets too far off the screen, they're automatically transported just a car-length behind another player. In a two-player race, I drove well all race while my brother, the second player, constantly got left behind, thus being transported behind me. By the final turn, he was transported behind, while I made a small error in turning. He, then, merrily passed me, winning the race. Not so fun for either the winner or the loser.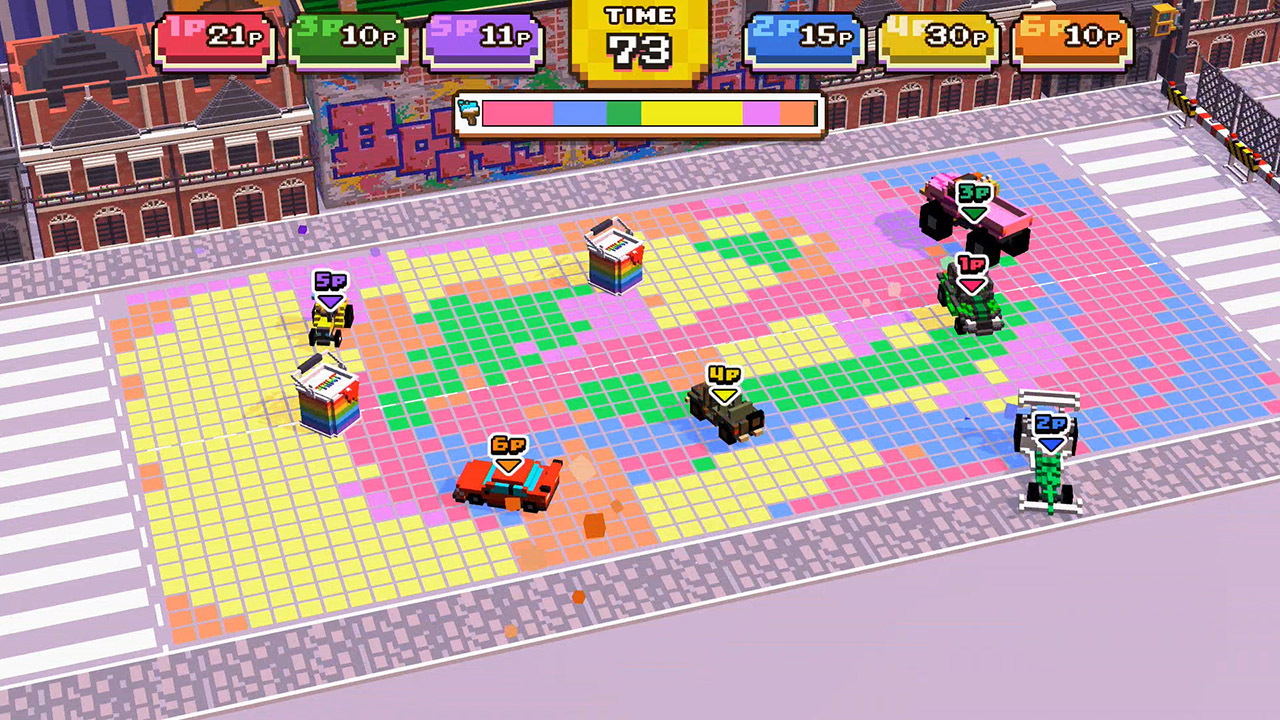 Online suffers from a lack of randoms playing, and this isn't helped by the need to have a Nintendo Switch Online subscription, a problem that I hope won't destroy other online games on the Switch with already barren communities. Playing online with friends is an option, but finding other people to play a small scale game like Chiki-Chiki Boxy Racers probably won't be convenient for many Switch owners. If you can find other Switch friends who own the game, perhaps you'll find some longevity to Chiki-Chiki, others will find the game to be too (and pardon me for this) freaky-freaky to buy.
News
A new Pokemon has been discovered–Meltan
…And it's coming to Pokemon: Let's Go, Pikachu! and Pokemon: Let's Go, Eevee! as the previously mentioned "new Pokemon" being included in the games! It's the Hex Nut Pokemon, Meltan, looking suspiciously like a Ditto with a bolt on its head. What power could this new mythical Pokemon possibly possess? Find out with episode one of The Two Professors, a video series on Pokemon's official YouTube channel.
Mark of the Ninja: Remastered reveals its release date with a new trailer
On October 9th, Mark of the Ninja: Remastered is not-so-stealthily arriving on the Nintendo Switch. With enhanced visuals and audio, bonus content in the form of an additional tale and developer commentary, and all of the 2D action-stealth goodness that made the original Mark of the Ninja so beloved, this remastered version is set to be another jewel in the Switch's indie game crown.
The Jackbox Party Pack 5 prepares to party on the Nintendo Switch with an official release date
Jackbox Games has announced on Twitter when the latest in The Jackbox Party Pack series will arrive on the Switch. Containing five new games–Split the Room, Mad Verse City, Patently Stupid, Crab Nebula, and Zeeple Dome–utilizing players' phones, tablets, and/or computers, you will be able to party hard with friends and family when The Jackbox Party Pack 5 releases on the Switch on October 17th.
The Jackbox Party Pack 5 will be released Wed. 10/17 on all major digital platforms. Pre-order the game for your PC/Mac on our website now!
👉https://t.co/PLiuyZ471X #jackboxgames #comingsoon #jackboxpartypack5 pic.twitter.com/kqRmCEvvV8

— Jackbox Games (@jackboxgames) September 24, 2018
Ubisoft announces Hasbro Game Night for Nintendo Switch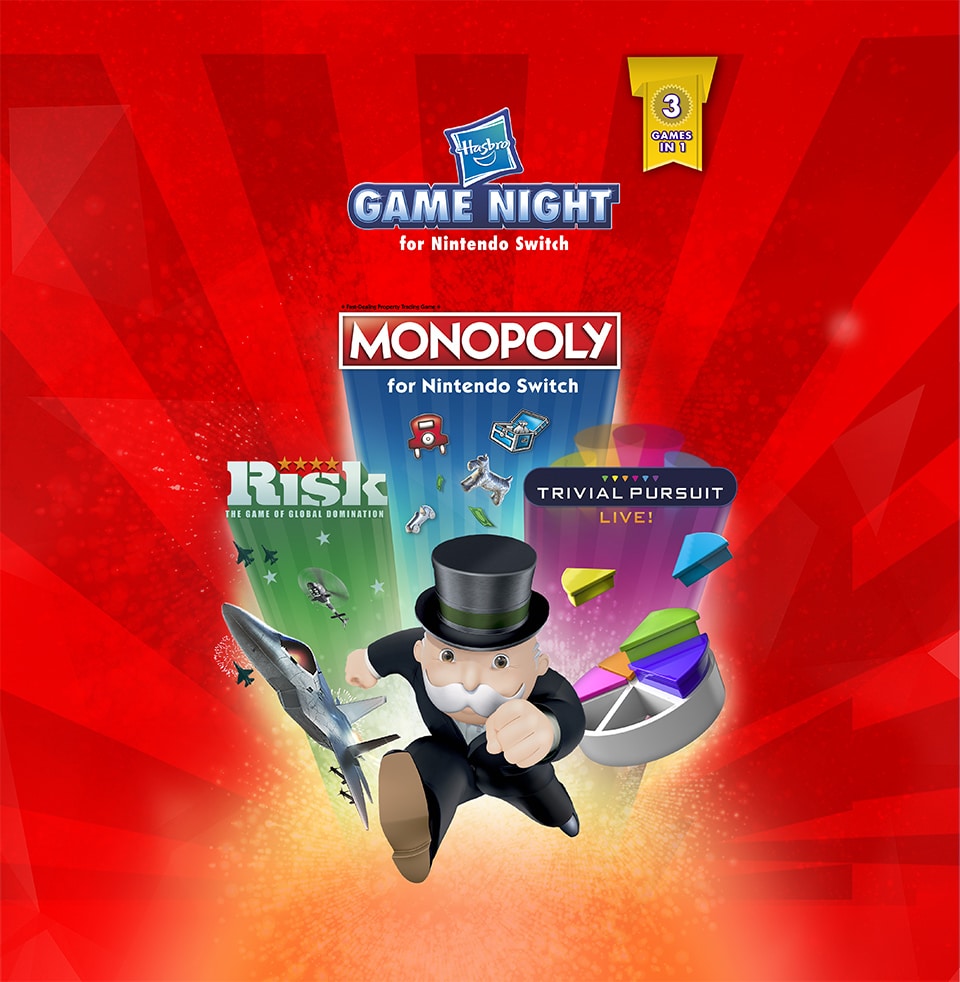 If The Jackbox Party Pack 5 wasn't enough for all of you party animals out there, someone else has something to add to your game nights… and it's decidedly more age-appropriate–well, depending on your friends! Ubisoft has announced Hasbro Game Night for Nintendo Switch, containing three family-favorite digital games with Risk, Trivial Pursuit Live!, and Monopoly for Nintendo Switch–the latter previously released on the Switch with a standalone version. For more details on Hasbro Game Night for Nintendo Switch, releasing October 30th along with Ubisoft's other party game announcement Sports Party, check out Ubisoft's official blog post.
New Releases
Arena of Valor (F2P)
Tencent's mega-popular MOBA Arena of Valor is now available on the Switch for all to play. After the beta several months ago, Arena of Valor is ready for ALL Switch owners to sink their proverbial teeth into it. Since it's a free-to-play game, there is no need for a Nintendo Switch Online subscription to play it, so dig in, everybody! Like Vanilla Ice once said, "MOBA to your motha'!"
Valkyria Chronicles 4 ($59.99)
The much acclaimed Valkyria Chronicles series finally makes its way to a Nintendo system with Valkyria Chronicles 4, the fourth game in the series and the third to make its way outside of Japan. The strategic RPG series returns for its 10-year anniversary with a lengthy campaign, great reviews, and you to lead your squadron to battle and (hopefully) victory! Onward!
South Park: The Stick of Truth ($29.99)
If you are a Switch-only owner who played South Park: The Fractured But Whole and are yearning to experience the game's predecessor, then today begins your chance to do so with South Park: The Stick of Truth's release. Personally, I find the asking price for a six years' old port to be a little steep for my taste, so much so that I couldn't really give a Mr. Hanky about it until it gets discounted a bit. That says nothing to the quality of the port–just the price.
This is the Police 2 ($29.99)
Four words that aren't the best to hear coming from outside your front door happen to be the name of an interesting game now releasing on the Nintendo Switch with This is the Police… 2. Combining two genres, a variety of gameplay styles, and management of your police force's well being of its facilities, equipment, and its people, This is the Police 2 ups the ante with the latest in this adventure/police force-management series.
The Escapists: Complete Edition ($14.99)
You can see a dark perspective of the police with This is the Police 2, so now we're going to delve into a game that takes a light-hearted approach from the perspective of the people that the police put away in prison with The Escapists: Complete Edition. Featuring multiple prisons to create an escape plan for and actually execute said escape plan (including two prisons that are console-exclusive to the Switch), owners of Nintendo's hybrid platform can now plan their escape with The Escapists: Complete Edition today.
Other New Releases
Sales
New Games on Sale
Two WB Games are on sale starting today: Cars 3: Driven to Win and Scribblenauts Showdown. For games of what many perceive to be a higher quality and a much lower price, check out the well received FRAMED Collection and Thumper.
Cars 3: Driven to Win ($19.99 from $39.99 until September 29)
Scribblenauts Showdown ($19.99 from $39.99 until September 29)
FRAMED Collection ($6.99 from $9.99 until September 30)
Thumper ($7.99 from $19.99 until October 1)
Gaokao.Love. 100Days ($9.99 from $11.99 until October 7)
I, Zombie ($3.99 from $4.99 until October 7)
Kentucky Robo Chicken ($1.99 from $2.49 until October 7)
The Long Reach ($5.09 from $14.99 until October 7)
Detective Gallo ($11.99 from $14.99 until October 8)
Sales Ending Tomorrow, Wednesday, September 26th
Cartoon Network: Battle Crashers ($14.99 from $29.99 until September 26)
Monster Jam Crush It! ($14.99 from $29.99 until September 26)
Spellspire ($5.69 from $9.99 until September 26)
Time Carnage ($10.39 from $12.99 until September 26)
That wraps up this SwitchArcade Roundup, but the week is young and so am I! I'll be back tomorrow with a fresh edition of the SwitchArcade Roundup, so until then, keep your Joy-Cons charged and your Switches loaded with great games!