The world of Final Fantasy Brave Exvius (Free) is colliding with that of Star Ocean: Anamnesis (Free) in a new collaboration event. This event includes your chance at recruiting five Star Ocean characters and a community event. Both games are original free-to-play titles based on the popular Square Enix franchises each shares a name with; Final Fantasy Brave Exvius launched in North America July of 2016, with Star Ocean: Anamnesis being released this past month. That makes it a great time for a crossover event!
Final Fantasy Brave Exvius' story mode follows a young man named Rain who is struggling to live up to his father's legacy. More importantly, his party can consist of a combination of the few original characters to the game, past Final Fantasy characters, and characters from other franchises obtained during past events. The game can seem bland at times, and Shaun rated it a relatively low 3.5, but the events can really enhance the experience. The NieR event was a personal favourite of mine, although I know many went nuts over the Ariana Grande event(s).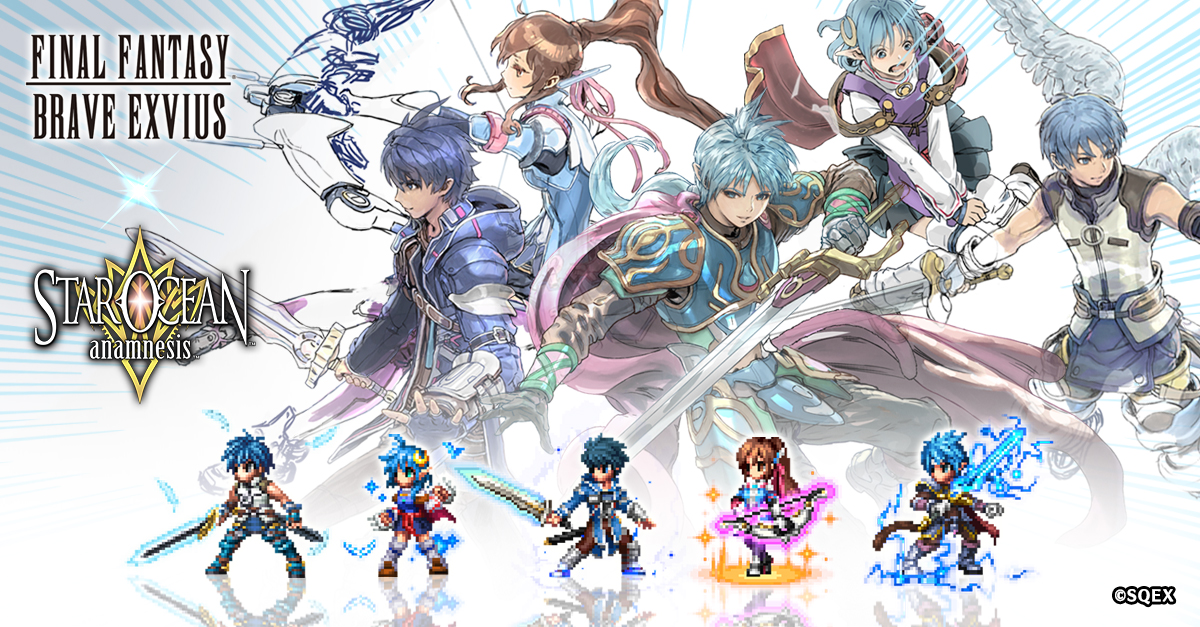 During this collaborative event, Star Ocean characters Fayt, Rena, Fidel, and Roddick are available via a featured summon. Fayt and Rena both appeared in the Japanese version of Final Fantasy Brave Exvius, but this is the first time they are available to players worldwide. The fifth event character, Reimi, can be earned via a raid summon.
Aside from new characters, a new raid event is open in the dimensional vortex during the collaboration event: battle Jie Revorse, the original Star Ocean villain. Earning raid points will allow players to unlock rewards based on the number. Five million boss kills will get you a 4-star Trust Moogle (5% all), seven million kills will get you one EX Rare Summon Ticket, and 10 million kills will get you 500 lapis.
This event is clearly meant to bring more eyes to Star Ocean: Anamnesis, but it's a nice bonus to have some beloved Star Ocean characters join your party in Final Fantasy Brave Exvius. Star Ocean: Anamnesis is also a free-to-play title, this time putting the playing in the captain's seat to lead a handful of heroes across the galaxy. The team is made up of characters seen before in the franchise. Whereas Final Fantasy Brave Exvius has turn-based gameplay, Star Ocean: Anamnesis puts the focus on real-time combat. It is currently available in a limited number of countries (United States, Canada, Singapore, Australia, New Zealand), with more being considered.
The collaboration event takes place in Final Fantasy Brave Exvius, beginning today and running through August 9, 2018.