This week in Arena of Valor hasn't felt all that significant, honestly – but in retrospect, it's been just as busy as any other. A new (temporary) game mode released, as did a new hero, but for some reason or another, this month's version update just didn't feel as grand as the last despite it buffing and nerfing nearly every character in the game. Let's put things into perspective.
Arena of Valor Nintendo Switch Beta Arrives – But Fails To Impress
A time we've all been waiting for, Arena of Valor makes its wider debut on the Nintnedo Switch console close to a year after its initial reveal. Although only a closed beta test before the full release this fall, the sheer amount of beta keys being dished out by popular content creators puts a large amount of potential players in the running to try out the elongated demo.
Hopefully far from a completed product – depsite all the delays – the Nintendo Switch beta is a little worrisome. It might seem like the better of the two versions if you're used to playing on a low-powered mobile device, but the added visual flair used to put the Nintendo Switch's Nvidia X1 chip to the task is either too much for the device, or has yet to be properly optimized. Load times are long, and while the menus certainly run at a smooth 60FPS, actual gameplay chugs far behind, with stutters seemingly caused by even more things to load threatens the chance of this kicking off as a Nintendo Switch Esport title.
The control options work with a bit of training, but it's clear that some more tactical aspects of the game – like pinging areas of the map – will be difficult if you're playing the game docked.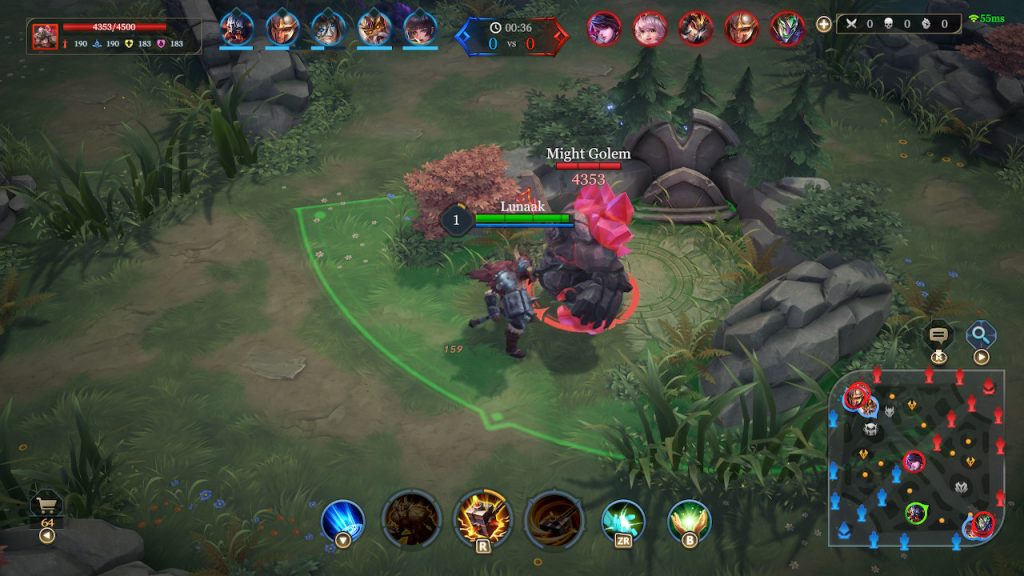 June Version Update Brings Football Fever To The Arena
Teased with Valhein's 'Goal Machine' skin a few weeks back, the Football Fever mode has arrived with the June version update. As detailed just before its release, the new game mode celebrates the FIFA World Cup by having various AoV heroes take a side on the pitch and use unique abilities to play a game of soccer.
Tulen, Murad, Max, Xeniel and Valhein all come rocking their best sports gear, with skins able to be permanently unlocked through regular play or by throwing down some Vouchers.
Just like Hook Wars, Football Fever appears to only be available on weekends, making yesterday's patch download a bit of a disappointment to those hoping to jump right into a kicking match.
Esports Heroes Return From AWC Bootcamp in Taiwan
More into the AoV World Cup than the FIFA version? Here's your regular update. In a bit to get the NA and EU Valor Series winners up to speed with the teams and heroes they'll be going up against at AWC next month in Los Angeles, they were shipped off to a special AWC Bootcamp in Thailand to co-exist with their competitive rivals.
After two weeks, however, it was time to say goodbye. There's no doubt our regional heroes enjoyed their little excursion right after the E3 Valor Series final, but they've returned home to rest up and hone their skills further before the true battle takes place. Set to kick off toward the end of July in Los Angeles, AWC sees the best teams from ten regions duke it out for a shot at a $550,000 prize pool – the largest of any mobile title in history. You can even buy tickets to the two-day event for a mere $10! (+ $2.14 in admit fees)
Little late but Thailand was such an amazing experience. Thank you @ArenaofValor for the boot camp there, can't wait to see how NA does at worlds! #AWCBootcamp pic.twitter.com/vJ8caS6NFg

— ALG Rest (@RestAOV) June 28, 2018
The Popularity of Arena of Valor Could See Tencent Localize More Big Games
While players were busy knocking each other out of the Valor Series Final at E3, prolific video game journalist Brian Crecente (of Kotaku, Polygon, Glixel and Variety) took to the chance to interview Tencent America's director of Esports Ramon Hermann about their plans in the mobile space.
As you'd expect, Ramon predicted that mobile Esports "is going to be huge". His idea, which is backed up by the rapid adoption of mobile Battle Royale titles, is that the Western gaming scene will soon mimic that of China, where the install base of capable mobile devices will open up gaming to those without dedicated consoles. And it makes sense; if a high percentage people own smartphones for general use, they already have the device needed to play these competitive games. They don't need to buy a console just to try something out.
But as the first competitive season of Arena of Valor comes to a close next month, Hermann's words suggest that Tencent will look into whether any of their other mobile games making it big in places like China can be adapted for the Western market. Arena of Valor itself has proven it possible, so it's only a matter of time before their other titles start to make their Worldwide debut.
Marja Proves That Not All Mages Need Mana
Yeah, we're leaving a new hero for last. Actually releasing on Tuesday rather than the usual Friday slot for new heroes, Marja came just days after her initial reveal. We've seen her before on those Asian test service skin videos, but her debut, again, makes us question some of the heroes we've been seeing on the videos for longer.
Either way, Marja mixes up the game in an interesting way. A powerful mage with lots of control and lifesteal options, her ultimate grants her invincibility and speed while allowing her to keep on casting – making her a major advocate for once-risky towerdive tactics.
But it's her mana-less playstyle that stands out here. Players can usually strategize against magic users by striking when their mana is low – as it often is in the early/mid-game push. But Marja's abilities don't rely on mana at all. On top of her lifesteal properties, she's the type of mage that, when played right, will rarely have to recall to base. A true harasser.