Hello everyone, and welcome to the week! It's time once again for our look back at the noteworthy updates of the last seven days. There are some big updates for some big-name games this week, both in the free and paid sides of the line. We've got monkeys, mines, and Mazdas, to say nothing of mirthful misadventures in creepy caves. Of course, you can keep an eye out for updates yourself using AppShopper or by participating in the TouchArcade forums. This weekly summary is just here to fill you in on the things you might have missed. Let's dig in!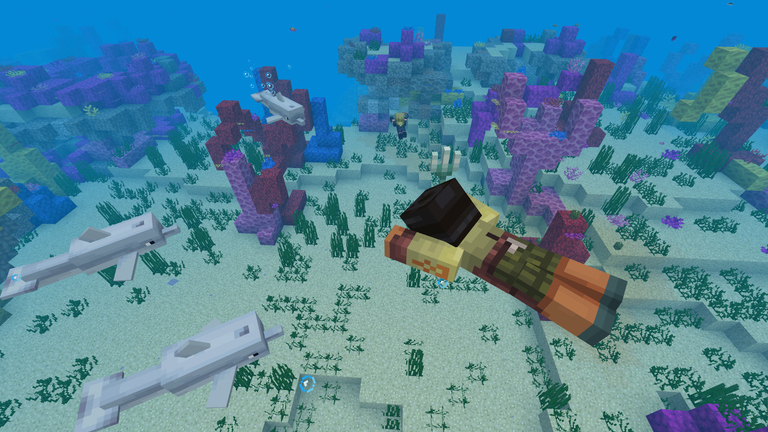 Minecraft, $6.99 We got no troubles, life is the bubbles, under the sea! The latest update for Minecraft is for all you would-be Jacques Cousteaus out there. Ever wonder where all the fish are underwater, and why you can't catch them when you're taking a swim? Well, now you can. Explore nine new ocean biomes, wield an enchanted trident, discover shipwrecks, treasure chests, and even find a certain valuable stone that some old lady threw off a boat one time. You'll also notice that when you swim now, you'll actually look like you're swimming. It's all a little fishy, but you won't sea me complaining.
The Enchanted Cave 2, $5.99 Wow, this is some update. This almost feels like a brand new game, in fact. Here's what you can look forward to: three new challenge modes, five new heroes, unique starting stats for each hero, new NPCs, new items, new monsters, a new merchant, some special skill nodes, monster descriptions in the bestiary, an import/export feature to move your save data to a new device, some balance adjustments, a bunch of bug fixes, and all of the compatibility updates you could hope for. And it's free! Wowie-wow-wow, you get a coveted UMMSotW award for this one.
Super Monkey Ball: Sakura, Free And then there are games you never expected to see again, let alone updated. Super Monkey Ball: Sakura Edition was once called Super Monkey Ball 2: Sakura Edition. It was last updated in 2012, and was pulled from the App Store a few years back when SEGA chose to clean house on many of their old games. Well, it's back, and it's part of SEGA Forever now. That means you can try it out for free or pay a one-time fee of $1.99 to remove ads forever. If you happened to own it before, you can just restore purchases to get those ads removed at no additional cost. Do Jet Set Radio next, SEGA!
Vainglory, Free There's a new hero in Vainglory town, and it's a sword-mastering, tank-busting butt-kicker named Kensei. There are also some new hero skins for Grace, Reza, Kensei, and Idris. Have you ever wanted stick controls instead of tap? Well, the developers are giving it a shot and you can test out the first version of those controls now. Another new feature is voice communication, though it seems to have some limitations in its current iteration. Finally, there are the usual balance adjustments, UI tweaks, and bug fixes to keep everything running nice and smooth-like.
Fortnite, Free Fortnite. I'm saying it right away this time so that there are no problems. Fortnite. The latest version of the game adds a feature that allows you to customize the HUD. In Fortnite. There's also a new weapon, the Burst Assault Rifle, that you can use to win at Fortnite. Also new in Fortnite is the return of the Solid Gold Limited Time mode, this time bringing the Heavy Shotgun and Burst Assault Rifle into the mix. There are also stability improvements to make Fortnite more stable, and bug fixes to make Fortnite less buggy. Fortnite.
Gangstar Vegas - Mafia action, Free Vegas, you're not in my good books at the moment. The odds that the Jets will ever make it that far in the playoffs again have got to be almost nil. You're a new team, you'll have plenty of chances! Couldn't you give us poor beleaguered Pegcity fans a gimmie this once? Oh well. This update adds Drones as an item, along with some cool new vehicles like a buggy and a patrol bike. Some new weapons? Yes, those too. And of course, some new threads as well. Dress up like a gladiator, a space traveler, or a… I think this is supposed to be a doomsday prepper? Probably a friend of Eli's.
CSR 2 Drag Racing Car Games, Free If this is your jam, and judging by its ranking in the App Store there's a good chance it is, you'll probably be all over this new version. Elite Crew Battle's third chapter arrives, allowing you to challenge Rico Rose, score a free Mazda MX-5 Miata, unlock five new cars, and get a new Elite license. Two more Fast & Furious cars arrive, this time from the third and fourth movies. The Veilside Mazda RX-7 and the Mitsubishi Eclipse are waiting for you, if you've got what it takes (probably money). There's a new replay mode, and a whole mess of new cars besides what I've mentioned. That list includes the Ferrari Portofino, the Label Motorsport Chevy Camaro, the Lamborghini Sesto Elemento, the Subaru BRZ Rocket Bunny, and more. A couple of these rides are making their video game debuts here, so be sure to check them out.
Phoenix 2, Free Hey, a big update has arrived for this very fine shoot-em-up. We're coming up on the game's second anniversary, and this is just the warm-up for the festivities, apparently. Anyway, this update includes the return of the fan-favorite Mirage ship from Phoenix HD, and it does indeed have its Nightfury laser in tow. Some balance changes have been made to various weapons to try to keep things fair, and a lot of bug fixes have been made. I'm looking forward to seeing what's in store for us when the anniversary hits. This developer always has something neat up its sleeve.
Real Racing 3, Free Is it Le Mans time again? I guess it must be, because here we are with the Le Mans event returning to Real Racing 3. Real Racing TV now has an in-game show featuring the legendary Dario Franchitti, and you can score three Porsches: the 2018 Porsche 911 RSR, the 1970 Porsche 917, and the 1998 Porsche 911 GT1. Complete the limited-time series to earn yourself a 1998 Nissan R390 GT1, and celebrate the 70th anniversary of Porsche with some exclusive video content. That sounds like a Real Racing 3 update, alright.
That about wraps it up for last week's significant updates. I'm sure I've missed some, though, so please feel free to comment below and let everyone know if you think something should be mentioned. As usual, major updates will likely get their own news stories throughout this week, and I'll be back next Monday to summarize and fill in the blanks. Have a great week!