Let's take a trip down memory lane to GDC in March of 2016 when we first checked out a then upcoming game called Le Parker – Sous Chef Extraordinaire (Free). It was a platforming game that was the passion project of a handful of individuals who called themselves Play Pretend, and it was inspired by the platformers that the crew had grown up playing during the 8- and 16-bit eras. As someone who grew up during that same time and seeing as platformers are my favorite genre of video game, I was unreasonably excited for Le Parker and watched its progress like a hawk. After not hearing much about the game for some time, Le Parker launched rather suddenly in early December of 2016, and it was just as fantastic as I'd hoped it would be. I explained why in our Game of the Week writeup for Le Parker, and not long after we awarded it 4.5 stars in our review. Ah yes, another classic platformer to add to my collection. Life was good.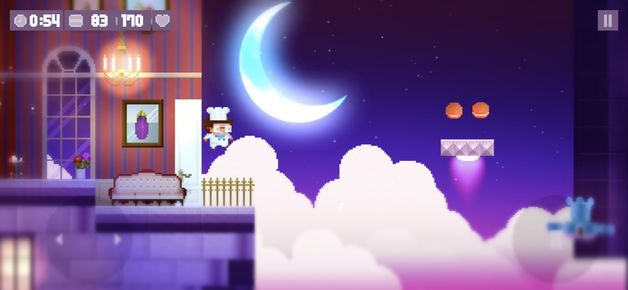 After spending a couple of months following its release updating Le Parker with tweaks and fixes based on user feedback, we didn't really hear anything more about plans for the game's future and in fact an update hadn't been released since way back in January of last year. As I've already mentioned today, as an iPhone X owner I love playing games that support the full screen of the device, and I keep a list of absolute favorites that I hope get updated for the iPhone X. Le Parker was indeed on that list, but given the lack of any news or updates for the game in the past year or so, I didn't hold out much hope. So I was thrilled to see Play Pretend reemerge on our forums today to announce a brand new update for Le Parker with support for the iPhone X as well as some more tweaking based on feedback.
Obviously Le Parker was a gorgeous game to begin with, with its exceptional pixel art and stunning color palette, but it's worth mentioning that it looks great on the iPhone X screen. Perhaps more importantly though is the other part of today's update which addresses a point many fans have made since Le Parker launched: That it was too brutally difficult. Well the update addresses that by removing limited lives altogether, as well as removing limited use of checkpoints, so feel free to die as often as you wish! This most certainly does not make the game easy though, so if you liked the difficulty before you'll still like it now. It just means you'll be able to progress more easily by not being forced to redo an ENTIRE level just because you ran out of lives during a difficult point in a later portions of a level, which could be frustrating to say the least.
Finally, for whatever reason, Le Parker is currently free in the App Store. Perhaps to celebrate this long-awaited update, or perhaps just to get the team's "baby" into more people's hands to enjoy, but whatever the case there's no excuse not to download and try this game. Play Pretend notes in our forums that they'll continue to support Le Parker in the future and that they're working on a new game currently, so that makes me happy. But for now just do yourself a favor and grab this incredible freebie as I have no idea when it will go back up in price, and enjoy yourself one of the better mobile platformers on the entire App Store.