Unless you went into a social media blackout to avoid spoilers and then forgot the date of the actual movie premiere, you know that Avengers: Infinity War is now playing in theaters everywhere. Having already seen it opening night because that's the only way to roll with movies like this, I can tell you that it's a spectacle unlike anything that Marvel has concocted to date.
As it makes what is certain to be an assault on box office records of all sorts, the companies that make Marvel mobile games are hoping to capture that same excitement for their players as well. If you expected to see Thanos and the Black Order, along with new versions of your favorite heroes invade games like Marvel Contest of Champions (Free) and Marvel Strike Force (Free), then you'd be 100 percent correct.
Of course, unless you've got a Power Stone handy and can simply strongarm the developers into giving you what you want, you're going to have to work a little bit to unlock some of the new content. We'll take you through what's new and how to get into it as quickly as possible while you're still buzzing from the movie.
---
Marvel Contest of Champions
What's New?
Contest of Champions has received a distinctly Infinity War-flavored refresh with its latest update, as you'll find Thanos on everything from the app icon to the launch screen. He's brought with him some interesting new additions to the game's story, which involve a different set of Infinity Stones that is no less dangerous than the ones from the movie. Also in the mix are four new characters from the film and a variety of new event quests.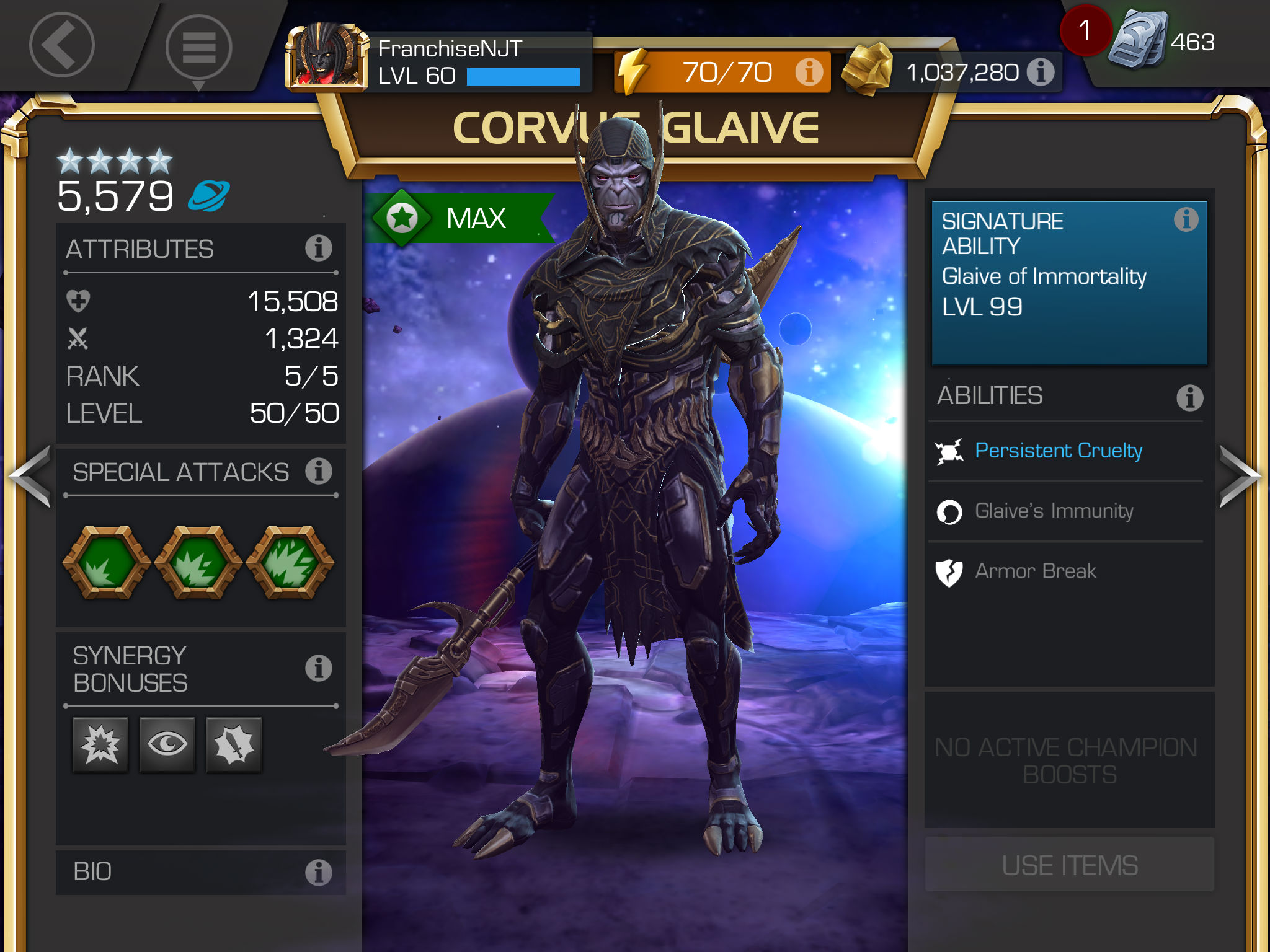 How to Unlock Corvus Glaive and Proxima Midnight
These two members of Thanos' Black Order can now be added to your roster of Champions, and they have some interesting abilities that are linked to missions from Thanos that encourage creative play during fights. More info on exactly what Corvus Glaive can do is online in his Champion Spotlight.
You can snag 3 or 4-star versions of both characters as random drops from the Tactician Crystal (150 units) that is available now, and players who have reached The Uncollected status can try for 3 to 5-star versions from the Atom Cutter Crystal (300 units). Both are only for sale through Sunday, April 29, though they may make return appearances after that, knowing this game.
In addition, with new villains arriving, there should be new heroes coming soon as well, so keep your eyes peeled.
New Event Quests and Currencies
The first new Infinity War-themed event quest is running now through May 2 and is called Infinity Chaos. It has five difficulty levels ranging from Beginner to Uncollected and is open to all players. One of the rewards you can earn for exploration is Chaos Crystal Shards, which can be used to either purchase new Crystals or open up a run through the Chaos Rifts.
Also running are the Trials of the Mad Titan, which are playable once per day in week-long cycles. Successfully completing any of the Trials during the first six days earns you a special buff you can use on the seventh, where the Trial of Omniscience truly puts you to the test. Among the rewards here are Infinity Dust, a limited time only currency that can be spent in the store for things like Hero Crystals, Awakening Gems, Alpha Catalysts and more.
Last but not least, Chadwick and Tom's Champion Challenge is probably as close as you're ever going to get to playing video games with Chadwick Boseman (Black Panther) and Tom Holland (Spider-Man), as these Event Quests feature strings of enemies with interesting buffs chosen with input from the actors themselves. This mode is playable through May 17.
---
Marvel Strike Force
What's New?
As if Ultimus wasn't bad enough, Thanos has now arrived in Marvel Strike Force as well, forcing the heroes and villains of the Marvel Universe to try to determine the lesser of two powerful evils. Good thing you can actually get the Mad Titan to fight on your side …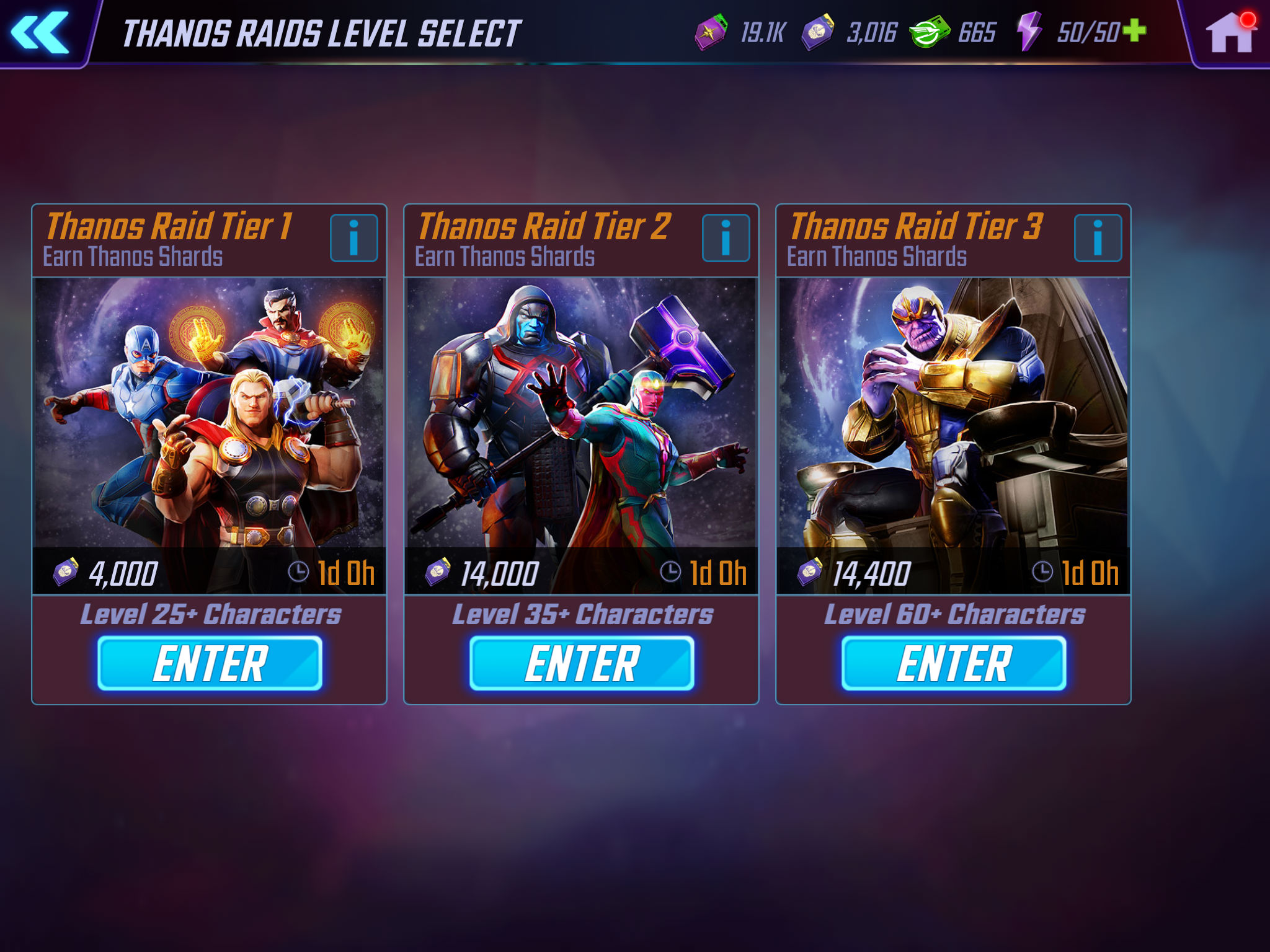 How to Unlock Thanos
As befitting a villain of his stature, Thanos has his own event fitting called The Mad Titan. Available once you hit level 15 (though the final chapter is for players at level 25+), the event has 10 chapters that grant you an increasing number of Infinity Orb Fragments for each one. Every 2,000 Infinity Orb Fragments converts to one Infinity Orb in the main store, which in turn will give you between 5 and 20 Thanos shards.
The event may not be enough to give you the 100 shards you'll need to unlock Thanos, though, so you'll also want to check out the new Thanos Raids, which give top-performing Alliance members extra ways to grab Infinity Orb Fragments. You are in an Alliance, right? Thanos Raids are active through May 14.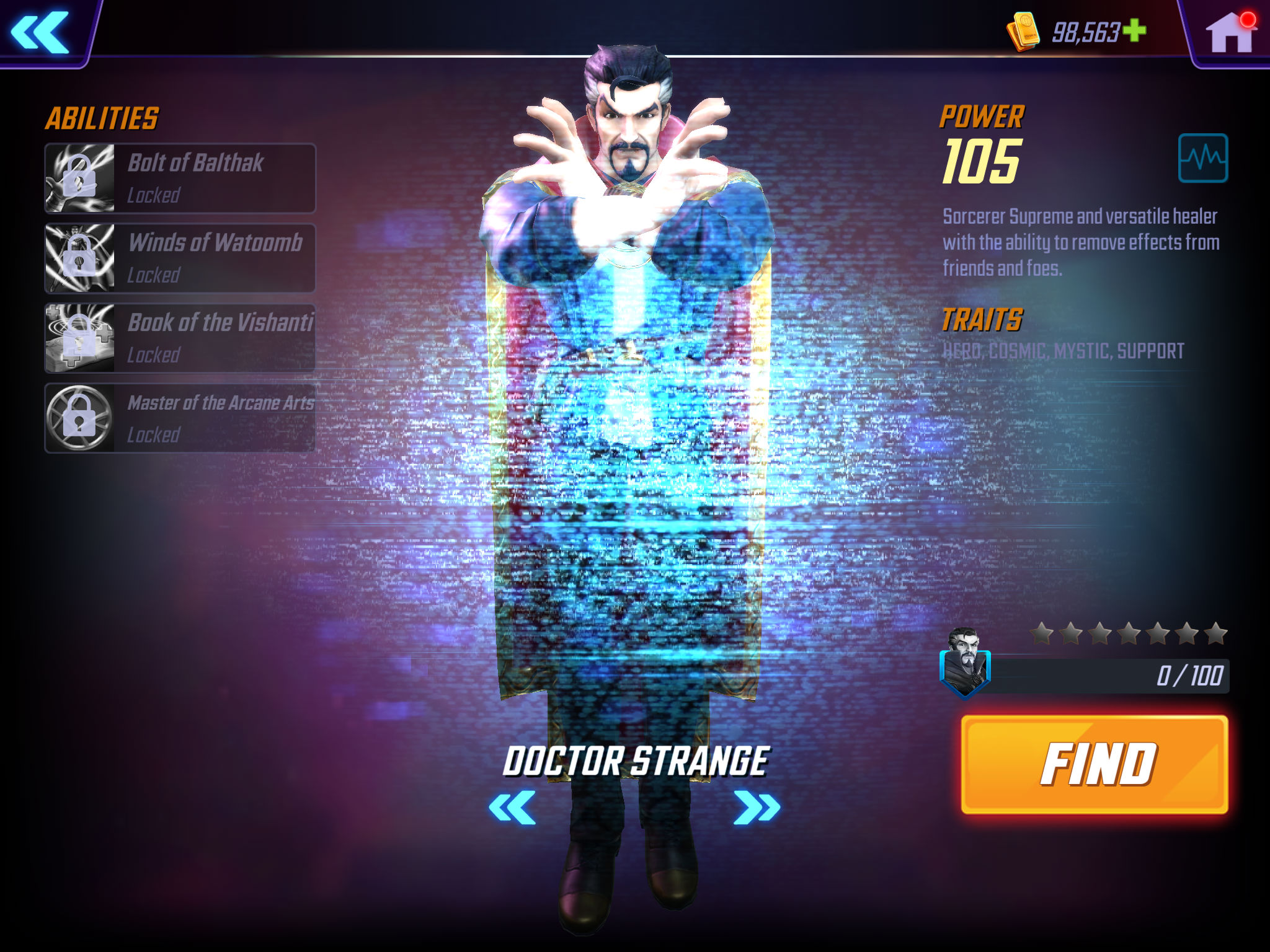 How to Unlock Doctor Strange
The good Doctor plays a key role in Infinity War, and you can harness his mastery of the mystic arts for yourself if you can collect 100 of his shards. The place to start is in the current Blitz, which runs through Sunday, April 29 and can leave you with 15 shards if you hit all 14 milestones. For more shards, the thing to buy is the Sorcerer Supreme Orb, which will set you back 675 Power Cores but has an increased chance of giving you Doctor Strange shards.
---
Marvel Future Fight
What's New?
First and foremost, you can make darn near everyone in the game look exactly the way they do in Avengers; Infinity War. Okay, maybe not everyone since Netmarble's action RPG has tons of characters, but there are Infinity War uniforms now for Captain America, Iron Man, Spider-Man, Thor, Black Widow, Winter Soldier, Groot, Corvus Glaive, Promixa Midnight and Thanos. That's an impressive amount.
Certain characters, including the aforementioned Captain America, can now be advanced to Tier-3 after hitting max level and max gear level, opening up even higher possible stats. The World Boss content has also been updated with a new way to increase the Boss Level and a World Boss Ultimate stage that features Proxima Midnight, who gets plenty of screen time in Avengers: Infinity War.
---
MARVEL Spider-Man Unlimited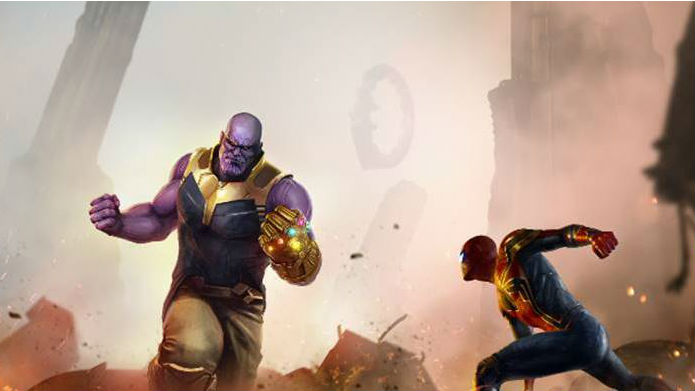 What's New?
Gameloft's endless runner (endless swinger?) is still chugging along, now into its 32nd update. The new issue includes Thanos as a villain to fight, but also gives your team a new way to fight back by offering the chance to add the Iron Spider (Infinity War) to your team, featuring Peter Parker in the Stark-enhanced costume he sports in Avengers: Infinity War. Thanos awaits in the aptly named Fate of Thanos event, which anyone in the Intermediate tier or above can play in right now.
How to Unlock Iron Spider (Infinity War)
The surefire way to get Iron Spider (Infinity War) on your team immediately is to purchase a Titan Iron Spider in the bundle that's on sale right now, but $24.99 might be a little rich for your blood. But now that's he's in the game, be sure to keep an eye out for him in portals over the days and weeks to come as well.