With all the new Hearthstone(Free) reveals going on, we're sitting down for a minute to look over what we have seen and shed a little light on what were this weeks big meta-changing cards in the Witchwood expansion. We've already looked at some of the ways Glinda Crowskin, Lord Godfrey, and Hagatha the Witch may have an impact. Today we look at a few more cards that have some far-reaching implications on what a good deck might look like in the months ahead and one very special class that seems to be behind the curve at the moment.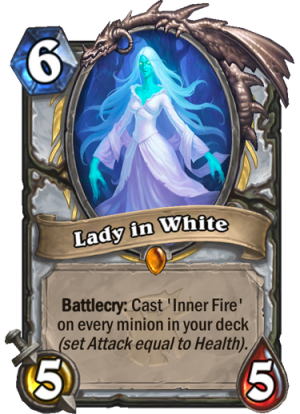 Lady in White
We are in a Priest renaissance right now. While it may not be as dominant as Shaman or Druid were in their heyday, the groundwork for solid Priest decks has never been as good and there is no sign of slowing. Between Lady in White and Vivid Nightmare the stage is set for not only revitalizing old deck types but the genesis of stuff from out of left field. I like this card, I think Priest will continue to be a thorn in my side if my Jade Druid deck continues to be viable and I feel bitter but I'm not, because Priests deserve good decks too!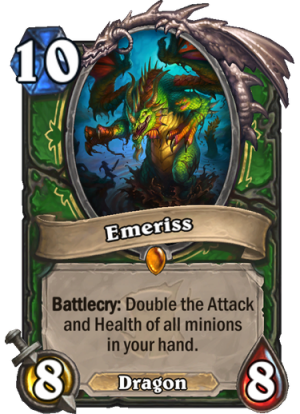 Emeriss
Late game Hunter has some issues, and Emeriss is here to help. He is going to play well with Kathrena Winterwisp and is probably going to be reliant on a few key factors. The Kobolds & Catacombs expansion leaned very heavily on a low or no minion count Hunter style that means that even with a hand full of cards, which Hunter seems to rarely be afforded if the game is still going at round 9 or 10, most of those cards will probably not be minions. Indeed the only two Hunter decks listed at the moment on Tempostorm.com's meta snapshot have very little use for this card. Between Houndmaster Shaw, Emeriss and the low-cost spell options for early game I think a hybrid of low cost non beast minions with high cost beasts might be viable. At the very least it is an angle that has had a solid trajectory for 2 expansions that may just end up being workable with more pieces of the puzzle in place. This one may edge its way in.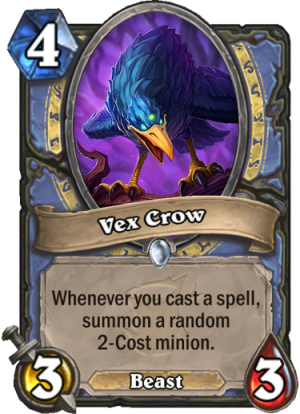 Vex Crow
Anything that encourages Mage to be throwing spells and benefitting in an additional way is worth strong consideration. Vex Crow is going to be the next Flamewaker or Mana Wyrm. While they are all susceptible to removal, the Vex Crow will open up some possibilities that never existed with these types of cards. Some may lament the RNG that this game sometimes involves, but a Mage throwing out spells and having a magic crow spit out small minions is goofy and flavorful and fun. Not to mention really strong, did I mention that?
So which class seems the weakest so far? Warrior
With this week's reveals of Darius Crowley and the Blackhowl Gunspire, it looks like Warrior is going to be doubling down on middle-cost minions and the old charge-or-be taking damage schism that exists in the lineup. Granted now we are seeing this with Rush and Echo thrown into the mix but it does not seem like much new for Warrior as of yet. Does this mean that a combination of old and new cards won't come together to make a solid deck? Of course not, but the point is that we really are waiting to be blown away by a Warrior card and the wait continues.
More reveals will be occurring in the weeks to come so stay tuned as we bring you the latest in Heathstone hype and expansion news! Special thanks to Hearthpwn.com for being a great database of Hearthstone resources.