Shadowgun Legends from MADFINGER Games (Free) has finally launched worldwide on iOS and Android. The much-awaited FPS game had quite a long development period. Announced way back in August of 2016, Shadowgun Legends looks diverge a bit from the formula of the previous 2 installments, Shadowgun and Shadowgun: Deadzone. Legends promises the same fast-paced FPS action but with RPG mechanics sprinkled in, as well as a few additional PvP elements.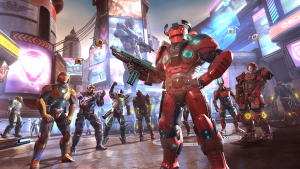 Legends features over 200 story missions, 500 weapons to collect, and over 1000 different armor pieces to customize your look and stats. Gear can also be obtained in online raids with other players and obtained across 4 different planets. Legends has a serious Destiny vibe to it, featuring an online hub where you can interact with other players and join raids to hunt for gear. There's also support for live-streaming and a long-term plan for updates and additional content.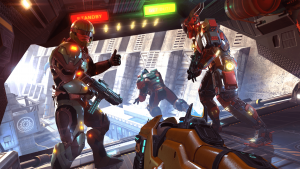 Legends also features the fantastic visuals you would expect from the Shadowgun series, with all the bloom and particle effects you could want and looks absolutely beautiful. It seems there will be no shortage of things to do in Shadowgun Legends and with plenty of support and additional content on the way, it seems that will stay true for quite a while.
Be on the lookout for a full review soon and also be sure to stop by the forum thread and join the discussion.