We have an early word on the 3.3.1 update to Fortnite (Free), and it will bring in the Heavy Shotgun. This Epic and Legendary weapon, the highest rarities in Battle Royale, adds more distance to the weapon than most shotguns, especially the Tactical Shotgun. So, if you find this weapon, you're in a better state to deal with assault rifles if they engage with you, or you can get closer and deal the lethal blow with this weapon. One player found the weapon early in Blitz, and shared just how deadly this can be:
Expect full patch notes for 3.3.1 on Thursday, March 21st.
In other news, Superdata Research revealed its estimates for how much revenue Fortnite: Battle Royale makes, and it's a lot: $121 million in February alone. That's all off of cosmetic item purchases, too. That number is set to go up with Fortnite on iOS once it rolls out worldwide. Even with a limited audience, the game made $1.5 million in its first four days on the App Store.
Compare this to PUBG on PC, where the game made $103 million across Steam and Xbox. The lack of a PS4 release hurts, clearly. Fortnite now has more viewers on Twitch, and clearly dented PUBG's viewership. This is before Fortnite's March, which saw the game reach new heights of mainstream exposure.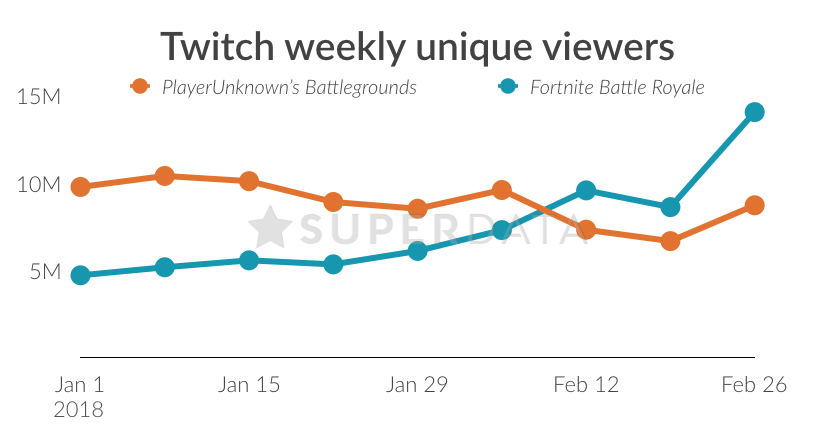 However, Fortnite hasn't left PUBG completely in the dust. And the mobile competition between Fortnite and PUBG Mobile (Free) will be interesting: between Fortnite's limited availability on iOS only, and PUBG Mobile rolling out worldwide on iOS and Android, and PUBG Mobile's more advanced state of development, the Fortnite versus PUBG story is just beginning.