Lucasfilm and Disney don't officially call him Old Luke, but let's face it: Luke Skywalker had some years on him in Star Wars: The Last Jedi. That said, he still showed Mr. Emo himself, Kylo Ren, a few new tricks, and he'll look to do the same for mobile gamers since he's joining the fray in the latest update to Star Wars: Force Arena (Free), along with more characters from the most recent Star Wars saga film, conveniently released on digital HD earlier this week.
Joining Old Luke are his old pal R2-D2, Supreme Leader Snoke and his Elite Praetorian Guards, though the 'Elite' part is up for some debate given their performance in defending Snoke in the movie. They'll help buff up the character roster in Netmarble's "we're not calling it a MOBA but yes it's pretty much a mobile MOBA" title.
Seeing as one of the visual highlights of The Last Jedi was the salt planet, Crait, you might be happy to learn that it's now in the game too as part of the new "All Out War" arcade mode. Available once you reach Tier 4 with either the light or dark sides, All Out War gives you a break from the more intense Arena action in battles that see each player put their best 18 cards to the test. No word on whether there are any famous people doing cameos as random Resistance troopers.
Last but not least, the Assault on Starkiller Base board game event is live now and running for the next few weeks. Help Poe Dameron (not that he usually needs much) make attack runs on Starkiller Base by earning movement points by either completing missions or using Crystals. You'll earn Credits and cards on the way in, but the more attack runs you complete before the event ends, the more loot you can earn.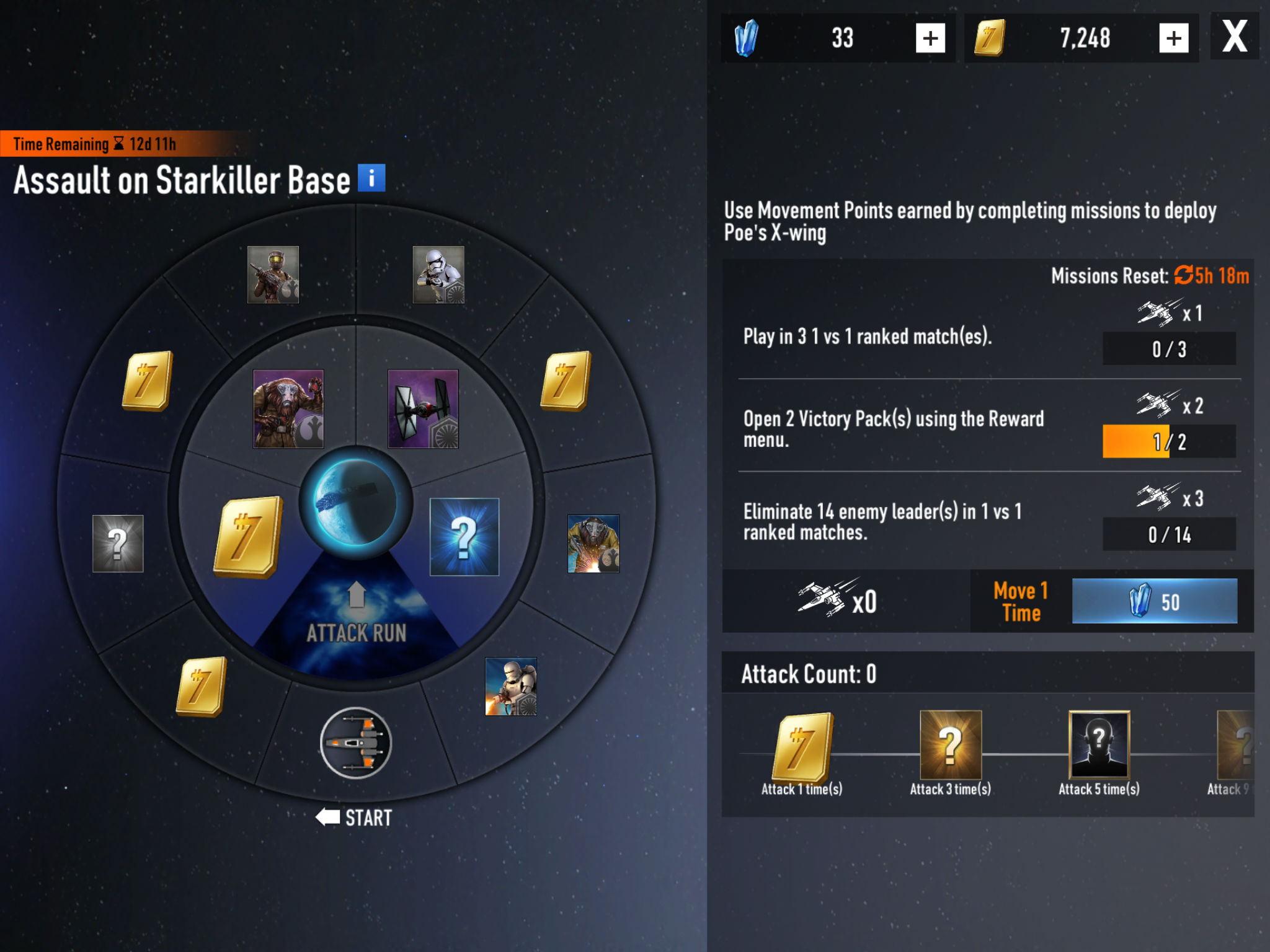 Really, though, it's all about Old Luke and getting him off his Jedi behind to lend a hand. Best of luck with that.