Analytics firm Sensor Tower has all but confirmed what anyone following the mobile gaming market should know: Fire Emblem Heroes (Free) made more money than Super Mario Run (Free). Specifically, Sensor Tower's data has Fire Emblem Heroes as making $295 million in its first year, more than the $56 million that Super Mario Run made in its first year. For context of how well Fire Emblem Heroes is doing, consider that $295 million translates to about 4.9 million copies of a $60 game. FEH sold about as well as Splatoon 2, and it has the potential to keep building on those numbers as a service title.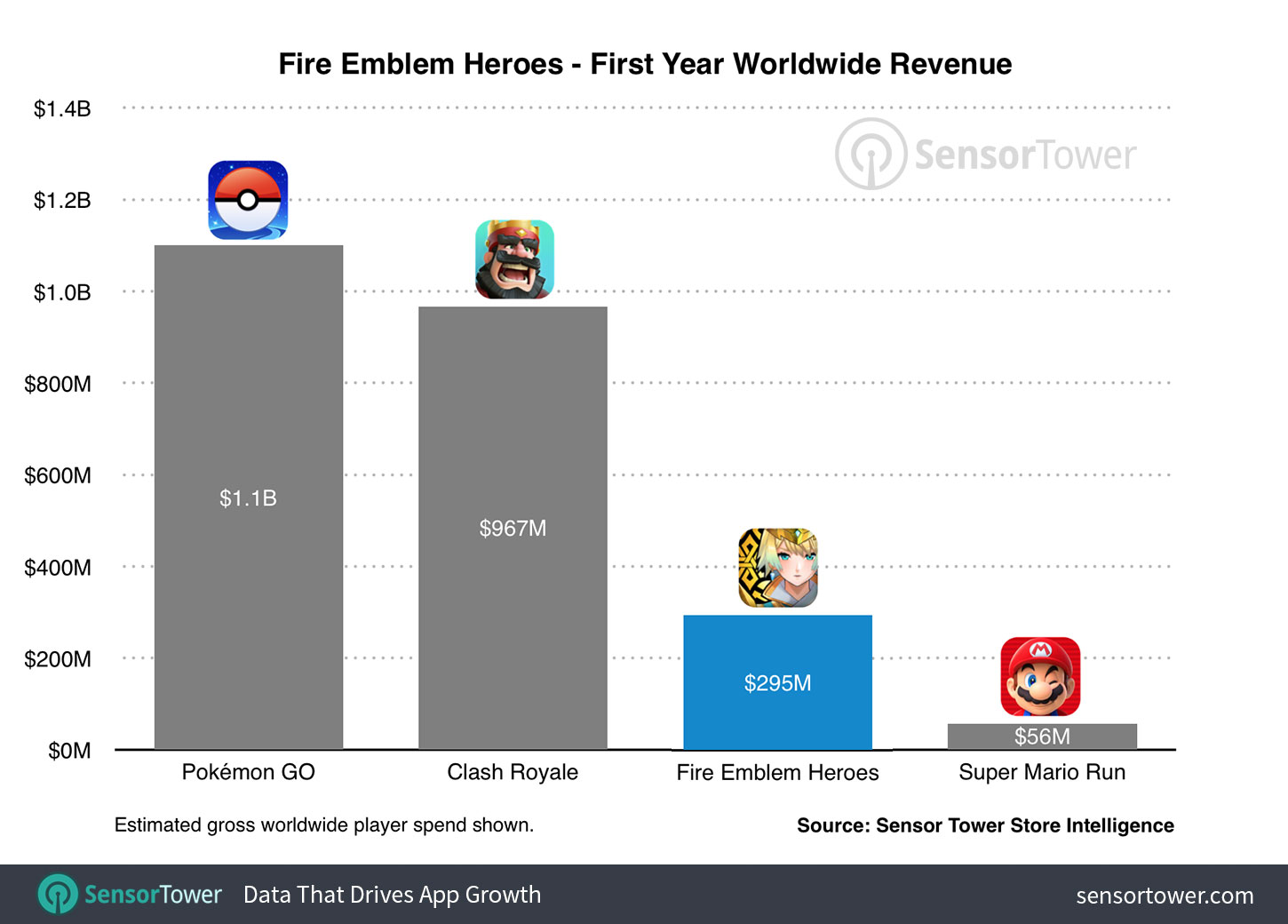 Fire Emblem Heroes' success is noteworthy, but especially so in the context of Super Mario Run. Analysts thought the game could see a billion downloads as Mario hit mobile. However, the title's momentum was likely stalled by two key factors: the iOS-exclusive release, and the negative reaction to the free-to-start model. When the Android version released a few months later, the hype had long since subsided, and a pay-once model is less likely to work on that platform due to the larger number of cheap devices and lower-income Android users. Fire Emblem Heroes' simultaneous release and more traditional free-to-play business model combined to make for a more lucrative game despite the gulf between the two licenses' popularity.
Of course, neither of these titles compare to Pokemon GO (Free), which makes sense in another way. Pokemon is easily the stronger brand, and its gameplay was unique. Fire Emblem Heroes' gameplay is based around a gacha RPG model that is incredibly popular in Asia, but less so in western markets. Still, Nintendo's influence helped out a lot, as the title regularly has large spikes in the US grossing charts, and is a comfortable money-maker otherwise.
This also puts into perspective the decision for Mario Kart Tour for mobile to go with the similar free-to-start model. They might need to do work to avoid the same issue that Super Mario Run has: the stiff paywall. Players might hit soft paywalls in most free-to-play games, but the titles still allow the players to keep playing if they want, the player makes the decision when they're done. The Super Mario Run paywall stops the player dead in their tracks.
It's also worth keeping in mind that Nintendo, unlike other free-to-play mobile publishers, has different objectives. They want their titles to complement the licenses. Since Nintendo has its Switch and 3DS business as well, it doesn't need to go all out with its mobile titles, it just needs to help the brand. Arguably, Super Mario Run failed with that. And Fire Emblem Heroes shows that when Nintendo goes more traditional with its second-tier licenses, it can succeed. Yet, Animal Crossing: Pocket Camp (Free) hasn't moved the needle and it has consumable in-app purchases. But maybe that's just the reality of the mobile market: you'll have some hits and some failures. But how Nintendo handles Mario Kart Tour with the lessons its learned from Fire Emblem Heroes and Super Mario Run will be interesting to monitor.