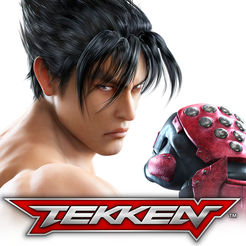 Back in August of last year Bandai Namco announced a new built-for-mobile entry in their long-running fighting game franchise Tekken, with said mobile game soft-launching in the Canadian App Store at that time. Unsurprisingly, this was not a traditional fighting game like the Tekken games you'd find on console and desktop, but rather a simplified "swipe fighter" in the vein of the Injustice mobile games, Marvel: CoC, and the mobile version of Skullgirls. While certainly disappointing to some, I'm actually a big fan of the swipe fighters and was eager to take the soft-launched Tekken for a spin. While the fighting mechanics aren't quite as tight as my current favorite Skullgirls, Tekken mobile was still a lot of fun and was really one of the most visually impressive games on the entire iOS platform. Its free to play system was pretty typical as well, with a decent amount of content thrown at free players and speeding up the upgrade grind being the main source of monetization.
Well, August feels like an awful long time ago, but Bandai Namco has been dilligently updating that soft-launched Tekken in the months since, adding lots of new characters and new features, and today they're finally ready to announce the global release dates (yes, dates with an "s") for the game. It's going to be a staggered rollout, and starting on February 1st players in Latin America, Eastern Europe, Middle East, Africa, and South East Asia will be able to download the game. Two weeks later on February 15th those in the UK, Germany, Austria, Switzerland, France, Spain, Italy, Russia, Benelux, and Singapore will get it. And finally, two weeks after that on March 1st, Tekken will launch for us here in the United States as well as in Japan, Taiwan, South Korea, and Hong Kong. You may recall that alongside the soft-launch of Tekken a pre-registration campaign also kicked off, and thanks to hitting the 1.5 MILLION pre-registrations mark, when the game is finally available in all countries on March 1st all players will be treated to a brand new character named Rodeo who will be exclusive to the mobile version of Tekken. Check out his trailer.
If you find that you just can't wait for Tekken to launch in your territory, Bandai Namco has also expanded the soft-launch territories today to Mexico, Brazil, Latin America, Eastern Europe, Middle East, Africa, Indonesia, India, Vietnam, Thailand, and Malaysia in addition to Canada. This also coincides with a brand new update to the soft-launch version which includes support for many more languages, progress saving through Game Center, the addition of Bob to the roster, and finally full iPhone X support. Personally the lack of iPhone X support had really put a damper on my enjoyment of the soft-launched game thus far, so I'm really happy to see that addressed. If you're over on the Android side of things, Tekken will indeed be coming to that platform as well, and although no release date has been announced the game is up for pre-registration on the Google Play Store right now if you want to sign up for that. Everyone else, look forward to Tekken hitting iOS in a variety of countries over the next month or so culminating with the US release on March 1st.
Link to Forum Discussion: [Soft Launch] Tekken (by Bandai Namco Entertainment Europe)
Soft-Launch App Store Link: TEKKEN, Free (by BANDAI NAMCO Entertainment Europe)