The idea behind the TouchArcade Game of the Week is that every Friday afternoon we post the one game that came out this week that we think is worth giving a special nod to. Now, before anyone goes over-thinking this, it doesn't necessarily mean our Game of the Week pick is the highest scoring game in a review, the game with the best graphics, or really any other quantifiable "best" thing. Instead, it's more just us picking out the single game out of the week's releases that we think is the most noteworthy, surprising, interesting, or really any other hard to describe quality that makes it worth having if you were just going to pick up one.
These picks might be controversial, and that's OK. If you disagree with what we've chosen, let's try to use the comments of these articles to have conversations about what game is your game of the week and why.
Without further ado…
Kraino
In case you haven't noticed before, aside from our crack handful of freelancers TouchArcade is just myself and Eli, and when it comes time for Game of the Week consideration, unless there's something that Eli feels especially strong about, it's usually up to just me. So for the past several years the Game of the Week column has largely reflected my own personal tastes, and if there's one thing you should know about me after working here for almost 8 years, it's that I love me some platforming. So when a strange-looking game called Kraino (Free) popped up on our forums this week, I was certainly intrigued based on its short App Store description that it was a "KICK IN THE SHORTS ACTION PLATFORMER!!" And I have to say, fellow platforming fans, Kraino is a winner.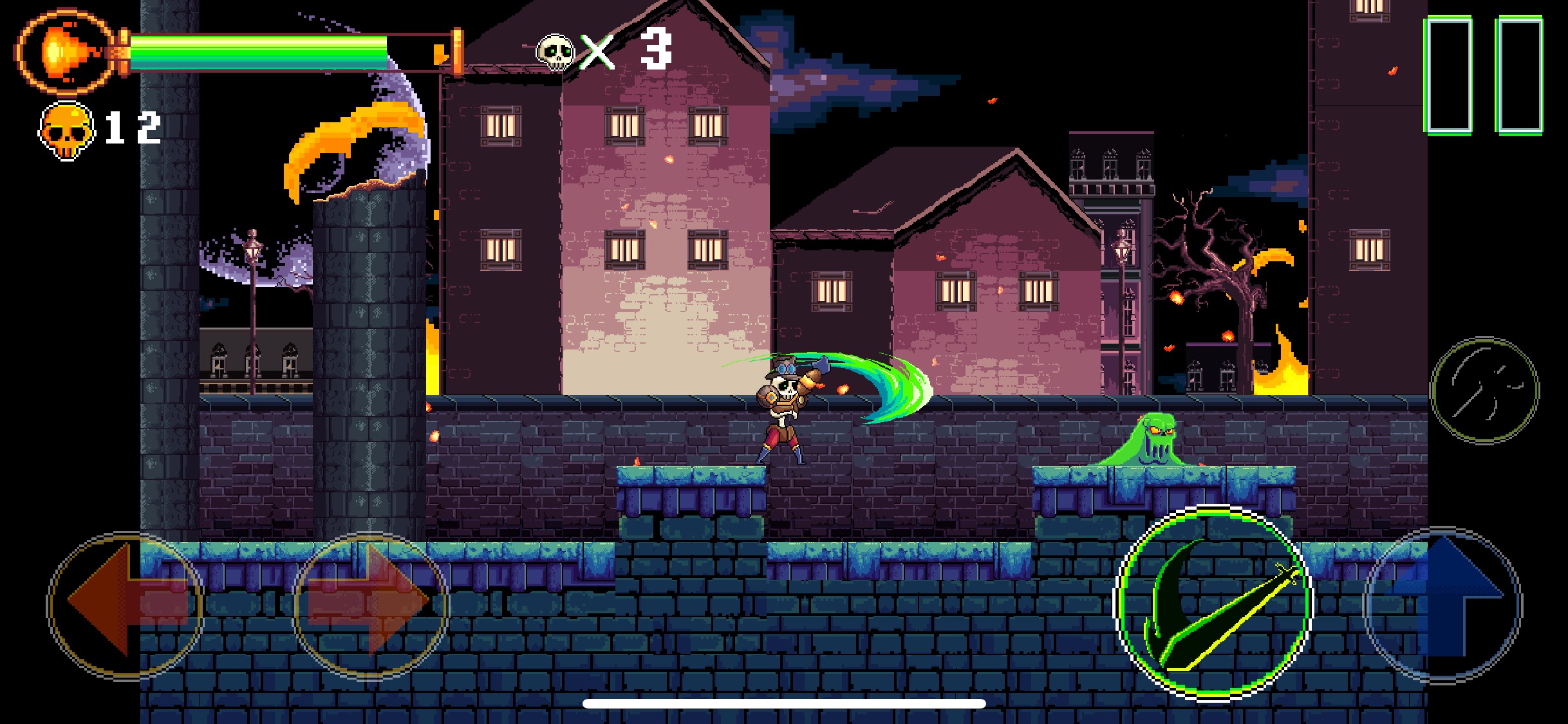 When it comes to Kraino, several influences are pretty clear. First of all, the movement and jumping feels straight out of a classic 8-bit Mega Man game, as do the boss battles. However, despite the existence of some ranged weapons, Kraino is much more melee-focused, and in that sense it gives me a heavy Goblin Sword ($1.99) or Sword of Xolan ($0.99) feel. This game is mostly about precision jumping and hacking away at bad guys. Then there's this dark occult theme running throughout, which obviously feels pretty Castlevania-ish. It's a little more lighthearted and colorful than that series, but slashing away at candles on the wall to uncover items and the way your secondary weapons work all scream Castlevania.
Surprisingly, all those various elements come together to be a pretty fantastic mix with Kraino. There's nothing that will redefine the action platforming genre or anything, at least not that I've come across just yet, but the gameplay is solid and the game has a great feel to it, especially with your character's movement and jumping. It's a very skill-based game and can be quite challenging, but never feels overly frustrating. It also doesn't hurt that the pixel art character designs and backgrounds are fantastic, with lots of little details to take in, and the soundtrack kicks all sorts of butt. I found myself happily bopping along to the dark but catchy tunes as I played.
Perhaps the strangest thing of all is that Kraino appears to be completely free, with the only monetization I've seen being the ability to watch a video ad to continue if you die. I haven't seen any forced ads and there's no IAP, so that seems pretty darn generous as far as I'm concerned. So if you're looking for a straightforward and challenging platformer, there's no reason not to give this quirky little title a spin for free, and then drop by the forum thread to share your own thoughts about it.