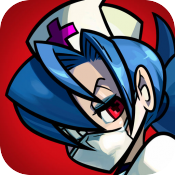 If you're an active player of the mobile Skullgirls then this is likely old news for you, but if you're like me and played the game a bunch when it came out in May but haven't been playing recently then this might be useful information for you to know. To back up a bit, Hidden Variable Studios and Autumn Games partnered with LINE, the juggernaut messaging company, to publish Skullgirls on mobile. However, the fit just wasn't right and so Hidden Variable/Autumn Games have mutually agreed to end their partnership with LINE and self-publish the game on the App Store. Unfortunately this means that the existing LINE version of Skullgirls is no longer available on the App Store, all IAP has been disabled as of January 9th, and on January 15th that version of the game will cease to function at all. It's a sticky situation.
The good news is that the new self-published version of the game is coming on January 18th and the developers seem to have put a plan in place to ensure that all existing players can transfer their progress over to the new version seamlessly. If you're an active player you should already know all this because as of the version 1.6 update to LINE Skullgirls which released in mid-November the game will automatically prompt you to create a Skullgirls Login which is how all your existing progress will be transferred to the new app. It's very easy to do so with a simple pop-up in-game and all you'll need is an email address and a created password. If you've previously linked Skullgirls to your LINE account or Facebook for save syncing, this will NOT allow you to transition your progress, the ONLY way you can do so is by creating a Skullgirls Login through the in-game prompt. Let me say it again a bit louder…
YOU MUST OPEN THE EXISTING LINE SKULLGIRLS GAME PRIOR TO JANUARY 15TH AND CREATE A SKULLGIRLS LOGIN IN ORDER TO TRANSFER YOUR PROGRESS TO THE NEW APP, OTHERWISE YOUR EXISTING SAVE DATA WILL BE LOST!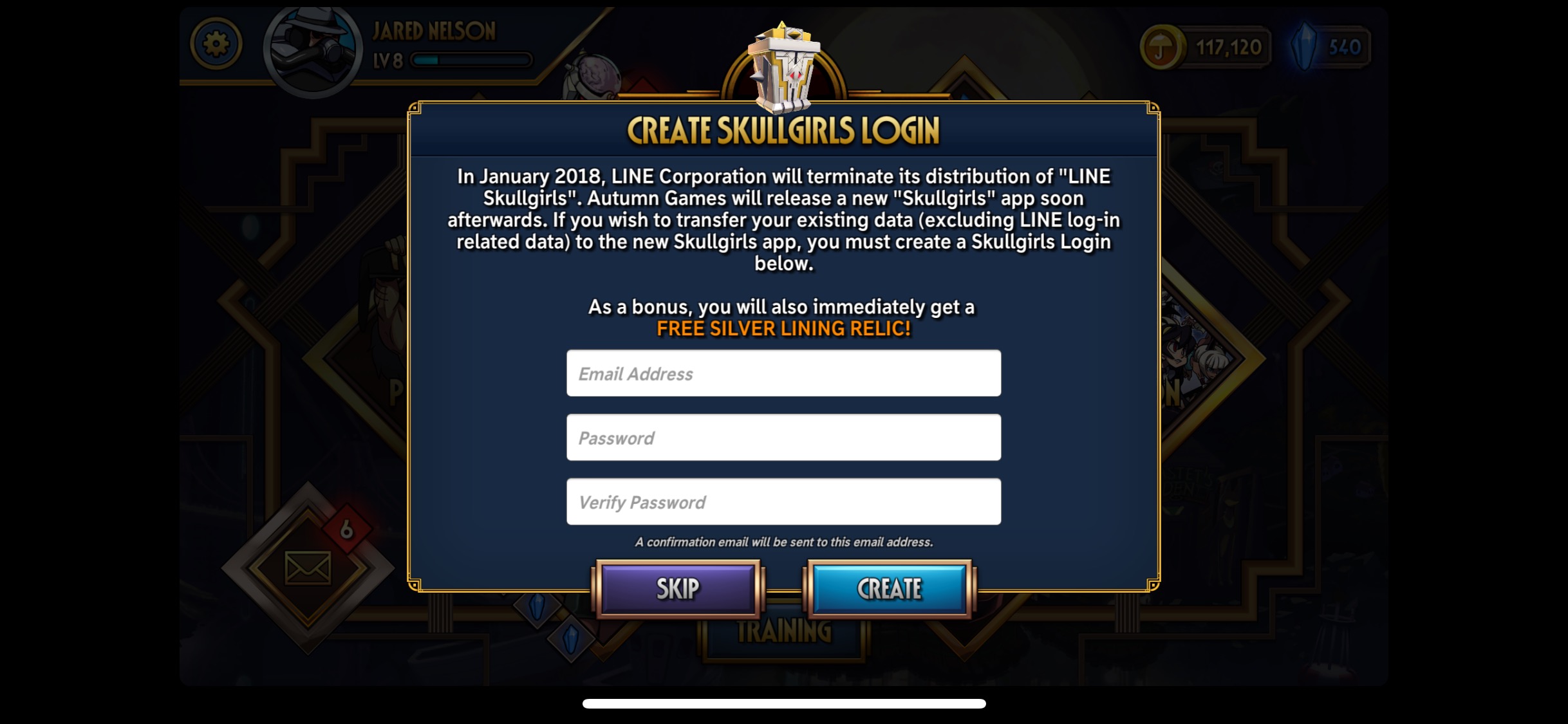 Sorry for shouting. I have to admit, this is kind of a sticky situation as it usually is when devs divorce themselves from publishers. Apple did implement a system for transferring products on the App Store in between companies to avoid this type of situation, but apparently that's not possible here and it simply must be a brand new, separate app. Thankfully it appears the developers have prepared to make the transition as seamless as possible for players, but it's all reliant on you making an Skullgirls Login account before January 15th.
Transition stuff aside, this change should be much better on the whole for Skullgirls mobile going forward. As Hidden Variable states in the FAQ on their forums about the transition, "As an independently operated game, we will not be restricted by corporate policies or other limiting factors that might impede our ability to rapidly implement new, exciting features. We're extremely hyped about what this means for Skullgirls in 2018 – we can't wait to share more information about what we have planned!​" Related to that, the new version of Skullgirls that launches January 18th will be version 2.0 which will include proper full screen support for the iPhone X and similar widescreen Android devices, in-game drop rates for the Relic loot boxes, lots of bug fixes and optimizations, and more. You can read a full rundown of version 2.0 right here.
As annoying as this whole transition thing is, I think it will be better in the long run, and as a self-proclaimed afficionado of these mobile swipe-fighters I think Skullgirls is perhaps the best of the bunch. If you've enjoyed the game previously and have progress you'd like to keep but haven't opened the game since November 16th, be sure to open it before January 15th and create a Skullgirls login so your progress can transfer over to the new app. More information about the transition can be found on the official Skullgirls forums.