The legendary beat 'em up series Double Dragon is no stranger to the App Store. DotEmu brought us the entire trilogy of arcade games back in late 2013 with the appropriately titled and quite good Double Dragon Trilogy ($2.99), and way back in early 2011 developer Brizo Interactive released an enhanced remake of the original Double Dragon that was based on a version released for the obscure Zeebo console. It was super weird, but I actually loved that version, and am sad it's no longer available. Anyway, this brings us to this weekend as Arc System Works has released their 2017 entry in the series Double Dragon 4 (Free) on the App Store. Arc picked up the Double Dragon license a few years ago and announced this new entry in 2016, with a release on Playstation 4 and Windows about a year ago and a Nintendo Switch port arriving this past September. Here's the official trailer.
So, about this game. Storyline-wise it takes place after Double Dragon 2 as Jimmy and Bimmy–I mean Billy plan to open up training dojos all over the country after defeating the evil Black Warriors gang. However, during their road trip a new gang called the Renegades barges in to stop them and it's right back into the fire for the Lee brothers. It's a reasonably decent setup for a new adventure but, well, the game just isn't all that remarkable. It uses assets that are more similar to the NES port of the original Double Dragon rather than new visuals or even the superior visuals from any of the existing later games, and both the level designs and combat are rather repetitive and just not that fun. I wish that weren't the case because I LOVE Double Dragon but this entry is missing that special sauce that makes the series so fun.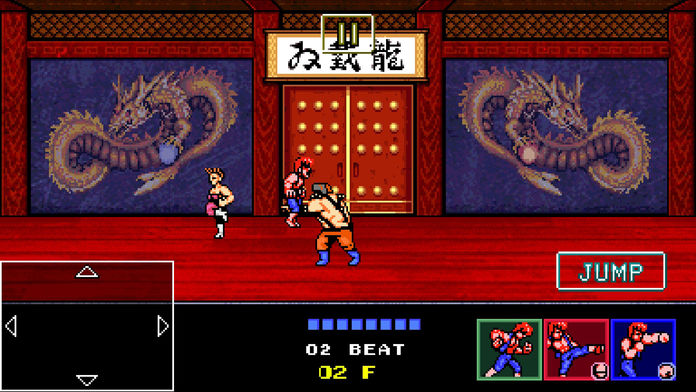 The bright side, if you can call it that, is that Double Dragon 4 on iOS is free to download and try with a $2.99 IAP to unlock the full game if you do end up enjoying it. I mean, it's not the worst game ever made and you might enjoy a playthrough of the game enough to warrant the few dollar purchase. Plus, there's additional unlockable playable characters and a cool Tower mode that could provide a bit of fun. It's just a shame that the magic of the series, even that fantastic NES port from way back when that this is most similar to, is missing here. Be warned that if you do want to give it a try it clocks in at a surprisingly big 1.1GB so make sure you have the room, and disappointingly the game is not optimized for the full screen of the iPhone X, which at this point is kind of a deal breaker for me with new games. However, like I said, you can take the first mission of Double Dragon 4 for a spin for free and determine for yourself if it's your cup of tea, and if anything it's nice to see more ports coming to the iOS platform as 2018 gets started.