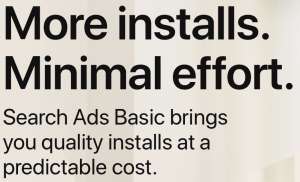 If you're an indie developer, dealing with advertising is something you should be doing, but (as we are fully aware of here on TouchArcade) it really isn't a thing many mobile developers consider anymore. Well, Apple recently released an ad product called Search Ads Basic which allows developers to easily create iTunes search ads with a very predictable cost. Unlike previous iTunes ads, which were an easy way to burn a bunch of money, Search Ads Basic only charges you when someone actually installs your game. I reached to 10000000 ($2.99) and You Must Build a Boat ($2.99) developer Luca Redwood who was tweeting about this earlier today, and he mentioned that when he experimented with the old search ads he was paying nearly $30 for a single $3 install. Comparatively, with the Search Ads Basic you can basically low-ball your cost per install, which on a paid game allows you to turn a profit no matter what on these ads, as you're paying far less per install than you're making on the actual purchase. For example, Luca has paid £11.55 for 23 purchases of YMBAB:

He mentions that he doesn't expect to get rich anytime soon on this, but with paid games it's basically free money. Also, just for signing up you get $100 in ad credit for free, so why not? Additionally, as Luca says, "If a user sees my ad and doesn't click it, I don't pay for that – but it doesn't mean that view didn't have any value. There's a theory in advertising that it's repeated exposure that makes ads work – maybe they'll see the ad, Not buy the game, so I don't pay, but then the see it on sale a few weeks and buy it." For more on that theory, check out Cliffski's blog.
Since there's not much else going on this week, definitely head over to Apple's Search Ads Basic page and fiddle around with it. As long as you're setting your cost per install less than the price of your game, you're coming out ahead.