The idea behind the TouchArcade Game of the Week is that every Friday afternoon we post the one game that came out this week that we think is worth giving a special nod to. Now, before anyone goes over-thinking this, it doesn't necessarily mean our Game of the Week pick is the highest scoring game in a review, the game with the best graphics, or really any other quantifiable "best" thing. Instead, it's more just us picking out the single game out of the week's releases that we think is the most noteworthy, surprising, interesting, or really any other hard to describe quality that makes it worth having if you were just going to pick up one.
These picks might be controversial, and that's OK. If you disagree with what we've chosen, let's try to use the comments of these articles to have conversations about what game is your game of the week and why.
Without further ado…
Gorogoa
Gorogoa ($4.99) is the passion project of artist and game designer Jason Roberts that has been in the works for more than 5 years, and with Annapurna Interactive stepping in to publish the game it finally launched on iOS this week along with versions for desktop and Nintendo Switch. It's always tough when games take so long to release, especially when they make such a splash at their initial unveiling as Gorogoa did back in 2012. The uniqueness of the concept and the wonderful illustrated artwork really got people excited back then. But would they still be excited so many years later? After finally being able to play the finished product, in my opinion it was more than worth the wait.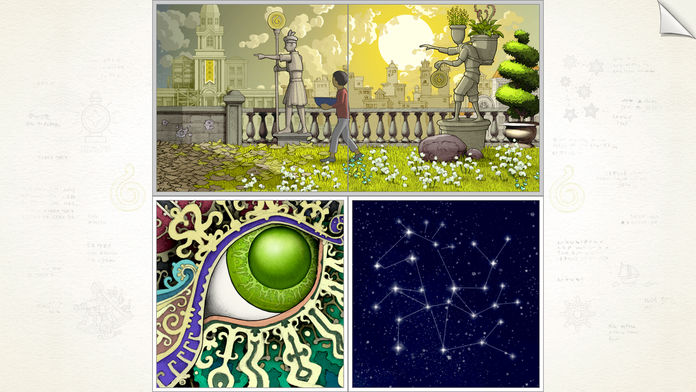 We lay out the details of Gorogoa in our full 5 star review, so I won't go too in-depth here but be sure to give that a read if you haven't done so yet. In short, Gorogoa is a blend of point-and-click style adventure game mixed with… tile-sliding picture puzzles, I guess? It's tough to describe. You have four spots for picture panels on the screen at all times. Each individual panel will reveal a scene which you can interact with in various ways, either by zooming into different parts of the scene, opening doors or manipulating items, and so forth.
In addition, some scenes can be split into layers, so for example there might be a picture showing a doorway into a room and you can take that top layer of the scene with just the doorway and move it to a different scene, in which the doorway will then lead to something different. In addition to the mixing and matching you can do with certain scenes, you can also put scenes together on the grid to form a larger picture, much like you'd do in those classic tile-sliding puzzle games. Like I said, it's tough to explain but this uniqueness is what makes Gorogoa so special. Do yourself a favor and watch the embedded trailer below, it'll instantly make more sense than my blathering.
While the quality and inventiveness of Gorogoa is the main attraction, I also wanted to highlight what a fantastic touchscreen experience the iOS version is. Obviously a game like this sings on the larger screen of an iPad, but I was also really impressed with how the developers were able to make it work on the much smaller iPhone. You can play in portrait or landscape and it will adjust on the fly when you rotate your device, and it's especially pleasing to play with one hand in portrait orientation as you poke and prod at each little scene, slowly unraveling the solution to the puzzle. A quick double-tap on any panel will enlarge it on the iPhone too, and as crazy as it might sound I think I prefer playing this way to playing on a larger iPad.
I can't overstate just how much Gorogoa has been blowing my mind. From within just the first few minutes I was in love, and although not the longest experience ever it's definitely one worth taking for gamers of all persuasions. In case you were unaware, this week saw a staggering amount of high-profile games released, most of them full premium experiences, and we reviewed as many as we could. It's weeks like this that make choosing one game for Game of the Week so tough, but it should speak to the high quality and brilliance of Gorogoa that in the face of so many huge new games there was no doubt that this would be my pick. It's truly special.
? Like this article?
We pride ourselves on delivering quality, long-form articles like this one instead of the SEO-driven click bait that is slowly taking over the internet. Unfortunately, articles like these rarely generate the traffic (and as a result, the ad revenue) of listicles, cheat guides, and other junk.
Please help us continue producing content like this by supporting TouchArcade on Patreon, doing your Amazon shopping by first visiting toucharcade.com/amazon, and/or making one-time contributions via PayPal.