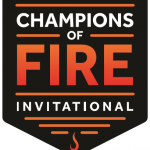 Esports somehow have become the biggest thing ever, and it's been fascinating watching everyone try to combine mobile (also the biggest thing ever) into one massive show-stopper. Amazon's efforts have been directed towards their Champions of Fire Invitation which is on its second year now and brings YouTubers and streamers together to face off against each other playing casual mobile games.
The games being played this weekend include:
Sonic Forces Speed Battle
Beat Fever
Minion Rush
Real Racing 3
Flappy Birds Family
Pac-Man 256
Disney Crossy Road
Cooking Craze
Beach Buggy Racing
Dancing Line
They're all easy to find on whatever App Store you use (although Amazon would probably prefer you download them from theirs) and popular enough that chances are you already have all or most of them.
If you're local, tickets to the event are free. It's held in the Time studios in New York City and aside from getting a chance to meet a bunch of famous people from the internet, you'll be able to win prizes and participate in other festivities.
If you're not local, the whole event is being streamed on Twitch. It kicks off at 10:00 AM Eastern on this Saturday December 2nd and runs through 8:00 PM Eastern on Sunday. Definitely put it in your calendar if you're interested in getting a first hand look at how mobile esports is evolving.