While the pace of them has slowed down a bit since iOS 11's initial release back in September, I still get unreasonably excited when I see an older game I'm still clutching onto get a 64-bit compatibility update. Today's winner: Disney's Castle of Illusion Starring Mickey Mouse ($4.99). The game originally arrived on iOS with zero warning or fanfare back in November of 2013, only a couple of months after its debut on consoles. There had never been a single update to the game since then, however, which led me to believe that this would be one lost forever in the great 32-bit Appocalypse. I'm very happy Disney has decided to update Castle of Illusion, and on top of just basic compatibility, the game even supports the new iPhone X screen. Check it out.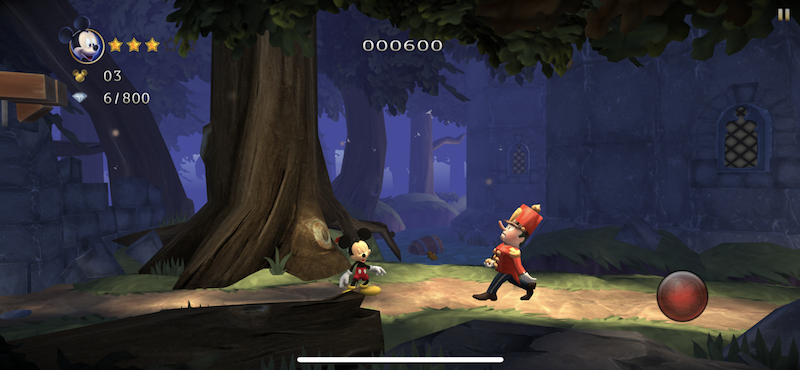 If you're unfamiliar with Castle of Illusion, it was originally a Sega Genesis/Mega Drive game that released way back in 1990 and stars the world's most famous mouse. It's a platforming game that throws a lot of unique ideas into the mix, some of which are more successful than others. It also has kind of an uneven difficulty curve and overall the game is definitely on the short side. That said, the parts that work are truly enjoyable and Castle of Illusion arrived as a bright spot in a sea of by the numbers platformers at that time. It's also charming as all heck. Those are the reasons Sega decided to pluck it from its history and give it a complete 3D remake back in 2013.
Despite its shortcomings and brevity, we really enjoyed Castle of Illusion on iOS back when we reviewed it in 2013. The controls are simple enough that they work quite well on the touchscreen, and while it's not perfect there are far more delightful moments in Castle of Illusion than there are frustrating moments. If you have fond memories of playing through the original, this remake is especially enjoyable, and even if you have no experience with the Sega Genesis version Castle of Illusion is more than worth your time if you're a fan of inventive platforming games. I'm super happy to see the iOS version continue to live on thanks to today's update.