When I first saw Hearthstone at PAX East back in 2013, I assumed it would be a big deal. What I didn't expect is in those few years Hearthstone would grow to a title that (as of this writing) commands over 200,000 concurrent viewers across multiple language streams on Twitch, featuring global tournaments which have since become known as the Hearthstone Championship Tour. Even more unimaginable on the show floor of PAX East is that the esports side of Hearthstone (and other Blizzard games) would grow to the point that Blizzard would buy their own Los Angeles studio to accommodate all of the events that seem to always be happening. Well, this is our reality. Hearthstone is bigger than ever, the Blizzard Arena exists, and following this stop in Burbank, CA, the Hearthstone Championship Tour will be headed to Amsterdam.
When we first started writing about the new Blizzard Arena, our Discord server was filled with people scratching their heads. Blizzard has a massive campus in Irvine, Burbank is on the complete opposite side of Los Angeles, and it just seemed odd. Well, after getting a full studio tour, it all makes a lot of sense. One thing that I think folks watching Hearthstone on Twitch really don't realize is the sheer scale of the production of the various Blizzard events you watch on Twitch. Back stage at the Blizzard Arena is a labyrinth of different rooms, many filled with dozens of different audio/visual engineers managing every aspect of what you see on Twitch.
The main stage, which was once home to The Tonight Show, features a full studio audience setup. From these seats you can see three huge screens showing the active broadcast on Twitch as well as the right side of the stage where the players are and the opposite side of the stage with casters. In between the audience and the stage is a set of eight wooden tables filled with fans competing in Fireside Brawls. They've effectively transformed a studio stage in Burbank into the ultimate destination in California for Hearthstone fans. Of course there's exclusive swag to buy at the Arena, as well as a concession stand which amusingly has all sorts of Blizzard-branded foods.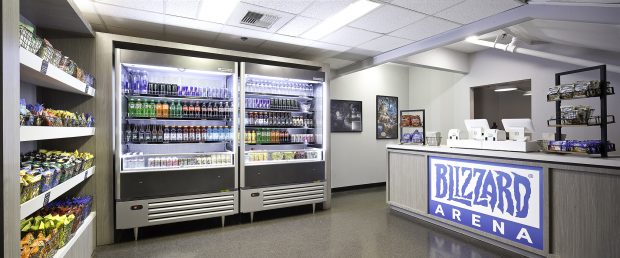 Wandering the audience was the very same Lich King costume seen in some of the recent videos Blizzard put out. I'm vaguely certain that it's been different people wearing the suit, as the Lich King started his appearance at HCT by just awkwardly looming through the audience and staring at attendees with his icy cold glowing eyes. Then, on the last day, The Lich King was sitting with people in the audience, taking selfies, and talking to people making sure they're having a good time. I'm just going to pretend this is all in character and The Lich King actually just became friends with everyone over the course of the event.
The innkeeper welcomes the Lich King to #HCTSummer… or he tries to, at least. pic.twitter.com/iy2VZt0Jol

— Hearthstone Esports (@HSesports) October 14, 2017
Like other stops on the Hearthstone Championship Tour, the Summer Championships were home to both new faces and returning pro players. Top-level Hearthstone play is always fascinating to watch, as these players are operating on a level I'm fairly certain I'll never get close to. The number of come behind victories has been amazing, as each match is the best of five and a shocking amount of rounds used all five games and had some incredible finishes- Both from a tactical perspective as well as just receiving favor from the RNG gods.
Dirty Rat helps carry @OldBoy_HS to victory! #HCT https://t.co/SWPQb7AWTL pic.twitter.com/fmRrfVSmQZ

— Hearthstone Esports (@HSesports) October 14, 2017
Talking to the folks behind the scenes at these events is always ultra fascinating, and I was lucky enough to get a sit down with Hearthstone esports head Che Chou. The amusing thing about the way Hearthstone works from a competitive standpoint is at the start of the season they lay out how the whole year is going to work from a rules and structure basis. Imagine the whole thing as one giant ship that you can really only do major course corrections on annually, that's sort of the situation they're in… Which made talking to Che pretty funny, as they're on the verge of releasing their changes for next year's esports cycle, and practically every question I had for him on things that seem less than ideal in the current state of Hearthstone esports was met with variations of "Let's talk after our next announcement."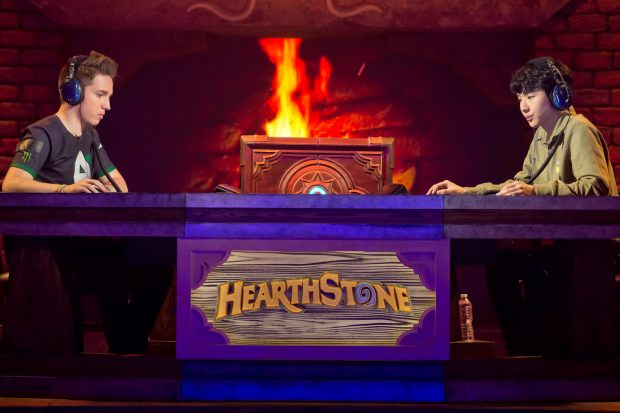 In an event filled with dramatic game five endings, of course the deciding match for the conclusion of the Hearthstone Summer Championship. Orange and Surrender duked it out to the very final game: A Priest mirror match. Apparently, Orange built his Priest deck with the idea of mirror matches in mind which seemed to lead to an early game lead. A mid-game play by Orange burnt tons of cards off the top of Surrender's deck, as Surrender had a Northshire Cleric that Orange abused via Circle of Healing to get him to draw loads of cards. Unfortunately, it only got Surrender closer to all of his vital combo pieces. Orange's high risk, high reward play resulted in a ridiculous game state as Surrender quite literally ended up drawing his entire deck to get his Priest combo online. With zero cards left in Surrender's deck, Orange desperately counted everything and eventually gave up the fight to Surrender who then became the 2017 Hearthstone Summer champion.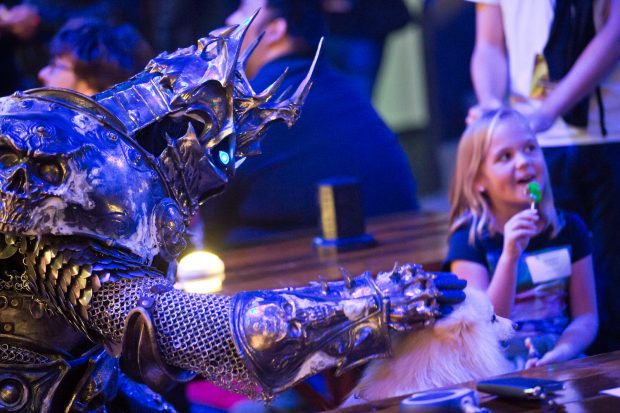 As usual, it seems like when covering Hearthstone the story never ends. The Blizzard Arena is awesome, the Summer Championships we incredible as expected, and this is just one more stop on the never-ending circuit of Hearthstone events and the continued evolution of both the game and the esport. Stay tuned on TouchArcade for much, much more Hearthstone coverage.