If you follow along with our Upcoming Games Forum, which you totally should if you care about being on the cutting edge of what's coming out for mobile, then you may have seen a thread that was posted late last month for a game from developer Sozap called Armed Heist. It's a third-person cover-based shooter centered around robbery, similar to something like the Payday series, and it tasks you with becoming the best gosh darned armed robber in the world. Not the noblest of endeavors, but it sure makes for some fun gaming. At the time of the forum posting, Armed Heist didn't have a trailer that was ready for public consumption, but some animated .gifs and a brief video showing some in-game footage of a beta version showed a lot of promise. Now, Sozap has prepared an official public trailer for Armed Heist which you can see below.
Alongside the new trailer Armed Heist has also soft-launched in the Swedish App Store, with plans for the soft launch to expand to the Philippines next week. I actually have an early version installed on my iPhone and have taken Armed Heist for a brief spin, and I'm really liking it so far. There's not really much story involved, and instead it's sort of like a jukebox filled with different robbery missions to fulfill. This actually works perfectly for a mobile game as you can hop in and pull off a job in just a few minutes without worrying about getting sucked into a longer play session. The downside to this is that some of the missions begin to feel a bit samey after a bit, but hopefully Sozap finds a way to add some different elements into them to help them feel a bit more unique from each other. Still, there's a number of different mission types to take on already and they are always fun to complete.
Armed Heist is a free to play game, so the focus of your progression will be on leveling up your character which leads to unlocking and customizing a variety of weapons and gear. It uses the now standard timed loot box system for acquiring new equipment, with more and more items being added to the overall pool the more you level up your character. The weapon customization is quite extensive, and once you've unlocked some new items it's fun to go through and tweak out a weapon to give it the type of performance you want to tailor it to your specific play style. There are two in-game currencies: Diamonds which allow you to instantly open the timed chests, and cash which is used for purchasing weapon and equipment upgrades. You can buy more of either as IAP to speed up the process, but the currencies are also earned through play if you're patient, and most importantly there doesn't appear to be any sort of energy system that limits your ability to play, although the game does require an internet connection.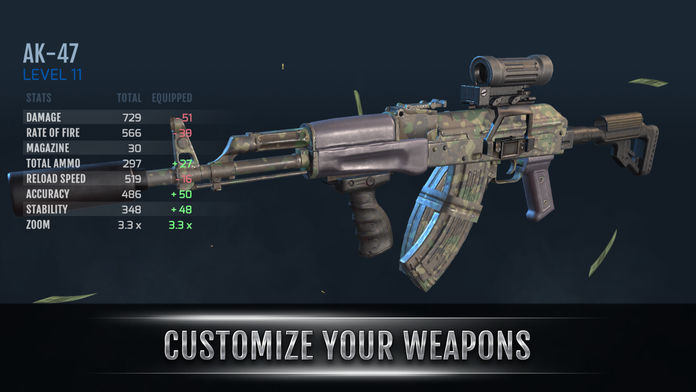 While it's still rough around the edges, there is a whole lot of promise in Armed Heist. The core shooting gameplay is really fun and the movement system is streamlined so that moving around the environment and taking cover behind obstacles is all quite seamless. Also, the game supports 3D Touch for firing, which allows you to focus entirely on movement and aiming with just a slightly harder press opening fire when you need to. It's perfect for a touchscreen game and in my opinion should be standard in all third-person and first-person shooters. With the core gameplay loop nailed down, all Sozap needs to do now is polish up the experience and perhaps add in some elements of variety. Armed Heist feels very similar to Assassin's Creed Identity ($1.99) to me, in that it captured the essense of an Assassin's Creed game but broke it into randomly generated bite-sized missions which felt great on mobile. This is like the Payday version of that, which is something we really need on mobile.
If any of this has piqued your interest, be sure to follow along in new the Armed Heist soft launch thread in our forum. I'm not sure if they're still accepting beta testers at this point, but if you have access to a Swedish App Store account then you can grab the game in soft launch using the link below, and it'll be in the Philippines next week as well. We'll keep our eyes on how this one develops and will surely have more on the game as progress continues.
Swedish App Store Link: Armed Heist, Free (by Sozap)