Supercell really hit it big with Clash Royale (Free). Not only has it gotten huge on mobile, big enough to take on Hearthstone (Free), but they are one of the frontrunners in the charge to bring esports to the mobile world. Clash Royale's spring season pulled in over one-million players, all lined up to prove their skills and take the title as the best player in each of the game's regions. Now the fall season is gearing up starting with the Crown Championship 20 Win Challenge. To get in on the action you have to win 20 games August 16th through August 20th. Winners will earn in-game prizes and will qualify for the next stage, bracket play, and ultimately a chance at a global prize pool of over one-million bucks.
Even if you aren't among the elite players out there, there are still prizes to be won in the fall season. Two wins, for example, will get you 2,500 coins, five wins secures a giant chest, nine will earn you a magical chest, and fourteen are good for a legendary chest. If you do pull off the twenty wins to qualify, you'll get a treasure trove of 250,000 coins in addition to your bid to continue.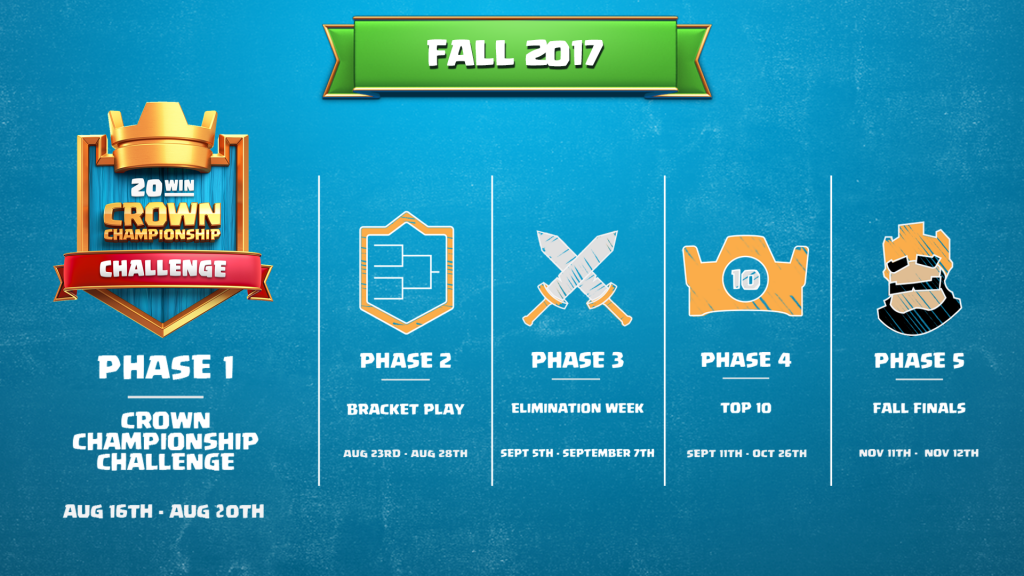 So if you think you've got what it takes to play Clash Royale at a competitive level get in there next week and win some games. There's no registration, you just have to get those W's. The best of the best will compete in bracket play starting August 23rd, then on to the elimination round September 5th, top 10 on September 11th, and the finals one month later on November 11th. There are now eight regions, up from the six represented last time. Check out more directly from Supercell and make sure to get over to our forums to talk with fellow players.