The idea behind the TouchArcade Game of the Week is that every Friday afternoon we post the one game that came out this week that we think is worth giving a special nod to. Now, before anyone goes over-thinking this, it doesn't necessarily mean our Game of the Week pick is the highest scoring game in a review, the game with the best graphics, or really any other quantifiable "best" thing. Instead, it's more just us picking out the single game out of the week's releases that we think is the most noteworthy, surprising, interesting, or really any other hard to describe quality that makes it worth having if you were just going to pick up one.
These picks might be controversial, and that's OK. If you disagree with what we've chosen, let's try to use the comments of these articles to have conversations about what game is your game of the week and why.
Without further ado…
MUL.MASH.TAB.BA.GAL.GAL
Riverman Media doesn't release games often, but when they do they're worth taking notice of. Their last two major releases were Pizza Vs. Skeletons ($2.99) and The Executive ($2.99), two extremely weird and extremely polished games that felt like they were built with mobile touchscreen devices in mind. This week they launched MUL.MASH.TAB.BA.GAL.GAL ($2.99), which I will refer to as Mul Mash from here on out for sanity's sake, and once again they've created an experience tailor-made for mobile with all the weirdness and ingenuity that we've come to expect from Riverman.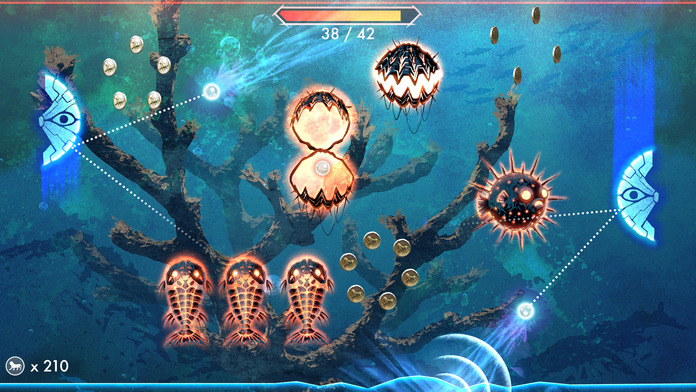 Mul Mash is loosely based around the concept of Pong. In this case you actually control two paddles at once, one on each side of the screen. You bat a ball back and forth between them, and while not letting the ball get past your paddles remains a goal, your real objective is to use that ball to bash into the enemies which slowly rise from the bottom of the screen. If enemies make it to the top, you take damage, and if you lose all your health points, then it's game over.
While this core concept is strong, it's the little details in Mul Mash that really bring it to life. There's a vast assortment of different paddles to unlock, each with unique attributes like size or offensive abilities. You can even choose different paddles for each side of the screen, adding a layer of strategy to how you play. There's also some very neat power-ups you can trigger during play, and coupled with the unique enemy designs and patterns, it doesn't take long for Mul Mash to evolve into a spectacular "smash-o-rama" as the game's description puts it.
You also earn coins as you play which you can put towards buying special items or abilities in-between stages. These are randomized each time you play, so it's sort of like buying upgrades between levels in Downwell ($2.99) and it further adds to the strategy of the game. Oh, and did I mention how pretty Mul Mash is? Because it's pretty. Crazy stylish visuals and trippy music all contribute to the feel of its underwater theme. And I'll say it again: Those enemy designs are fantastic. When a giant crab scurries across the title screen it makes me jump every time.
Whether you're tilting to roll pizzas over enemies, performing touchscreen gestures to beat the crap out of werewolves, or trying to simultaneously control two Pong paddles against a force of scary deep sea baddies, Riverman knows how to make games that feel like they should be pre-installed on every iOS device. MUL.MASH.TAB.BA.GAL.GAL is no exception, so don't let the weird name put you off as this is one game you're not going to want to miss.