The idea behind the TouchArcade Game of the Week is that every Friday afternoon we post the one game that came out this week that we think is worth giving a special nod to. Now, before anyone goes over-thinking this, it doesn't necessarily mean our Game of the Week pick is the highest scoring game in a review, the game with the best graphics, or really any other quantifiable "best" thing. Instead, it's more just us picking out the single game out of the week's releases that we think is the most noteworthy, surprising, interesting, or really any other hard to describe quality that makes it worth having if you were just going to pick up one.
These picks might be controversial, and that's OK. If you disagree with what we've chosen, let's try to use the comments of these articles to have conversations about what game is your game of the week and why.
Without further ado…
Don't Starve: Shipwrecked
So it wasn't exactly the kind of iTunes unfreezing I was expecting this week. I figured that once things started moving again there would be a firehose stream of new games, but that simply wasn't the case. There were a handful of games that came out this week, but not enough to even do our normal weekly roundup. However, for those games that did launch this week we'll simply lump them into next week's list, and among that handful there was one especially noteworthy release that caught everyone by surprise. It was the iOS release of Don't Starve's expansion which came as the standalone app Don't Starve: Shipwrecked ($4.99).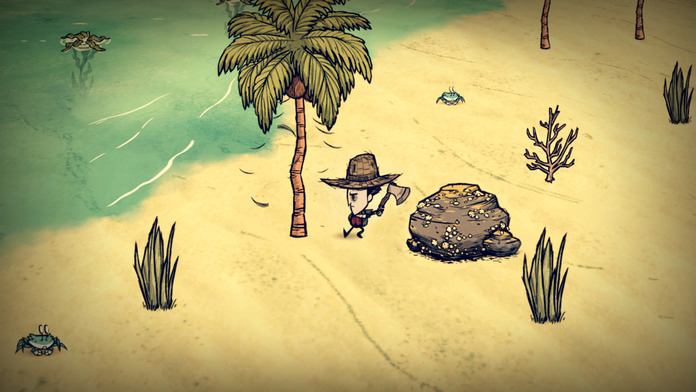 For those not familiar, the original Don't Starve released on desktop back in 2013 and has made its way to most major platforms, including iOS in July of last year as Don't Starve: Pocket Edition ($4.99). It's a survival roguelike that plops main character Wilson into a randomly generated wilderness environment and tasks you with keeping him alive and sane for as long as possible by gathering supplies and crafting items. It's a brutally difficult game that's not for everyone, but for those that it clicked with it's a masterpiece in the survival genre.
Don't Starve: Shipwrecked is an expansion pack which launched for the original game in December of 2015 and was co-developed by Capybara Games, who are probably most well-known for their frantic shooter Super Time Force as well as being co-developers of classic mobile RPG Superbrothers: Sword & Sworcery ($3.99). As the game is technically an expansion, it offers the same type of gameplay as the original but in new environments with plenty of new enemies and new tropical-themed seasons to deal with. There are also new items to craft and you'll need to learn new tactics compared to the first game in order to survive. Probably biggest of all is the ability to craft a raft and go exploring on the open seas to discover new islands, hence the subtitle of the game.
Also worth mentioning is that Don't Starve: Shipwrecked features an option for a virtual joystick in addition to the default tap-to-move and interact control scheme that's used in the original. It also features a smoother difficult ramp-up, so while it's not exactly an easy game now it's definitely more approachable for newbies than the original game. It lacks the story campaign of the first game, but as strictly a survival affair Shipwrecked feels like an improvement in every way. Hopefully the virtual joystick option will arrive in the original game at some point, but if you found that game too difficult to get into OR if you're already a fan of the first game and craving some more, then I'd suggest checking out this week's Game of the Week Don't Starve: Shipwrecked.