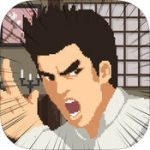 One game that has been very popular in our community but has flown mostly under the radar since its release in June is The Counter of Death (Free) from developer Curlking. This twitch reaction game has you facing off against an onslaught of foes by countering their attacks which leads to you automatically launching an offense of your own. It's done very simply by either touching the giant upper counter button or lower counter button, and paying close attention to your enemy's motions prior to their strike is key to being successful. For such simple mechanics, The Counter of Death is a surprisingly strategic game, and made even better by its fantastic presentation that mimicked old-school kung-fu movies to a T.
As was obvious to anyone who even glanced at the app icon for The Counter of Death though, the game was very, VERY heavily inspired by Bruce Lee and his stable of classic films. Well, it turned out that The Counter of Death hewed a bit TOO close to the iconic Bruce Lee, and caused a licensing issue that resulted in the game being temporarily pulled from the App Store. Curlking was already deep in the development of a major update, so that work also turned into changing some of the visuals in the game so they weren't so blatantly similar to the martial arts icon. Today, that huge update and the relaunch of The Counter of Death has arrived. The biggest addition is a brand new campaign called The SUPER Counter of Death. Yes, taking a queue from the beloved Street Fighter II series, Curlking has Super Turbo'd the heck out of this game. The Super Counter of Death features you saving a young boy from a band of thugs who destroy his food cart, and then going to the thugs' hideout and kicking the snot out of each and every one of them (naturally). So far I haven't noticed any drastic changes in this new campaign aside from new enemy types, but it's nice to have another campaign to progress through.
The other big addition with this update is two new playable characters available for a 99¢ IAP each. One is the girlfriend Xiang who the original character is setting out to save, but this time the tables have turned and she's out to save him. The second character is… well, let's just be honest here, it's basically the character Williams from Enter the Dragon. Both new characters are entirely optional but do offer a nice sense of variety over the original character, who is now not quite so much Bruce Lee as he is generic spikey-haired warrior. Other additions include a new super gauge and counter to let you know when you've got a Super Death Counter, the ability to replay individual stages as well as the opening tutorials and cutscenes for each character, a new costume, and lots of smaller tweaks and fixes. Along with the ad-removal IAP that was added not long after its initial release, The Counter of Death has rectified all of the very few negatives we had with it in our original review.
While it's a shame it can no longer be the unofficial homage to Bruce Lee that it originally was, it's still a bad ass homage to old Kung Fu movies and I'm glad the developers didn't simply throw in the towel and instead made the necessary changes and continued on with this content update. If you haven't given The Counter of Death a try previously, check it out for free and see what others having been saying about it in our forums.