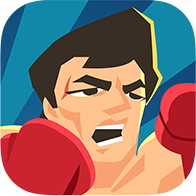 This year marks the 40th anniversary of the original Rocky film, and yes, that makes me feel old. To celebrate this milestone, MGM Interactive and developer Tapinator are releasing Rocky, a new mobile game featuring the biggest of Rocky's rivals from the film. That includes Apollo Creed, Clubber Lang, and Ivan Drago. In the game you'll manage a boxing gym and as you build it up you'll unlock 37 different fighters across 4 tiers, including the rare movie star characters mentioned above as well as Rocky himself.
The actual boxing mechanics are described as "Time-Tap Fighting" and there will also be five special training mini-games to play and special perks to unlock which are unique to each boxer. All fights are online player versus player from opponents across the globe, and when you aren't facing opponents you can train with your old mentor Mick to boost up your fighter's stats.
While Rocky will be free to play and appears to have all the same sort of trappings of a typical free to play game, the theme of a boxing gym simulator and the Rocky license seem like a really good fit. Look for Rocky to launch for free next week on December 8th.