When Lumines Puzzle & Music ($2.99) launched in September, we were big fans – the rhythm-centric block puzzler was a fitting tribute to the original PSP game that won over so many gamers back in 2004, while still being relevant in 2016 with new modern developments that the series had picked up over its existence. If there was one flaw to Lumines Puzzle & Music, however, it'd be that with only a limited number of game modes and music tracks, there wasn't a whole lot to entice players who had played through all the options that the latest title had to offer. However, even more content is set to roll out for Lumines Puzzle & Music over the next week – today, an album pack from the hit Japanese pop band Sekai no Owari has been made available to download, and on 21 November a special set of tracks from the psychedelic cult rail shooter Rez is also to be rolled out for the mobile version of Lumines.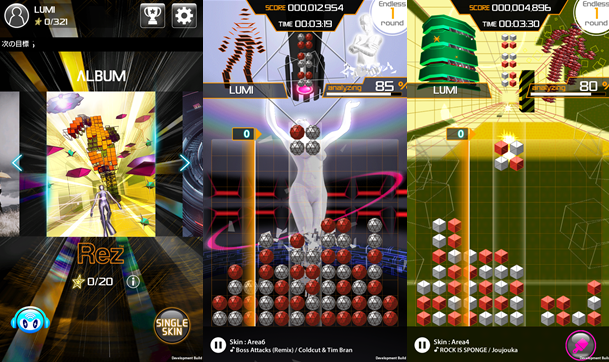 For many readers, Rez needs no introduction – having first launched on Dreamcast and PS2 back in 2001, the game has been ported to various consoles over the years, most recently the Playstation VR in the form of Rez Infinite. Rez has subsequently featured on many critics's lists of the best games of all time, primarily for its incredible amalgam of intense shooting action with an incredible electronic soundtrack that created a hypnotic combination and a truly unforgettable gaming experience. As a result, having the soundtrack playable in Lumines Puzzle & Music is extremely exciting, and essential for both fans of the original game and those who may not be familiar with the title (though I'd highly recommend to change that as soon as humanly possible).
It's far more likely that most readers outside of the Far East may have not heard of Sekai no Owari, who are the band behind the first released album pack. However their popularity and status within Japan, as well as the fact they are set to release an international English album featuring collaborations with some major artists such as Owl City and Nicky Romero, suggests that they are one to watch, and the new DLC should still satisfy any Lumines aficionados looking for more content. If you're excited for either of these album packs for Lumines Puzzle & Music, or have any suggestions for potential future downloadable content, be sure to let us know on our forum thread.