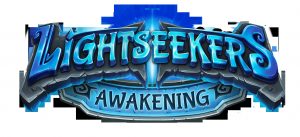 When most think of toys-to-digital kind of games, they think of Skylanders or Disney Infinity, both of which aren't as hot as they used to be in the recent past. Perhaps the time for these kinds of game is past (although LEGO Dimensions is doing well, but that's probably because of LEGO's popularity). Lightseekers,: Awakening an upcoming game by PlayFusion, is hoping to revive the genre by raising the stakes. The game combines a mobile RPG game, smart, AI-led action figures, AR, interactive trading cards, any more to create experiences unlike other games in the past. The game is definitely ambitious if nothing else.
The digital game will be a F2P (with no IAPs) RPG with deep lore but the fun part comes from the seven-inch fancy action figures by TOMY that can do all kinds of stuff like talk, vibrate, use different colored lights to show the figure's different levels, and so on. In other words, these are more than just plastic representations of in-game figures.
There's also all kinds of weapons, pets, and other accessories the characters can use and even a full CCG game with around 400 cards. And, in the spirit of Skylanders: Battlecast, the cards come alive through AR technology. In other words, this is a pretty high-tech toy-to-digital game that's betting on people spending (relatively) lots of money to play it. Not sure if the market has the appetite for more of these kinds of games, but I do have to say that the figures look pretty cool. The game is aiming to release in Spring 2017, so we'll see how it will end up doing.