It's that time of week again when all the new iOS games pour from the App Store like a bursting dam, and this week in particular has some pretty heavy hitters. I mean, those few slow weeks earlier this month had to come to an end at some point, right? Telltale's Batman, the fourth and final Sorcery! game, and a port of adventure game Primordia are the headliners this week, but there's also lots of other interesting-looking games I know I'll be filling up my iPhone 7's storage with. So check out the full list below and as always let us know which games you'll be picking up!
---
Batman – The Telltale Series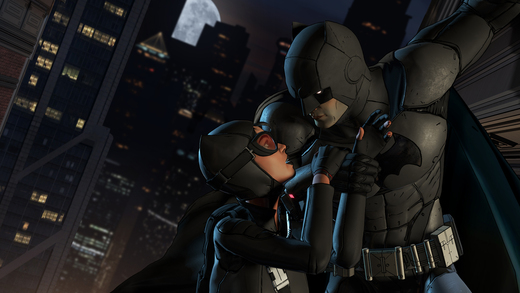 iTunes Description
Enter the fractured psyche of Bruce Wayne and discover the powerful and far-reaching consequences of your choices as the Dark Knight.

In this gritty and violent new story from the award-winning creators of The Walking Dead – A Telltale Games Series, you'll make discoveries that will shatter Bruce Wayne's world, and the already fragile stability of a corrupt Gotham City.

Your actions and your choices will determine the fate of the Batman.
Forum Thread: Batman – The Telltale Series (by Telltale Inc)
---
Bayou Island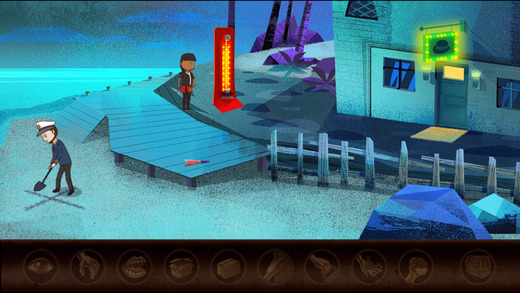 iTunes Description
Make your way through this thrilling old school style point and click adventure game and try to solve the mysterious circumstances plaguing Bayou Island.

Help an unknown captain make his way through the mysterious Bayou Island and try to find a way back to his ship. Solve the various puzzles and talk with the island's inhabitants to uncover what is really going on. But is something sinister afoot? Who is telling the truth? Who can you really trust? Using your logic is the only way you're going to win. This has been made with the love and inspiration of the point and click adventure games of the 90s.
Forum Thread: Bayou Island (By Teamwalrus)
---
Blocky Hockey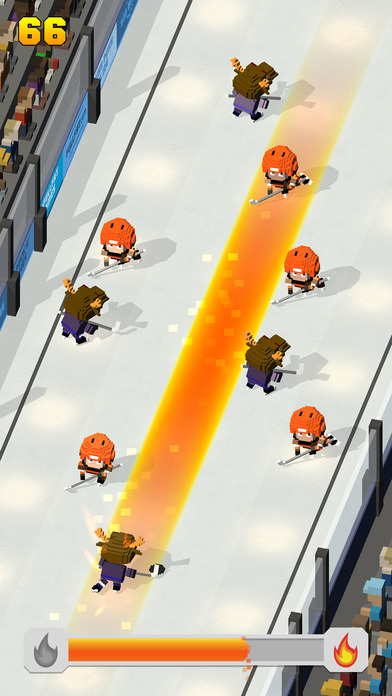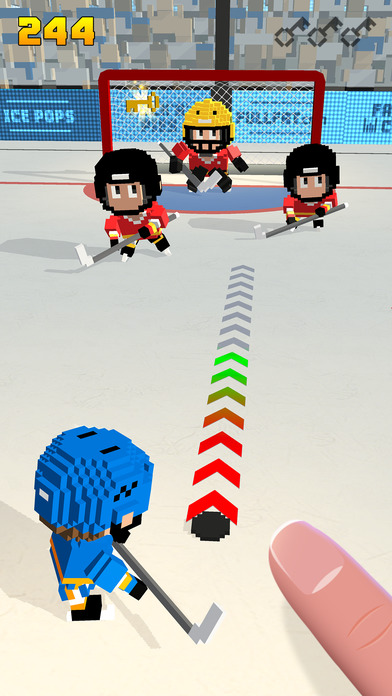 iTunes Description
Grab your puck and skate like mad in a fresh, fun hockey runner! The most fun you can have with a puck, combining realistic physics and humorous gameplay.

Hit the ice and light the lamp with body checks and fighting. How high can you score?
Forum Thread: Blocky Hockey (by Full Fat Games)
---
Break the Blocks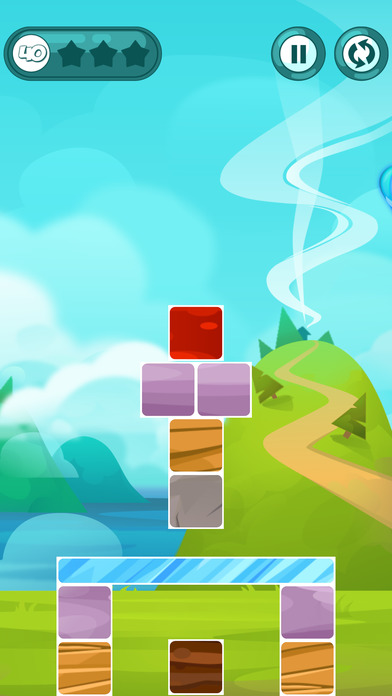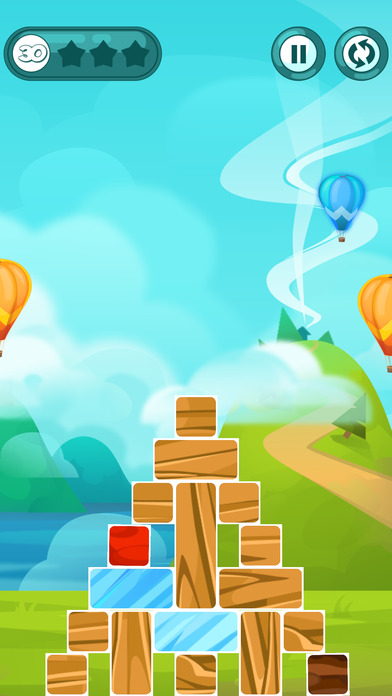 iTunes Description
Remove blocks and solve the level of this physical puzzle game!

Rules of the game are very simple – destroy all the blocks so that the red block stayed on the brown block.
Be the most smart blocks destroyer!

Interesting and colorful game with nice music and realistic physics.
The destruction of the blocks can be very entertaining pastime when the physics engine is added to it.
Forum Thread: Break the Blocks (by Uladzimir Tsimashkou)
---
Corgi Pro Skater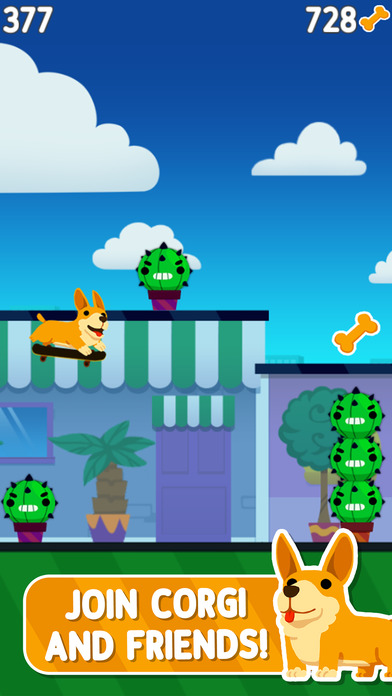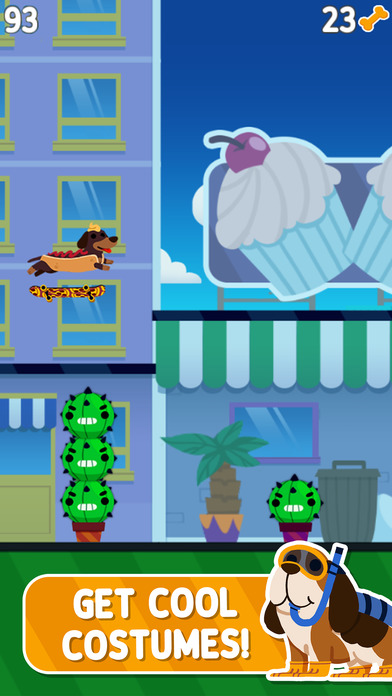 iTunes Description
Corgi, Poodle, Pug, Chihuahua… And many more! Ride with the coolest dogs, and unlock crazy skateboards and costumes for them!

Corgi Pro Skater is an endless platformer that is easy to learn but hard to master:
-Cute and original design, with +30 dogs and skateboards to unlock
-Addictive gameplay that will get you hooked for hours!
-Compete with friends for the first place, or simply enjoy the ride!
-Try and collect all the dogs and skateboards available!
Forum Thread: Corgi Pro Skater (by Alexandre Ferrero)
---
DarkWarrior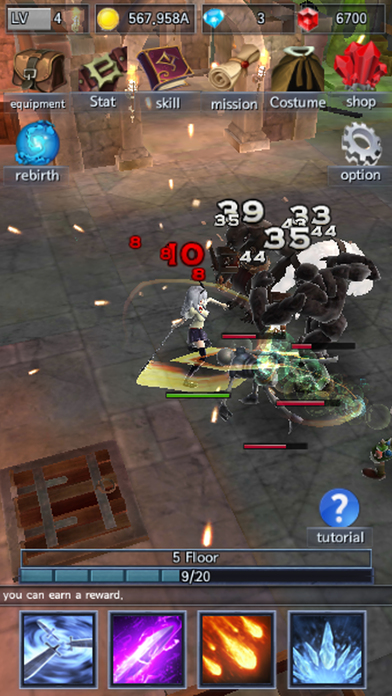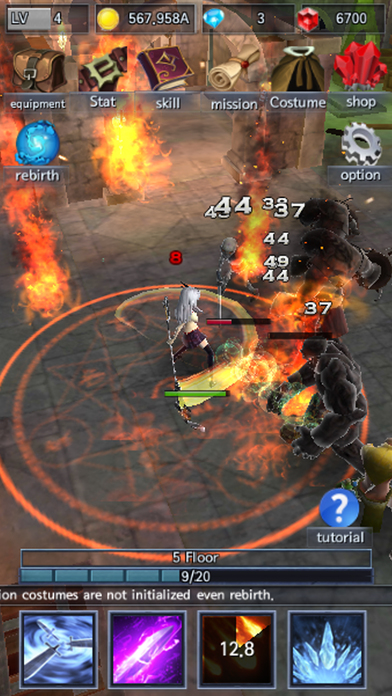 iTunes Description
3D Action RPG!
Easy control battle
Raising character
Monster Hunting
Forum Thread: DarkWarrior (by JoyFrame Soft)
---
Deflated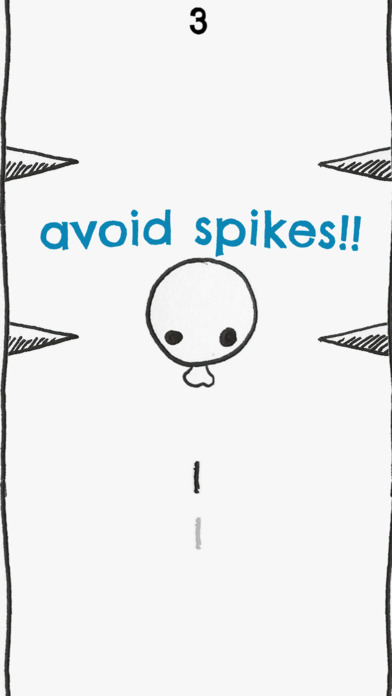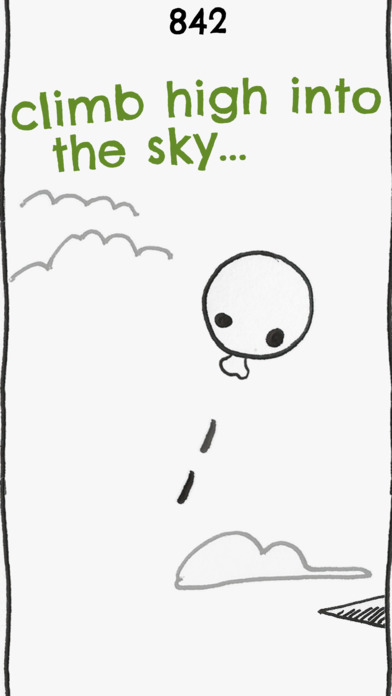 iTunes Description
Climb into the sky as a precocious balloon with a lot to prove.

Inhale (tap) to get larger and fuller, exhale (release) to fly upward, spitting all that air back out as you make your way INTO SPACE.

Ppptttthhhptthhttphtppphhhtpthttthtptthht!!!
Forum Thread: Deflated (by Randy O)
---
Disco Party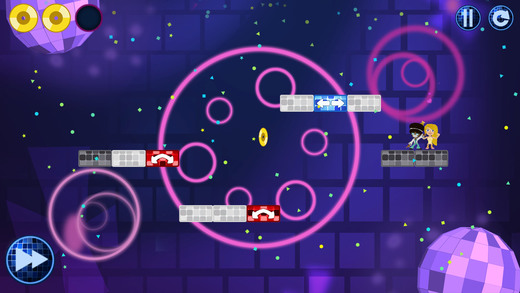 iTunes Description
Disco Party is an innovative puzzle platformer that combines the best of the lemming mechanics with a disco world!

By touching certain tiles, the player changes the platform, making the character jump, invert gravity or turn around. Control the path of a disco-dancer leading him toward his girlfriend while collecting discs and avoiding security guards along the way!
Forum Thread: Disco Party (By Appsolute Games)
---
Don't Pop! Dungeon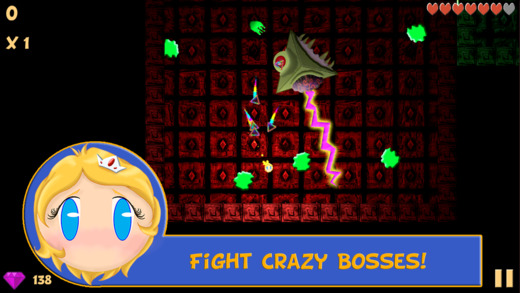 iTunes Description
Hidden away deep in a jungle forest lies a mysterious dungeon. Discovered long ago then forgotten, only to be discovered again by the planets new inhabitants. As they explore different areas of the old world. Curiosity gets the best of everyone sooner or later. Soon it becomes a challenge to see who can go the farthest down and grab all the treasure they can possibly find. Dangers around every corner. Join our heroes to become the dungeon's next master.

Enter into the dark abyss in Don't Pop! Dungeon's endless dungeon explorer! Enjoy multiple hours of entertainment! Play up to as many as 25 plus unique characters, each with their own styles and personalities. This is no ordinary dungeon crawler, it is a dungeon flyer! Never go through the same dungeon layout twice as every level will always be different.
Forum Thread: Don't Pop! Dungeon (by Shane Masters)
---
Faily Rider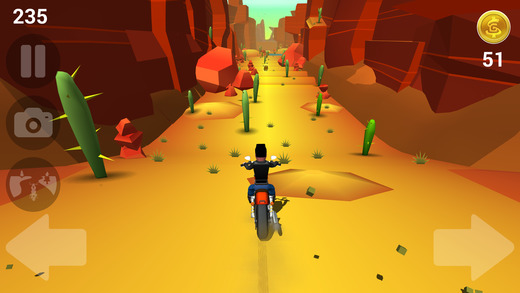 iTunes Description
Poor Phil Faily has had a lot of bad luck with cars… now he has a Motorbike!

While doing some sightseeing on a motorbike in the Nevada desert, Phil is forced off the road, plunging him over the edge of a steep embankment and into a world of dangerous hazards and obstacles.

From the developers of the Worldwide No 1 App FAILY BRAKES comes Faily Rider!

In this physics based motorbike game you must maneuver an endless mountainside dodging hazardous terrain such as cacti, rocks, traffic and trains resulting in some fun and hilarious near misses and crashes.

New vehicles. New tracks. Same Faily fun.
Forum Thread: Faily Rider (by Spunge Games Pty Ltd)
---
Great Catch Football
iTunes Description
Great Catch is blurring the lines between game and reality.

A first of its kind, Great Catch puts you in the eyes of a real NFL Receiver. Created by retired NFL Super Bowl XXLII Champ Steve Smith, the game is a truly unique experience.

The app helps challenges hand eye coordination and focus skills by concentrating on various passes the game has to offer.
Forum Thread: Great Catch (By NFL Super Bowl XXLII Champ Smith)
---
Hackers – Join the Cyberwar!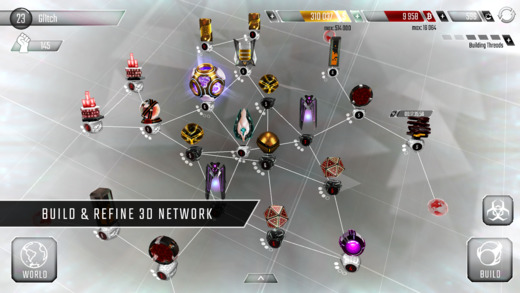 iTunes Description
Dive into cyber space to develop and secure your own virtual 3D network and hack various targets around the world.

The darknet has never been so accessible! With this high-end cyber combat visual interface you can research programs, build your hacker reputation, loot or fight for your country in the First World Cyberwar.
Forum Thread: Hackers – Join the Cyberwar! (by Matous Jezek)
---
Henry the Cloud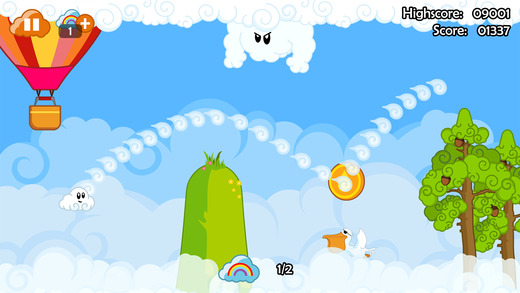 iTunes Description
Can -you- control the winds?

We challenge you to take control of Henry the Cloud as you propel him through the sky in this exciting free-to-play mobile game featuring a unique gameplay mechanic! Swipe to create wind bursts to maneuver Henry around mountains and hot air balloons or even larger threats like Joe the Cumulonimbus and Pete the Pelican!

Unlock epic characters and items to upgrade stats and boost performance by collecting Droplets. Earn highscores to compete with Facebook friends or strive for world domination on the global leaderboards.
Forum Thread: Henry the Cloud (by Dual Cortex Gaming)
---
Hood Fight 3D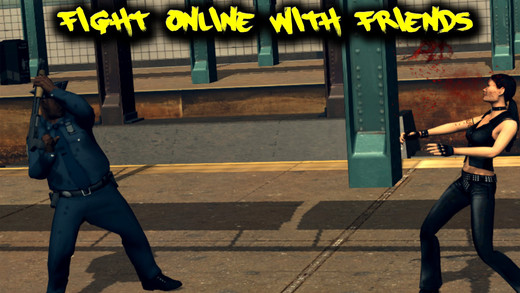 iTunes Description
ANYTIME. ANYWHERE.
Real gangstas are ready to brawl at a moment's notice…Prepare yourself for brutal combat! Use fists, feet, weapons and even HOVERBOARDS to defeat your enemies in this infamous new fighting game.

LOCK N' LOAD
-Six different gritty characters with attitude
-Unique weapons and special abilities
-Highly detailed 3D environments for fighting
-Land strikes to get ammo and blast your foes away
Forum Thread: Hood Fight 3D (By Anthony Grina)
---
Huetopia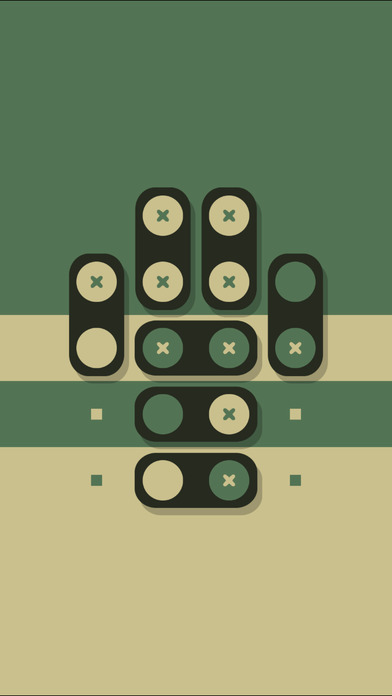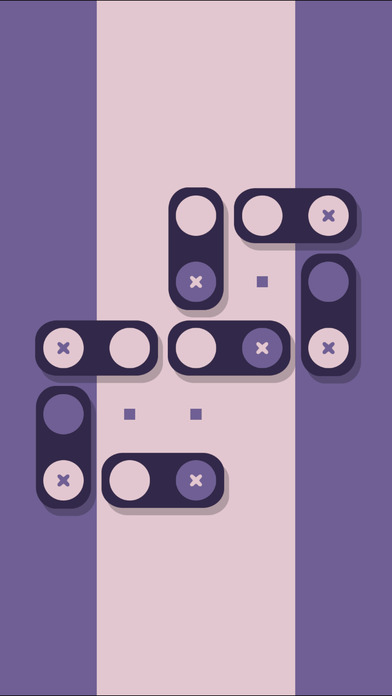 iTunes Description
Immerse your mind into the minimalist, colorful, and beautiful puzzle space of Huetopia, with tons of exciting boards to play and solve.

– Slide and rotate blocks to move them into the correct color lines.
– Beautifully handcrafted puzzles for your mind.
– Relax. No timer, no move limit.
Forum Thread: Huetopia (by ZealTopia Interactive)
---
Knights Fight: Medieval Arena
iTunes Description
Do you have the courage to face the fiercest knights in the Medieval Arena? Now is your chance to test yourself.

Hear the crowd roar as you step into the battleground! Listen to your heartbeat in the anticipation of combat! Feel the tension and witness as the cold steel pierces the armor of the unworthy! The joy of victory is available only to the best warriors. Are you one of them? Then prove it!
Succeed and have the glory you always wanted or fail and be erased from history.
Forum Thread: Knights Fight: Medieval Arena (by Shori Games)
---
Number 7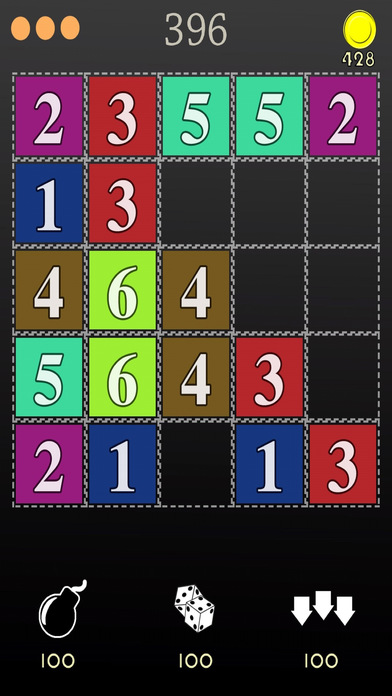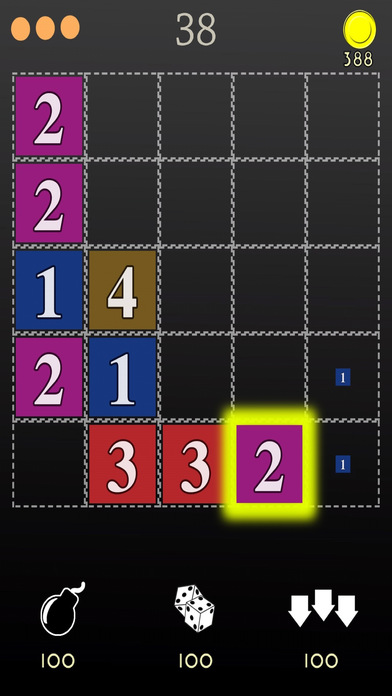 iTunes Description
Number 7 is a free, simple, fun, and addictive new puzzle game. As a classic game Lines is popular at all over the world but this game have a new great features so it is better! Both adult and kids can enjoy the game Number 7. Play it with your family and train your brain.
Forum Thread: Number 7 – innovative and fast puzzle game (by Two Hands Lab)
---
o:anquan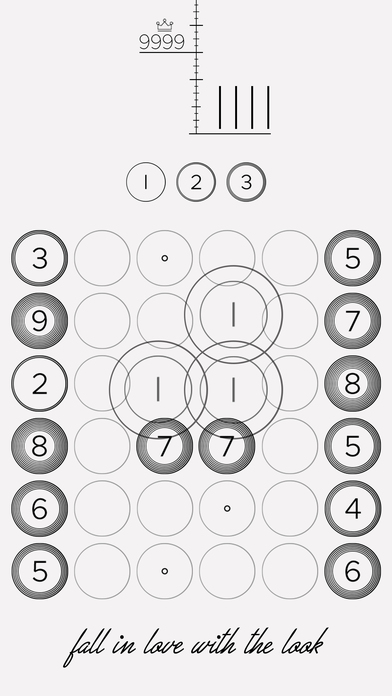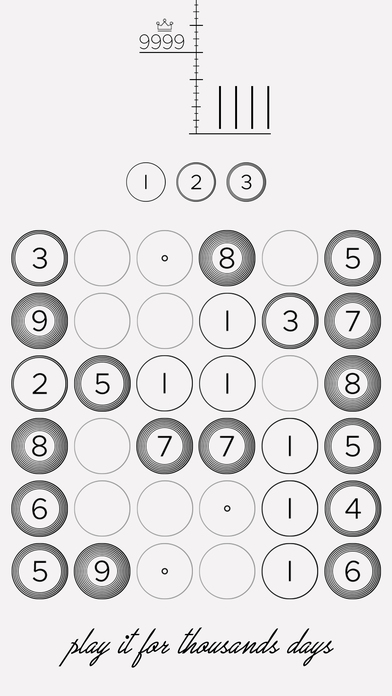 iTunes Description
o:anquan is a number puzzle from the game designer of Politaire.

It's quick and easy to pick up and play, but deep and challenging enough that it's difficult to put down.

The idea of o:anquan is inspired by the control of a traditional Vietnamese children's board game (Spread the number to score).
Forum Thread: o:anquan (by Pine Entertainment)
---
Otogi: Spirit Agents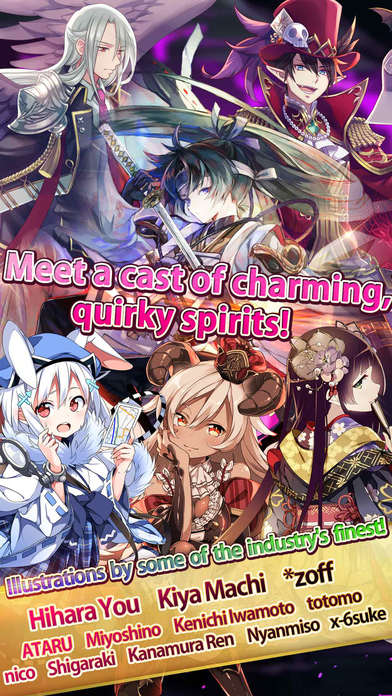 iTunes Description
Disturbances in people's emotions create "evil energy,"
which in turn leads to highly unusual events that defy logic and reason.
Spirit agents are the only ones who can resolve these situations.
They have been working behind the scenes throughout history, and continue to do so in the present.
Spirit agents partner with entities called "spirits," who have their own independent will…
Forum Thread: Otogi: Spirit Agents (by Mitama Games)
---
Primordia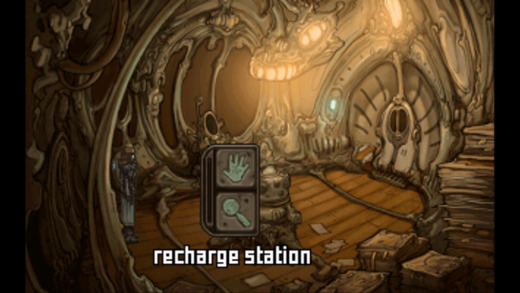 iTunes Description
What happened to the humans?

In a desolate, ruined world inhabited only by robots, the taciturn android Horatio searches for answers. Where did he come from? Where have all the humans gone? And what, if any, was his role in it?

Torn from his peaceful existence in the crashed airship, the UNIIC, Horatio and his sarcastic floating friend Crispin are forced to travel to Metropolis, City of Glass and Light, to retrieve their stolen power core. What they discover there changes their understanding of the world and their place in it, for better or worse.
Forum Thread: Primordia (by Wadjet Eye Games LLC)
---
The Rail Runner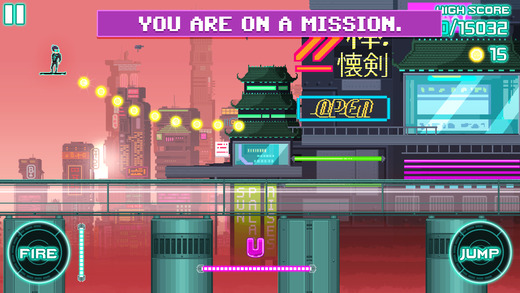 iTunes Description
A new runner game guaranteeing you fast-paced, action-packed futuristic gameplay that you won't be able to put down! The Rail Runner is set in a cyberpunk-dystopian future ruled by the Central Intelligence and your mission is simple: Get programs through the toughest of challenges on your way!

The game offers two different playing modes:
– The Mission Mode offers 8 different missions and levels in which your character, the runner, is responsible for the delivery of programs needed to battle the Central Intelligence
– The Infinite Run mode helps you get the right skills to defeat the Central Intelligence and their drones whilst setting challenging distance records
Forum Thread: The Rail Runner (By Benfont Limited)
---
Slip Away Mystify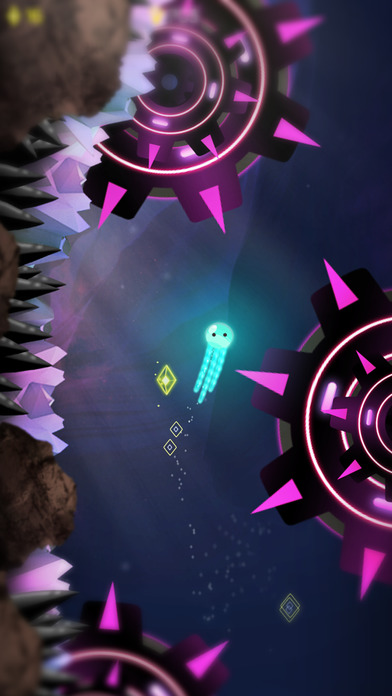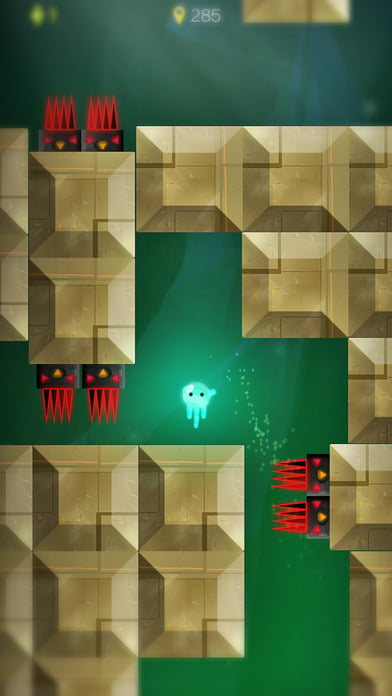 iTunes Description
Slip Away Mystify is a unique arcade and puzzle game that will test your nerves and reflexes in a mysterious adventure.

In Slip Away Mystify you have to survive through the deepest ocean enemies and avoid the pitfalls, obstacles and traps in a journey searching for a key to open the gates to a new level.

There are 50 amazing and challenging levels to explore and escape. Collect the gems to unlock new characters and skip nearly impossible levels. Swirl left and right in this innovative physics-based game play combined with stunning atmospheric graphics and inspiring soundtrack.

Can you Slip Away?
Forum Thread: Slip Away Mystify (By Nanovation)
---
Sorcery! 4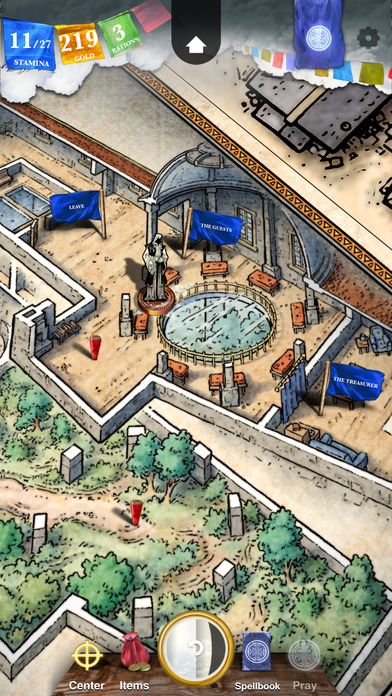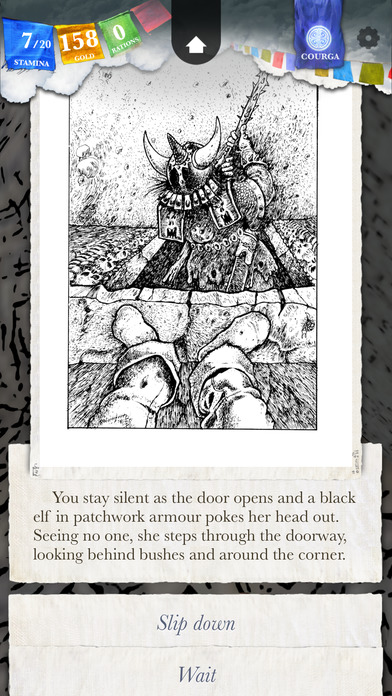 iTunes Description
An epic adventure through a cursed citadel of monsters, traps and magic. Begin your journey here (Parts 1-3 not required) – or conclude your epic adventure.

An open-world narrative adventure into a cursed Citadel of monsters, traps and magic. Fight weird creatures, cast powerful spells that shape the story, cheat death, and explore everywhere. Begin your journey here, or conclude your adventure from Part 3.
Forum Thread: Sorcery! 4 (by inkle)
---
Square Borne Farm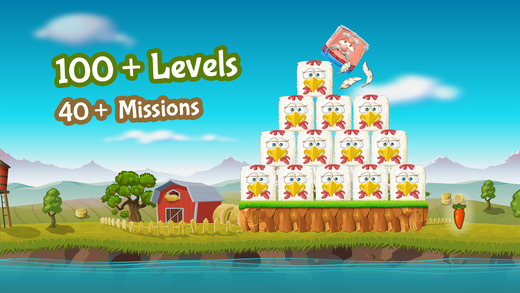 iTunes Description
Holy cow! Did you see those silly farm animals flying through the air?

Join our farm heroes on their adventure to gather all of the carrots lost throughout the farm lands. Play through 100+ fun and challenging physics puzzle levels and become the very best hero that no one ever was!
Forum Thread: Square Borne Farm (by Chomp Chomp Apps)
---
Stack Mania Color Blocks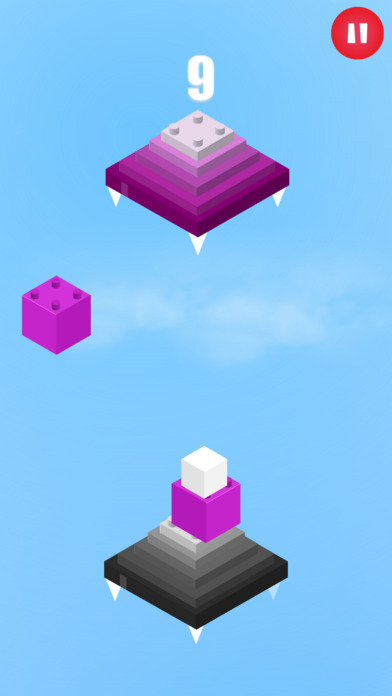 iTunes Description
Stack Mania Color Blocks is an exciting game which is all about filling up the stack with oscillating blocks of different colours.

The objective of Stack Mania is to stack blocks as high as you can to score higher,

Use the points you had collected from score, and unlock new characters.
Forum Thread: Stack Mania Color Blocks (by Lifesyle Appstudios)
---
Sticklings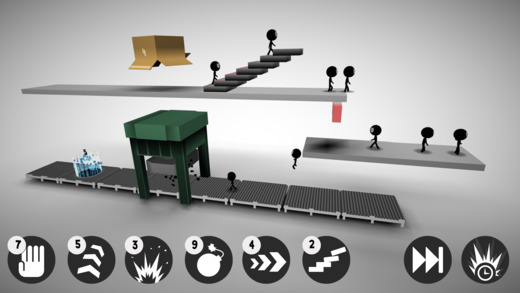 iTunes Description
Sticklings is a unique puzzle game with the mission to get a herd of Stickmans into their goals by using various abilities. Like a Lemming, a Stickman just walks and walks and it is your objective to correctly assign the correct task to a Stickman to lead all other Stickmans the correct path. Abilities include blocking, self destruct, jump, bomb throwing, rush and bridge building. Levels are limited by time with the option to earn gold, silver and bronze medals. And if you fail, there is always the option to Nuke em!
Forum Thread: Sticklings (by Djinnworks)
---
Test Chamber Challenge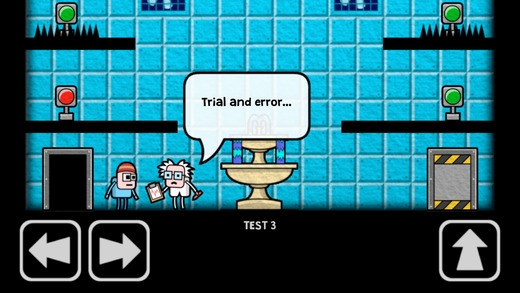 iTunes Description
Have you got what it takes to beat the Test Chamber Challenge?
Is your brain big enough, your reactions fast enough, your logic illogical enough?
You'll need your wits about you. Use your forward thinking, backward thinking and sideways thinking! Are you a problem solver whose able to think inside and outside of the box?

Here at Test Chamber Headquarters our team of genius scientists have been hard at work devising a series of challenging puzzles that give your grey matter a workout. Put your IQ, logic and reasoning to the test in the Test Chamber Challenge.

Each test chamber is the same but different, familiar yet unfamiliar. Solve each room to open the door, escape the room and progress to the next level.
Forum Thread: Test Chamber Challenge (by PHB Media Ltd)
---
Time Flux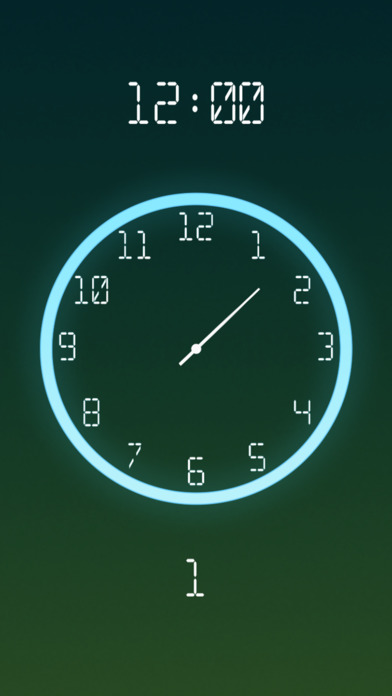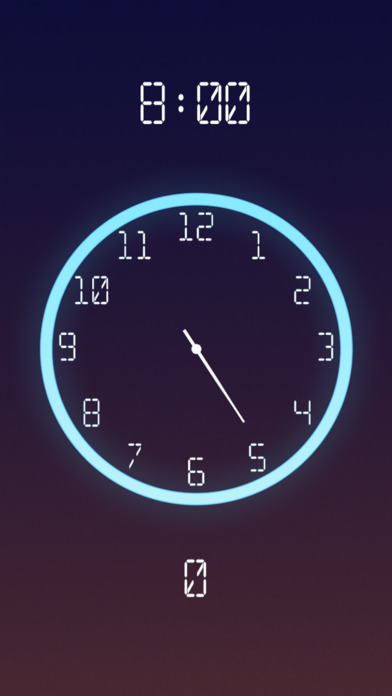 iTunes Description
Tap the screen to match the arrow with the correct time at the top.

Think it's easy? Think again, I don't think you'll get to score even 10 points.
Forum Thread: Time Flux (by Nabhan Maswood)
---
Tons of Bullets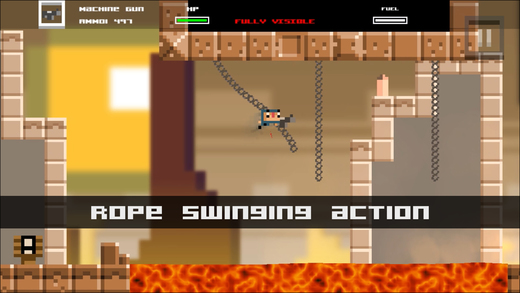 iTunes Description
A retro 2D pixel platformer infused with tons of bullets and tons of features!
Fight as Kenji the Ninja and embark on his adventure to save his girlfriend who is kidnapped by his nemesis, Dr. Mad. Jump! Shoot! Swim! Do whatever it takes to save his loved one in this action packed 2D pixel platformer game!

Chase Dr. Mad and his henchmen through various obstacles and environment such as Snow field, Lava and submerged caves. Uncover secret rooms to obtain new weapon arsenal to use them against Dr. Mad's creatures such as the killer Penguins.

Beware Dr. Mad's bots and guns as they will shoot anyone in sights. If you can't destroy them, hide in the shadow and become invisible.
Forum Thread: Tons of Bullets! (By FredBear Games)
---
Vito Jump 'n' Roll
iTunes Description
This is the story of a being called Vito.

Vito needs your help! During a short period of negligence, Vito's best friend, a little dog, got kidnapped. Follow a trace of bones and join Vito on his journy to find the kidnapper of his friend.

Solve physics based puzzles, use cannons to overcome distances, jump on enemies to destroy them and collect power ups to make Vito fly or sticky.

Vito Jump 'n' Roll is a physics based jump 'n' run platformer with various puzzles and obstacles. Finish the story mode to unlock the time trial mode and compete with your friends.

Hint: Watch what Vito does when he's bored.
Forum Thread: Vito Jump 'n' Roll (By Juergen Lang)
---
Vulture Island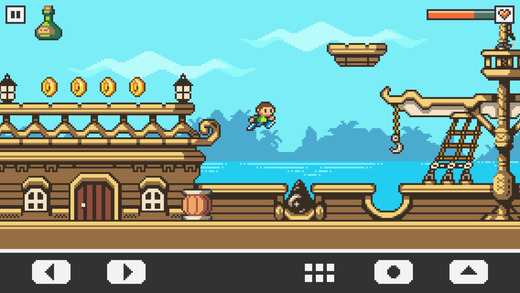 iTunes Description
Benjamin has built a spectacular flying machine to take him and his friends around the world.
During one of the first flight sessions something goes wrong. The youngsters have no choice but to parachute themselves to safety.

After an exhausting swim Alex, Paul and Stella end up on a distant island. Barehanded and with no trace of Benjamin.
Forum Thread: Vulture Island (By Donut Games)
---
War Village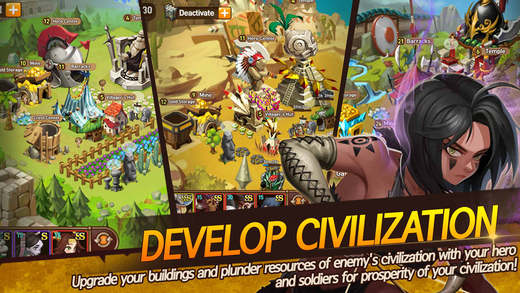 iTunes Description
Develop your civilization and lead your own troops into battlefield! The No. 1 strategic defense game for you. A truly earth-shattering change in strategic defense games! War Village!

[Three unique civilizations]
Choose your own civilization from Europe, Asia or America!
Each civilization has lots of unique heroes to suit everyone's tastes!

[Endless challenges in a variety of fighting modes]
Attack other users and plunder their resources!
Challenge variety types of stages!
Enjoy unlimited contents with members and rewards!
Forum Thread: War Village (by MOBIRIX)
---
Wrecky Road: Canyon Carnage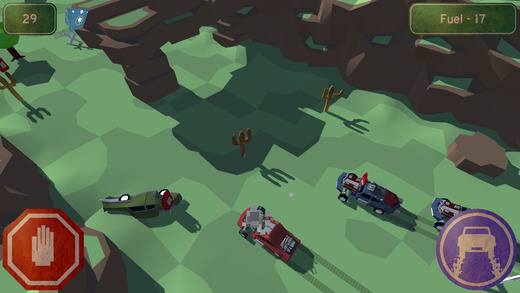 iTunes Description
The long awaited successor to Wrecky Road is finally here, and available on iOS! With updated graphics, new environments, powerups, and many new obstacles to smash your enemies into, Wrecky Road: Canyon Carnage will keep you entertained for hours on end!

Features:
– 21 awesome cars to be unlocked.
– All new environments.
– New obstacles and traps.
– Share your favorite moments to Facebook and Twitter.
Forum Thread: Wrecky Road: Canyon Carnage By Hazard Fax
---