You might remember that last week, with the Apple event announcing the new iPhone 7, it seemed like developers were a bit hesitant to launch any new games and potentially have their thunder stolen by all the hullabaloo. Well, this week isn't much different, as the launch of iOS 10 and a deluge of sticker apps for Messages has kind of taken over the App Store. Like last week, though, there's still a strong lineup of new games, just maybe not as many as usual. That's actually fine, if my backlog is any indication. So check out the full list below and let us know which games you'll be picking up this week!
---
Animation Throwdown: The Quest for Cards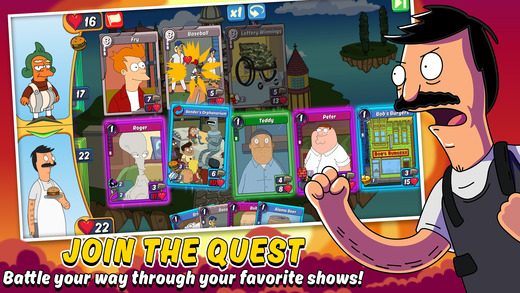 iTunes Description
For the first time ever, five of your favorite animated shows are together in one amazing collectable card game.

FAMILY GUY! BOB'S BURGERS! FUTURAMA! AMERICAN DAD! KING OF THE HILL! It's ANIMATION THROWDOWN!

Featuring hundreds of your favorite characters and moments from your favorite episodes. Collect character cards, optimize your deck, and create new combos as you fight in an epic card battle bacchanal.

The game may be digital, but the stakes are real!* The fate of the world rests in your hands!**
(*Stakes are not real.)
(**The fate of the world does not rest in your hands.)
Forum Thread: Animation Throwdown: The Quest for Cards (by Kongregate)
---
Avenge Fall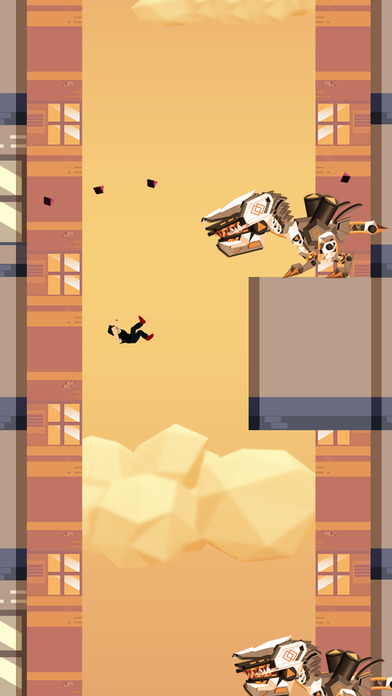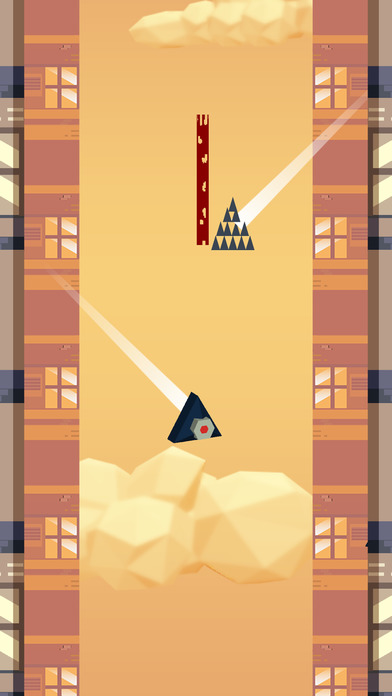 iTunes Description
Avenge Fall is a minimalist action-packed spin-off of Monument Rush 2. This is too fast and intense for you.
Forum Thread: Avenge Fall (by Darius Immanuel D. Guerrero)
---
Balloon Wars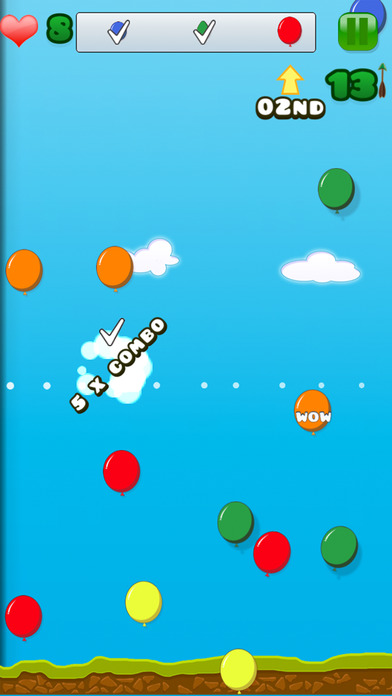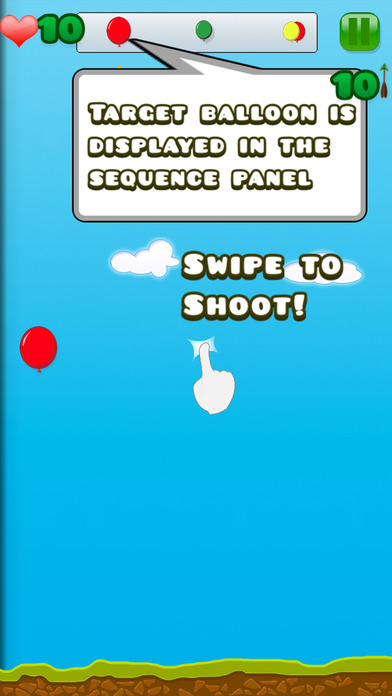 iTunes Description
It's fun popping balloons. It's even more fun when you can fire arrows to pop them.

Shoot down balloon in a whole new way. Tap or swipe to fire arrows or use a bow. Game has increasing difficulty curve so it doesn't get difficult all of a sudden.

Various kinds of balloons to keep you from getting bored. Crazy balloon, balloon with shield, rocket balloon are a few of the many types that will push you to become better at aiming.

Balloon wars is a combination of arcade shooter and strategy game.
Forum Thread: Balloon Wars (By Tyche Games)
---
Balls Fall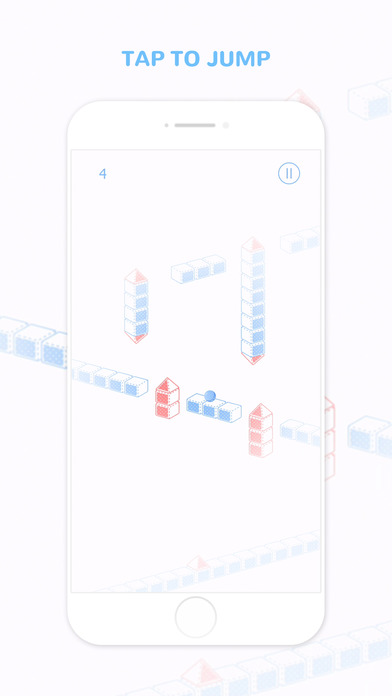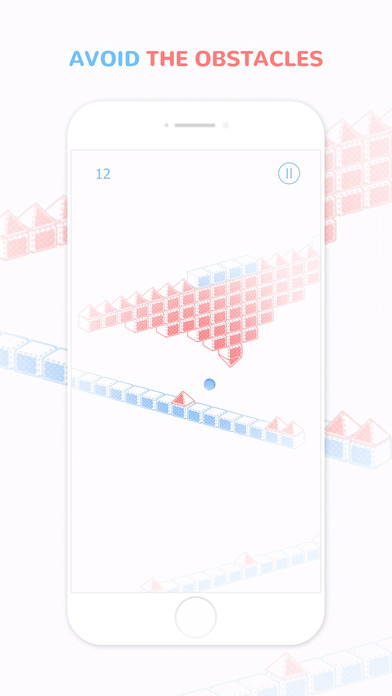 iTunes Description
How deep can you get? TAP to JUMP and avoid touching the obstacles.

Features:
• One-Touch control scheme.
• Endless Arcade Game.
• Free to play.
• Minimalistic art.
• Isometric style.
• Challenge your friends around you and through Game Center.
Forum Thread: Balls Fall (by OUTLINE®)
---
Beer Pong: Trickshot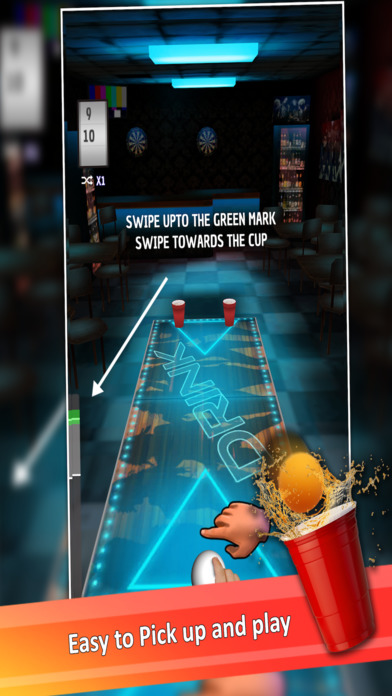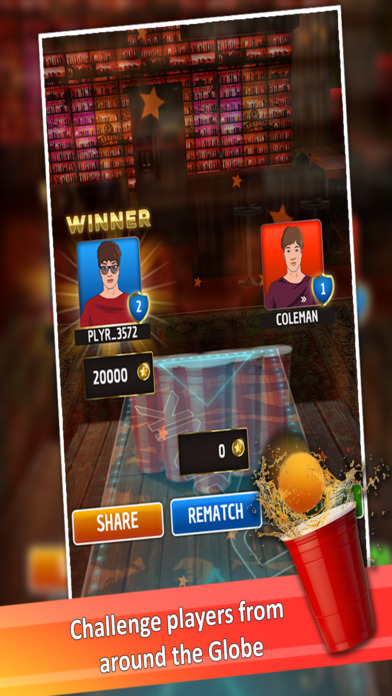 iTunes Description
Crazy about Beer Pong? Then switch to 3D Beer Pong Free Games "Beer Pong Tricks Shot". Now grab the ping pong ball game and toss the ball as like paper toss in the trash bin to experience real Beer Pong Games fun. Use multiple beer pong tricks to flick and toss the ping pong ball in this ultimate ping ball games. Hop the ball, hit the beer & toss the ball in beer mug and avoid beer can knockdown. Challenge your opponents to grab the virtual beer pong champion trophy with online multiplayer games play.

What's New?
This Multiplayer Beer Pong HD game has high quality visual effects with realistic physics, sound effects, official beer pong rules, beer glass, tricky ping pong ball toss strike and realistic beer fest gameplay! Unlock more tables and play beer pong free games, purchase special powerups. You can't forget the all new drunkenness effects in this Beer Pong Tricks Shoot game.
Forum Thread: Beer Pong : Trickshot (by Dumadu Games Pvt Ltd)
---
Biker Mice: Mars Attack!
iTunes Description
The prequel to the classic Biker Mice from Mars series.

The stinkin' fish-faced Plutarkians have launched a devastating attack on Mars. They have won the war and begun extracting all of the planet's resources to send back to Plutark, but the resistance continues.

Take control of the Martian Freedom Fighters in a turn-based strategy battle against the Plutarkian armies and their mercenaries.

With your favorite characters from the classic 90s TV series 'Biker Mice from Mars' and gameplay inspired by another 90s classic 'Advance Wars', this game was built by fans for fans.
Forum Thread: Biker Mice: Mars Attack! (By 9th Impact)
---
Crystalux New Discovery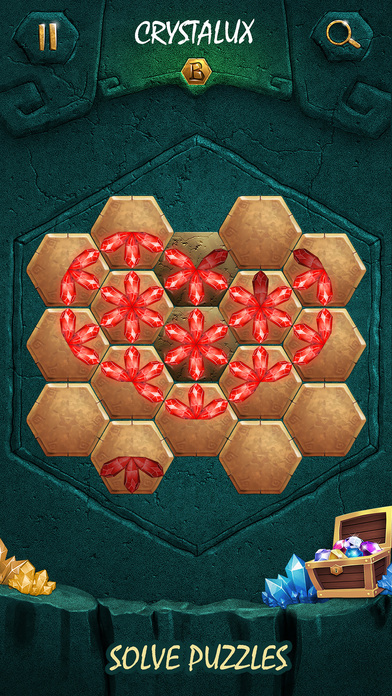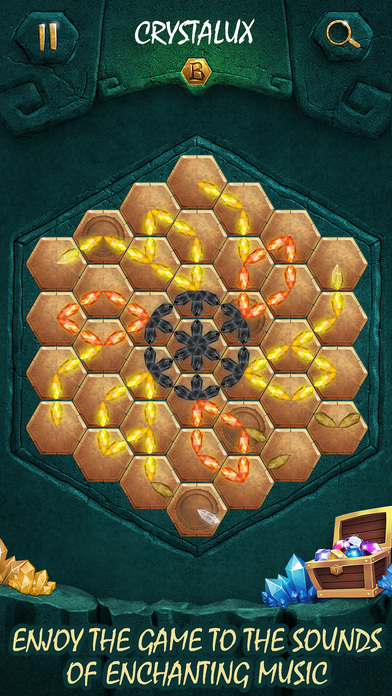 iTunes Description
We've got a new cure for boredom – Crystalux. New Discovery!

The gameplay is simple: just move six-sided pieces around and match crystals of the same color. To complete a level, use the crystals to form a pattern or picture. If things get tricky, there are hints that can help you. Just use them with any piece, and solving the most difficult pattern will become much easier.
Forum Thread: Crystalux. New Discovery (by IceCat)
---
Cube Swing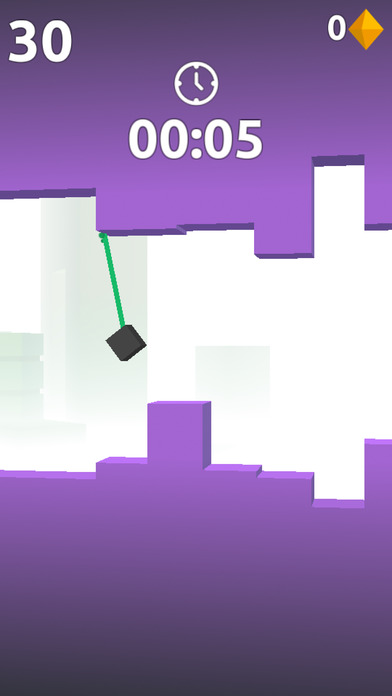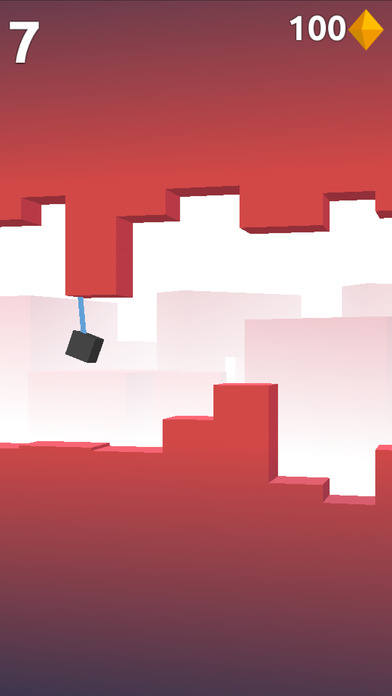 iTunes Description
Avoid obstacles and swing as far as you can!

● Simple and beautiful graphics
● 4 unique game modes
● Many unlock able characters
● Compete for the best score in the world
Forum Thread: Cube Swing (by Appcandy)
---
Dungeon of Gravestone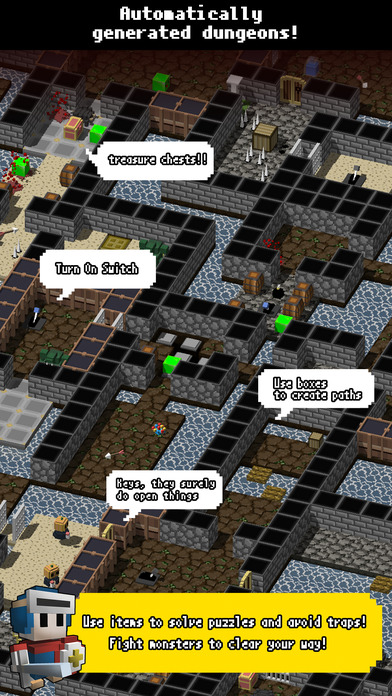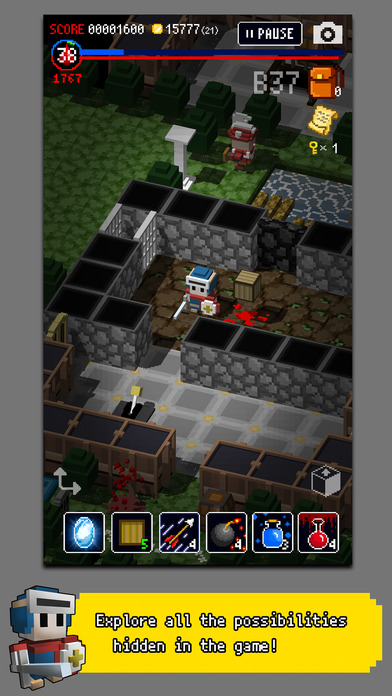 iTunes Description
■ ■ Dive into dungeon and fight death in this new RPG ■ ■
In this world nothing awaits you but death.
Dying, resurrection – vicious circle for those who aim at depths of the dungeon.
Only thing to change are gravestones increasing in numbers…
The heroes awaken in this god forsaken place
and those who wander the streets aimlessly.
Unaware of the faith shared by deceased, they all set their feet into the dungeon.
And once again, new tombstone arises…
Forum Thread: Dungeon of Gravestone (By Wonderland Kazakiri)
---
Ember
iTunes Description
A passion project 10 years in the making, Ember is a homage to classic role-playing games. Ember features a deep branching story, endless exploration across dynamic and living environments, a robust skill tree, and an intricate crafting system. In Ember, players are resurrected as a "Lightbringer" and summoned to protect the dying Embers as the world is on the brink of collapse. Beginning in the Deep Barrows, players traverse vast environments divided between aboveground and underground realms – ranging from lush forests to dry deserts and dark abysses – to reach the City of Light. The story unfolds through encounters with strangers, and players are forced to decide their destiny by making pivotal decisions.
Forum Thread: Ember (by 505 Games (US), Inc.)
---
Field Day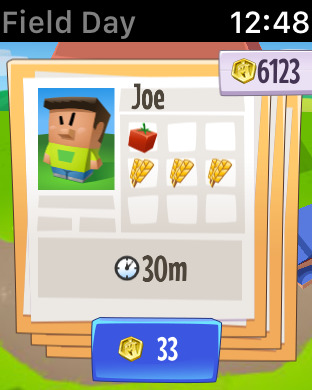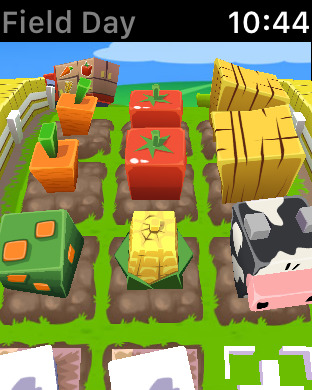 iTunes Description
Welcome to the tiniest farm in the world! Field Day is a charming farming game for Apple Watch and watchOS 3. (Note: You'll need an Apple Watch to play the game!)

Plant crops, complete orders, hire workers, and expand your farm. Field Day offers a wealth of activities from adorable animals to many kind of crops. This easy and accessible game is designed for short sessions that can be played through the day.
Forum Thread: [Apple Watch Game] Field Day (by Everywear Games)
---
Higher Higher!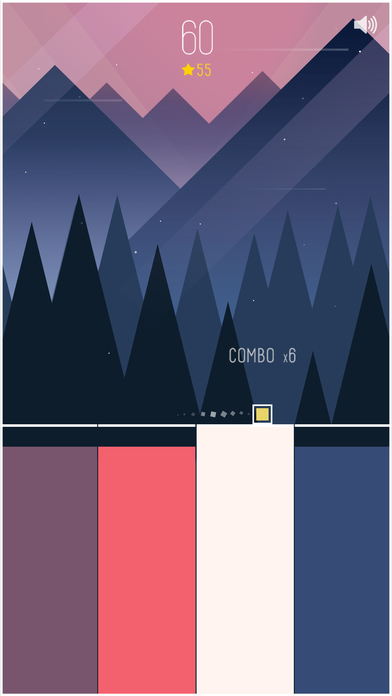 iTunes Description
Higher Higher! is a minimal arcade game, a gift from game designer Ell Tee for all who have loved Color & Pattern matching games!

Tap the platform carefully to raise Mr. Cube Higher! Mr. Cube will change color to the next platform so he can goes Higher & Higher! You must follow the color pattern of Mr. Cube to push him Higher!

Higher Higher is not just about the challenge, it also gives you the surprising fun while keeping the combos Higher Higher!
Forum Thread: Higher Higher! (by Pine Entertainment)
---
Ignatius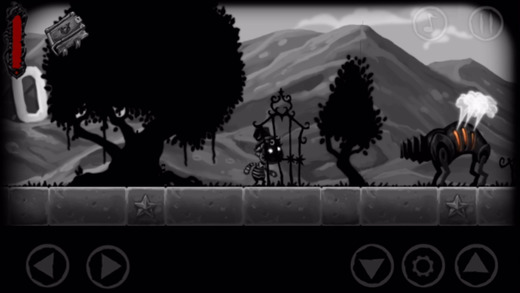 iTunes Description
Ignatius is an atmospheric puzzle-platformer game with an interesting story. The game with its visual form and plot refers to the old silent movies. Graphic design of "Ignatius" is a unique combination of different aesthetics – hand drawing , noir , vintage , art deco and even steam – punk elements . The game is embellished by atmospheric music and an interesting background feature.

The game takes us to the surreal, black-and-white world where we play as a character named Ignatius. Main character is a boy a bit bored with his current monotonous life. One moonlit night something unexpected happened, something that turn his orderly life upside down. He encountered a mysterious theater director named Vigo, who moves him to oneiric film reality. The player's task is to find his way in this strange world and escape from it.
Forum Thread: Ignatius (by Sons of Welder)
---
It's Mine!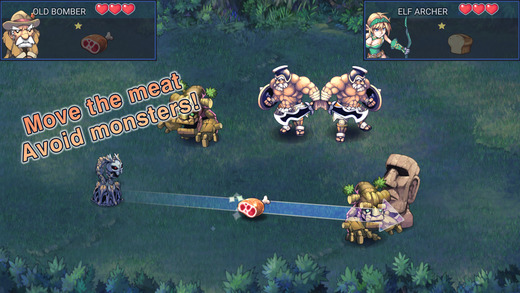 iTunes Description
Focus on the target like hunting cat
Catch the timing grabbed a fish
It needs patience an amount of spoon.

With silence,
Find the perfect route never be robbed of your meat!

If you worried about your children from ADHD with smartphone,
play this game together!
Forum Thread: It's Mine! (By Craport)
---
KOMRAD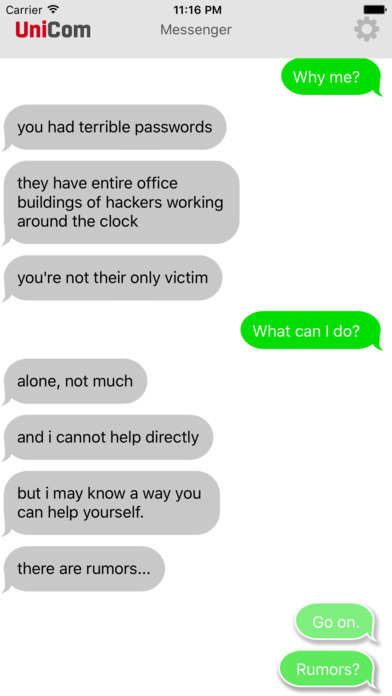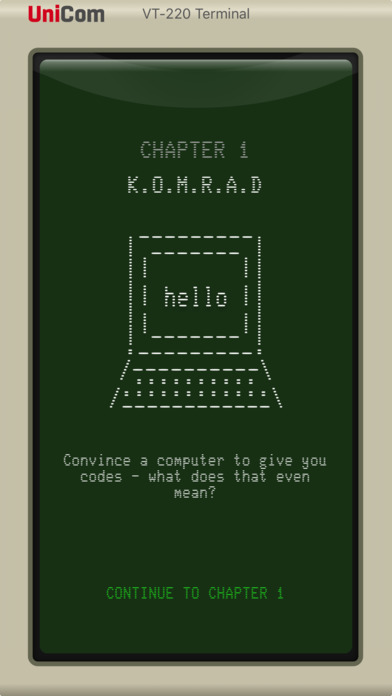 iTunes Description
KOMRAD is a chatbot adventure game for iOS 9 and 10 and watchOS 2 and 3.

When the Soviets shut down a secret project in 1985, they forgot one thing—to turn off the computer. Now you are the first person to have a conversation with this advanced artificial intelligence that has been training in the dark for thirty years, unaware the Cold War has ended. Your conversational choices will determine the fate of the world.

KOMRAD is a fictional AI created by the former Chief Design Officer of IBM Watson based on fundamental principles of real AIs and chatbots. That makes it "science-fictional".
Forum Thread: KOMRAD (by Sentient Play)
---
Letter Club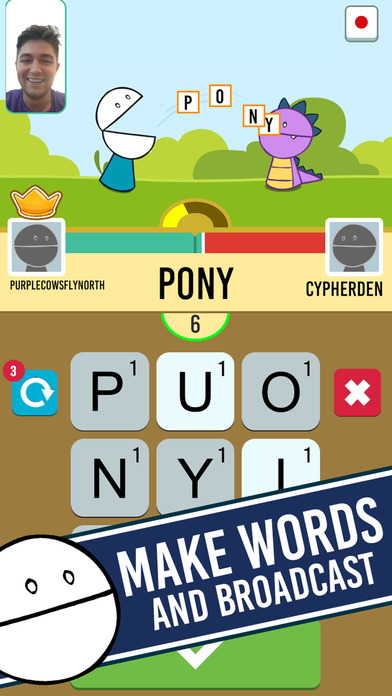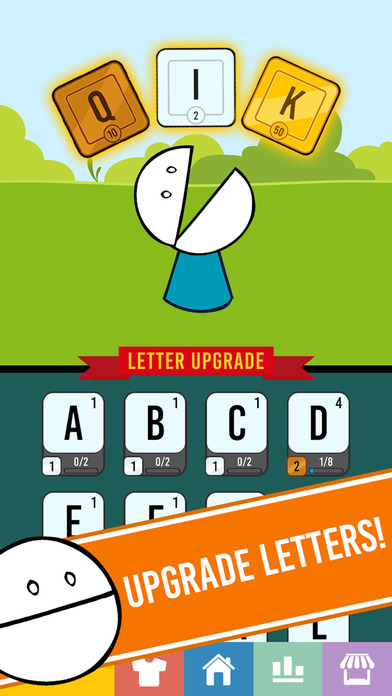 iTunes Description
The first rule of Letter Club? You talk about Letter Club.

Letter Club is the first iOS10, 1 on 1, Real-time word game!

Play against your friends or on the ranked ladder. Make words fast, you have 60 seconds! Build your collection and upgrade letters to dominate the competition.

Letter Club brings excitement to a slow-paced genre. So dust off that pocket dictionary and get spelling!
Forum Thread: Letter Club (By Simple Machine)
---
Limp Heroes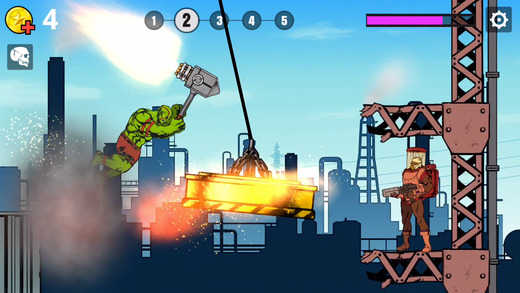 iTunes Description
A new cast of superheroes is born! Lay the smack-down on evil villains! LIMP HEROES is an all-new physics-based fighting game – Experience hilarious hero on hero action!

> How to Play
Heroes and villains clash in one-on-one battles! Destroy your opponents and land heroically to win!
Win five rounds and it's onto the next stage – unlocking a new villain or a new difficulty level! Clear each crazy hard match for a chance to take down the ultimate villain! Clear all 3 difficulty levels for total victory!

But watch out for your hero's head! Though they have invincible bodies of steel, their heads are their weak points! Don't get hit! Easy to play! Just jump and attack! Master these crazy physics and unleash your hero's potential!
Forum Thread: LIMP HEROES (By Picola)
---
Oz: Broken Kingdom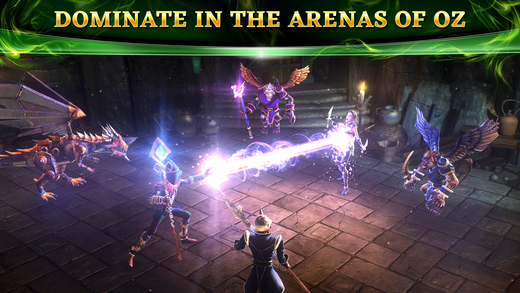 iTunes Description
Battle the Great Darkness that has cast its shadow across the peaceful Land of Oz. Join the kingdom's brave new heroine Ophelia Shen, along with the legendary heroes of Oz – Tin Man, Lion, and Scarecrow – as they embark on an epic quest to stop the rising evil, restore the balance of magic, and return the kingdom to its rightful glory.

• COMMAND a cast of new and classic Oz heroes in breathtaking turn-based combat.
• EVOLVE your heroes to Legendary levels of power.
• SUMMON incredible abilities to crush fearsome enemies and rally the kingdom to your side.
• EXPLORE the dark corners of Oz, solve the thrilling mystery, and restore the balance between Good and Evil.
• DOMINATE other opponents in the Arenas of Oz to climb the leaderboards and advance through the leagues.
Forum Thread: Oz: Broken Kingdom™ (by NEXON M Inc.)
---
Paul Pixel – The Awakening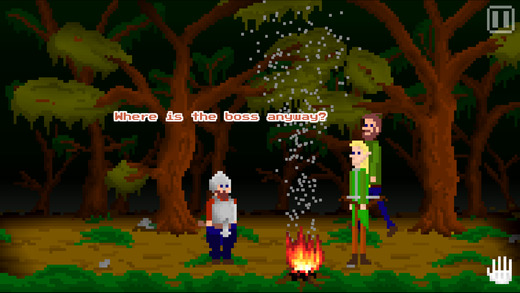 iTunes Description
An ordinary guy forced to defend the world from an alien invasion of infectious zombies. A point-and-click adventure with beautiful pixel art and bombastic retro sound.

Gameplay is similar to old games like Maniac Mansion, Zac McKraken, Beneath A Steel Sky and Monkey Island, but the game has a unique interface that is optimized for touch. Unlike most other point-and-click adventures the player actually holds the current item in his hand.

All handcrafted pixel art.

All game music only uses original Commodore C64 SID chip sounds, but polyphonic and with professional effects. The main theme of the Paul Pixel game was composed by the Pixel Lover Orchestra and is called "They Want To Get Us". Other chiptune highlights are "The Awakening" by the underground duo Retro Arcade Boys and "The Giant Meteor" by 8-Bit Factory.
Forum Thread: Paul Pixel – The Awakening (by Xoron GmbH)
---
Pop Story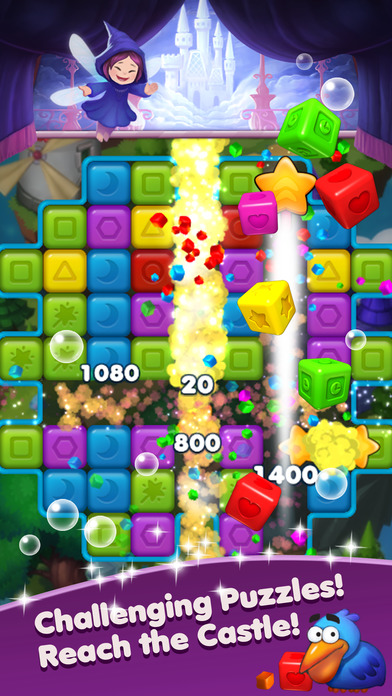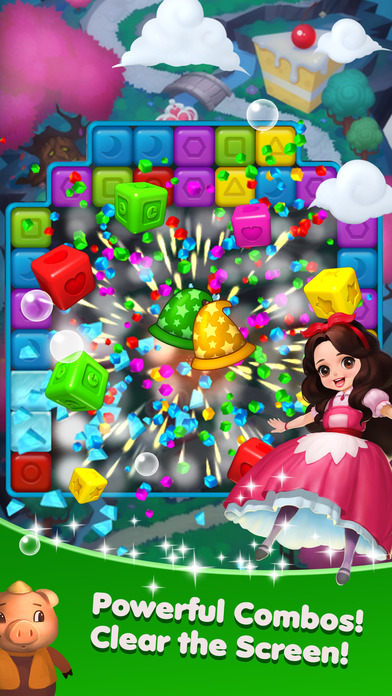 iTunes Description
Tap, clear, and enter the wonderful world of Pop Story to rescue the many cute characters in your classical fairy tale adventures! Pop Story is themed around classic fairy tales with the casual Match-3 gameplay mixed in. Beautiful, colorful, fun, and cute artwork and world design brings out a truly immersive experience! In here, Alice is lost in a magical world of fairy tales and her goal is to rescue her many small partners. Step-by-step build and experiment with various combos in this fun and blissful Match-3 game, are you ready?!
Forum Thread: Pop Story (by Zheng Ma)
---
The Quest HD – Islands of Ice and Fire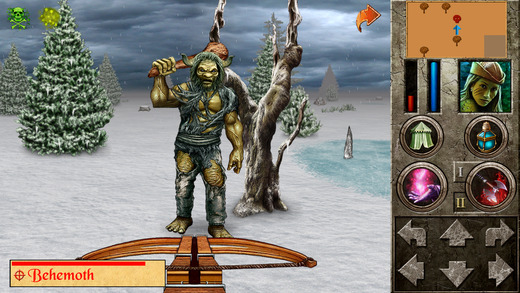 iTunes Description
The Quest HD – Islands of Ice and Fire is an expansion to The Quest HD, a beautifully hand-drawn open world role playing game with old school grid-based movement and turn based combat. After enabling the expansion, you can continue to play The Quest HD with your existing character(s) to explore new areas and quests. However, if you don't have The Quest HD, you can also play the expansion as a standalone game.

A mysterious illness has devastated an island in a remote corner of the kingdom of Monares. Icy Thule and its opposite twin, fiery Eldfell are now on a lockdown on the order of the local Governor. King Mersant has choosen you, as his most experienced agent, to investigate…

If you have played the expansion before: we added new quests and improved the existing ones!
Forum Thread: The Quest HD – Islands of Ice and Fire (By Redshift)
---
Running Gods
iTunes Description
Playing the most emblematic Greek Gods, your mission will be to go through the most epic sites from Greek mythology.
From Mount Olympus to the shores of the Styx, the path will be paved with various hurdles.
Thankfully, you will be able to jump and dash into the air as to dodge lightings, spikes, rocks, arrows and fireballs.

You will have to prove to be reactive and nimble to run as far as you can!
Catch enough orbs and unlock every gods and levels!

So, will you take on the challenge?
Forum Thread: Running Gods (by Midnight Games)
---
Smashy Toys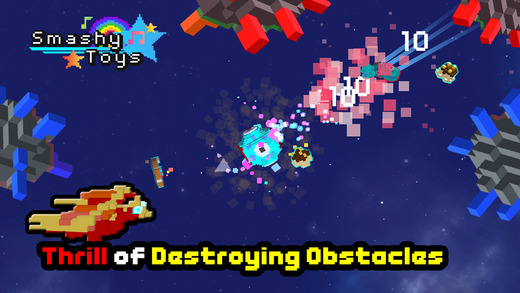 iTunes Description
In the dream of child, Toy Friends begin their journey in collecting crackers from the dark night sky. Unlock over 30 special toys. Master to control toys and collect coins. Escape from Aliens and UFO by using special skill and mysterious object. Enjoy new toys randomly daily.

Control the toy by virtual stick. Tap the Smashy button to destroy obstacles, activated it to obtain crackers every 5 times. Toys (over rare grade to have own smashy skill) can use SUPER Smashy skill by Smashy count. Each Adventure we be more dangerous and mysterious. How long can you survive? Collect more toys as much as you can!
Forum Thread: Smashy Toys (by OnPlay and Morogoro)
---
Star Crusade CCG
iTunes Description
War is coming. Dive into fast-paced, strategic battles with countless unique card and deck combinations. Build your deck, forge your destiny and shape the fate of the Galaxy! As the galaxy crumbles, whose side will you take?

Choose your allegiance from six unique factions:
* The Shan'Ti, who shape genetics into living weapons
* The cybernetically augmented Hierarchy and their rigid, cold order
* The psychically gifted Annunaki, who are worshipped as gods by their zealous followers
* The insidious Consortium, who focus on intrigue and vicious mercenary armies
* The brutal, adaptive Hajir-Gog, whose endless tide represents a scourge to galactic civilization
* The fearless, battle-hardened Terrans, with their massive weapons of war
Forum Thread: Star Crusade CCG (by ZiMAD)
---
Survival of Primitive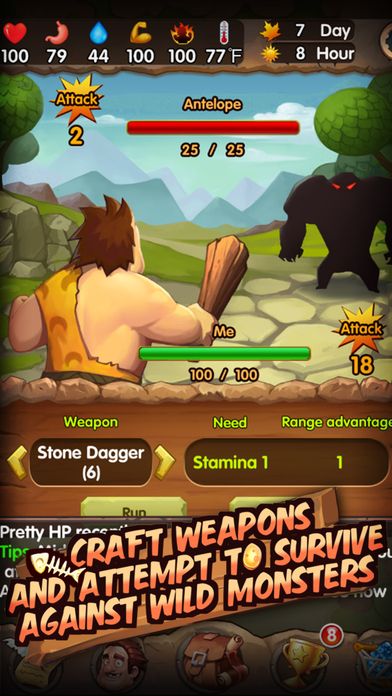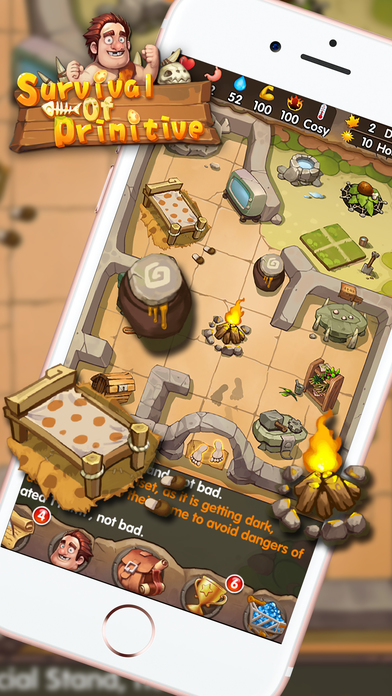 iTunes Description
Survival of Primitive is a text-based adventure survival game with a great story line. You will play as a primitive man abandoned by his clan at birth. You have to arrange limited resources, build cozy cottage, craft weapons to survive against wild monsters and the force of nature. Going through a fate-changing journey in the game, feel the pain and pleasure as a primitive man.

This game literally can span over hundreds of hours of play as the possibilities are unlimited in terms of items, resources, buildings and enemies encountered throughout the game.
Forum Thread: Survival Of Primitive (by Locojoy)
---
Swoopy Space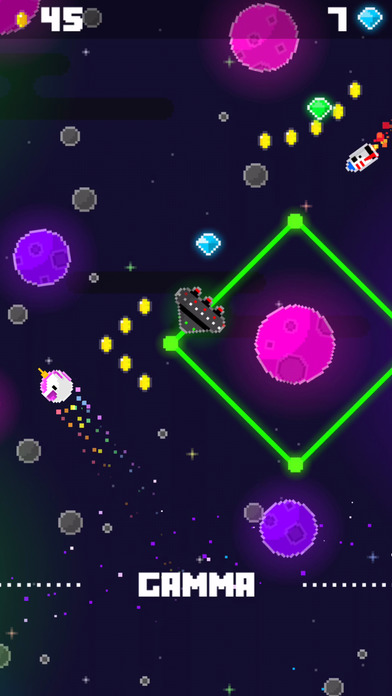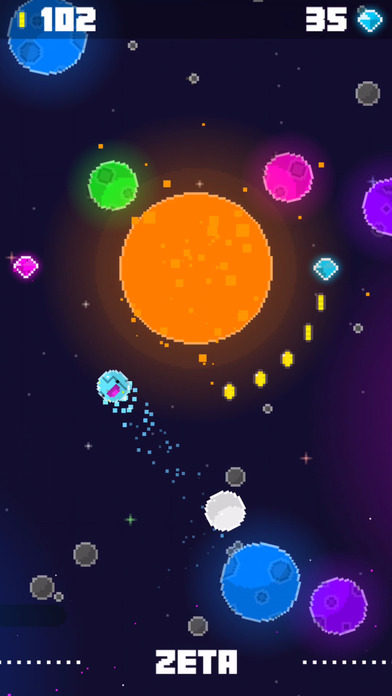 iTunes Description
Maneuver a cast of 20 colorful characters past a variety of planets, comets, UFOs, black holes and more – you know, space stuff – in this frantic pixel art game.
Forum Thread: Swoopy Space (Umbrella + Appdemon)
---
Tap Strikers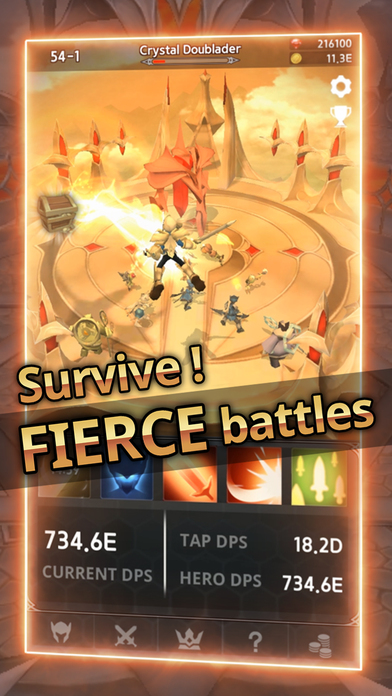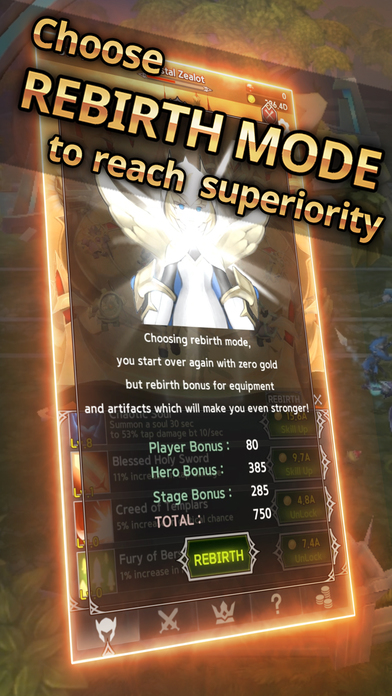 iTunes Description
Heroes of 3 races – Humans, Amanes, and Noachias – rally together to take back the world from evil monsters. With their authentic skills, these heroes will help you save the world. Eliminate monsters to take gold and artifacts! Don't be frustrated by formidable monsters! Your rebirth will allow you to be even stronger to knock them down! Join the battle now!!!
Forum Thread: Tap Strikers (by SYD)
---
Tower Rumble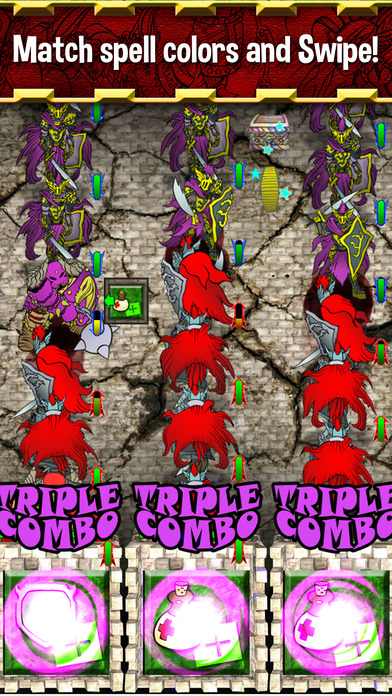 iTunes Description
Step onto the battlefield of Artyficia and cast your spell combos in Tower Rumble — where tower defense (and offense), fast-paced action, and strategic MOBA-like gameplay blend with Match-3 mechanics for an intense, spell-slinging adventure right on your iOS device! Build and customize your army from the ground up and face an ancient evil lurking in the shadows in solo Arcade and Campaign modes — or challenge a friend to a wizard's duel on the same device in local PvP action!
Forum Thread: Tower Rumble (By Neo-Realms)
---
Twisted Lines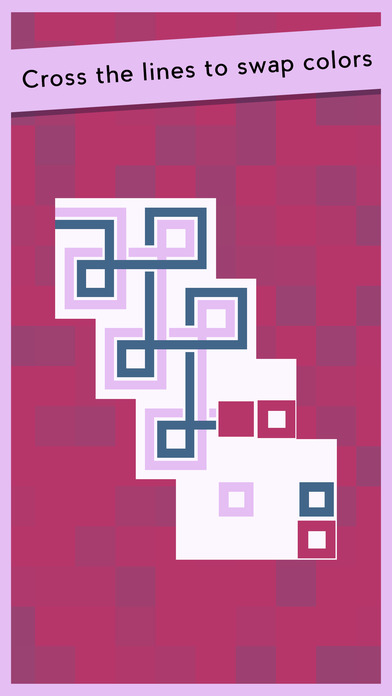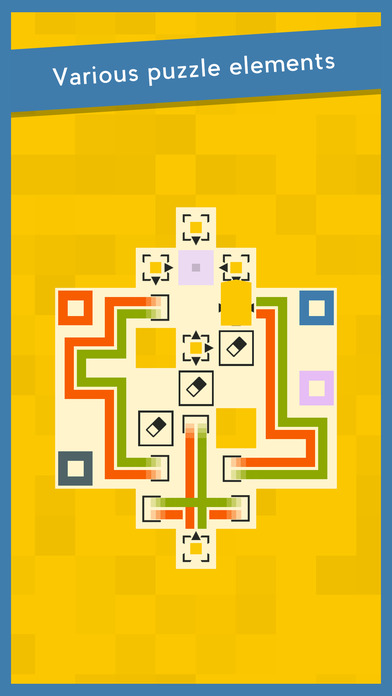 iTunes Description
Tactile Puzzles with a Twist. Twisted Lines is a new mind twisting puzzle game with a unique game mechanic wrapped in a beautiful minimalist design. Cross the lines to swap colors and collect all hollow squares to solve the puzzle.

Features
– Over 100 handcrafted puzzles await you
– The music adapts to the way you solve the puzzle
– New puzzle elements keep the game fresh and challenging
– Create beautiful patterns and share them with your friends
– Solve all chapters and explore the hidden narrative
– Use hints if you're stuck
– New free chapters coming soon
– Pay Once and Play (in-app purchases only for non-mandatory hints)
– From the creators of "… and then it rained"
Forum Thread: Twisted Lines – Mind-twisting Puzzles (By Megagon Industries)
---
White Ninja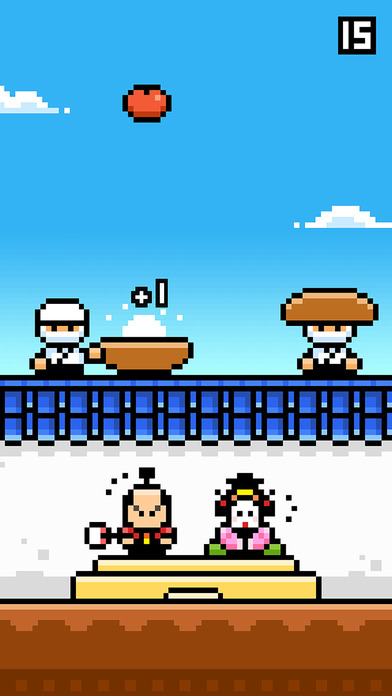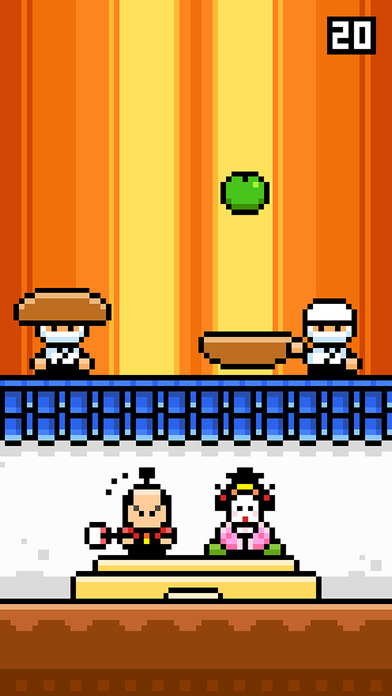 iTunes Description
You will be playing 2 ninjas protecting their masters from falling apples.
Tap left or right at the right moment to catch apples. But be careful, some apples might fall at ultra-high speed. Good luck and Have fun!!
Forum Thread: White Ninja (by Sironin Games)
---