The idea behind the TouchArcade Game of the Week is that every Friday afternoon we post the one game that came out this week that we think is worth giving a special nod to. Now, before anyone goes over-thinking this, it doesn't necessarily mean our Game of the Week pick is the highest scoring game in a review, the game with the best graphics, or really any other quantifiable "best" thing. Instead, it's more just us picking out the single game out of the week's releases that we think is the most noteworthy, surprising, interesting, or really any other hard to describe quality that makes it worth having if you were just going to pick up one.
These picks might be controversial, and that's OK. If you disagree with what we've chosen, let's try to use the comments of these articles to have conversations about what game is your game of the week and why.
Without further ado…
Riff Racer: Race Your Music
While the big rhythm game this week was undoubtedly Lumines: Puzzle and Music ($2.99), and you really should read Shaun's review of the game, there was another music game that made the jump to mobile this week that's well worth checking out: Riff Racer ($0.99).
The idea is that you're racing on courses that are set to music tracks, either from your library, Apple Music playlists, or from the game's built-in songs. The courses are generated based on the structure of the music and themed according to genre. Your goal is to try and stay in sync with the track, not falling behind the sync lines as you pick up turbo boosts, take ramps, and dodge obstacles. You can and occasionally will go flying off the course at high speed after you use a turbo boost. The whole thing takes place in a futuristic environment, and looks super-slick. The name is not only a reference to music, but also a pun on Ridge Racer, one would presume. Considering that the drifting is a big part of the racing as you can drift through many of the turns, I'm guessing it was intentional.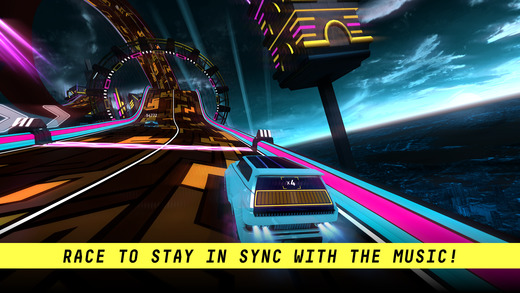 The thing with music games nowadays is that it's now possible to stream a lot of music without actually owning it. So, many games that let you import your own tracks run into problems with users. Not Riff Racer, at least if you have Apple Music – you can pull in tracks from selected playlists by the developers. It'd be great to get integration with the entirety of the service's music library, or to get support for Spotify, Google Play Music, and Tidal as well. But at least if you're in the Apple ecosystem, then you have a larger selection of music available to you beyond just the tracks you own. And at least seeing support for one streaming service, and admittedly one that's tied into the manufacturer's OS, is cool to see. If you haven't used that 3 month Apple Music trial yet, now's a good time to do so.
Another issue with music games is that sometimes they don't work so well with complex music that has odd time signatures and many tempo changes…like a lot of the music I listen to, such as sci-fi prog-thrash masters Vektor:
Thankfully, Riff Racer is set up to handle complicated music like that, with sections that correspond to the various slower and faster sections. It might not work with the longest, most complex tracks…at least not with a 63-minute long song like I tried. Fair enough, though. The track generation does a good job at feeling like you're racing to the music itself, which is certainly not an easy thing to pull off for any game. Don't just stick to one genre – different themes are spread throughout the game for different types of music. Perhaps it's a sign to start diversifying the kind of music I listen to since pretty much all of my music is metal, progressive rock, and Run the Jewels. I stand by my choices though.
While the game is mostly just about getting high scores, it's a really cool foundation for a game. Plus, if you play the same tracks as your friends, you can compete in high scores against them on the same tracks, with coin bonuses for being the first person to create a track. I'm probably going to get a lot of those with my eclectic tastes. Want to listen to some music, but have more of an active experience while doing so? This is one of the best ways I've experienced on mobile yet. I also get a kind of Forever Drive (Free) vibe from this game in terms of theme and the idea of endless content to play through.
So, if you've got some music to listen to and want to play games at the same time…or at least prefer driving cars through neon environments at high speeds versus matching blocks to the rhythm, Riff Racer is the game for you, and it's a rocking choice for our game of the week.