The idea behind the TouchArcade Game of the Week is that every Friday afternoon we post the one game that came out this week that we think is worth giving a special nod to. Now, before anyone goes over-thinking this, it doesn't necessarily mean our Game of the Week pick is the highest scoring game in a review, the game with the best graphics, or really any other quantifiable "best" thing. Instead, it's more just us picking out the single game out of the week's releases that we think is the most noteworthy, surprising, interesting, or really any other hard to describe quality that makes it worth having if you were just going to pick up one.
These picks might be controversial, and that's OK. If you disagree with what we've chosen, let's try to use the comments of these articles to have conversations about what game is your game of the week and why.
Without further ado…
Leap of Fate
After initially being announced on our forums back in March of 2014, the development of Leap of Fate ($3.99) from Clever Plays went eerily quiet to the point that it seemed like the game might not launch on mobile at all. It made its way to Steam nearly six months ago to critical acclaim, making it all the harder to deal with the fact that we might not be getting our mobile version after all. Then this week, Clever Plays made good on their promise as Leap of Fate finally arrived on iOS, and boy oh boy was it ever worth the wait.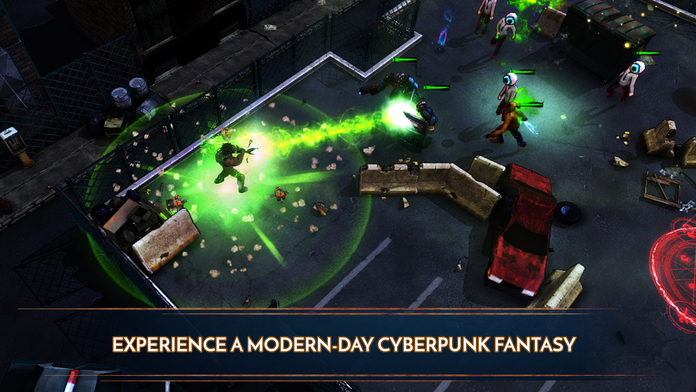 For those who haven't been following along for the past couple of years, Leap of Fate is a dual-stick shooter with roguelike elements that's set in a dark and moody cyberpunk world. You start out playing as a shadow mage who is fed up being a pawn in a secret mage society, so he strikes out on his own and takes on the Crucibles of Fate, a series of trials that pit you against your own psychological demons, in an effort to discover his "true fate."
Atop the standard dual-stick shooting, you also have an awesome Shadow Walk ability which allows you to pause time, pick a different point to teleport to, and then attack any enemies who happen to be in between those two points during your teleportation. That's just the basics of combat, though, as there's also special glyphs you can obtain that give you unique attacks, and during each "run" through the Crucibles of Fate your character is given a randomly generated skill tree which lets you upgrade their abilities in all sorts of ways.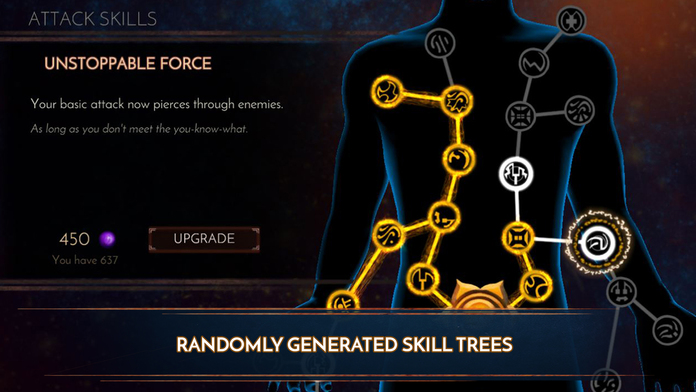 Your path through the Crucibles of Fate is displayed in a unique way, as a deck of cards laid out on a table. The top card acts as the first round, and once beaten it unlocks whatever cards are touching it below, kind of like a weird game of solitaire. It gives you a bit of agency in terms of how you progress without being completely nonlinear. Levels are randomly generated rooms which you'll drop into, clear of all enemies or bosses, collect any goodies, and hop right out and move on to the next.
The amount of depth and replayability in Leap of Fate is unreal, and although it's a randomly-generated game that's meant to be played over and over there are some long-term goals to achieve as well as storylines for each of the game's four playable characters. It feels like you're always progressing in some fashion, whether that's in your current run or in the game overall, and it gives Leap of Fate that "just one more go" feeling that's usually reserved for more casual mobile fare. This is a hardcore game that rewards skilled play, but broken into digestible bites for mobile.
There's so much more to say about Leap of Fate, but I'll have to cut things short and save something for a review. However, if you enjoy challenging action games, this one has a ton to offer. I haven't experienced such satisfying and fast-paced action since Implosion. Players in our forums have been raving about Leap of Fate since the moment it launched, so if you're looking for some more information or impressions be sure to read up. As for me, I'm publishing this bad boy and kicking back for the weekend with my new obsession Leap of Fate.