The iPhone has always been a perfect platform for racing titles, and while this year's Rush Rally 2 ($1.99) received much deserved praise in our review, the behind-the-car camera was maligned by a few for not recreating the immersion of a true first-person perspective of traditional rally games, or other driving simulators such as Real Racing 3 (Free). Thankfully, within barely a few months of release, developer Brownmonster has updated Rush Rally 2 with a fully fledged cockpit view, which will certainly satiate any purists, or those who may want another dimension when driving around the numerous beautiful terrains that the game offers.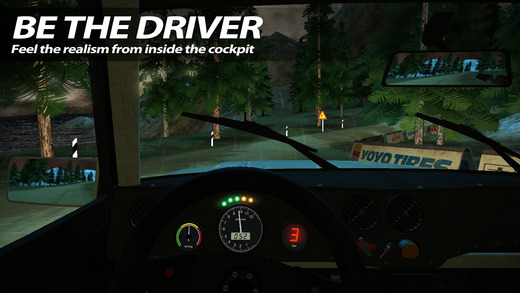 Furthermore, side and rear-view mirrors within the vehicle also accurately improve your driver's perspective, and let you see the opposition trailing in your dust. Even windscreen wipers make an appearance, which is undoubtedly the zenith for racing games on the App Store. These relatively small inclusions are a representation of the meticulous eye for detail that Brownmaster has in his grand vision for Rush Rally 2, and are a big reason as to why the overall package is so enjoyable for hardcore rally driving fans and casual gamers alike, and consequently why the title received such critical acclaim.
Other minor additions, which include player data migration to Brownmonster's own server and replay mode fixes, are also welcome, but this 1.05 update only marks the beginning of the developer's ambitions for Rush Rally 2. As well as a promise for some oft-requested features such as auto-acceleration, a video appeared on our forum thread showcasing a 100 car test, which hints at the future scale of the racing that Brownmaster perceives to be possible within future updates in the game. That being said, Rush Rally 2 is a brilliant game as it is, and the update released today only cements its place as an essential purchase on the App Store for any racing fans. Be sure to leave your impressions on this new cockpit view – and any questions or requests for the developer – on our forum thread.