Welcome to another week and another batch of new iOS games! Unfortunately, the big game we revealed earlier today, a port of Bioware's RPG Jade Empire, will not be launching tonight as originally intended. Dang it! Look for it to come soon, and we'll be sure to let you know the moment it's available. Don't let that get you down, though, as this week is filled with goodness like Deus Ex GO and Legend of the Skyfish. So check out the full list below and let us know which games you'll be picking up this week!
Update: Hero Generations from Heart Shaped Games has been added to the list!
---
Airline Tycoon – Free Flight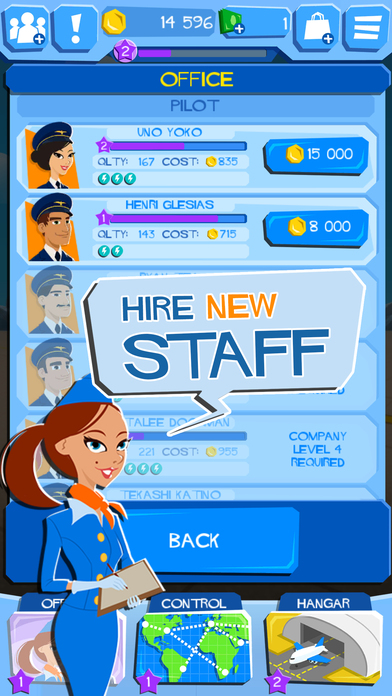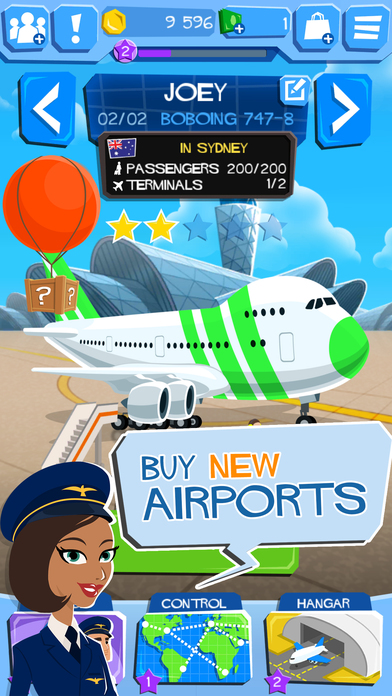 iTunes Description
Have you got what it takes to run your own airline? Buy airports across the world, build a fleet of planes, hire and fire pilots and attendants, and beat your competitors to conquer the skies in Airline Tycoon. This fast-paced, fun, free airline sim will really put your management skills to the test, as you juggle passenger happiness with profit margins.

There's a lot to consider when you manage an airline. You'll need strategic skills to build your fledgling company into an internationally renowned air service with a fleet of planes and routes that span the globe. Fans of airline games will relish the challenge.

You'll start your adventure with a single, small airplane and access to a handful of U.S. airports. As the profits roll in, you'll become an airport tycoon, unlocking access to the most popular destinations in the world. As your coverage increases in this airline sim, you'll be able to transport more and more passengers, and your profits will soar.
Forum Thread: Airline Tycoon – Free Flight (by Kalypso Media Group GmbH)
---
BarSim Bartender Game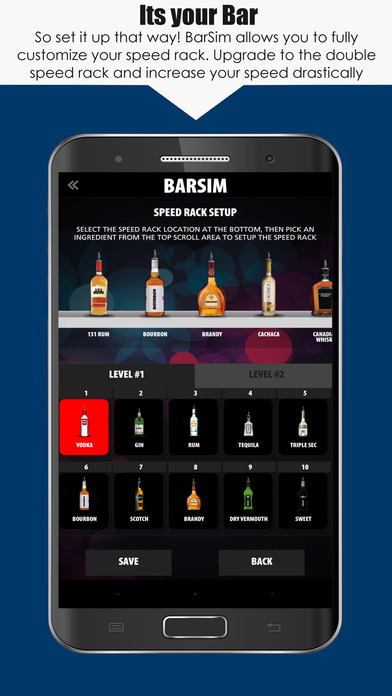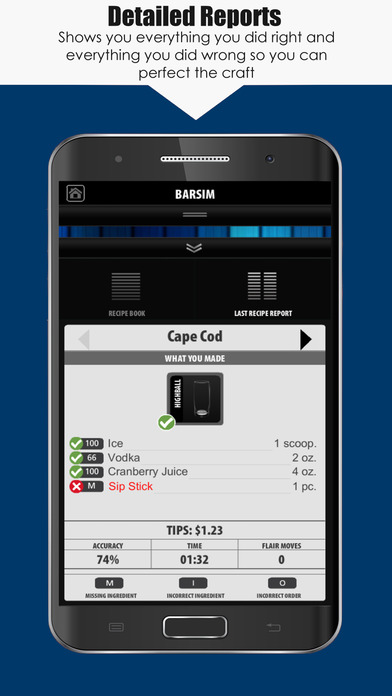 iTunes Description
Congratulations! You've just found what is not only the most interactive, innovative Bartending themed Game, but the most interactive & innovative game ever developed for mobile phones – period!

This isn't a mind numbing "Candy" game. Nor is this a simple Cocktail Recipes App. BarSim™ is the culmination of over 15 years of Bartending, Bartender Training & Bar Themed Gaming experience. Three years in the making, we've tirelessly toiled to ensure that every step in the drink making process has been represented. In fact, we're certain that once you've mastered BarSim™ Bartender Simulator, you can easily take the same skills to the real world. It doesn't matter if you've never poured a drink in your life, or you're already a veteran bartender, this game will challenge your skills and be a whole lot of fun.
Forum Thread: BarSim Bartender Game (By Killer Mobile)
---
Deus Ex GO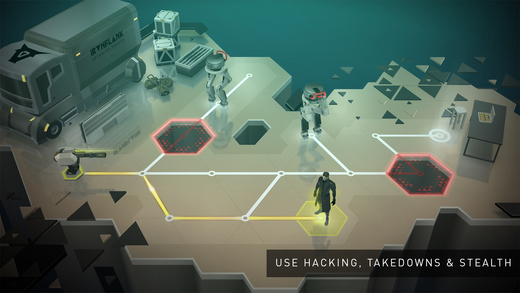 iTunes Description
Deus Ex GO is a turn-based puzzle infiltration game set in a stylized interpretation of the Deus Ex Universe. As covert agent Adam Jensen, you'll use hacking, combat, and augmentations to solve the most intricate puzzles of the entire GO series and unravel the conspiracy behind a terrorist plot.

• More than 50 challenging story levels
• Live Content: A new puzzle every weekday
• Outsmart a variety of new, unique enemies: guards, turrets, drones, walkers and more!
• Hack the puzzle: manipulate the environment to your advantage
• Augmented puzzles: solve puzzles using Adam's iconic augmentations
• An intricate storyline that will keep you on your toes
Forum Thread: Deus Ex GO (by SQUARE ENIX INC)
---
Diffission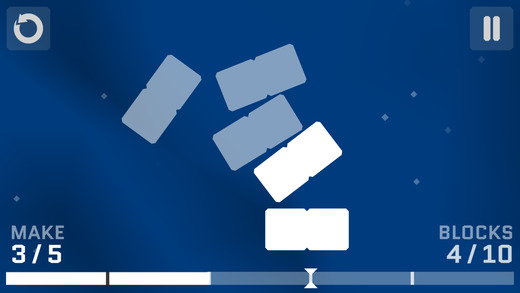 iTunes Description
Slice your way through endless procedurally generated puzzles in Diffission! Highlight, slash, and dismantle deceptively simple shapes and unlock special block types as you work your way to the coveted title of Diffissionist. Looking for an even greater challenge? Test your mental agility in Challenge Mode!

Key Features:
– Slice through shapes ranging from simple squares to sprawling structures.
– Earn diamonds through skillful play to unlock more diverse challenges.
– Endless possible procedurally generated levels.
– Intuitive gameplay that unfolds into an expansive strategic challenge.
– Swap and Dissolve Blocks – Unlock special block types to add an extra layer of strategy!
– Challenge Mode – Test your mental agility with timed puzzles. How many can you solve before the clock runs out?
Forum Thread: Diffission (By Filament Games)
---
The Eternal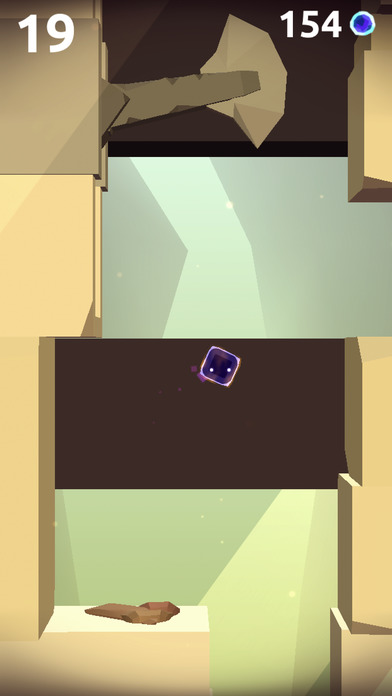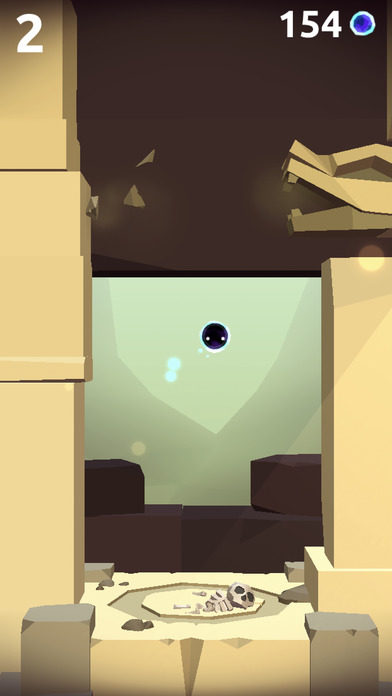 iTunes Description
Avoid traps and fly as high as you can!

● Simple and beautiful graphics
● Compete for the best score in the world
Forum Thread: The Eternal (by Appcandy)
---
Falling Dots Arcade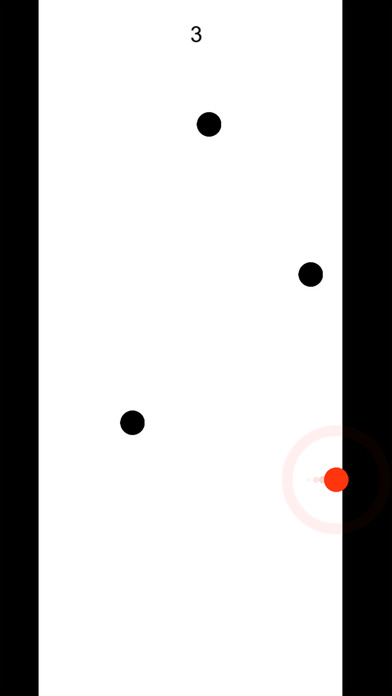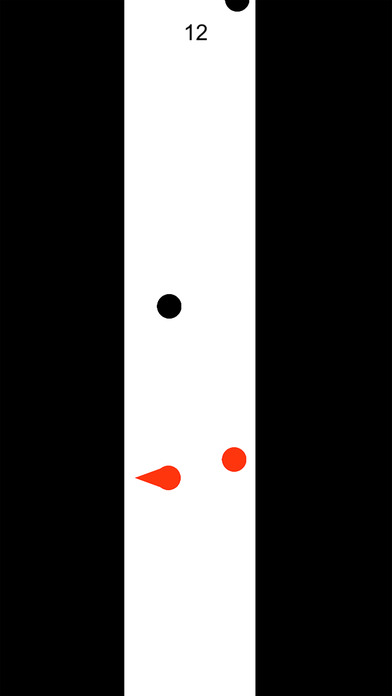 iTunes Description
Falling Dots is the flat minimalistic mobile arcade.
Collect the red dots. Compete with your friends!

Features:
– Simple One Touch Control
– Online leaderboard
– Endlesss Gameplay
Forum Thread: Falling Dots Arcade (by TakeNewGames)
---
Gallery Hero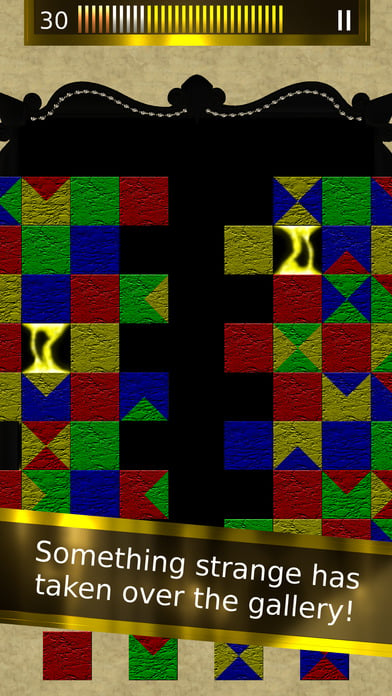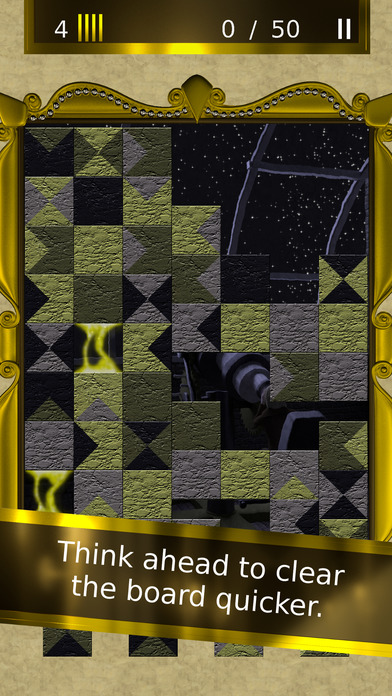 iTunes Description
The paintings have mysteriously vanished from their frames! In Gallery Hero(TM), play through 60 fun levels and solve the puzzles to recover the artwork.

FEATURES
*60 unique puzzles
*6 art pieces to rescue
*Numerous challenge types: move limited, time limited, blackout, and more!
*Unlock all the gold frames for a secret surprise (It's worth it!)
*Memorable soundtrack to play along to
Forum Thread: Gallery Hero (by Rasterzone)
---
Halo Orbit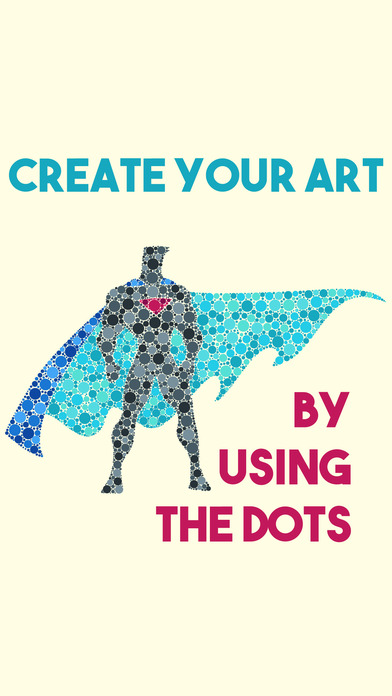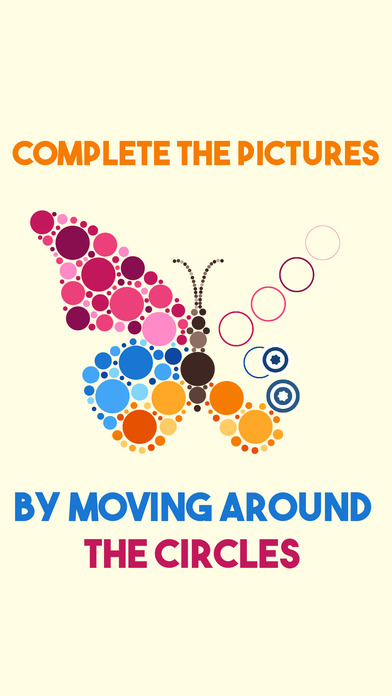 iTunes Description
From the developers of the smash hit Tint Pop, this game's spinny circles let you create and recreate art! Whether it's a picture of a dog or cat or even the Mona Lisa, the roundabout paths encircle, surround, and then create amazing artwork.

It's simple, it's addictive, but at the same time it's challenging! As the dots spiral around, you have to tap at just the right time to make the orbits line up. Get on a roll, and you can set up a chain reaction that lines everything up perfectly to make amazing art.

Halo Orbit features simple one-tap gameplay, letting you tap anywhere on the screen when your circle is within the radius of the checkpoint.
Forum Thread: Halo Orbit (by Cappuccino LLC)
---
Hero Generations
iTunes Description
Hero Generations is an innovative Roguelike/4X Strategy game where every turn is one year of your life. Praised as "the offspring of Sid Meier's Civilization, Jason Rohrer's Passage, and The Legend of Zelda."

Explore, find a mate, build a home, and raise a child before you die to keep your legacy going. Hero Generations is simple yet deep: 4X Strategy on the individual level. Each turn is a meaningful choice, without the tedious micromanagement.
Forum Thread: Hero Generations (By Heart Shaped Games)
---
Hyper Blaster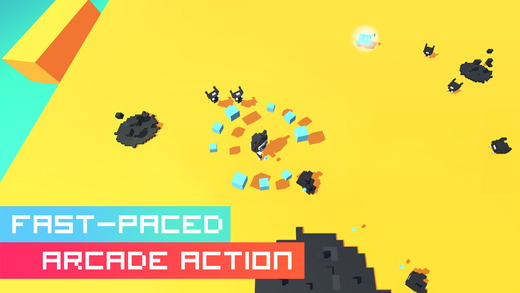 iTunes Description
Get ready for the ultimate arcade shooter! Hyper Blaster is an addictive, fast-paced score chaser that will push your reflexes to the limit! Test your skills as you blast endless waves of enemies, unlock awesome power-ups and battle for survival in this vibrant revival of the glory days of the arcade!

• Take on the challenge using simple, responsive controls designed from the ground up for touch devices
• Collect and unleash destructive power-ups that unlock as you play
• Chase high scores to unlock awesome characters and take on the ultimate challenge: Turbo mode!
• Kick back and get in the zone with vibrant voxel art and catchy arcade sounds
Forum Thread: Hyper Blaster (by Adam Smart)
---
I, the I-piece
iTunes Description
Ever wondered where did that I-shaped piece from Tetris disappear? It hid into this game! Help Mr. I-piece to find his way through the maze full of puzzles, snares and trap doors. Will you be the one who will bring him his dreamed freedom?

Features:
ENJOY Minimalist 3D design, heavily inspired by zen philosophy
SIMPLE controls, yet…
DEEP and complex gameplay
RELAX You have unlimited time to plan your next move, no need to hurry
STAY TUNED New levels and challenges are on the way
Forum Thread: I, the I-piece (By Michael Hrabanek)
---
I Wanna Fly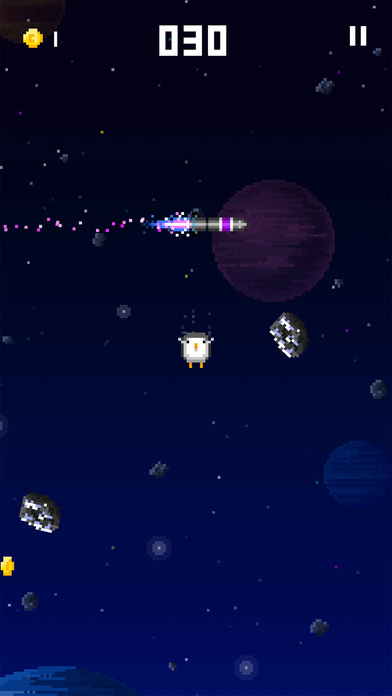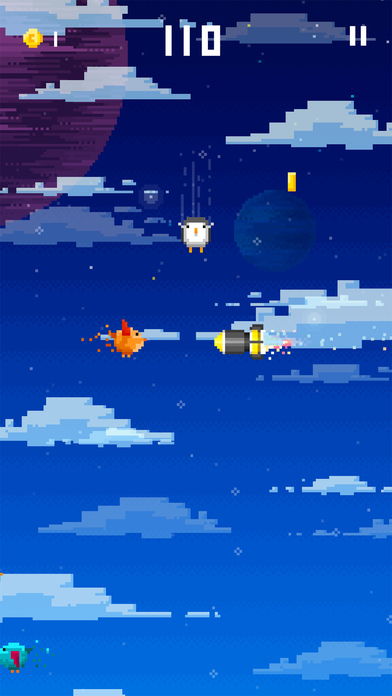 iTunes Description
They said that the life of a dreamer is hard, but you gotta go for it. Especially for those dreams that seem impossible to achieve. There's no time to waste then!

Become a dreamer whose dream came true and start flying… well, kind of.
Play as one of many characters that can only dream of flying and let them enjoy the moment!
Forum Thread: I Wanna Fly (by Woodland Games)
---
Leave the Light On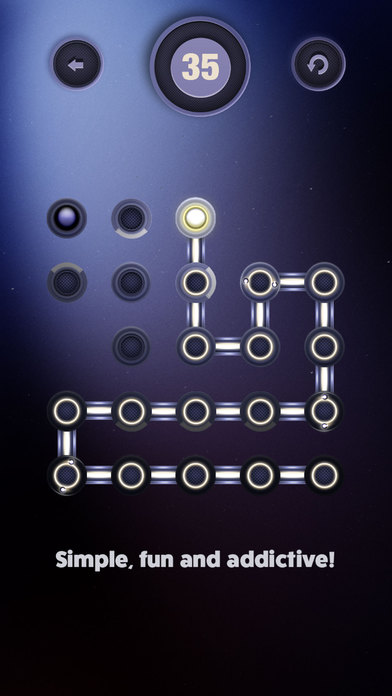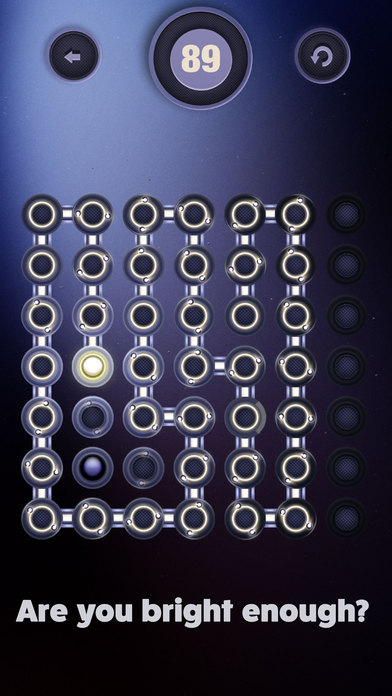 iTunes Description
'Leave The Light On" is a simple yet fun puzzle game! Enter an elusive and mysterious world, where you are a lightbulb in search of a way out. Leave the Light On is a simple yet addictive puzzle game featuring more than one hundred levels and hours of gameplay. Use your wits to find your way through various mazes, each one more difficult than the next. Are you bright enough for the challenge?

Leave the Light On features:
-100+ challenging levels
– Mind bending puzzles
– Hours of gameplay
– New levels added regularly
Forum Thread: Leave The Light On (By Reza Shirazian)
---
Legend of the Skyfish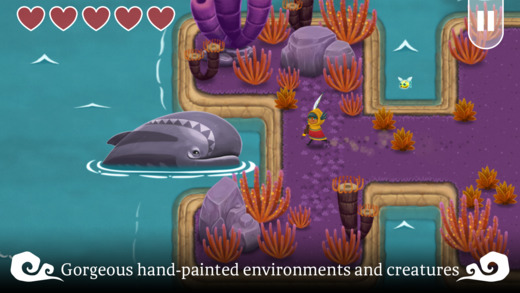 iTunes Description
Legend of the Skyfish is a beautiful action adventure puzzle game with a unique weapon and tool – a fishing pole!

Follow the intrepid Little Red Hook on her journey with the Moonwhale to defeat the monstrous Skyfish.

Use your fishing pole as a weapon or a grappling hook, and upgrade it as you go.

Legend of the Skyfish is filled with beautiful hand-painted art, intricate action puzzles and unique enemies.
Explore a huge world of 45 handcrafted levels and defeat giant bosses.
Forum Thread: Legend of the Skyfish (By Crescent Moon Games)
---
Mr.Robot:1.51exfiltrati0n.ipa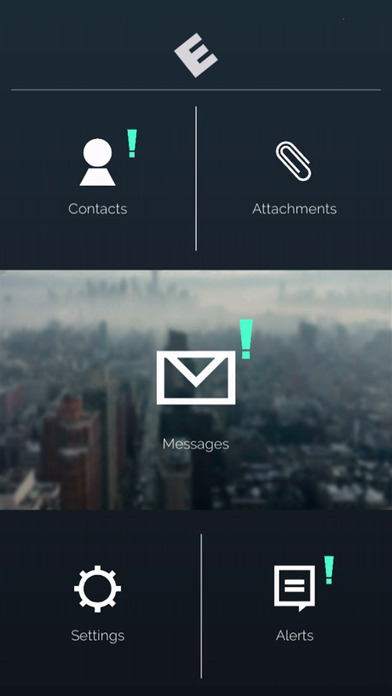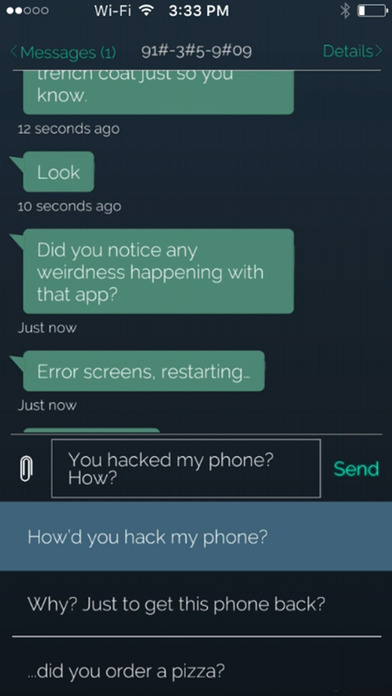 iTunes Description
From Night School Studio, the award-winning creators of Oxenfree, comes Mr. Robot:1.51exfiltrati0n.ipa. Taking place during the first season of USA Network's Golden Globe Award-winning drama, you find a smart phone on the ground outside the Fun Society Arcade at Coney Island. Little do you know that the phone belongs to Darlene, a black hat hacker who's about to commit the biggest cybercrime the world has ever seen… and she needs her phone back to do it.

Become embroiled in the world of fsociety, a renegade hacker group determined to "reset the world," by texting different employees of their target corporation: E-Corp, a massive global tech company. Steal, cheat and lie your way through this technological minefield while dealing with Elliot's fractured personality, and trying to keep your own information safe.
Forum Thread: Mr. Robot:1.51exfiltrati0n.ipa (By Telltale Inc)
---
Mystery of Fortune 2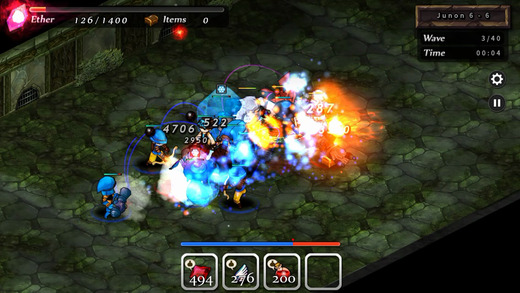 iTunes Description
Mystery of Fortune 2 is the eighth episode of Fortune Chronicle Episodes. This is the official sequel of SRPG Mystery of Fortune(2014). Explore dungeons with your own army and try to make the most efficient corps. You must charge your phone while playing!

Features

1. 25 available units and over 35 monsters.
2. Battle macro system that helps battles.
3. Changing class system lets you acquire various skills and strategies.
4. More gears and items to equip and collect.
5. Total 85 dungeons in 14 states to explore.
Forum Thread: Mystery of Fortune 2 (by Dotomchi Games Inc.)
---
Parks and Rekt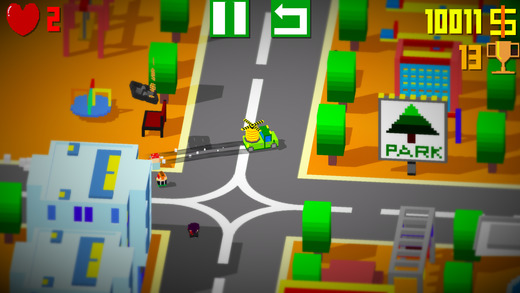 iTunes Description
You got fired from your job at the "Parks and Recreation" department. In a fit of rage, you took your ex-employer's vehicle and wreak havoc on all the parks in the city.

Standing in your way are the city's drone guards. Destroy as many public park property as you can before they get to you.

You might not be employed at "Parks and Recreation" anymore, but don't let that be in the way of your chance to "redecorate" the city's parks for one last time.
Forum Thread: Parks and Rekt (by PETER GOVIND JR)
---
Pixel Crazy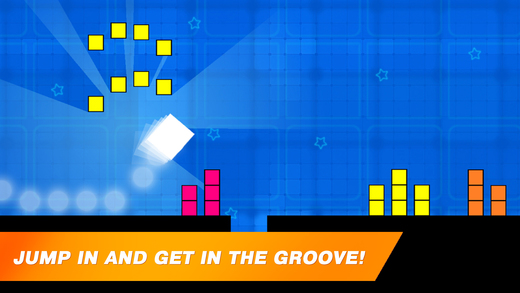 iTunes Description
Pixel Crazy – Full Speed ahead!

Keep the forward momentum.
Jump in and get in the groove.
Think fast, keep moving – avoid Spikes, moving platforms & falling obstacles!

How far will you make it before you go Pixel Crazy?
Forum Thread: Pixel Crazy (by Thumbspire Inc.)
---
Red Bull Air Race 2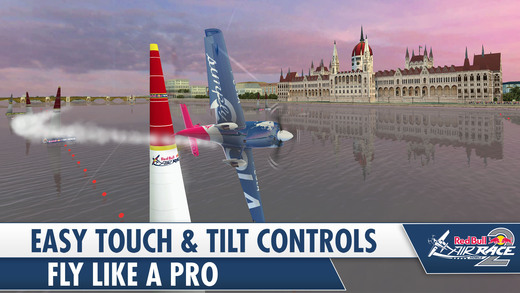 iTunes Description
Red Bull Air Race 2 the sequel to the #1 air racing game in the world sets new standards.
Featuring the world's best pilots in a motorsports competition based on speed, precision and skill – it's the ultimate motorsport series in the sky

BECOME A MASTER CLASS PILOT
Quickly progress from Challenger Pilot to the Master Class. Compete across 400+ races, special competitive events, and go head to head with real Red Bull Air Race pilots!

CLASS, REGIONAL AND WORLDWIDE TOURNAMENTS
Race to win in three types of tournaments and leaderboards – show off your flying speed and precision skills to the world!
Forum Thread: Red Bull Air Race 2 (by Red Bull)
---
Ruins Ahead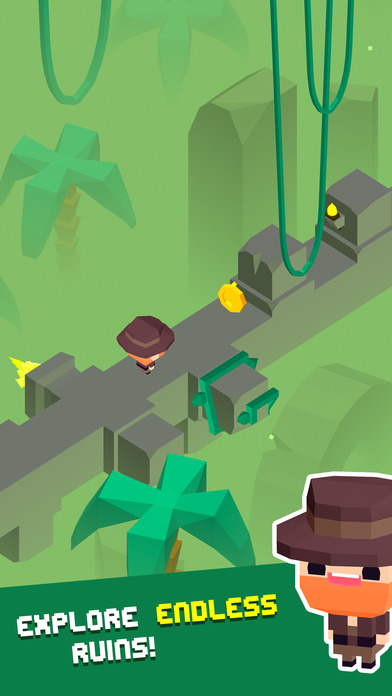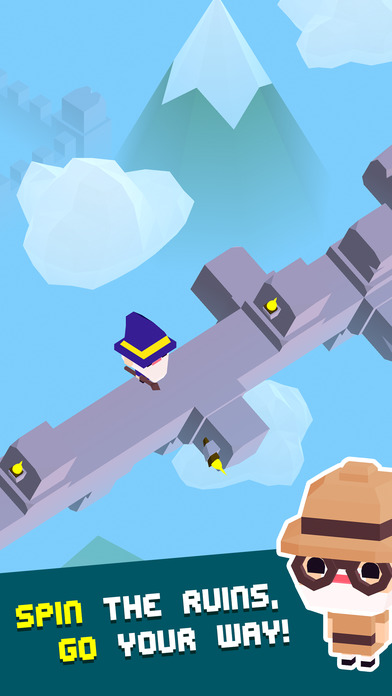 iTunes Description
Make your way through endless ruins. Collect coins and precious artifacts. Watch out! You will not only discover treasures in here, but also wicked traps. Rotate the level and move with skill to master the ruins!

What does a pirate, a ninja and an alien have in common? They all want to explore ruins! Unlock these and many more characters in Ruins Ahead!
Forum Thread: Ruins Ahead (by Robot Cake)
---
Snaky Squares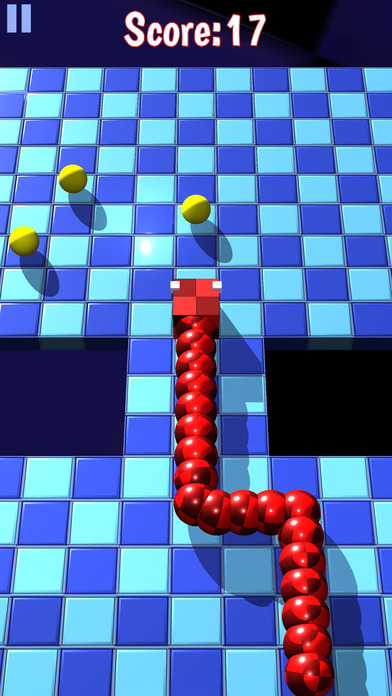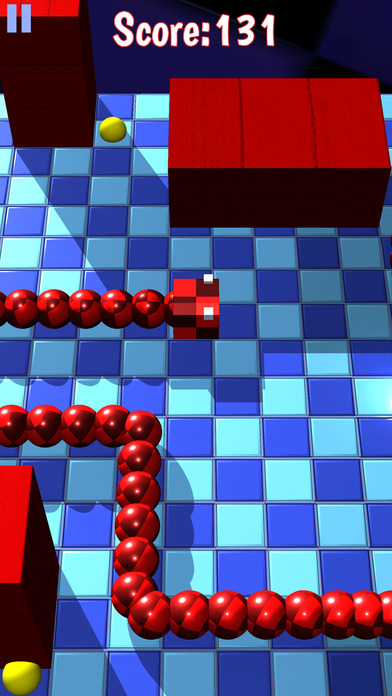 iTunes Description
Snaky Squares is a snake and Snaky loves to eat yellow dots. Guide Snaky in the 3D platform world, see how far you can get.

Tap to turn, guide snaky in the 3D platform world. One tap and Snaky turns 90 degrees, two taps and Snaky will turn 180. Avoid your tail as Snaky gets longer and faster. Use power up buttons to help you beat your high score. Jump to higher platforms by touching the arrows. Avoid the walls, some of them move!

Win extra power ups by watching videos or buy them permanently in the shop. With the power items you can slow Snaky down, shorten the tail, magnetically collect all the dots and speed up. Four 3D platform worlds to complete. See how far you can get and get your high score on the leaderboards.
Forum Thread: Snaky Squares (by Gav of GMT Dev Ltd)
---
Tetris Battle Drop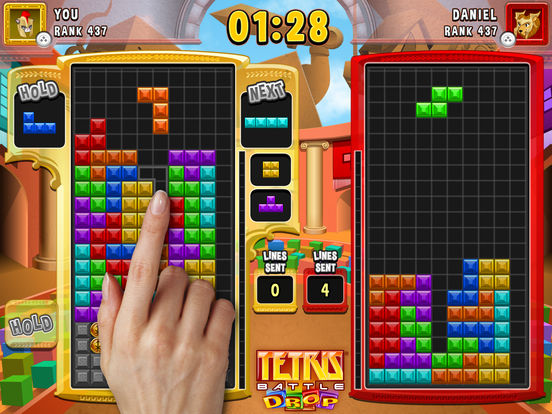 iTunes Description
Tetris® Battle Drop is a multiplayer Tetris game based on Tetris Battle, the smash-hit Facebook application that has been enjoyed by more than 50 million puzzle enthusiasts from all over the world!

Featuring new intuitive touch controls, Tetris Battle Drop makes playing Tetris easier than ever before. Simply touch the screen to see where the falling Tetrimino (block) will drop, drag your finger to move and rotate the Tetrimino, and then release your finger to DROP the Tetrimino into place–it's that easy!
Forum Thread: TETRIS® Battle Drop (By Tetris Online, Inc.)
---
Volley Sumos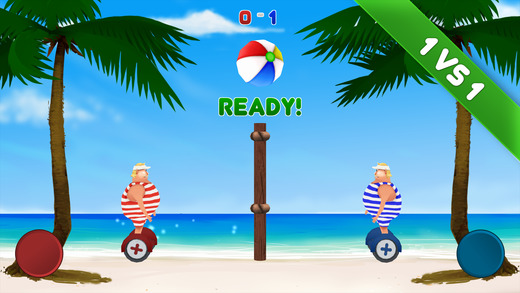 iTunes Description
Tabletop beach volleyball for 1-2 players! Are you ready to hit aces and block?

Features
– Everybody can play
– One-button controls
– 1 vs 1 and 1 vs CPU matches
– Fun local multiplayer gameplay
– Guaranteed laughs with friends

From the makers of King of Opera.
Forum Thread: Volley Sumos (by Tuokio)
---
Warhammer 40,000: Armageddon – Da Orks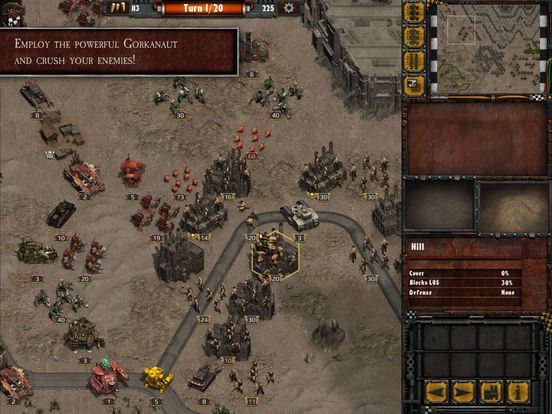 iTunes Description
The year is 941.M41, and a massive Space Hulk appears in the Armageddon star system. It is believed uninhabited, and the citizens of Armageddon wonder what riches they will discover when salvage companies survey it. Little do they know that a huge Ork invasion force is hidden within, ready to bring death and destruction upon the unsuspecting Imperial world… The fate of Armageddon hangs in the balance, and your actions will determine the outcome.

As Ghazghkull Thraka's most trusted Nob, take command of the Ork hordes and unleash the greatest WAAAGH! in history upon the imperial world of Armageddon. Prove once again that "humies is all weak scum that deserve ta get stomped". Make sure that even the Space Marines will not save the day, against the great green tide.
Forum Thread: Warhammer 40,000: Armageddon – Da Orks (By Slitherine)
---
Zombie Town Story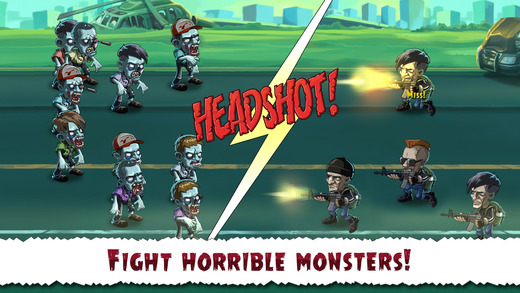 iTunes Description
The walking dead have taken over the world. Mad scientists create horrible monsters in their secret labs. Marauders and ex-soldiers fight among the ruins of desolate cities. And the rest of humanity is simply struggling to survive.

Zombie Town Story is full of adventures in a world ravaged by the zombie apocalypse. Each of the game's episodes tells its own story. The direction of the plot depends on the decisions you make along the way. Do you help the little girl and her kitten in trouble, or do you just walk past? What do you give the robber? Do you shoot a friend infected by the zombie virus or not?

What is Zombie Town Story? It's hundreds of puzzle levels where you find food and supplies to help you survive. It's dozens of weapon types, from chainsaws to sniper rifles, to use in your fight against the undead and mutants. And it's long hours spent unraveling the dark secrets of the world of the walking dead.
Forum Thread: Zombie Town Story (by HeroCraft)
---
Zombo Buster Rising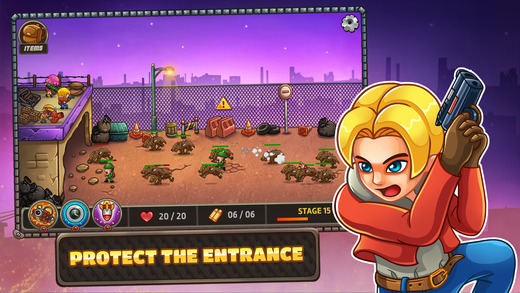 iTunes Description
Zombo Buster Rising is a whole new type of defense shooter! Protect your base against waves of Zombies, using high-tech weapons and special attacks. Unique heroes will help you on your quest, each with his own abilities – surviving the apocalypse will take all your shooting and tactical skills!

* Nonstop Action
Over 30 levels to beat, and a "survival" mode you can keep playing forever!

* Endless upgrades
Upgrade your weapons, characters and special attacks.

* Free to download and play!
Forum Thread: Zombo Buster Rising (by Funtomic (2008) LTD)
---