The idea behind the TouchArcade Game of the Week is that every Friday afternoon we post the one game that came out this week that we think is worth giving a special nod to. Now, before anyone goes over-thinking this, it doesn't necessarily mean our Game of the Week pick is the highest scoring game in a review, the game with the best graphics, or really any other quantifiable "best" thing. Instead, it's more just us picking out the single game out of the week's releases that we think is the most noteworthy, surprising, interesting, or really any other hard to describe quality that makes it worth having if you were just going to pick up one.
These picks might be controversial, and that's OK. If you disagree with what we've chosen, let's try to use the comments of these articles to have conversations about what game is your game of the week and why.
Without further ado…
Reigns
Developer Nerial and publisher Devolver Digital unleashed Reigns ($2.99) on the world this week, and it is an absolute masterclass in designing a mobile game. The idea is that you play as a king (or multiple kings, actually) and you must reign over your kingdom. This involves a delicate balance between keeping your denizens happy (and alive), keeping your army beefed up, and keeping your religious groups happy. All this while making sure you don't run out of money.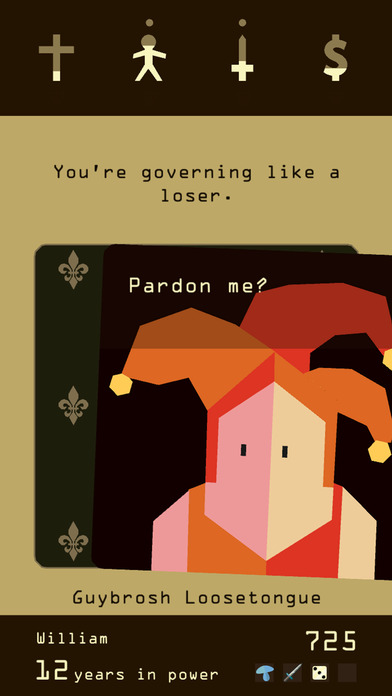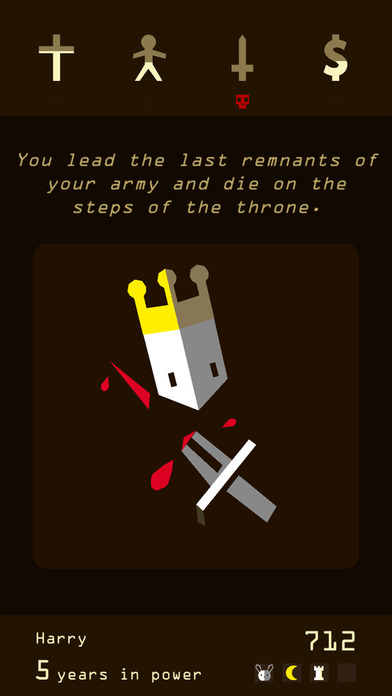 The game is played via a stack of cards that you swipe left or right, similar to the dating app Tinder. Every card requires a decision from you, but they're not all yes or no answers. The main goal of each game is to reign as king for as many years as possible, and once you do finally screw up and get killed or overthrown due to poor decision making, that game ends and you can start a new reign as a brand new king. However, each reign is all part of an overarching timeline so the decisions you made as previous kings can very much impact how your reigns play out as future kings.
It's all not quite as confusing as I'm making it sound, and in fact that is the reason I think Reigns is so freaking brilliant. There is a staggering amount of variety in terms of things to do and see, it's an epic adventure on par with something like King of Dragon Pass ($9.99). But it's all been distilled down into these bite-sized cards and quick decision making. Eli even described it on our podcast this week as a choose-your-own-adventure with rapid-fire decision making.
This is the type of game you can whip out at a moment's notice, play through a card or two, and safely put away without being scared you'll forget what's going on or what you're supposed to do next, which is often a problem with me and expansive RPGs. At the same time, you could easily spend hours playing through multiple reigns (and even making it to one of the game's three endings) in one setting. It's absolutely remarkable that the developers of Reigns were able to create such a deep game while still keeping it light and approachable, as mobile games should be.
I wasn't immediately taken by Reigns after it released, and as it turns out I'm terrible at running a kingdom. This is a tough game. But for some reason I found myself continually coming back to it over and over, despite not doing well and constantly dying. Once the various wrinkles of the game started to emerge (and are continuing to emerge) I was totally floored by how ingenious this game is. Even if this doesn't seem like your sort of game or you're being frustrated in the early goings, stick with it, and at the very least Reigns is worth the few bucks just to see how well-designed a deep mobile game can be.