Cranky internet commenters have been calling it since about two hours after Pokemon Go (Free) hit the App Store, but according to survey company and analytics firm SurveyMonkey, Pokemon Go peaked on July 14th. They're figuring that based on the number of people playing Pokemon Go every day, the number of times the game is being downloaded, as well as the amount of people searching Google for Pokemon Go related things. Now, these sorts of things come with significant caveats as the game just launched in Japan, and all it'd take to cause players to come surging back into Pokemon Go is a captivating update or two. But, the writing is on the wall, that Pokemon Go-mania is beginning to fade in the US market.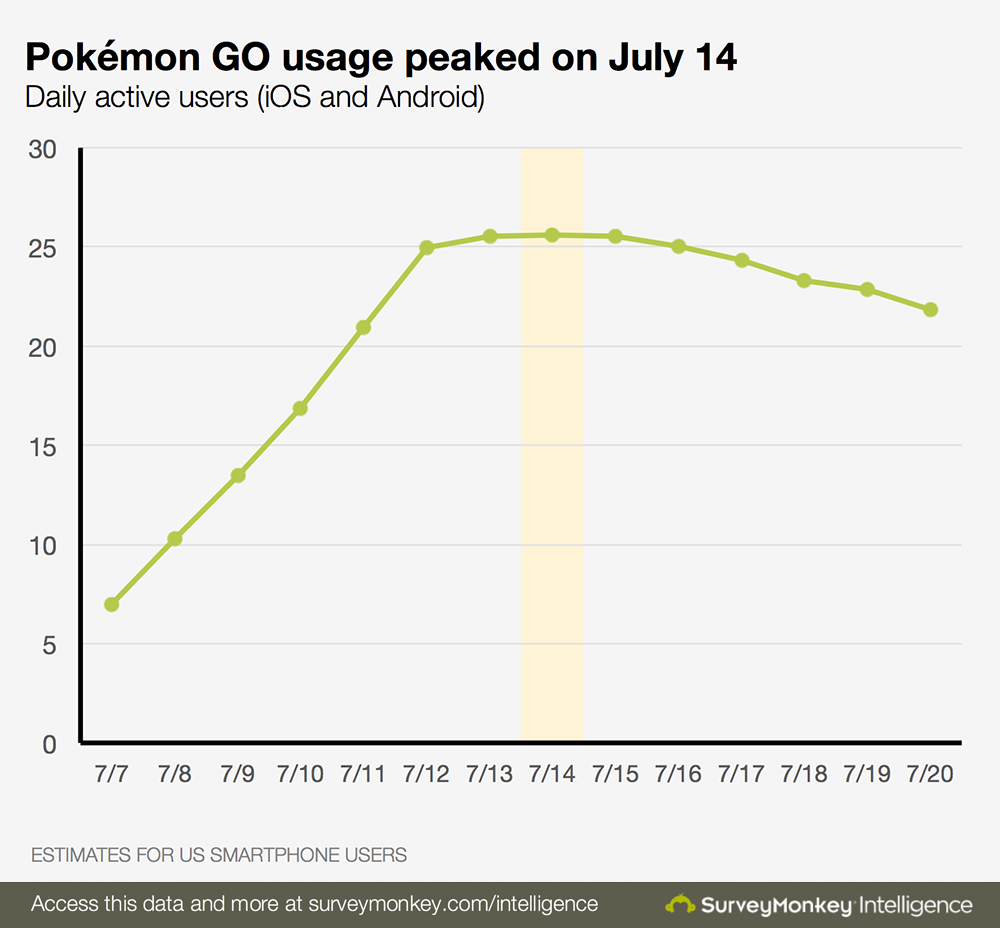 The momentum Pokemon Go has is unmistakable, the game has broken App Store records and has more people playing it in a single week than other incredibly successful games from free to play giants have after slow-rolling for months (or even years). But, as SurveyMonkey points out, this is not the end for Pokemon Go:
And there's still a long way to go. As we've seen from other games there's still every chance that the game attracts millions of users (and makes millions of dollars) for months, and even years to come. Plus, the game is not yet available in all countries of the world, with some major countries yet to enter into the hype cycle.
So, we'll see what happens. What I'm more curious of, is what this means for the future of the Pokemon franchise as a whole. Looking at the sales of previous Pokemon games, Pokemon Go has potential to be both the most popular and the most profitable game in the entire franchise. Once you've hit "worldwide cultural phenomenon" status with your mobile game, how do you go back to diddling around on the 3DS?
[via SurveyMonkey]