Although the game is starting to face some competition at the top spot, there's no denying that Clash of Clans (Free) has been a force to be reckoned with on the mobile charts. One region where it hasn't been quite so dominant, however, is Japan, where social RPGs like Puzzle & Dragons (Free) rule the roost. Because life is funny that way, those games seem to have had difficulties repeating their successes outside of the Asian markets. Is there no way to reconcile these differences? Well, BlazeGames, a relative newcomer to the mobile scene, has an idea. It's called Battle Champs (Free), and it just launched across the globe in most major markets.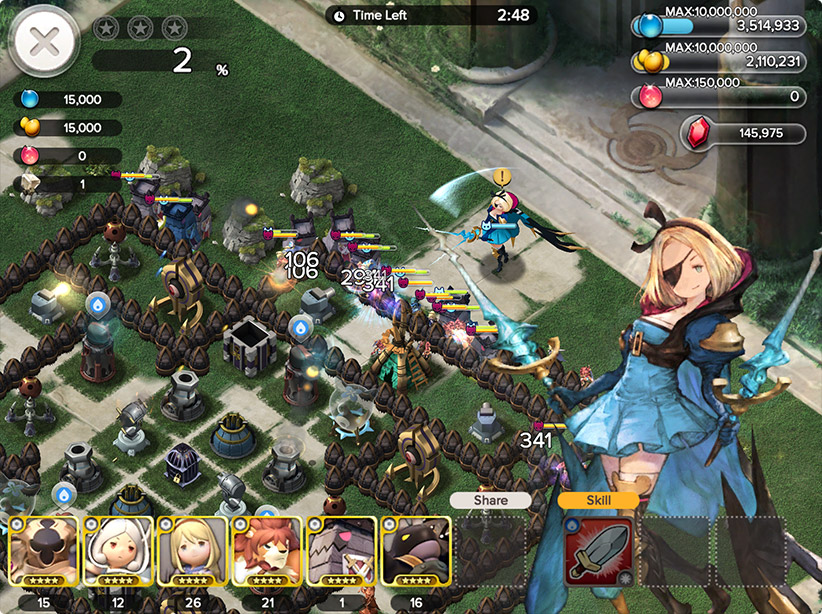 Battle Champs is the localized version of Little Noah, a game that released in Japan about a year and a half ago to a fair bit of success. The game mostly takes after Clash of Clans, having you build a base, complete with defensive measures and means of resource collection. You can join up with other players in a guild, attack other people's bases, and so on. Where Battle Champs differentiates itself is in its social RPG elements. Your units are similar to those in games from that genre, able to be enhanced and evolved into stronger forms. There's a huge line-up of these champs, with over 100 in total to collect. The game also features a story mode that presumably explains why everyone is building fortresses on top of giant airships, and special fights with giants that allow you to team up with other players to take on a massive computer-controlled foe in real-time.
Although BlazeGames is somewhat new, the names behind Battle Champs are not. The producer of the game, Yuji Okada, is a veteran of the console and arcade business. The art director, as some sharp-eyed readers might have already guessed from the above screenshot, is the legendary Akihiko Yoshida, the artist responsible for the designs in games such as Final Fantasy Tactics, Bravely Default, and Ogre Battle. Joining Yoshida on the art team is another veteran designer, Satoshi Matsura, who was responsible for many of the monsters you've seen in games like Legend of Mana and Bravely Default. The music for Battle Champs was composed by another legend, Hitoshi Sakimoto, who created music for Final Fantasy Tactics, Shin Megami Tensei, Valkyria Chronicles, and many, many more classics.
It's a star-studded development team, that much is certain, but how does Battle Champs play? Well, I've only played a little bit so far, but at this point it's a lot like Clash of Clans. The stronger story elements, additional co-op content, and the frankly gorgeous presentation give the game an immediate appeal of its own, but the core gameplay is very familiar. It's hard to judge a game like this without putting some serious time in, so there's not much more to say at the moment. I did have the privilege of visiting the headquarters of BlazeGames recently, however, and they graciously allowed me to interview a few of the creators behind the game. I'm still working on transcribing it, as it's rather long, but you can look forward to reading my interview with Yuji Okada, Akihiko Yoshida, and Satoshi Matsura later this week. And you can give Battle Champs a spin right now if you want, because hey, it's out.
Edit: The game isn't showing up in our database yet, so here's a link to its App Store page for now.