There's a distinct lack of car combat and otherwise silly vehicular based games in the current climate. Whereas everyone was chasing that almighty Destruction Derby or Twisted Metal dollar back in the day with entertaining, if flawed releases like Vigilante 8, nowadays a true successor is a rarity. Heck, even Mario Kart 8 had a ham-stringed battle mode. But with the multitude of platforms anything is possible, and although Drifty Dash (Free) doesn't come close to honoring its pedigree, it's not a bad way to pass the time.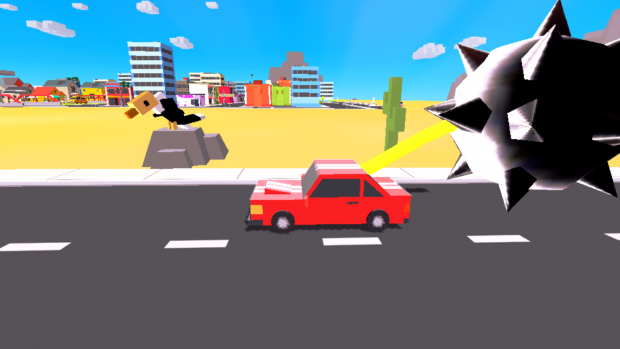 Drifty Dash's main mode is basically a freeplay sandbox concept, where players dive into a playground and have at it, avoiding or blowing up cops as long as possible. The first world is a giant desert with "Smashy Town" smack dab in the middle, and your task is to basically start each run with the goal of surviving 20 minutes (which nets you a gold medal). It's harder than it sounds, and incredibly addicting.
"Drift" isn't just erroneously part of the moniker, because the physics are a little wonky on purpose. With a left analog stick on-screen to steer, a jump button, and a space to use items (of which there are a ton, like boosts, missiles, and giant spiked balls), you're basically on your own.  Acceleration and braking is unpredictable at best, creating a cool and sometimes frustrating arcade feel.  All of this is coupled by a smooth soundtrack that helps cut down on the tension, and a colorful, lovely art style that looks familiar but not too copy and paste.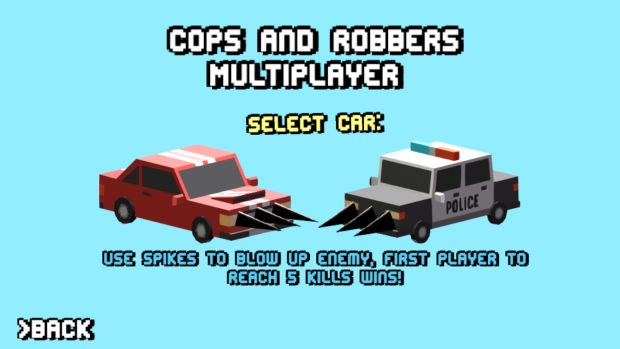 If you're not in the mood for a survival hook, there's also a handful of missions to complete as well, which humorously  involves one survival level per set, as well as objectives like demolition, capture the flag, and score attack. There's also a multiplayer cops vs. robbers mode where you basically poke each other with front-mounted spikes until someone dies, but you'll probably want to go in on this with a friend, as I couldn't find anyone over the course of multiple days to pay with using the matchmaking feature.
One big draw, like many games in this current era chasing social elements, is the "replay of the day" feature. And really, what seems like a throwaway facet of the experience is actually a neat gimmick, as I found myself sifting through each video while going through the review process, learning new things along the way. Loading is basically instantaneous, and although the framerate is usually on the low side, there are entertaining moments to be had — though as a warning, some of them are questionable at best, and a few even had a player just running into a wall a few times — so I'm not confident in the curation factor down the line. That said, the tools for creating your own replays are surprisingly robust, with built-in microphone support.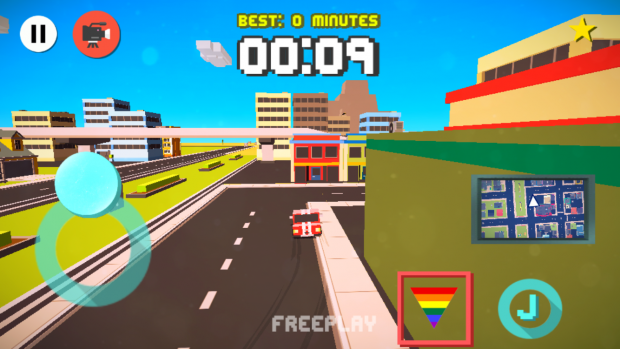 The IAP system is a bit weird, but it's not too predatory. First off, roughly half of the game's vehicles can be unlocked by watching a video ad — nothing too intrusive, just 60 seconds or so, and the car is instantly unlocked. Next up is the "Legendary" pack for $1.99, which must be purchased, and unlocks a handful of selections like a tank or a keep, sort of giving a heft to your playthrough. Next up is the "Super Legendary" (hah) pack, which is $4.99 and comes with the clearly appealing sports cars. It's not like any of these packs are required to enjoy the game, but not being able to buy the vehicles piecemeal, or earn them in some sort of roundabout way, Crossy Road style, is disappointing. As the cherry on top there's the $1.99 purchase, which unlocks all three game worlds — this is basically akin to paying a premium price for Drifty Dash.
At the end of the day Drifty Dash knows what it is. It doesn't try to act like it's a simulation of any kind, nor is it going to provide you with pinpoint physics and even fair objectives. Sometimes it's kind of the luck of the draw, and a cop will smash you into oblivion, sending you across the screen careening into failure. While that's annoying more often than not, it's part of the charm that wears off over time — especially if you don't pay up and enjoy it for free.